Grand Prix Minnesota is in the books and with it the first pro points of both the 2017-18 Pro Tour season and the Ixalan Cycle have been awarded. 1,151 players registered for the event and just over 320 returned for the second day of competition in the first professional Standard event after Pro Tour Hour of Devastation.
One week after the Pro Tour, which featured six mono-red decks in the top eight bracket, the deck was not very prominent at Grand Prix Minnesota. Only one of the top eight decks was mono-red while the other seven featured black in some form or another. Zombies were the hero of the weekend, including Steve Locke's undefeated performance with mono-Black zombies through 15 rounds of swiss.
In addition to one mono-Red deck and the undefeated mono-Black zombie deck, three Black/Green Constrictor and two Mardu Vehicles decks rounded out the top eight along with a Black/Red control deck. Kalitas was seemingly everywhere. Here's how the quarterfinal bracket began:

Things looked shaky for the undefeated Steve Locke when Nathan Lothamer cruised to victory in game one. But Locke played smart and took the next two games to remain without a loss on the weekend. Brad Nelson fell to Matt Sikkink Johnson ruining hopes that he and brother Corey Baumeister would meet in the bracket. Baumeister and Ray Huang moved on to round out the quarterfinals.
The Semifinals
This week's darling, Steve Locke, and his mono-Black Zombies went head-to-head with Matt Sikkink Johnson piloting last week's darling, Ramunap Red. Game one looked tough until [casthaven]Dark Salvation[/casthaven] took out [casthaven]Hazoret the Fervent[/casthaven], helping to show why the new black style quickly pushed red decks out of the top tables. Johnson however quickly evened things up with an explosive draw resulting in a turn-five victory leading to a final game for a trip to the finals.
Johnson put up a fight with double-Chandra but Locke was able to stabilize and emerge victorious, continuing his perfect tournament into the finals. Across the bracket, Corey Baumeister took Black/Green Constrictor against Ray Huang's Mardu Vehicles. Huang attempted to ride Sky Sovereign to victory as many had done this weekend, but it was Baumeister coming out on top setting up a Zombies vs. Constrictor final.
The Finals
Grand Prix Minnesota came down to Gold-Level pro Corey Baumeister on G/B Constrictor up against the undefeated Steve Locke on Mono-Black Zombies. Just under 9,000 fans tuned in to watch the finals on Twitch and see if Locke could pull off the perfect tournament. The opening game swung far in Locke's favor thanks to two copies of [casthaven]Liliana's Mastery[/casthaven], played perfectly without giving Baumeister an opportunity to maximize the use of two [casthaven]Catacomb Sifter[/casthaven]s.
The Gold-Level pro refused to back down with [casthaven]Verdurous Gearhulk[/casthaven] shoring up Baumeister's defenses, but Locke pushed through the [casthaven]Fatal Push[/casthaven], triggering Revolt by activating [casthaven]Scavenger Grounds[/casthaven] and taking a one-game lead in the finals.
Locke mulliganed to a five-card hand in game two but managed a slightly aggressive opening. Still, any sort of resistance from Baumeister should allow him to stabilize against Locke's black-mana shy mulligan. Locke made it through the weekend off the strength of his tightly skilled play and his deck rewarded him with a Swamp off the top to clear Baumeister's board and deal with a [casthaven]Nissa, Voice of Zendikar[/casthaven]. The decision to mulligan of course is one of great skill, and no one should attribute Locke's play to just luck.
Never to Return helped Locke continue to apply pressure as Baumeister landed another Nissa to help keep the battle going. The onslaught of zombies continue to crash over Saproling tokens. Baumeister was still up on life totals, 20 to 16, but his board position was substantially weaker than Locke's. [casthaven]Verduruous Gearhulk[/casthaven][casthaven][/casthaven] once again brought the board to a standstill.
Sylvan Advocate from Baumeister joined Verdurous Gearhulk and Nissa, Voice of Zendikar and the stalemate was broken, crushing Locke's army of zombies and bringing the match to a final and decisive game three. Though Locke likely correctly played the mulligan and subsequent one-land five-card keep, he couldn't keep up with solid mid-game strength of the Black/Green Constrictor deck.
Both Locke and Baumeister mulliganed to six, a move that Jacob Van Lunen pointed out favors Locke as Baumeisters Constrictor deck relies on the synergy of multiple cards. Locke on the other hand wins off of redundancy. It remained to be seen if this would play out in the match as both players kept their hands of six and over 13,000 fans watched with baited breath.
Locke opened with [casthaven]Cryptbreaker[/casthaven] which was met by [casthaven]Fatal Push[/casthaven] from Baumeister and the game had begun. The board quickly refilled with zombies on Locke's side of the board but [casthaven]Grasp of Darkness[/casthaven] answered [casthaven]Relentless Dead[/casthaven]. Both players stalled on land for a turn despite [casthaven]Oath of Nissa[/casthaven] hitting the board for Baumeister.
[casthaven]Diregraf Colossus[/casthaven] came down for Locke and was matched by [casthaven]Nissa, Voice of Zendikar[/casthaven] by Baumeister. A second [casthaven]Diregraf Colossus[/casthaven] helped tilt the board towards the growing horde of zombies. [casthaven]Winding Constrictor[/casthaven] and a sacrifice of Nissa (via her minus-ability) attempted to improve Baumeister's situation but Locke had his own [casthaven]Fatal Push[/casthaven] to answer the snake and a [casthaven]Dark Salvation[/casthaven] took out Baumeister's final creature.
Another [casthaven]Nissa, Voice of Zendikar[/casthaven] tried to play defense, buying Baumeister another turn with a 20 to 2 deficit in life total looming over him but it was too little too late as Baumeister extended the hand and Steve Locke completed his incredible performance winning 16 out of 18 rounds and drawing the final two.
Congratulations to Steve Locke, the undefeated champion of Grand Prix Minnesota 2017.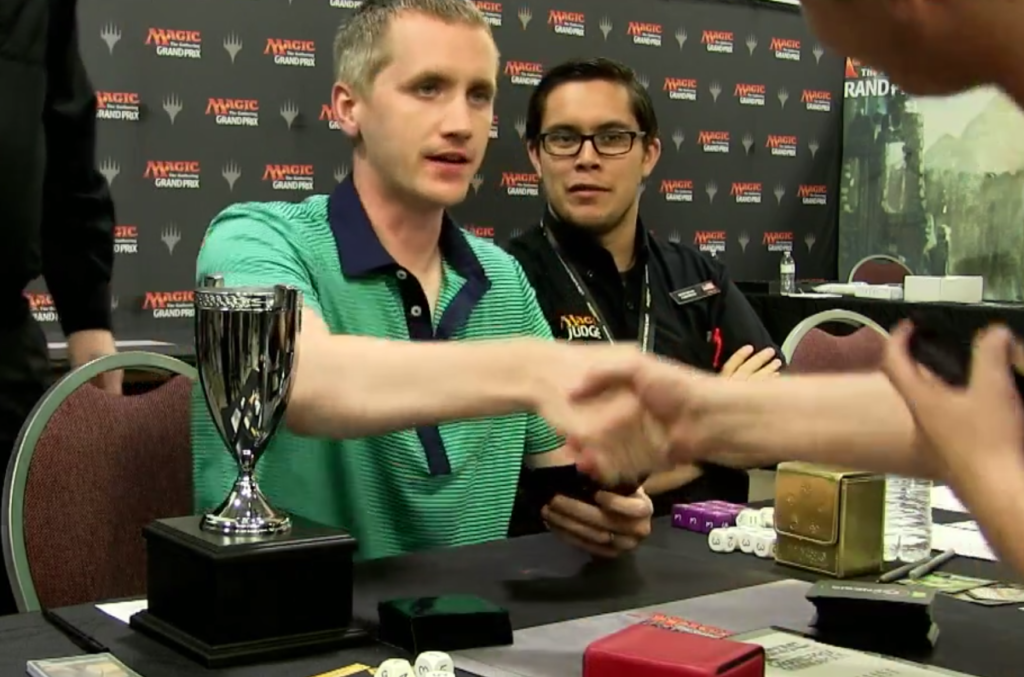 2017-18 Pro Tour Season Update
In total the top 141 players of the 1,151-player event managed to finish with at least 30 match points meaning they went home with at least one pro point beside their name for the 2017-18 season. Players are allowed to count their top six Grand Prix results for the full year, so many of these players will be happy to have gotten one in the books early, especially those who secured a top-eight spot.
All of the top eight finishers secured invitations to Pro Tour Ixalan. Brad Nelson already had an invitation as a Platinum-Level Pro and his brother Corey Baumeister also had an invitation as a Gold-Level Pro. The other six members of the top eight all secured their trips to Albuquerque.
2017-18 Pro Club Levels
Since only eight points at maximum could be obtained at Grand Prix Minnesota, the first event of the season, no one was able to lock up a new Pro Club level for the 2017-18 season nor improve upon their current level carried over from the 2016-17 season. The top four finishers are now halfway to Bronze though, so that's something.
2017-18 Player of the Year Race – Top 10
Not much to see here as this is basically the top 10 finishers from Grand Prix Minnesota. Paulo Vitor Damo da Rosa won this title last season with just over 80 pro points, to give you an idea of how far off these players are from the title, 12 months away.
8 – Steve Locke
6 – Corey Baumeister
5 – Ray Huang
5 – Matt Sikkink Johnson
4 – Robert Castro
4 – Bradley Nelson
4 – Daniel Weiser
4 – Nathan Lothamer
3 – Chris Botelho
3 – Daniel Ward
2017-18 Rookie of the Year Race – Top 10
Similarly there's not a whole lot going on here either. Three of the players in the top eight are rookies giving them the top spots on this leaderboard followed by the seven other rookies who finished with 36 match points giving them 3 pro points apiece. Matt Sikkink-Johnson, who was eliminated in the semi-finals, leads the pack with five pro points. With two more Grand Prix events next weekend I expect this table to keep fluctuating quite a bit until it stabilizes at Pro Tour Ixalan.
5 – Matt Sikkink-Johnson
4 – Robert Castro
4 – Daniel Weiser
3 – Jeremy Sager
3 – Donald Corrigan
3 – Sean Weihe
3 – Evan Whitehouse
3 – Austin Swantz
3 – Lito Biala
3 – Levi Pospichal
Ixalan Cycle Updates
Grand Prix Minnesota also marked the opening of the Ixalan Cycle which will begin having pro points counted for the "Spaghetti" Cycle in September of 2018. Players can only apply the top three finishes from the Ixalan Cycle to their point total for the "Spaghetti" Cycle. Players here who managed to pick up points, especially those who won't be attending Pro Tour Ixalan or the World Championship, have gotten off to a quick start in the quest for points in the new world that awaits us in the 2018-19 season.
Rich Stein is saving the archive footage of Steve Locke's performance from this Grand Prix to show anyone who argues that Magic relies too much on luck and not enough on skill.