The Magic Minute is the best way to quickly catch up on the day's Magic: the Gathering news. Only have a few minutes to pay attention to MTG today? We've got you covered.
On today's Minute: After two Innistrad blocks, the patriarch of the Markov Vampires finally has his own card, plus a new Teferi could be previewed tomorrow.
Subscribe!

Find Us On Here, Too!
Links!
Our logo features art from the very talented Matt Jones. You can find more of his work here: www.studiomattjones.com.
ICYMI, Mairsil, the Pretender, is also getting is own card.
Transcript!
Another day means another round of Commander 2017 previews. Today's theme is vampires, and there a ton of new blood suckers to get excited about.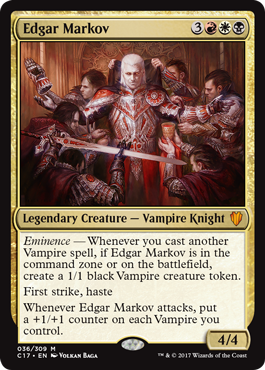 The most notable Vampire previewed today was Edgar Markov, the patriarch of the Markov vampire bloodline on Innistrad. Fans have been clamoring for Markov to get his own card ever since our first visit to the plane in the Innistrad block, and those calls only intensified after he didn't appear in the Shadows Over Innistrad block, either. But the wait is finally over, and Edgar Markov is waiting to you be your very own vampire-generating Commander. You can find Hipsters' coverage of this sweet new Commander, plus all of the new cards featuring his vampiric progeny, on Twitter @hotcblog.
Alongside Markov, Wizards also previewed a very interesting card called Teferi's Protection, which phases out all of your permanents and…yourself, as well. This is the first Phasing card to be printed in 20 years, and with the Wizards tribe getting previewed tomorrow, there is rampant speculation that we'll be getting a new Teferi card in Commander 2017.