The Pro Tour is once again upon us with Pro Tour Amonkhet bringing us the highest level of competitive Magic for three days from Nashville, Tennessee this coming weekend. 428 planeswalkers were invited to showcase the latest expansion and odds are close to 400 will be in attendance. Today we'll take a look at the breakdown of how these players qualified to compete on one of the game's greatest stages in the music city.
This pie chart shows us the break-down of where every single invitation came from. You'll notice that the biggest single source of invitations is the RPTQ system which awarded a total of 118 trips to Nashville. Grand Prix events were the next largest contributor with the entire top eight finishers of each Grand Prix in the season feeding the Pro Tour.
It's worth noting that if you combine the three pro player clubs you'll get a total of 176 invitations. That's important because it strikes a balance between a field of players who may just be breaking into the pro scene through either an RPTQ or an MTGO event versus players in the pro clubs who have proven that they can consistently perform in the spotlight.
Another observation you might have made is that I said 428 players were invited but 490 invitations are represented in the pie chart. That's because 79 players received multiple invitations to Pro Tour Amonkhet. The chart below shows the break-down of how many players received multiple invites.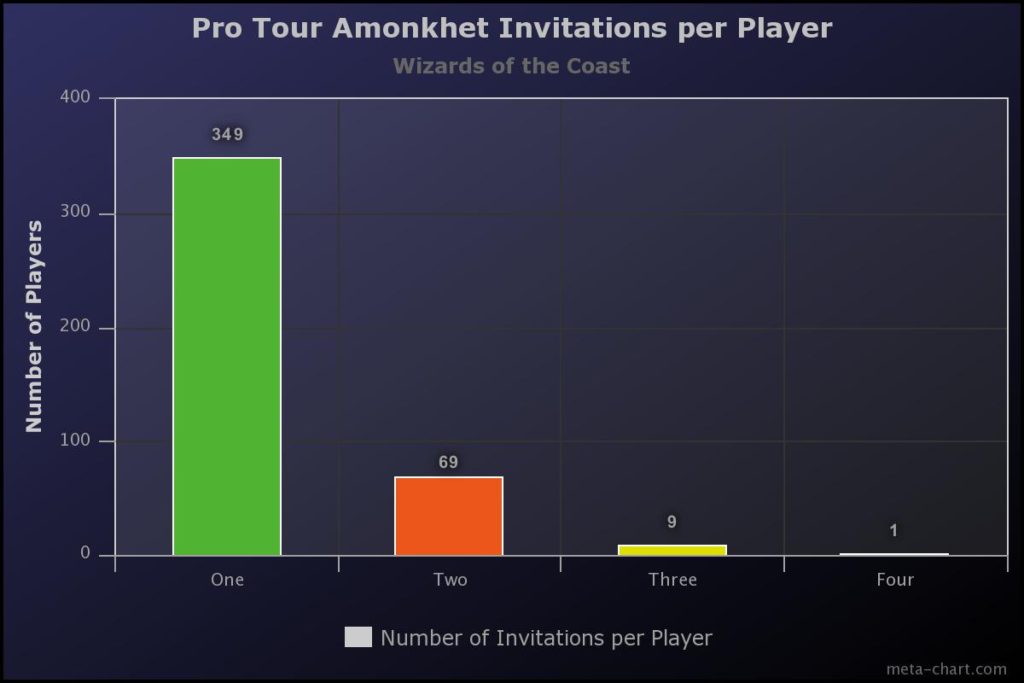 It's very difficult to secure an invitation to the Pro Tour, let alone a second, third, or incredibly impressive fourth invitation. It takes dedication, hard work, perseverance, sacrifice, and of course a little bit of luck along the way. The sole inhabitant of that fourth column, the sole owner of four unique invitations to this tournament, is someone who knows very, very much about how much it takes to get to and remain on the Pro Tour.
After all, Paulo Vitor Damo da Rosa first appeared at the top of the Magic world with a 2nd-place finish at Pro Tour Charleston in June of 2006 and won Pro Tour San Juan in 2010. This week he enters Pro Tour Amonkhet with over a decade of competitive Magic at the highest levels on his resume.
The accolades that awarded him invitations this weekend include a 2nd-place finish at Grand Prix Prague a few months ago, a 6th-place finish at Pro Tour Aether Revolt a month after that, and, most impressively perhaps, membership in the Platinum Pro Player Club and the Pro Tour Hall of Fame, both of which provide invites to their members.
There's a wide spectrum of stories and this week we'll be talking about the multitude of paths that bring planeswalkers on their journey to the Pro Tour. 428 stories are each as unique as the next, and while most are not as illustrious or as full of achievements as the Brazilian mega-star known as PVDDR, they are all worth telling.
Some, like Brandon Burton, grind Magic Online. Some, like Samuel Vuillot of the Magic Corsairs Crew have consistently proven their worth at the Grand Prix level, and are looking to make their mark on a larger stage. For the rest of the week we'll talk about these journeys and when Friday comes and 400 of the world's greatest Magic players take their seats for the first draft in Nashville, we hope you'll have a better appreciation for just how they got there.
What We Learned is a weekly feature here at Hipsters of the Coast written by former amateur Magic Player Rich Stein, who came really close to making day two of a Grand Prix on several occasions. Each week we will take a look at the past seven days of major events, big news items, and community happenings so that you can keep up-to-date on all the latest and greatest Magic: the Gathering community news.