The pinnacle of competitive Magic is the Pro Tour. It connects everyone who has ever filled out a DCI card. It begins when you attend your first prerelease, as some of you may have done a few weeks ago, or when you decide to try out this Friday Night Magic thing. Then it progresses. Grand Prix Trials. Pro Tour Qualifiers. You and your friends have a good time on the local scene. But you get more competitive. You start going to Grand Prix events and the World Magic Cup Qualifier. You get a Magic Online account. You want to play in the big show. You want that invitation. You want a seat at the Pro Tour.
Path to the Pro Tour
Of course, getting to the Pro Tour is easier said than done. Wizards recently released the invitation list for the upcoming Pro Tour Khans of Tarkir. There are 16 different bullet-pointed items describing the various ways in which the invitees earned their seats in Honolulu. That is not a very simple list of ways to achieve the same goal. Where do you even start trying to accomplish any of those tasks? A total of 478 invitations were awarded. How can you get one?
The way you do this is called the Path to the Pro Tour and it's something that Wizards has been making significant changes to almost annually. To help players and fans alike sort out this whole system I've created a new website: www.pathtotheprotour.com. Over the rest of my column this week I'm going to explain why I've done this, who the website is for, and what the site will contain. Before I do so, let me tell you that this site is still very new and currently in Beta testing. Over the next two months I will be making continual updates to the content in order to get everyone prepared for a very special event: the December PTQ season.

Why Did You Make This Website?
I mentioned this earlier, but it's worth reiterating, it's very difficult to make it to the Pro Tour. However, that shouldn't stop everyone from trying. What's more painful than trying to get to the Pro Tour may be keeping a handle on exactly how you're supposed to manage that. Wizards has often made tweaks to the qualifying process but things really changed earlier this year. Back in July, Helene Bergeot announced sweeping changes to the Premier Play Policy. Chiefly among them was the radical changes to the Pro Tour Qualifier system. This past weekend, those changes went into full effect.
When this announcement was made, a lot of people voiced the opinion that they would no longer consider the PTQ route as a way to qualify for the Pro Tour. I wasn't sure why they would do so. I asked a handful of them and the response was almost unanimous. They understood the old system and had no desire to learn the new two-tiered system. This was around the time I was working on Modern Hero, and while I would have loved to do a follow-up series to Modern Hero, I decided that the community needed away to sort out the new PTQ system.
Once I started to really dive into the Premier Play Policy I realized that it was like reading a legal document. It was very difficult to understand and I can't imagine your average fan or player having the desire to sift through it for the pieces of information relevant to their questions. Meanwhile, Wizards had just redesigned their own website which was suddenly incredibly difficult to navigate and full of bugs. A new website would be necessary if people were going to understand the ins and outs of the highest levels of competitive play.
To sum things up there are, in my dichotomy, eight different ways to qualify for the Pro Tour. Three of them are direct (PTQ, Grand Prix, and MOCS), three of them require having already qualified for some level of the Pro Tour (Pro Tour Top 25, World Magic Cup, World Championship), and two of them require qualifying for one of the elite player clubs (Pro Player Club, Pro Tour Hall of Fame). That's a whole lot of paths by which you can take to get to the Pro Tour and my new site will help sort them all out from start to finish.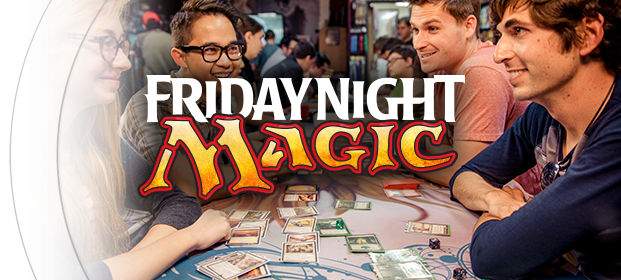 Who is this Website Designed For?
This website is for many different members of the Magic community. Primarily, of course, it's for players who want to qualify for the Pro Tour. However, it can also be a valuable tool for anyone who wants to play in large Magic tournaments including Pro Tour Qualifiers, Grand Prix events, and the Magic Online Championship Series, regardless of Pro Tour aspirations. Additionally, fans of the game will find it helpful to follow which players are going to be competing at the next Pro Tour, and how did they make their way there. Being able to tie together the narratives of the pro players is something that this site will help to do.
In short, anyone interested in playing or following competitive Magic at any serious level will be able to find valuable information on the website. Today, because we are still in beta, we are adding information constantly. In the future we will be adding archives of past tournaments and easily accessible statistics. We will be providing weekly updates of PTQ results and Grand Prix results including up-to-date invitation lists for Pro Tours. Most importantly perhaps, we'll be tracking all of the progress in the new PTQ/RPTQ system. There will be something for (almost) everyone!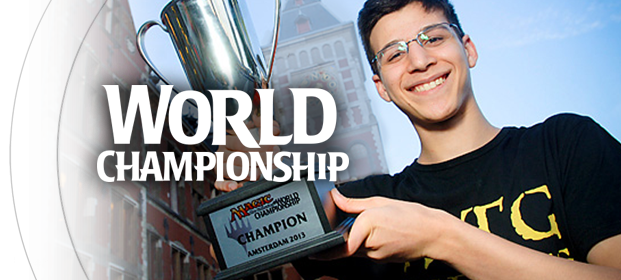 What Will I Actually Find On the Website?
Eventually there will be a lot of information about high-level competitive Magic tournaments on www.pathtotheprotour.com. This can be broken down into three main categories of information:
Tournament Operations
Tournament Details
Tournament Statistics
Tournament Operations consists of the high-level details of each of the different types of tournaments. You can think of this as tournament metadata. One of the big pieces here is identifying which tournaments qualify you for other tournaments. Want to know which MOCS events qualify you for Pro Tour Fate Reforged? Want to know which Grand Prix tournaments have trials in your neighborhood? Want to know which players won PTQ events this season? This is the sort of information we'll be compiling.
Tournament Details is the nitty gritty of specific events. Today, the various pieces of information about tournaments is scattered across the internet. Wizards provides a schedule of events, and they even have some details about the bigger events such as Grand Prix tournaments. But, for the most part, the individual tournament organizers are hosting their own information. Some of them do this on their own sites, or via Twitter and Facebook. Our aim will be to provide a standard way to share this information with you and help you make the best decisions about which specific tournaments to attend.
Tournament Statistics is not a high priority for the site at launch, but in the long-term we will be compiling the statistics of players in these tournaments to build-up an archive of data. You'll be able to easily look up information on the winners of all the high-level and even some of the lower-level events. Wizards hosts some of this data today, but it is very limited in what you can do with it and how much of it you can actually access.
What Next?
For now I'm hoping you'll head over to check out Path to the Pro Tour and leave me some feedback on what you think. If you like what you've seen so far, you can follow us on Twitter and like us on Facebook. As I add content I'll be using those platforms to communicate the updated info to the public. With Pro Tour Khans of Tarkir already upon us, our current efforts will be focused on Pro Tour Fate Reforged and the PTQ seasons kicking off in December. It's going to be an exciting time for the Pro Tour and we're looking forward to being a big part of it.
Pro Tour Update
Grand Prix Shanghai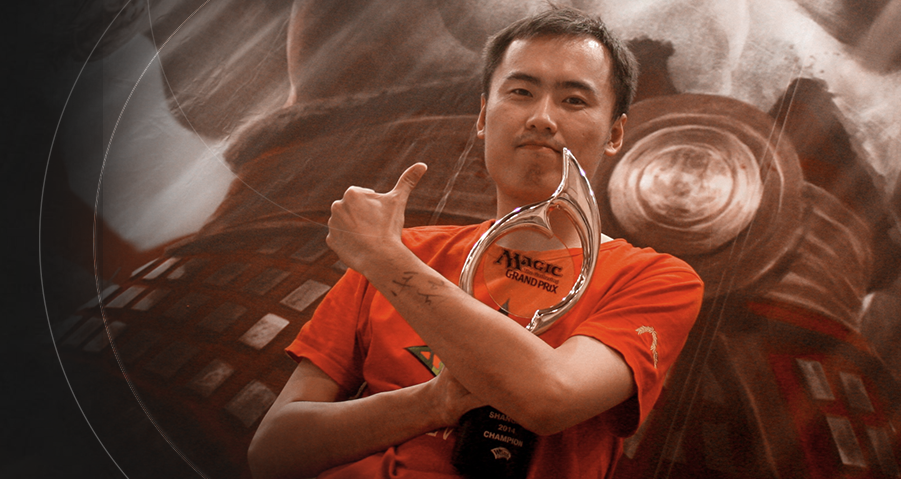 The first Grand Prix to feature Khans of Tarkir also featured several of the top players in the Asia-Pacific region. Among the competitors on day one were (10) Yuuki Ichikawa, (11) Yuuya Watanabe, and (24) Kentarou Yamamoto. Also in attendance were Tomoharu Saito, Tiago Chan (the Snapcaster Mage), Kenji Tsumura, and Shota Yasooka. However, by the end of day one it was hall of fame player Shuhei Nakamura sitting in seventh place overall. Ichikawa, Yasooka, and Watanabe made day two but Saito, Chan, and Tsumura all missed the cut.
By the middle of day two Nakamura was holding on to a top-8 spot while Watanabe had climbed into the top-32. Watanabe couldn't hold on but Nakamura locked up yet another Grand Prix top 8 appearance. For the record, in Nakamura's top-8 profile he claims his profession to be "Retired Pro Magic Player." For those of you counting at home, this was Nakamura's 25th Grand Prix top 8 finish. He is now only two appearances behind Olivier Ruel's record of 27.
Unfortunately Nakamura's day ended in the quarterfinals as he dropped two straight to Ryoichi Tamada. Meanwhile 30-year old Chinese technician Yu Yin had drafted an impressive Abzan deck featuring an Ivorytusk Fortress, Siege Rhino, and Rakshasa Deathdealer to go with Abzan Ascendancy and two Abzan Guides. And for good measure he had a Wooded Foothills. Yin's deck was good enough to win three straight best-of-three matches and be declared the champion of Grand Prix Shanghai 2014.
Grand Prix Orlando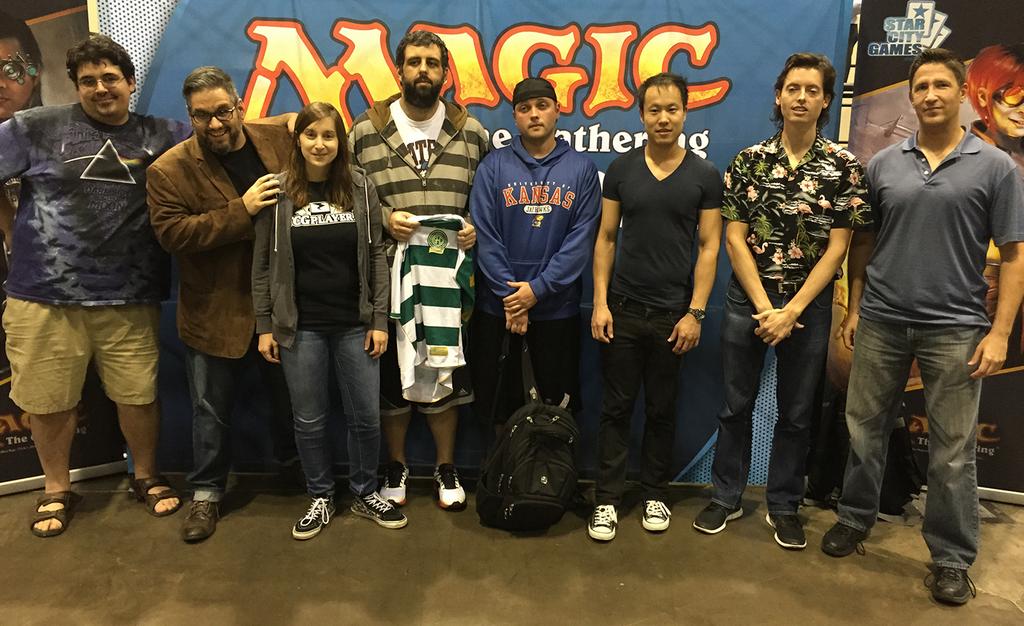 There was a lot of hype about the attendance of GP Orlando possibly reaching 3,000 in the days leading up to the event. It feel fairly short of that mark with a final attendance of 2,277 announced. It was still good enough for the sixth largest event ever, but not quite the earth-shattering total some were expecting. Nonetheless, the stars were out in Orlando for a stop in Disney en route to Hawaii for next weekend's Pro Tour. Only three of the top 25 players in the world made an appearance, but plenty of other well-known spellslingers were in attendance.
Among them making the second day of competition were Ari Lax, Ben Stark, Frank Lepore, Willy Edel, Stanislav Cifka, Frank Karsten, Brian Braun-Duin, Robin Dolar, Mark Nestico, Melissa DeTora, Harry Corvese, Matt Costa, Darwin Kastle, and of course our own Carrie O'Hara. This led to some decent coverage but I have to be honest, the text coverage is sorely lacking. Rich Hagon wrote a few pieces including the only day two match report, which was in round 12.
After a grueling competition the final eight competitors included Frank Lepore, Harry Corvese, and Melissa DeTora. After one last draft of Khans of Tarkir they paired off for the quarterfinals. The coverage opened with DeTora with Temur taking on Ian Farnung with Jeskai. DeTora held on to win two long games and face-off against Sol Malka in the semifinals. Meanwhile, in the other side of the bracket Frank Lepore lost to Artur Villela and Harry Corvese lost to Eugene Hwang.
DeTora vs Malka was the featured semfinal match and Malka had drafted, impressively, a two-color deck. The match went the distance to a third game which DeTora was able to win and advance to the finals against Eugene Hwang and his aggressive Mardu deck. Ghostfire Blade led Hwang to a game-one victory but DeTora used Temur Charm to win game two. Game three was over in the blink of an eye as Hwang curved out perfectly and won the final game in a few quick turns, smashing our heroine's dreams.
Top 25 Rankings
As always, the two-week period around a set's release results in there being no Grand Prix tournaments. As such there was no update to the standings this week. Make sure you check back next week though as there is sure to be some updates from Grand Prix tournaments held in Shanghai and Orlando this past weekend.
The Quick Hits
Heather Lafferty compiled twenty of the best comments from the twitterverse on the topic of the burning pile of dog feces that we lovingly refer to as MTGO V4 [20 Tweets]
If you're looking to get a little more fun out of your Khans of Tarkir limited experiences, check out this video game-style achievement list that Danny Brown put together [Quiet Speculation]
Matt Sperling is sick of a lot of things these days, but none so much as the naming of many Khans of Tarkir cards [Sperling's Sick of It]
Mike Linnemann interviewed Magic senior art director Jeremy Jarvis [Gathering Magic]
Here is part two of Travis Allen's comprehensive opus on the MTGO trading economy [MTG Price]
Danny Brown wonders whether or not there will actually be a core set coming out in 2015 [Quiet Speculation]
Paulo shares some things he's displeased about in a Matt Sperling-esque rant [PV's Playhouse]
James Arnold tells the vivid tale of the life of Magic artist and Reddit addict Noah Bradley [Gathering Magic]
Liam Casserly takes a look at all the ways Wizards tried and failed to kill Magic in the past few years [MTG UK]
John Dale Beety breaks down the many different mediums through which Wizards tells the stories of Magic [Star City Games]
Last but certainly not least, Jason Alt tells the truth when he talks about the problems with sexism and misogyny in the Magic community [Quiet Speculation]
I've got a fishy feeling we could be in for a cycle of Ascendancy wallpapers. This week we begin, theoretically in alphabetical order, or wedge color order as the white core of the Abzan sits at the top of the color pie. Abzan Ascendancy captures the order of the clan with what looks like a small band of warriors. Honestly the artwork is a bit to bland for my taste. There's very little colors present. There are also no Abzan symbols, which makes it difficult to figure out that this is a group of Abzan warriors. The only giveaway are the races represented. It just doesn't feel very Abzan to me.
Grade: C

The Week Ahead
It's time for Pro Tour Khans of Tarkir. After a month with the full spoiler, the best of the best will gather in Honolulu, Hawaii to battle in Standard and triple-KTK limited for the title of Pro Tour champion and the massive cash prize that goes with it. Don't miss out on all the action over at twitch.tv/magic as the first Pro Tour of the season gets underway. Also happening in Honolulu will be the annual Pro Tour Hall of Fame induction honoring Guillaume Wafo-Tapa, Paul Rietzl, and Makihito Mihara.
What We Learned is a weekly feature here at Hipsters of the Coast written by former amateur Magic Player Rich Stein, who came really close to making day two of a Grand Prix on several occasions. Each week we will take a look at the past seven days of major events, big news items, and community happenings so that you can keep up-to-date on all the latest and greatest Magic: the Gathering community news.