So clearly that headline is a joke. This past weekend me, Sam Werbalowsky, and Carrie O'Hara, of "None Shall Pass Bombs" fame, took a flight up to cold-as-balls Montreal for the Grand Prix … and I didn't do so hot, finishing 5-4 in the main event, including one no-show "bye."
That was OK, though, and I really wasn't (that) bummed, for a few reasons: One, Sam and Carrie were awesome travel companions, and we had some great laughs and good times up in the Great White North. Two, every person I played at the GP on day one was a total pleasure to play against—funny, cool dudes to a man. (I didn't happen to play any women at this event.) And three, as you learned yesterday, Carrie made a deep run, finishing day one with an incredible record of 8-1! Her RG All The Monsters deck was straight-up bonkah. You can read more about her exploits here.
But me, I didn't do so well. It's cool. After last week's a-bit-of-burnout post, I really do feel reinvigorated and motivated to crush the game better than ever. Now, when I will be able to find the time to do that is another story, but the desire is there. I'm back, baby!
Where I may not be back, however, is in my deck-building skills. When I sat down at 9:30am at my table at the Palais des congrès de Montréal (that's what those weird Quebecois call their convention center), I was faced with a really tough-to-build pool. Here 'tis: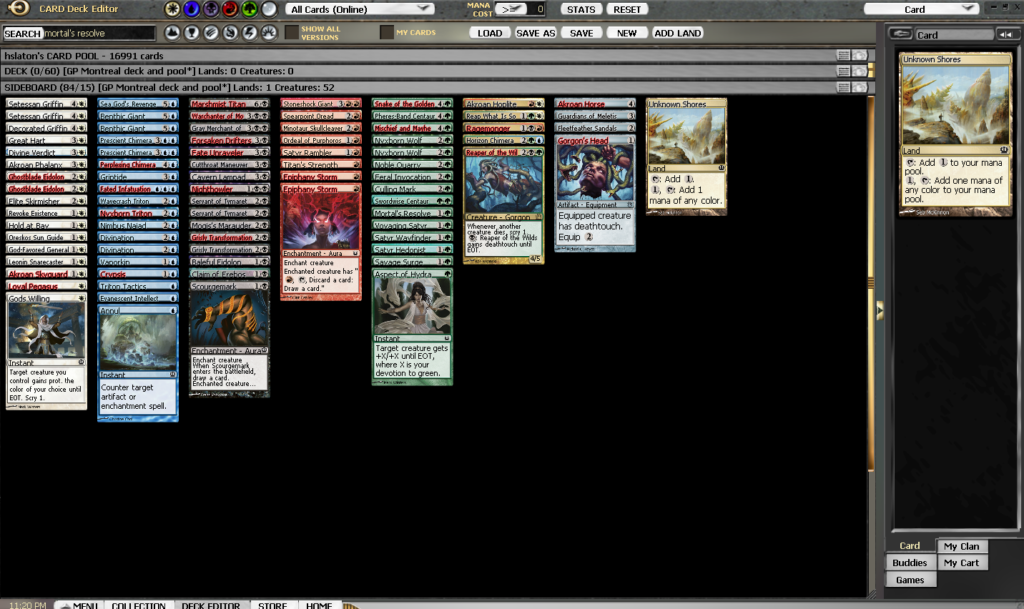 What would Jesus do? I think this is a really tough pool to build—and I was definitely impacted by the 30-minute time limit. I really thought I had arrived at the best build for the pool—but maybe I got blinded by the rares. With the exception of Reaper of the Wilds, all of my rares were either blue, black or colorless: Fate Unraveler, Nighthowler, Fated Infatuation, Perplexing Chimera, and Akroan Horse. Here's what I settled on: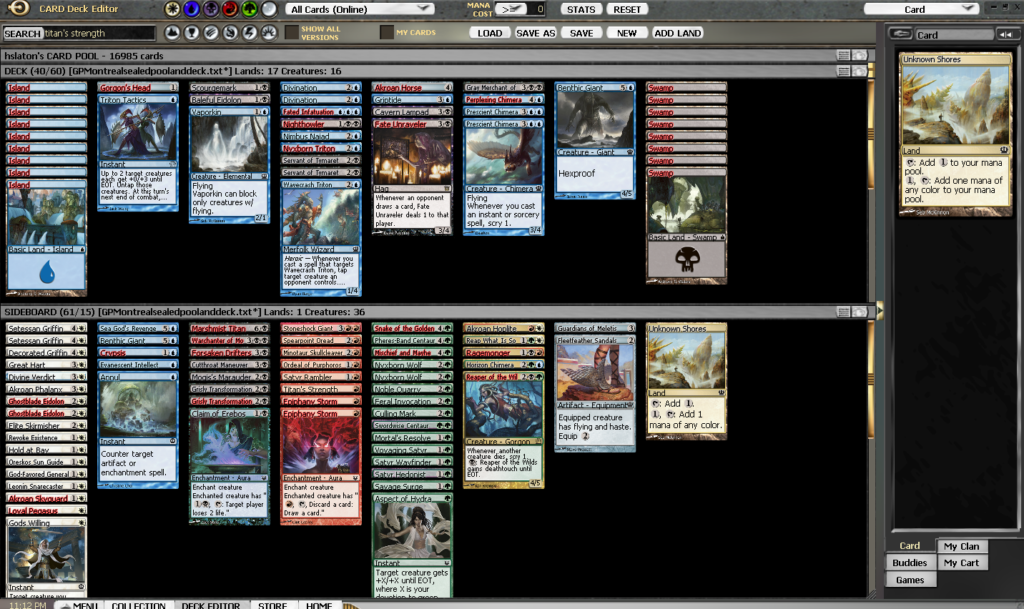 In retrospect, though, I think I fucked up. But I didn't realize this until inputting my pool into MTGO and mixing and matching the builds. First of all I think I was off by a couple cards in my primary build—I think I should have had Sea God's Revenge and Annul in there, possibly for Divination No. 2 and Nighthowler. Nighthowler was just a straight-up turd all day; that damn fox or weasel or whatever he is rarely did a goddamn thing.
I knew from the get-go that red was unworkable—but all the other colors were attractive in some way, shape, or form. Here's a potential black/green build: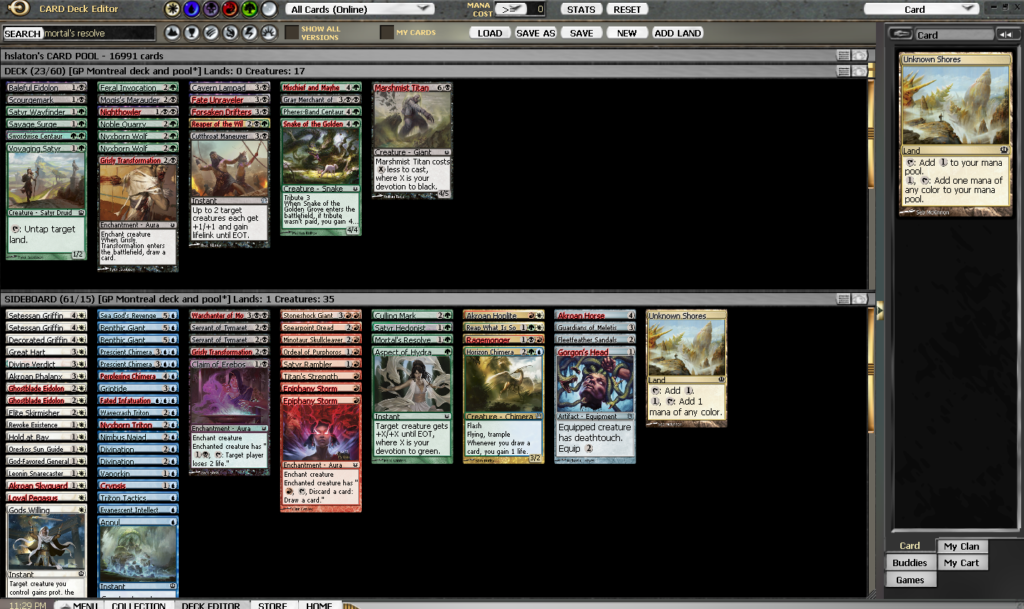 And here is a potential green/white build: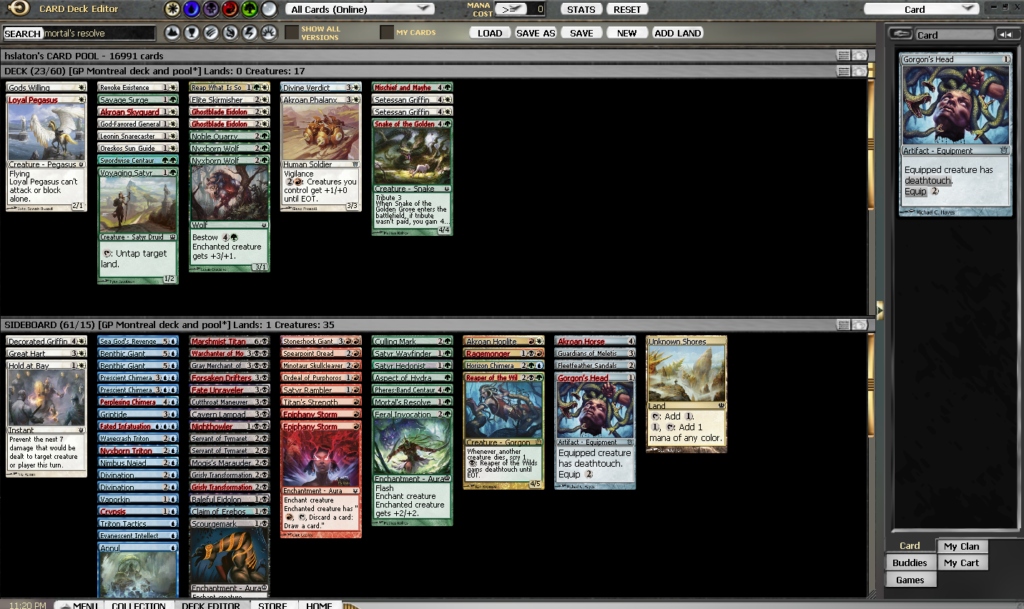 And blue/white:
And finally, blue/green with a black splash: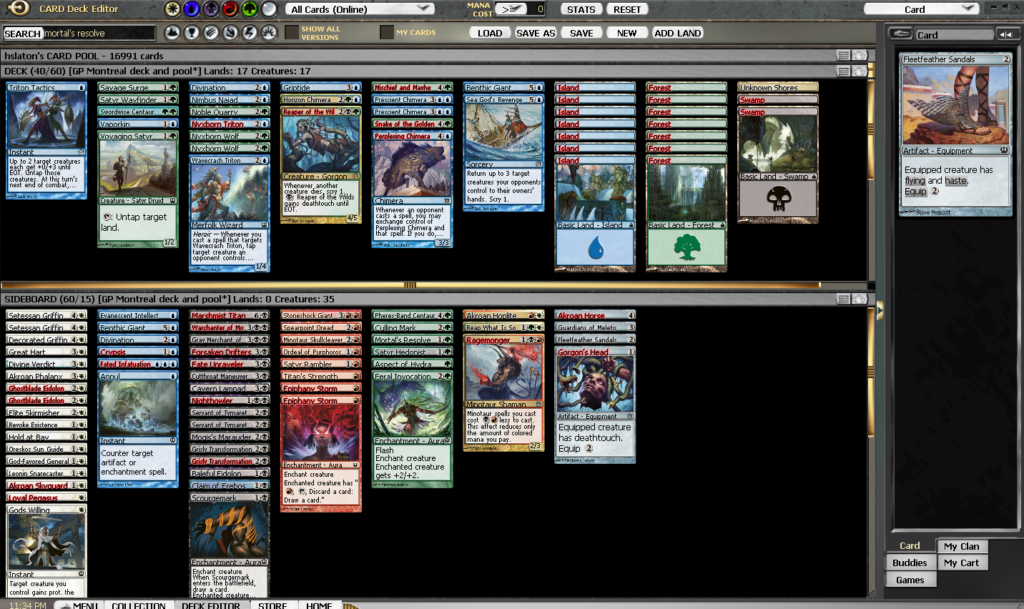 Which would you have gone with?
At any rate, I had a great time. Like I said, I played a lot of awesome dudes. Here they are:
BYE! 4-3.
And that's all she wrote! I'm really curious as to what build you guys out there in TV Land would have settled on. Kudos to all of my awesome opponents, who made my losing day a great one regardless. See you next time at GP Philly, aka my Magic bachelor party!
23/17 is a Hipsters of the Coast column focused on Limited play—primarily draft and sealed, but also cubing, 2HG, and anything else we can come up with. The name refers to the "Golden Ratio" of a Limited deck: 23 spells and 17 lands. Follow Hunter at @hrslaton.