It was a big week for Wizards of the Coast who made not one, not two, but three major announcements. We'll be taking a look this week at all three announcements: the Modern Event Deck, the Magic 2015 Card Frame, and the Magic Silver Coin. We'll also revisit the topic of satire thanks to the fine folks at Gathering Magic. Wrapping things up will be recaps of Grand Prix Prague and SCG Open Orlando. Here's what we learned…
Modern Event Deck
One of the biggest issues that eternal formats face is card availability. Legacy and Vintage are plagued by this conundrum because those formats are ancient. Modern, which will eventually be an anachronism of a name, would inevitably face the same fate if Wizards did not come up with a way to circumvent the issue. Fortunately, Wizards has come up with several ways to resolve the problem of card availability, at least for now, and only for Modern.
Modern Masters was a smashing success last summer, and hot off of its heels we're going to be given a Modern Event Deck. Looking at the Standard Event Decks that have been part of RTR Block and Theros releases, I think it's unlikely that we're going to see a slew of Modern staples reprinted here. However, with an MSRP of $75 there's an expectation that at least a few relatively popular cards are going to get included. The event decks tend to be creature-based and this should be no different as it's a gateway into the format.
If there were Vegas odds on which cards were getting reprinted, I would put my money on Noble Hierarch making an appearance.
Magic 2015 Card Frame
This summer will mark the 11th anniversary of the release of the 8th Edition Core Set. With it came the most radical aesthetic change in the history of the game: the modern frame. This past week, Aaron Forsythe took to the mothership to talk about the big stories of 2013. At the end of all that he gave us a glimpse at the future by previewing the results of the latest You Make the Card campaign:
Alright, well there are some weird things going on here, but honestly, I can get used to this. The designer credit is awkward but so long as it's only on a handful of cards each year it should be fine. I love the hologram. A lot of people had some suggestions such as making the expansion symbol a hologram and putting it on commons and uncommons but to be fair it seems like a complex process, and it will make rares feel a little more special. Though, there's something odd with the border, it's a bit hard to make out on the black card…
Well that's going to turn  some heads. Heather Lafferty gathered a slew of  community responses to the card frame on Twitter, which you should check out. Personally, I think it looks fine, and it's going to provide a lot of valuable information to collectors. On the other hand, apparently there are some Magic players who lack the ability to focus on any part of the card other than a narrow black band at the bottom. It's actually quite impressive since there's a ton of art and text on that card but people keep claiming they'll be distracted by a half-a-centimeter of black ink. Fascinating.
Anyways, the modern frame finally gets a face-lift 11 years after its debut. Whether or not it was brought about due to recent rises in counterfeiting or production errors it's a perfectly fine change and to be honest I'm surprised we actually don't see more changes in the card frame from time to time. I would be surprised if we go another decade without one.
Magic Coin
In slightly stranger news, Wizards announced a new partnership with the New Zealand Mint. I did a bit of research, and these guys make a ton of licensed product coinage. You can check out NZ's official page here and register your interest. They've also done coins for Dr. Who, Star Wars, Transformers, and Monopoly, so they're certainly no strangers to our culture. It will be interesting to find out how much these will cost. The Dr. Who 1/2 oz. coins are $70, and the Magic coins will be a full ounce, so expect these to get close to the $150 range. Also, expect these to go quickly. There was a one ounce Dr. Who silver coin which is now sold out and goes for $150 on eBay. This will be a must-have for high-end Magic collectors.
Weekend Pro Tour Recap
Top 25 Update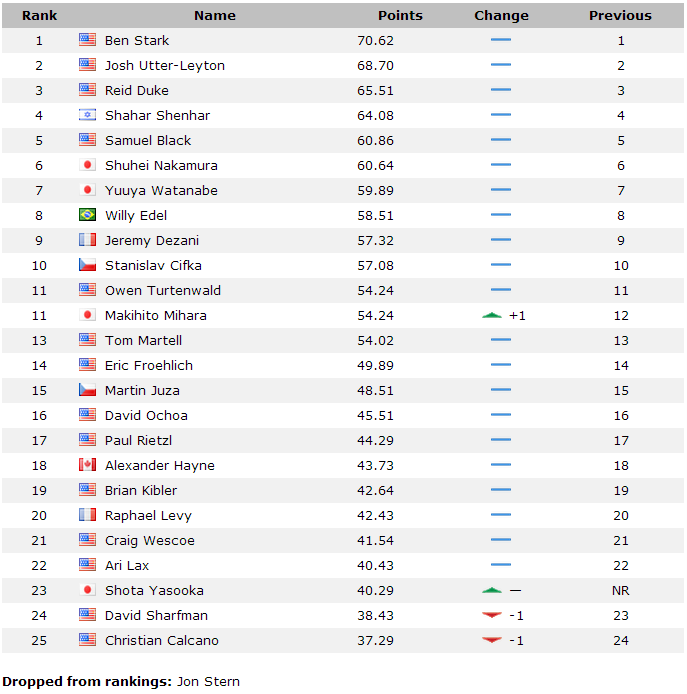 Not a whole lot to see here really. Shota Yasooka enters the rankings off the back of a strong performance at Grand Prix Shizuoka pushing out Jon Stern. What's interesting to me is that we don't know where Yasooka was ranked previously. I think it would be fascinating to see the full Top 100 using this ranking metric. Maybe we'll be able to see that sometime soon.
Grand Prix Prague
Five ranked pro players attended GP Prague this past weekend, but unranked Croatian IT professional Vjeran Horvat emerged victorious. Horvat piloted a RWU tempo deck featuring Snapcaster Mage, Geist of Saint Traft, and some of the best removal spells ever printed. (9) Jeremy Dezani finished in 7th place but was knocked out in the quarterfinals. (15) Martin Juza and (10) Stanislav Cifka also finished in the top 100, good enough to earn prizes of some sort in the nearly 1,400-player tournament. (4) Shahar Shenhar and (20) Raphael Levy finished outside of the prizes.
Weekend SCG Series Recap
SCG Open Orlando
Tyler Wilkerson took down the Standard Open on Saturday with one of the five mono-colored decks in the top 8. Three of those were blue, and one each represented black and red. The rest of the final tables featured two B/W Midrange decks and one Naya Aggro deck. On Sunday, in the Legacy Open, Laurence Moo Young took home the big prize with BUG Delver. Wilkerson would finish third in the Legacy event, capping off a huge weekend for him. The Legacy top 8 had three Delver of Secrets variants, one Jund deck, and four combo decks of various flavors.
The Quick Hits
Wallpaper of the Week
I wonder if there's ever been a less exciting piece of Magic art that was trying to be so exciting as this piece featuring the newly deified Xenagos. It's not exactly that there's too much going on, which there is, but none of it is terribly interesting. Xenagos is smiling. He's bursting out of a mountain. He's doing serious amounts of property damage. He's made of stars. There's lightning coming out of an otherwise clear sky. None of these things is terribly exciting and the combination of them just seems… busy.
Grade: D
The Week Ahead
The Pro Tour returns to North America this week with Grand Prix Sacramento which will feature Theros limited on this side of the Atlantic Ocean for the last time at the highest levels of competitive play. This will be the first Grand Prix or Pro Tour event ever held in Sacramento. The last major tournament in California was Pro Tour Dragon's Maze back in May of 2013 in San Diego. The last Grand Prix in California was also held in San Diego in March of 2013.
Meanwhile the Star City Games Open Series travels to Columbus, OH for Standard and Legacy action. The series was recently in the Buckeye State for a Classic in December 2013 and an Open in June of 2013. Columbus is a regular stop on the SCG Open Series and will be host to the second invitational held this year in June.
What We Learned is a weekly feature here at Hipsters of the Coast written by former amateur Magic Player Rich Stein, who came really close to making day two of a Grand Prix on several occasions. Each week we will take a look at the past seven days of major events, big news items, and community happenings so that you can keep up-to-date on all the latest and greatest Magic: the Gathering community news.