After a lackluster performance last week with B/G Devotion, I was looking for something new to play. I had thought about maybe giving RW Devotion a test drive but decided I still wasn't finished with my Overgrown Tombs yet, so I set off to find a list that satisfied two criteria; I wanted to play a Golgari deck and I wanted it to function differently than B/x Devotion. I looked in the usual places and found two decks that satisfied my parameters in the MODO Standard Dailies, one created by Whiles and one  created by manaflood. These are the decklists:
Whiles' Golgari Midrange
manaflood's Golgari Midrange
The lists are, understandably, pretty similar as they are both looking to get their grind on in the midrangiest of fashions with the glaring difference being the creature base. The only shared creature between both decks was Reaper of the Wilds, which I think speaks to the power level of this card in midrange decks. Reaper can blank removal spells, kills just about everything thanks to deathtouch, and gives the deck much needed card filtering. Otherwise though, Whiles is on the Pack Rat plan with supplemental support from Polukranos and Dreg Mangler, and manaflood plays Desecration Demon, Scavenging Ooze, Sylvan Caryatid, and Lotleth Troll. After last week I was sick of trying to get there with Pack Rat and thought that Dreg Manger is a weird choice for non aggro strategies, so I opted to play flood's list. While none of the creatures can single-handedly take over a game in the way Pack Rat can, the package just seems to be more cohesive; Caryatid ramps into Demon and Reaper while Ooze and Troll fight off early aggression and grow throughout the game.
I ended up making a few changes to the sideboard, though this came down to card availability and not necessarily because I disagreed with manaflood's choices. This is the list I played this week at Pandemonium's weekly Wednesday Night Standard event:
Ensnaring Cambridge Golgari Midrange
Round 1—Milan with Mono Blue Devotion (2-0)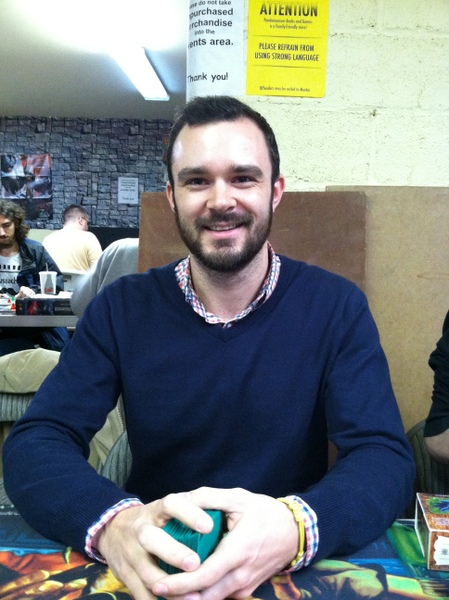 Milan was a genuinely nice guy and a gracious opponent. He's one of those professional people who have their life in order and still manage to find a little time to play Magic. I'm still hoping to someday have the whole life/love/work/Magic balance down, but in the mean time I'll just enjoy occasionally dueling against well adjusted individuals.
Game one, I Thoughtseized Milan on turn one to see: two Nightveil Specter, Thassa, God of the Waves, two Islands, Judge's Familiar, and a Master of Waves. I opted to take Thassa as I have no other way to remove the indestructible deity. Milan was able to take an early lead and even made seven elementals with Master of Waves but after a timely removal spell and three Desecration Demons, he scoops up his cards.
Sideboard:
+2 Golgari Charm
+1 Gaze of Granite
+2 Mistcutter Hydra
+1 Skylasher
-3 Lotleth Troll
-2 Read the Bones
-1 Vraska, the Unseen
Lotleth Troll doesn't really block his creatures, Read the Bones is a little slow, and Vraska isn't great against aggro/tempo strategies, so they all come out. I sided in all my protection from blue creatures, Golgari Charm to blow up Bident and Master of Waves, and a Gaze of Granite because I really just wanted to cast a Gaze of Granite once in my life.
Game two, I had another turn one Thoughtseize and took Frostburn Weird over Nightveil Specter in order to interrupt his creature curve. The rest of the game I just Abrupt Decayed all of his creatures and bashed in with Scavenging Ooze, Reaper, and a Frog Lizard token. Right before he was about to die, Milan turned all of my creatures into Pigs with Turn to Swine which was kind of awesome and totally unexpected. He still died but it was to hog tokens, which I think is a more dignified way to go.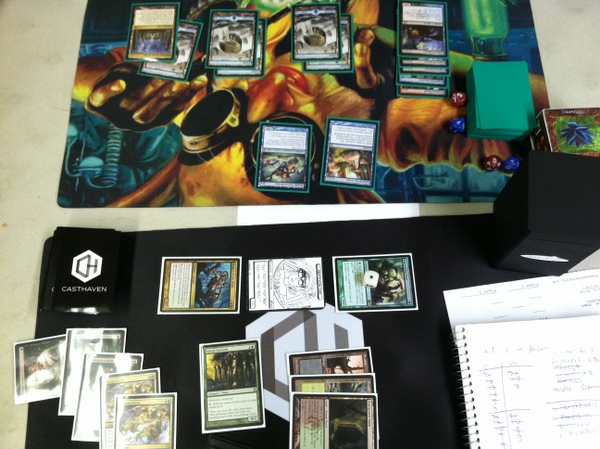 Round 2—Julien with GR Devotion (2-1)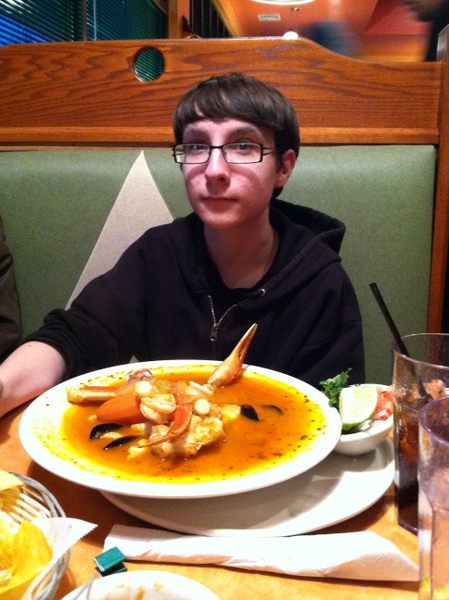 Julien is 14 years old and I think it's weird to take pictures of kids I'm not related to. Please accept this picture of my 14 year old brother about to eat a pile of shellfish instead.
Since I'm the luckiest person ever, I also started this game off with a Thoughtseize and saw Julien was running with a five land hand. I took Kalonian Tusker over Reverent Hunter. The rest of the game, Julien drew lands while I drew stuff like Scavenging Ooze and Reaper of the Wilds. His lands fought valiantly but couldn't do anything to stop my creatures from getting through.
Sideboard:
+2 Lifebane Zombie
-1 Abrupt Decay
-1 Read the Bones
Julien's deck has a bunch of big green creatures so bringing in Lifebane Zombie is a no-brainer. I ended up trimming one removal spell and a draw spell, though I think I like taking out two Read the Bones instead as Abrupt Decay is necessary in stopping the deck's devotion-building early drops that lead to really gross situations in conjunction with Nykthos.
Game two, I stumbled on two lands and Julien made a million/million Reverent Hunter after playing an Arbor Colossus. As you can imagine, I lost.
Game three, I dispatched his early threats and started feeding my Scavenging Ooze which was able to slowly dismantle a pair of Experiment Ones that wouldn't stop regenerating. My final board looked like this (I think I get points for playing Vraska, right?):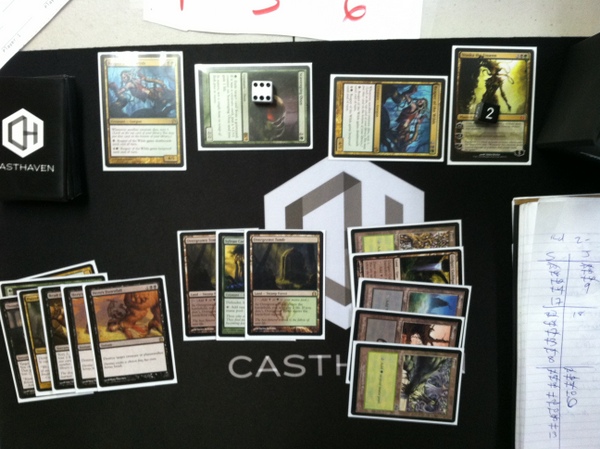 Round 3—Roberto with Selesyna Aggro (2-1)
Roberto beat me the last time we squared off with his weapon of choice—Selesyna Aggro. This dude is so devoted to the archetype that he made some custom foil elemental/wurm tokens which is a big step up from the sleeves and dice I see most people using to denote these mythological creatures. Good work Roberto.
Game one, I made him discard an Ajani and Abrupt Decayed a Fleecemane Lion. From there, I was able to ride a Lotleth Troll and a Scavenging Ooze to victory, doing my best to leave up removal during combat to deal with flashed in Boon Satyrs, Advent of the Wurm, and Selesyna  Charm.
Sideboard:
+2 Lifebane Zombie
+1 Gaze of Granite
+1 Golgari Charm
-3 Read the Bones
-1 Vraska the Unseen
Gaze of Granite actually seemed pretty awesome against all of Roberto's tokens so I brought that in along with Lifebane Zombie and a miser's Golgari Charm to kill Boon Satyr, Unflinching Courage, and Soldier of the Pantheon.
Game two, after a really long game of playing around Celestial Flare and waiting for Ajani to come down and kill me from eight, Roberto put together a lethal attack: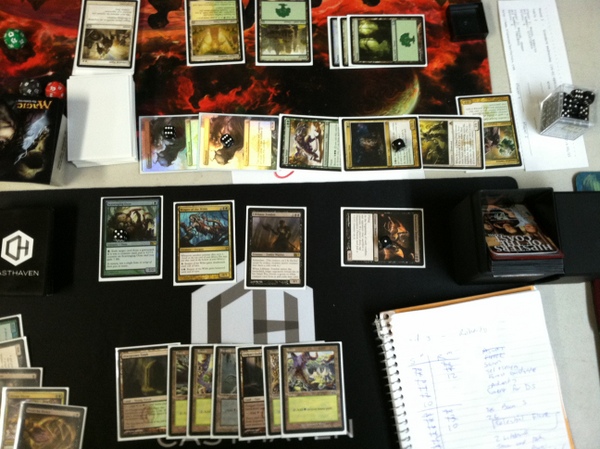 Game three, I CAST GAZE OF GRANITE AND IT WAS AWESOME. On turn four, I managed to wipe out a Soldier of the Pantheon and a Dryad Militant wearing Unflinching Courage. After that I managed to win, but I was too distracted by casting Gaze of Granite and forgot how.
Round 4—Alex with UW Control (0-2)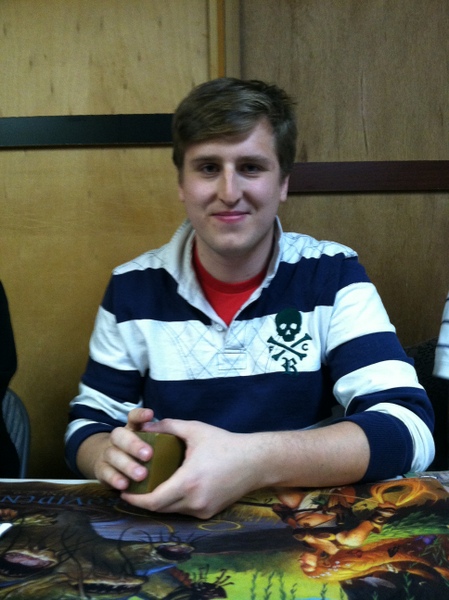 Alex is always on control, which is something I can usually get behind. I just don't like playing against it when I happen to be on a deck with a bunch of dead removal spells and creatures that are practically begging to be supremely verdict-ed.
Game one, Alex played a turn two Ratchet Bomb and goaded me into committing more threats to the board that he swept away with Supreme Verdict. I did my best to battle through but Alex resolved an Elspeth and that was the game.
Sideboard:
+2 Duress
+2 Lifebane Zombie
+2 Underground Connections
+2 Mistcutter Hydra
+2 Golgari Charm
-4 Sylvan Caryatid
-2 Putrefy
-2 Abrupt Decay
-2 Reaper of the Wilds
Ten cards come in here to make this match slightly less lopsided. After board, Golgari Midrange has six discard spells, five draw spells/engines, two cards that protect against sweepers, some more efficient creatures, and way less bad removal.
Game two, I mulled to five and kept a one lander. I scooped after the first Sphinx's Revelation.
At the end of the night I put up a respectable 3-1 finish. This deck was actually pretty sweet and felt very good especially against Mono Blue Devotion. I obviously struggled with the control match-up but I'm not sure it's unwinnable post board, mostly I fell victim to the double mulligan. The big question moving forward is what this deck gets, if anything, from Born of the Gods. After double-checking what we have of the spoiler, I'm not seeing anything that this deck could benefit from that Mono Black Devotion couldn't use to better effect. What's even worse is that we don't even get the GB Scry Land until Journey into Nyx, so no card filtering for us. Regardless of the possible set-backs in the new Standard format, I know this isn't the last we'll see of Reaper of the Wilds.
Next week, I'll be back playing Orzhov Aggro. Thanks to my friend Nik for shipping the deck.
At age 15, while standing in a record store with his high school bandmates, Shawn Massak made the uncool decision to spend the last of his money on a 7th edition starter deck (the one with foil Thorn Elemental). Since that fateful day 11 years ago, Shawn has decorated rooms of his apartment with MTG posters, cosplayed asJace, the Mindsculptor at PAX, and competes with LSV for the record of most islands played (lifetime). When he's not playing Magic, Shawn works as a job coach for people with disabilities, plays guitar in an indie-pop band, and keeps a blog about pro-wrestling.