Some people love to root for the bad guys. No matter the competition, there will always be some players who develop a reputation for villainy. Sometimes it's through personality, and other times it's through action. There are even those who are allegedly or proven to have been cheaters in the field. Yet for some reason they are still an important part of the game. Today we will discuss why.
Villains
Something caught a lot of people's eyes last weekend at the SCG Open in Providence. One of the SCG Open's greatest villains had returned to the tournament circuit, having served their time on an 18-month DCI Ban. Shortly after the top-8 had begun, someone shared this quote with me:
What is the most misunderstood card in Legacy? 

Explore.
I'm not going to lie. I laughed at Alex Bertoncini's troll-tastic top-8 player profile from the SCG Legacy Open in Providence back on the 23rd of November. Most people didn't find it funny however. They found it incredibly offensive. They felt slighted, as if Bertoncini was rubbing it in all their faces. What was it that had people so upset?
In case you didn't follow that, let me break it down for you. On turn two Bertoncini plays his second land, casts Explore, and then plays an extra land from Explore (his third) and passes the turn. On the following turn he plays his fourth land, casts another Explore, then plays an extra land from Explore (his fifth land), and casts Preordain. After the Preordain he looks at his graveyard, says 'two explores?' to his opponent, who nods, and then plays his sixth land, one more than he is allowed to play.
Bertoncini cheats at Magic the Gathering. He has cheated on camera several times resulting in a large body of evidence which resulted in a ban from the DCI. If you want to learn more about Bertoncini's legacy as a cheater, please read this piece by Drew Levin which puts everything together quite nicely. I'm not here today to talk about Bertoncini, but about cheaters, and villains, in Magic.
Villains are a part of every game, whether it's Magic or another card game or a board game or a sporting competition. Villains come in all flavors including cheaters like Bertoncini or Mike Long or Alex Rodriguez. Some villains have a penchant for a personality that rubs people the wrong way, such as poker star Phil Hellmuth. Other villains attain their status through a specific event or action. At the end of the day though, no matter how they became a villain, they become polarizing characters, and fans either love them or hate them passionately.
How we react to villains, and specifically cheaters, is a very interesting facet of the Magic community, but it is one that is almost universally shared across all gaming/sporting fan communities. There are a wide spectrum of reactions ranging from disgust and hatred to admiration and respect. This was seen over the past week with reactions to Alex Bertoncini's return to the SCG Open, but can also be seen in the past with the treatment of other Magic cheaters such as Mike Long, Olivier Ruel, and Tomahru Saito.
The important question though, and the reason I bring up Lance Armstrong, is what to do with villains in competition, and especially in Magic. I assure you that there is no shortage of people who would love to see cheaters given a lifetime ban from the DCI. Very few people earn themselves such infamy. It is normally reserved for people who commit much more heinous transgressions. Usually it involves theft, threat of or actual bodily harm, or causing damage to property at an event.
What about cheaters? Why let them come back to the game at all? Players like Mike Long and Alex Bertoncini, and countless others who may have never been caught, have made large amounts of money and gained prestige on the back of cheating and at the expense of honest competitors. Does the punishment fit the crime? Is an 18-month ban from competition a sufficient way to deter this behavior in the future? It likely isn't.
Unlike baseball, or cycling, or even poker, virtually no one makes a living on the Pro Tour. All of these players have another job, whether it's writing about Magic, or developing games, or as employees in other industries. It is extraordinarily difficult to earn enough money playing Magic competitively to support life. When a player is banned for 18-months, it takes away supplemental income, but not a player's primary source of funds.
What if the DCI banned players for longer amounts of time for cheating? Would two years be appropriate? Three? Lifetime? It's a difficult question to answer because the stakes are so low. Perhaps one day they will be much higher, including things like corporate sponsors and other aspects of the game that would put more value on player integrity. But for now, what would be the point? There are still fans who admire these players because they are successful. Is it worth losing the narrative of the villain to maintain the illusion of integrity to the fans?
Ultimately the answer is going to be "no." There will likely never be lifetime bans given out for cheaters. They are part of the game, and the DCI has deterrents in place to combat cheating. Judges are getting better at spotting it and with the improvements in video coverage it will soon become almost impossible to 'get away' with cheating while under a camera. As the game grows and the fan-base improves there will be more fans who like to cheer for villains and more players, like Bertoncini, inclined to play that role for them.
Villains are a valuable part of any competitive game and Magic is no exception. If Bertoncini cheats again, he'll be hit with another, possibly more severe, punishment for his crimes. In the meantime, I look forward to week after week of SCG Open (and perhaps Grand Prix and Pro Tour) fans cheering for and against him and hopefully other players willing to soak in the fan appreciation on either side of the spectrum.
Pro Tour Update
Grand Prix Vienna
An impressive 1,463 players was trimmed down to 205 after nine rounds of standard constructed competition. Only three ranked players participated in Grand Prix Vienna this weekend, and two of them were paired against each other in the quarterfinals of the top-8. (13) Jeremy Dezani took on (10) Stanislav Cifka in the opening round of the final tables, pitting Mono-Blue Devotion (Dezani) against UW Control (Cifka).
Dezani managed to upset the higher-ranked Cifka and move on to the semi-finals where he took on Robin Dolar, playing Esper Control. On the other side of the bracket Marcin Stawica with Mono-Blue Devotion took on Niklas Kaltenbock with White Weenie, splashing red for Boros Charm. In the end Dolar, from Slovenia, managed to take down Dezani's Mono-Blue deck to face Stawica, from Poland, and his Mono-Blue deck in a finals between two un-ranked eastern European players.
Staciwa, as shown above, went on to win an impressive match against Dolar's Esper build. If you haven't watched the coverage I highly recommend it. Raphael Levy provides solid commentary for the matchup.
Grand Prix Toronto
Before I get into the recap of this past weekend's action north-of-the-border, I'd like to comment on the lack of video coverage at Grand Prix Toronto. This was a huge mistake by Wizards of the Coast. Something like half of the ranked pro players in the world descended upon Ontario's provincial capital to battle in the last Grand Prix of the season. Yet no one thought it might be an important event that fans would want to watch. Could Owen Turtenwald win three straight tournaments? Would any of the top-ranked pros solidify their position? What a mess by Wizards. Even the text coverage has been abysmal. This is a huge step backwards. Anyways…
192 players from the original 1,603 made the cut for day two of Theros limited in Toronto. Among them were Hipsters of the Coast columnist Matt Jones, and friend-of-the-blog Rob Kofsky. Also in that cut were eight ranked players including (3) Reid Duke, (7) Sam Black, (9) Tom Martell, (12) Owen Turtenwald, (16) David Ochoa, (17) Paul Rietzl, (21) Alexander Hayne, and (23) Christian Calcano.
None of them would finish in the top-8 of the event. Sam Black came closest, finishing in 11th place overall. Also earning some pro points were Alexander Hayne (14th overall) and Owen Turtenwald (19th overall). Despite the lack of ranked pros, there were still some notable players in the top tables. Among them were Hall of Famer Willy Jensen, StarCity Games writer Ari Lax, and a few Grand Prix champions including Rober Smith (Seattle '12) and Seth Manfield (Daytona Beach '07, Kansas City '13). [Fun Fact – Manfield was 17 when he won Daytona Beach in 2007, beating 20-year-old PVDDR in the finals.]
The Hall of Famer advanced to the semifinals where he was dispatched by the prolific top-8-er Ari Lax. With Owen Turtenwald finally cashing in on some Grand Prixs, was it time for Ari Lax to finally get his first GP win? Toronto marks the seventh time Lax has finished in the top-8 of a Grand Prix, and you can add two top-16 finishes at Pro Tour events to that resume.
Standing between Lax and his first championship was Wisconsin software developer Greg Ogreenc. Ogreenc previously finished in the top-8 of GP Kansas City and the top-32 of GP Oklahoma City. Now, he found himself one match win away from a GP title in Toronto. Ogreenc started strong winning the first game in only six turns. A rough mulligan in game two set up a winner-take-all final game. When the dust had settled, Ari Lax had finally won his first Grand Prix title.
Top 25 Update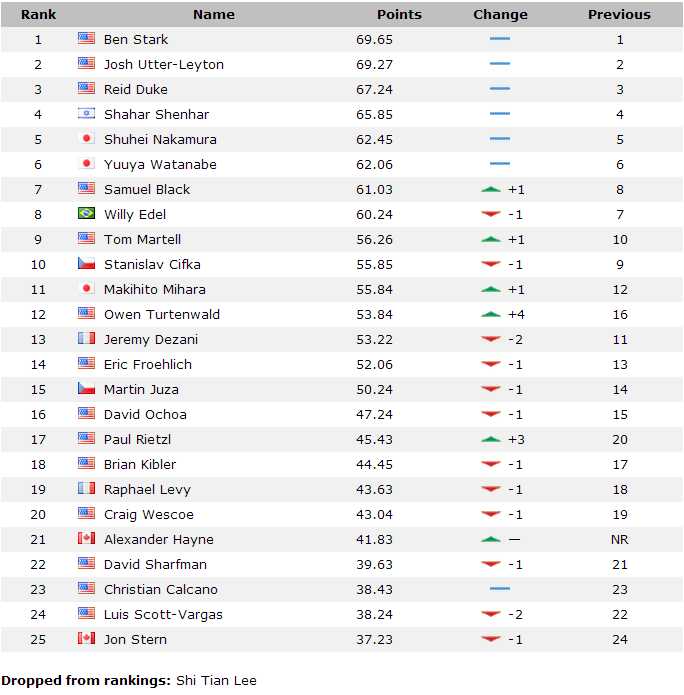 This week finally saw a decent amount of movement in the lower parts of the Top 25 along with Shi Tian Lee losing his spot in the rankings to Canadian planeswalker Alexander Hayne, fresh off a solid performance last weekend in Grand Prix Kyoto. While the top six spots remained unchanged, every single spot below that except for Christian Calcano at 23rd move up or down several spots.
The biggest gains, outside of Hayne's, belong to Owen Turtenwald and Paul Rietzl who gained four and three spots respectively. Both players finished in the Top-8 of Grand Prix Albuquerque last  weekend and earned new ranks for the effort. Sam Black also appeared in that Top-8 and moved up one spot into 7th overall. This coming week will likely include another slate of movement with two large Grand Prix events featuring 15 currently ranked players.
The Quick Hits
Wallpaper of the Week
I kind of wish there was no character in this artwork. Gods Willing is a fine piece of art, but I much prefer the background setting to the foreground action. The arches, starscape, and altar make for a beautiful setting which, in my opinion, is completely ruined by a devout worshipper blocking my view. Such is life.
Grade: C
The Week Ahead
This week brings us the last North American Grand Prix of 2014 which will take place in Dallas/Fort Worth, TX. Actually it will be in Fort Worth, but this is similar to those Boston-Worcester tournaments which take place in Worcester but no one outside of New England has ever heard of Worcester, MA so they slap Boston on the name for some recognition.
Dallas/Fort Worth last hosted a Grand Prix in the Spring of 2011, also featuring the Standard format. Two other Grand Prixs have been held in the area showcasing Extended in 2007 and Invasion sealed/draft in 2000. The first major event ever held in Dallas was a Pro Tour in 1996, the fifth Pro Tour ever held. No Pro Tour event has been held in Dallas for the past 17 years.
What We Learned is a weekly feature here at Hipsters of the Coast written by former amateur Magic Player Rich Stein, who came really close to making day two of a Grand Prix on several occasions. Each week we will take a look at the past seven days of major events, big news items, and community happenings so that you can keep up-to-date on all the latest and greatest Magic: the Gathering community news.