I don't like the word luck. It has a prescriptive connotation that suggests the power of a supernatural force, that our fortunes are determined by gods, or spirits, or rabbits' feet. Even if you use the word luck solely in a descriptive sense, i.e. something unexpected happened and it had positive or negative consequences for the individual(s) involved, I prefer the word variance. Variance takes out the human element and offers up probability in its absence. There is no sense of being blessed or cursed, variance is just a playing out of numbers. In Magic, sometimes you get a nut draw and sometimes you see a bunch of no land hands and mulligan into oblivion. Variance, man.
While we're talking about Magic, luck is also a sore subject for me because it undermines the importance of skill. You top-decked the only card that would get you out of this situation. You got lucky. I see this kind of thing everywhere; one only needs to win a game on MODO to elicit this kind of response from an opponent. The thing is, there are plenty of times variance "rewards" bad players, but what is more important, and often overlooked, is how good players will play with variance in mind. I finally drew the card I needed after playing to my outs over the past few turns. I recognized the sequence of plays I needed to win and I executed them. To use an example most people would be familiar with, let's talk about the Craig Jones' Lightning Helix top deck.
This was not the luck sack of the century, this was Craig Jones playing to his outs, recognizing the sequence of plays required to win the game and executing that plan. I perused Jones' decklist from Honolulu, read about how he sideboarded, and while it's true that Helix was his only out (he sided out all of his Flames of the Blood Hand) the probability of him drawing it wasn't that miraculous. He had not yet played any helixes, meaning there were four floating around in the remaining cards in his deck and one happened to be on top the turn he needed to draw it. Craig Jones was not so much lucky as he was skilled, which can be further evidenced by the fact that he was in the semi-finals of the pro tour in the first place.
Anyway, the reason I wanted to talk about luck in the first place is because while playing Conley's BG Dredge deck this week, I felt lucky. Not only did I 4-0 a Standard tournament for the first time since beginning this column, while playing cards I also received tickets to see a sneak preview of the new Hobbit movie, and then afterward I went out to celebrate my wins with my girlfriend, who was no longer mad at me over a fight we had the night before, and ended up running into one of my best friends who had just got back in to town after spending the last two years in Montreal.
I don't care if that sounds lucky, I'm still calling it variance.
Anyway, here is the deck I ended up playing at Pandemonium's Wednesday night Standard tournament:
BG Dredge
The starting 60 I took from the first article Conley posted on the deck on November 24th. The sideboard is a bit of a mish-mash, featuring eleven of the fifteen cards Conley included in his initial build. Since this initial build, he has posted four videos and an article which feature different sideboards, so I don't feel too bad about not playing his exact list.
When I first saw this deck, I was a bit dubious as to how good it would actually be. While I am a Conley Woods fan—I own a Rogue's T-Shirt and have his signature on my playmat—I am never sure when I first see one of his brews whether it is good or just a pile of weird cards. I recognized this list to have a lot of graveyard synergies, but wasn't sure whether they were potent enough to warrant the inclusion of gems like Drown in Filth and Commune with the Gods. After playing the deck, I think Mr. Woods is on to something and that this could be a top contender in the Standard metagame right now.
Here are my games:
Round 1—Andrew with Junk (2-0)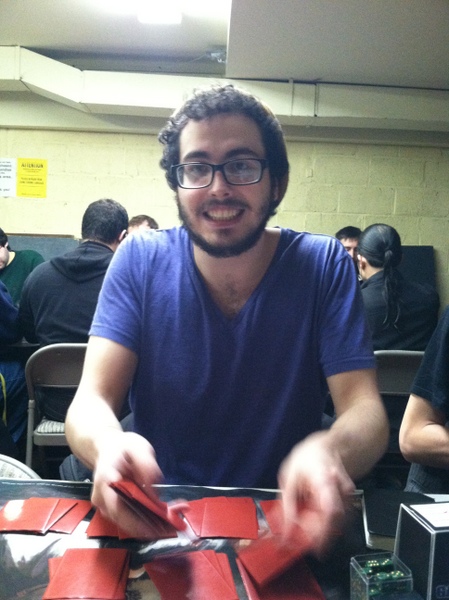 Andrew is originally from Jersey and has encountered some Hipsters while playing at Twenty Sided Store in Brooklyn. After presenting him with a HOTC business card/token he said something along the lines of, "You guys are everywhere."
Game one, I played a bunch of mana dorks and mulched around with my graveyard until he played an Elspeth. Though I did have a few giant Nighthowlers, I couldn't get through his ever-growing wall of tokens. I ended up pinging him a few times with Deathrite Shaman and regrowing a Jarad to chuck a 10/10 Nighthowler at him for exact damage: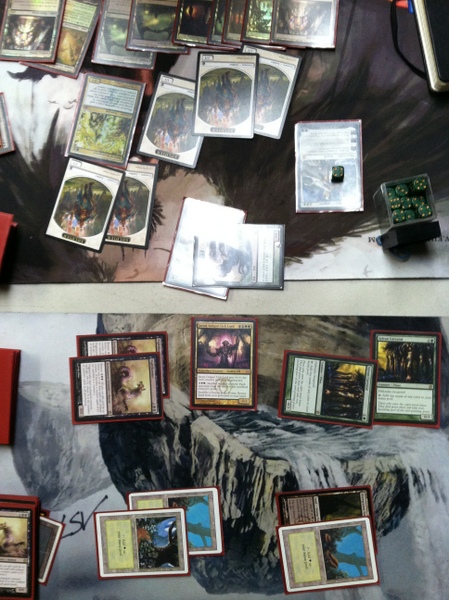 Sideboard:
-4 Drown in Filth
-2 Shadowborn Demon
+3 Thoughtseize
+1 Deadbridge Chant
+2 Lifebane Zombie
Drown and Filth and Shadowborn Demon are pretty bad against the usual suspects in Junk; Desecration Demon, Obzedat, Blood Baron of Vizkopa, and Reaper of the Wilds so I sided them out. I brought in Thoughtseize to preemptively bin planeswalkers, Deadbridge Chant to win the long game, and Lifebane Zombie because Andrew had green and white creatures I didn't want him to play.
Game two, I won on the back of three active Deathrite Shaman. Andrew got a little flooded and his Voice of Resurgences couldn't get past my Sylvan Caryatid, so I just sat back and started eating all of the instants and sorceries in our graveyards. Andrew threatened to get back in the game with an Obzedat, Ghost Council but I drew a sorcery on my turn, a Thoughtseize, cast it on myself, and used Deathrite to deal the final two points of damage.
Round 2—Dominic with Mono Blue Devotion (2-0)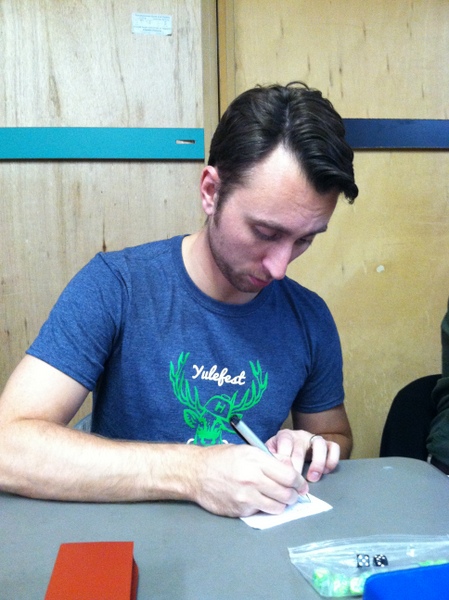 Last time I played Dominic, he played an innovative Bant Aggro deck that managed to defeat my Maze's End deck with stuff like Cloudfin Raptor and Experiment One. This week he was playing a more established deck that also packed Cloudfin Raptor: Mono Blue Devotion.
Game one, I played a turn three Nemesis of Mortals after casting a very good Commune with the Gods which allowed me to put another Nemesis in my hand. I ended up playing three Nemesis of Mortals this game as well as bestowing a Nighthowler onto an Elvish Mystic. Dominic did lock down one Nemesis with Tidebinder Mage but couldn't find a way to deal with the other giant beaters. When I won on turn seven, my board looked like this: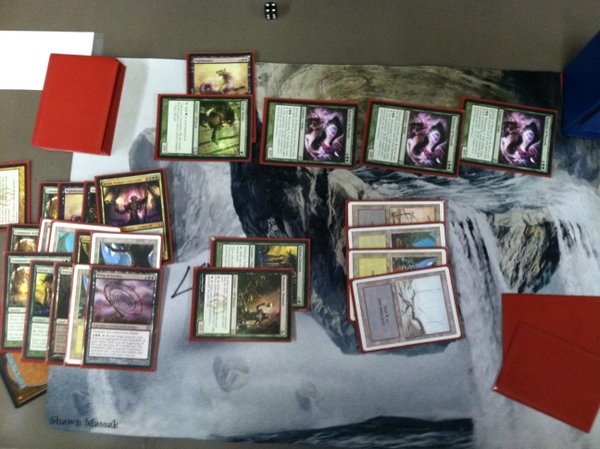 Sideboard:
-2 Voyaging Satyr
-1 Commune with the Gods
+3 Golgari Charm
Golgari Charm seems like an all-star in this match-up; it kills Master of Waves and its elementals, Judge's Familiar, and early Cloudfin Raptors while also blowing up Bident of Thassa and protecting your creatures from Rapid Hybridization. I wasn't sure exactly what to take out, so I shaved down a Commune and took out the worst of the mana dorks.
Game two, I powered out a turn three Shadowborn Demon to kill his Nightveil Specter. He did manage to turn my Demon into a frog-lizard science experiment but I was able to get enough power on board with Jarad and Nemesis of Mortals to prevent him from getting back in the game.
Round 3—Steve with "Shock and Awe" Boros (2-1)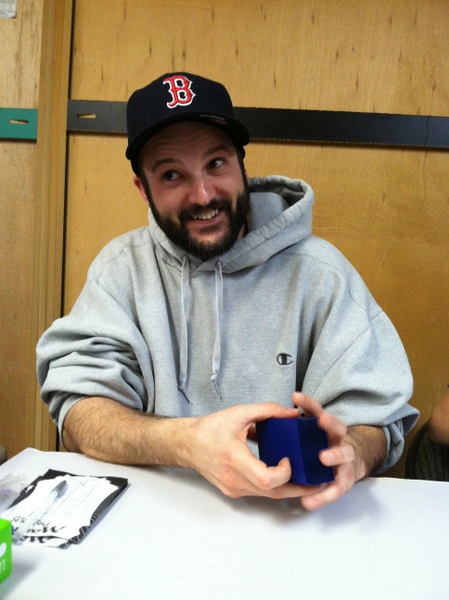 I wrote about losing to Steve a few weeks ago when I was playing Rakdos Aggro. Anyway, I had written that he was playing Boros Aggro and after the article was published, he told me that while he was playing an aggressive Boros deck, it had more of a combo feel to it and wasn't just a stock Boros Aggro list. In truth, Steve has been destroying with this deck he built and has had an insane win ratio over the past few weeks. Here is his decklist:
Shock and Awe
The deck is very fast, resilient to removal because of the protection spells, and can seemingly kill out of nowhere. I'm going to try to run this deck through a tournament in the near future because it is awesome.
Game one, I was on the play and for the second time in the tournament, I cast a turn three Shadowborn Demon which killed a Fencing Ace when Steve was tapped out. I was able to ride the Demon to victory alongside a Nemesis of Mortals when the tempo loss proved too much for Steve to get over.
Sideboard:
+2 Lifebane Zombie
+3 Golgari Charm
– 2 Voyaging Satyr
-1 Commune with the Gods
-1 Nighthowler
-1 Jarad, Golgari Lich Lord
Game two, I kept a slow hand with Whip of Erebos and got punished by Steve playing three Fabled Heroes, each threatening to deal approximately a million damage . I attempted to use Whip of Erebos during his combat step to block his creatures but apparently Whip doesn't snap at instant speed. I made a note to RTFC and shuffled up for game three.
Sideboard:
-2 Whip of Erebos
+2 Voyaging Satyr
Game three, I got my Lightning Helix moment. I'll call it the $20 Drown in Filth. Steve had a Fabled Hero with two counters and a Madcap Skills on it as well as a Soldier of the Pantheon with one card in hand. He has just attacked and knocked me down to one life. I had an 8/8 Jarad and a Nemesis of Mortals with another Jarad being useless in my hand. I took my turn and prayed for a Shadowborn Demon, since it would have killed the Fabled Hero and allowed me to have a mono black creature which could block his Soldier of the Pantheon if he were to draw Gods Willing or Brave the Elements on his next draw step. I peeked at my top card…and it was a Drown in Filth. I double checked my graveyard and I had one land in there, meaning I needed to hit three lands on the four card flip from Drown.
I flipped over the first card and it was a Shadowborn Demon.
I flipped over the next card. A Forest.
I flipped over the next card. A Swamp.
I warn Steve that I'm just going to slam this one.
It was a Forest.
Steve smiled and sort of shrugged. The dude still had a million outs. But he didn't end up drawing them I got there with a monstrous Nemesis of Mortals being catapulted by Jarad.
Round 4—Dan with Orzhov Aggro (2-1)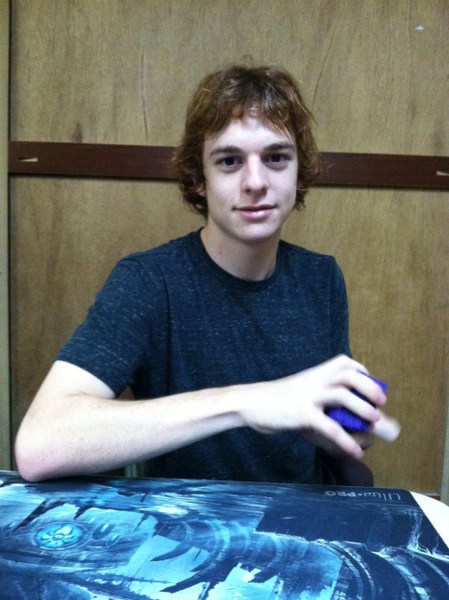 I played a few pickup games of Standard at the PTQ last weekend with Dan, so I figured he was still on a Ben Stark-esque BW Humans build.
Game one, I took a mulligan on the draw and was severely punished by his Imposing Sovereign. Even though I had pretty reasonable draws, he was able to push through enough damage, thanks to potential blockers coming into play tapped, and we were very quickly shuffling up for game two.
Sideboard:
+2 Lifebane Zombie
+3 Golgari Charm
-2 Commune with the Gods
-2 Whip of Erebos
-1 Jarad, Golgari Lich Lord
Game two, Dan kept a one-lander and played out two Dryad Militants over the first two turns. My first play was a Lifebane Zombie which saw a hand of Precinct Captain, Boros Elite, Tormented Hero, Xathrid Necromancer, and Thrill-Kill Assassin. I took the Precinct Captain. Dan ended up drawing another Plains but never saw a black source of mana throughout the game. I was able to crash in with the 3/1 intimidate guy while a Nemesis of Mortals threatened to unfavorably block his X/1's. The game was over shortly afterward.
Game three, I halted Dan's early aggression with a Golgari Charm which resulted in a two-for-one and allowed me to play a bunch of really big creatures Dan couldn't get past. My board state at the end of the game looked like this: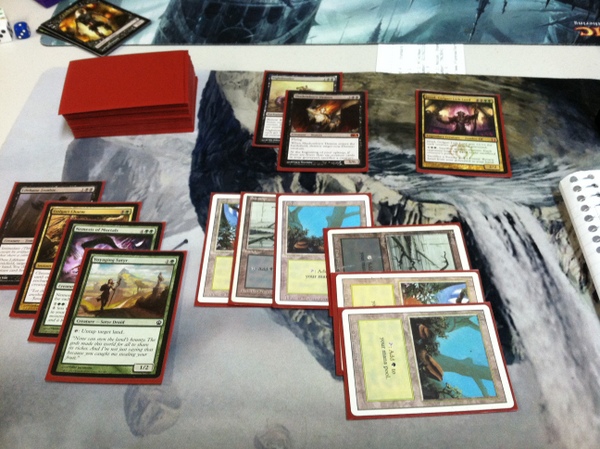 Next week I'm planning to play Conley's updated version of the deck which splashes white to bring in Sin Collector out of the sideboard.  Here's the list:
BG Dredge 2.0
At age 15, while standing in a record store with his high school bandmates, Shawn Massak made the uncool decision to spend the last of his money on a 7th edition starter deck (the one with foil Thorn Elemental). Since that fateful day 11 years ago, Shawn has decorated rooms of his apartment with MTG posters, cosplayed as Jace, the Mindsculptor at PAX, and competes with LSV for the record of most islands played (lifetime). When he's not playing Magic, Shawn works as a job coach for people with disabilities, plays guitar in an indie-pop band, and keeps a blog about pro-wrestling.