Another day, another odd time-space defying letter in my inbox.
Dear Future Matt,
It's totally cool. I hear you can cascade into Ancestral Visions and I'm totally down with that.
Love,
Past Matt
Sweet. I'm glad past-me understands.
The Mikes and I piled into the world's tiniest truck and decided to drive what ended up being seven hours to "Washington DC" (it was near DC but definitely not DC as the $95 cab rides from DC to the venue proved for some unfortunate people). This is what we looked like before we realized One-Tone was praying every time he turned the key that his truck started and stayed running. HILARIOUS!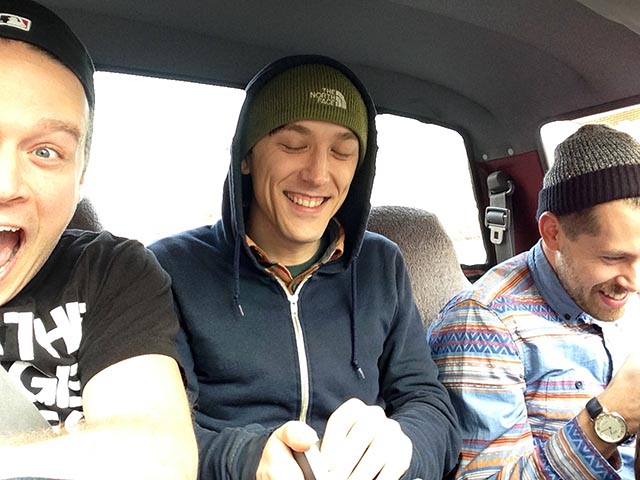 We rode for seven hours in this thing. I was this close to the Combo Master for seven hours. It lead to some pretty shitty back issues all weekend but hey, it's all for a good cause, right kids? One-Tone may have misled me on the size of my ride but not on the excellence of the company it came with. These two guys are great to ride in a truck with. Combo Master is very snuggly when he wants to be.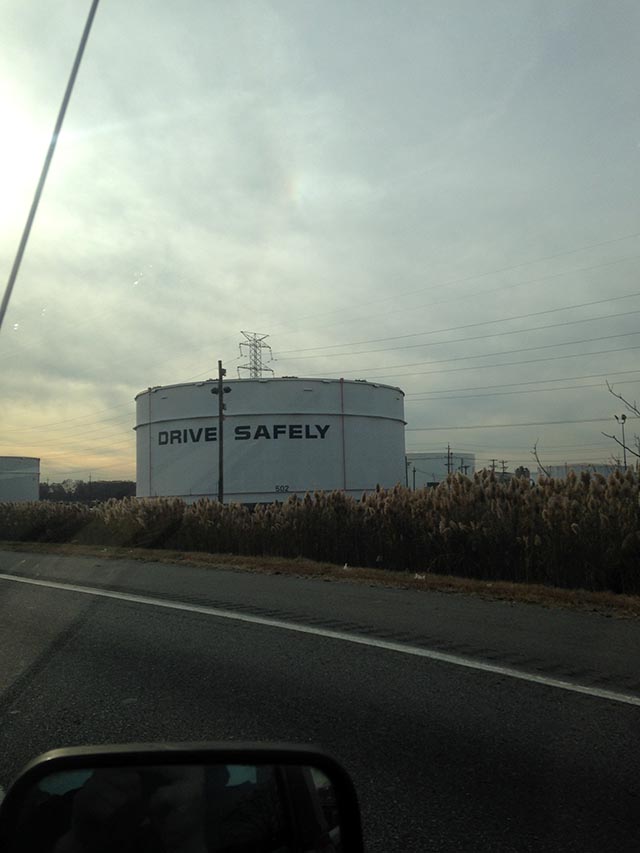 We passed some friendly New Jersey roadside reminders.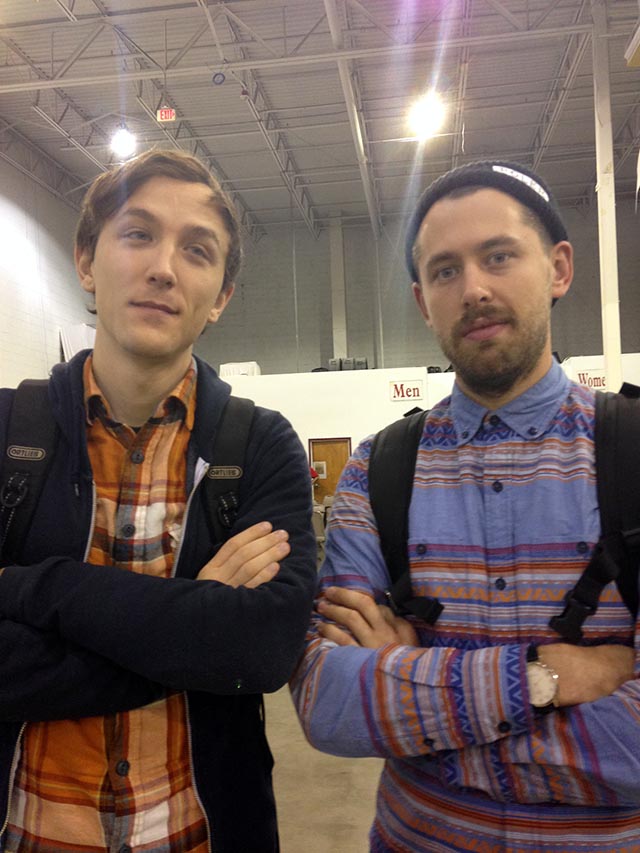 We made it to the venue sometime before Legacy Grinders were closed. None of us played any Magic Friday. There wasn't any time. Our drive, took seven hours. Did I mention that? Seven hours. Thanks, traffic. Oh and Mike's truck seriously fucked up my back. I appreciate the ride though, Mike. 🙂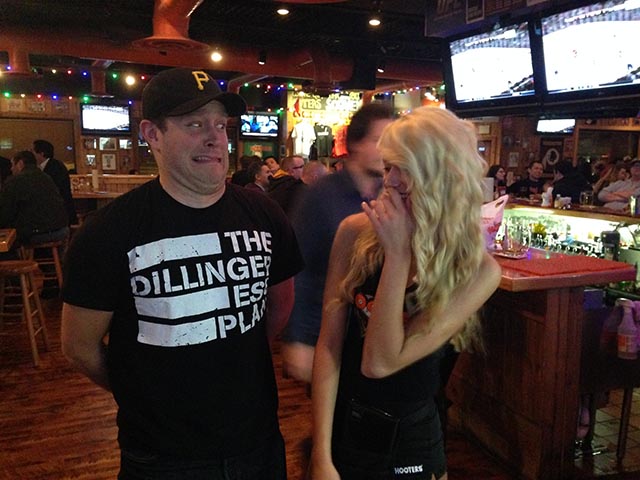 We met Zac and his buddy Paul at Hooters. The Mikes and I had never been to Hooters. As I hail from Rochester I'm a bit of a chicken wing snob and Hooters' wings aren't quite up to Mark's or Salvatore's pizzeria's level. Still, flirting with waitresses is confusing and fun. Our waitress, Alexis, by far the awesomest in the establishment, asked what we were doing in town and I told her we were here to play in a large tournament for Magic: The Gathering, the collectible card game of strategy and imagination. She looked like she wanted to know more and someone said that it's like D&D plus poker plus chess and she said it sounded cool. We all appreciated Alexis playing along! Thanks for the photo, too!
The team made our way back to the Dulles Expo Center (AKA former Home Depot) not in time to play in any events. I signed up for the sleep-in-special which required a decklist before 9PM. This is what I handed in:
Blue Jund
Then Carrie and I went to Walmart.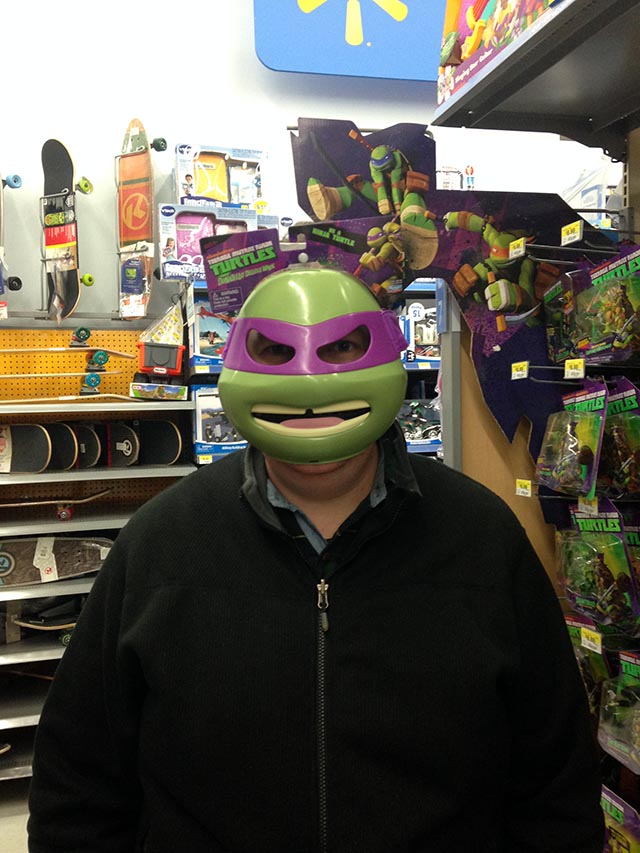 We tried on masks.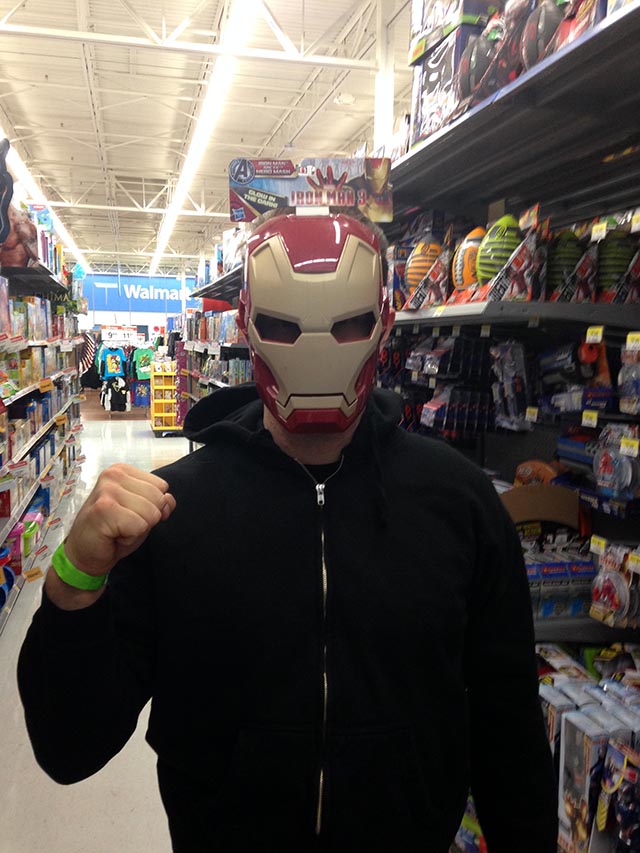 Carrie went with Donatello and I went with Iron Man. Neither of us got lice.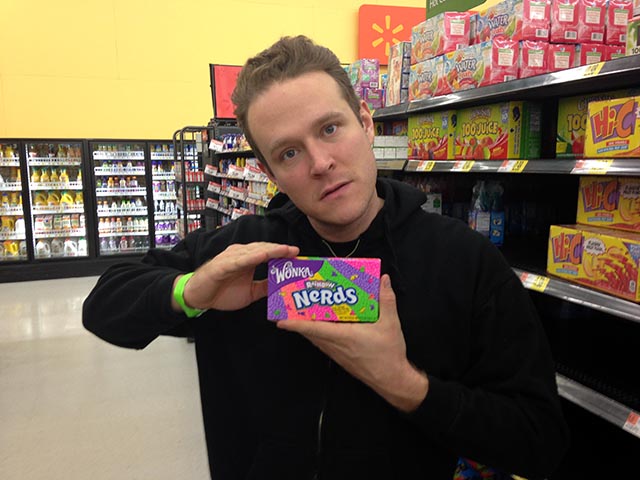 I couldn't find any Runts (the greatest candy on Earth) so I picked up some Nerds. I ate them all before the end of day one.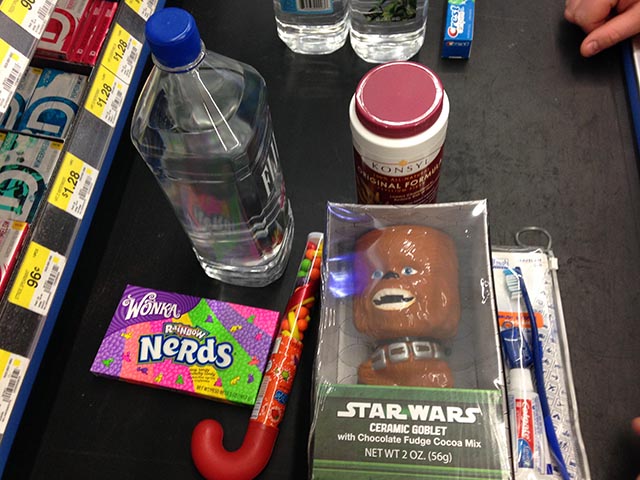 Before we left Carrie had found me some candy cane Runts, I found a Chewie mug, and some fiber mix.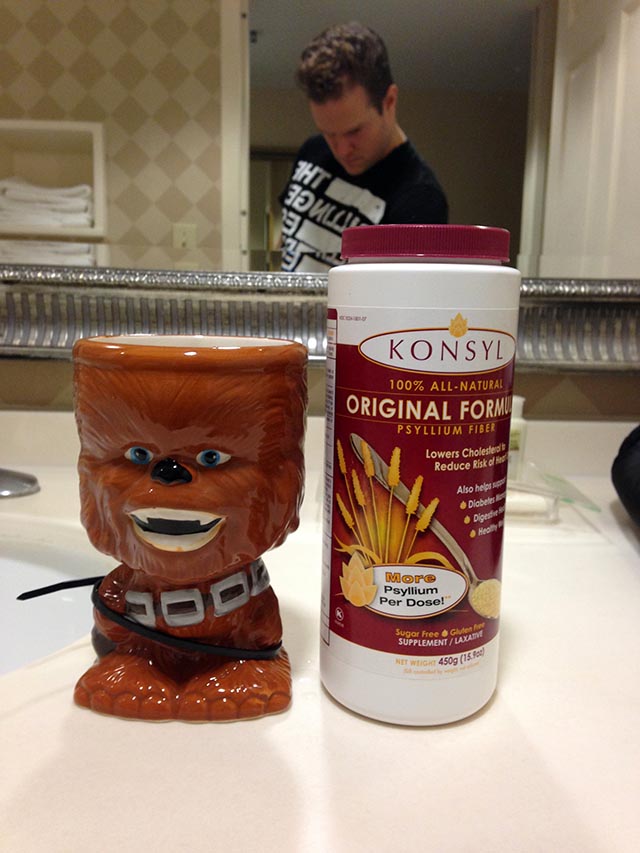 I really wanted to show off my awesome end of the day hair. Fiber's important, Chewie goblets are also pretty important, but seriously, look at that hair.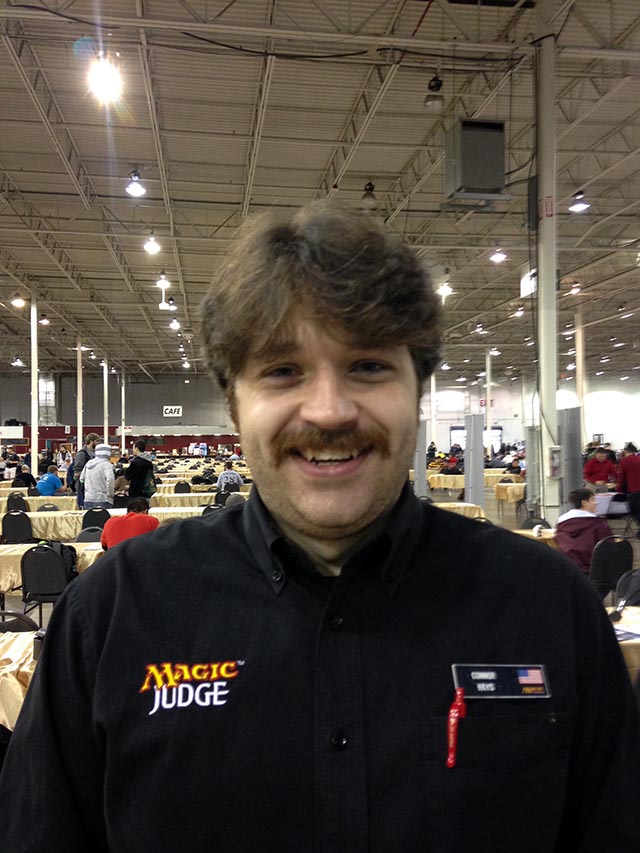 Speaking of awesome check out our favorite officer, I mean judge, Connor "Purple" Hays. WHAT A MUSTACHE!!!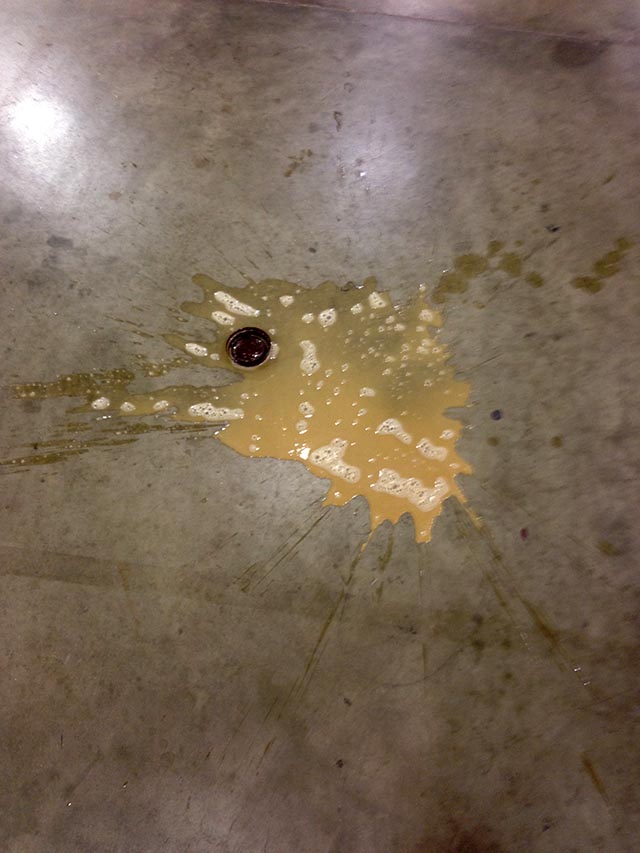 Someone spilled coffee.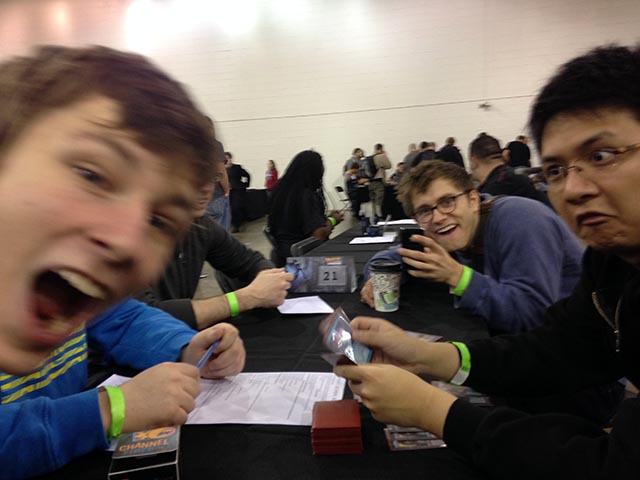 ChinamanLX and Lirek have some issues to work out.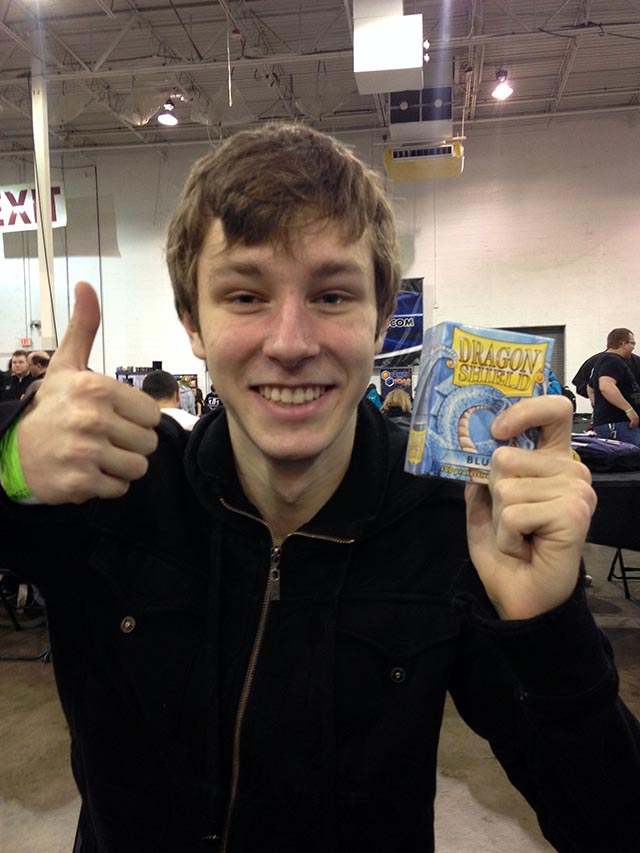 Two years later Lirek finally found blue Dragon Shields. To this day when I look up lyrics to songs I like I often spell the word wrong.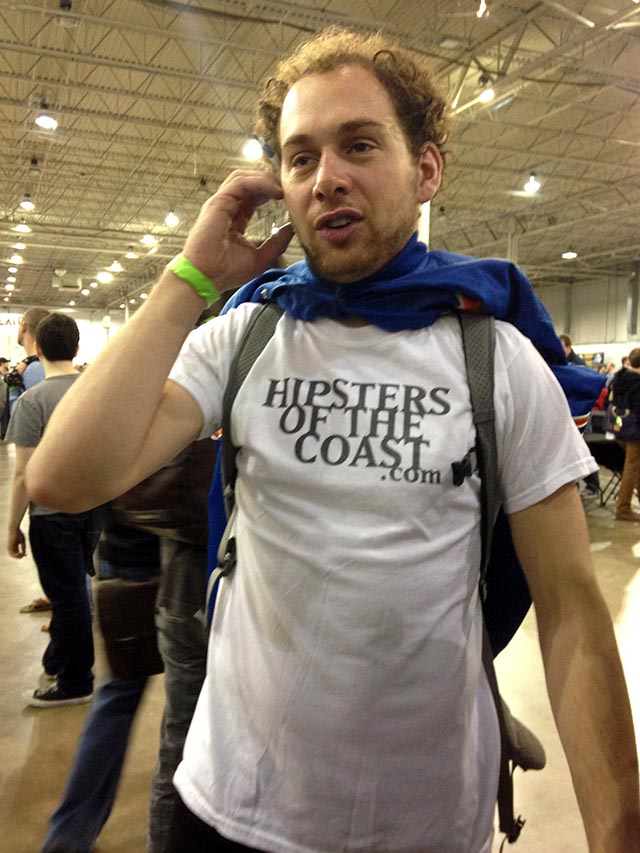 Dylan made an imaginary phone call.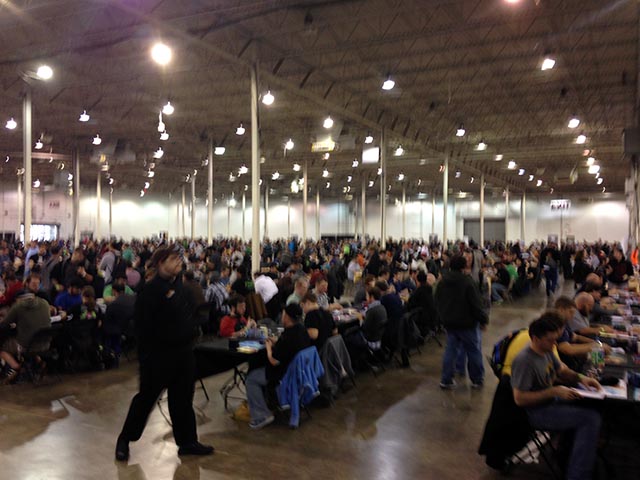 This many people came to the GP (approximately 1700 I think).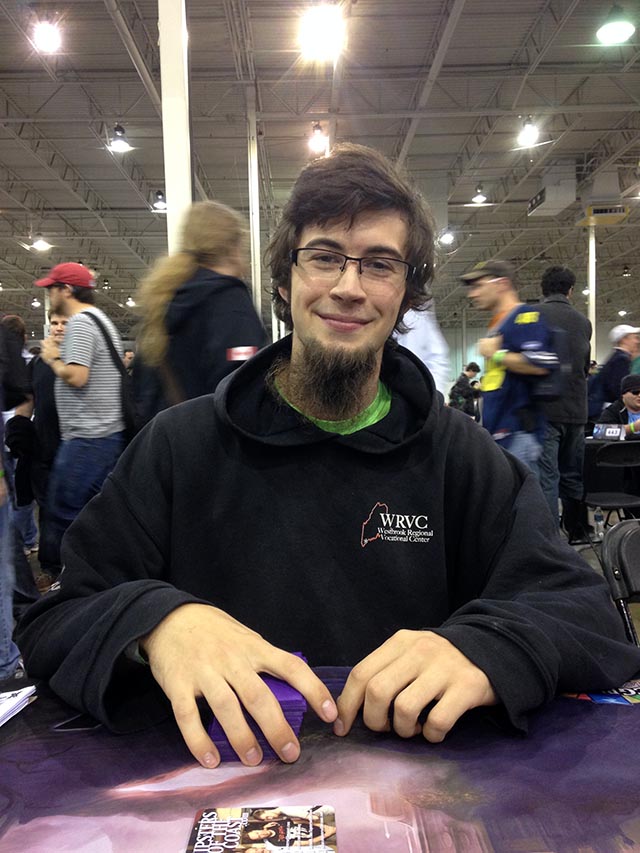 I play so many PTQs and other Magic that I get two byes for every GP without too much struggle. This is the third season in a row. 1500 points seems impossible but 750 is super do-able. Some people will talk mad shit about you not playing and getting two free wins. Those people are punks.
John, my round one opponent was on RUG Delver, a match I feared slightly with Jund, and I beat him in three games. Super nice guy.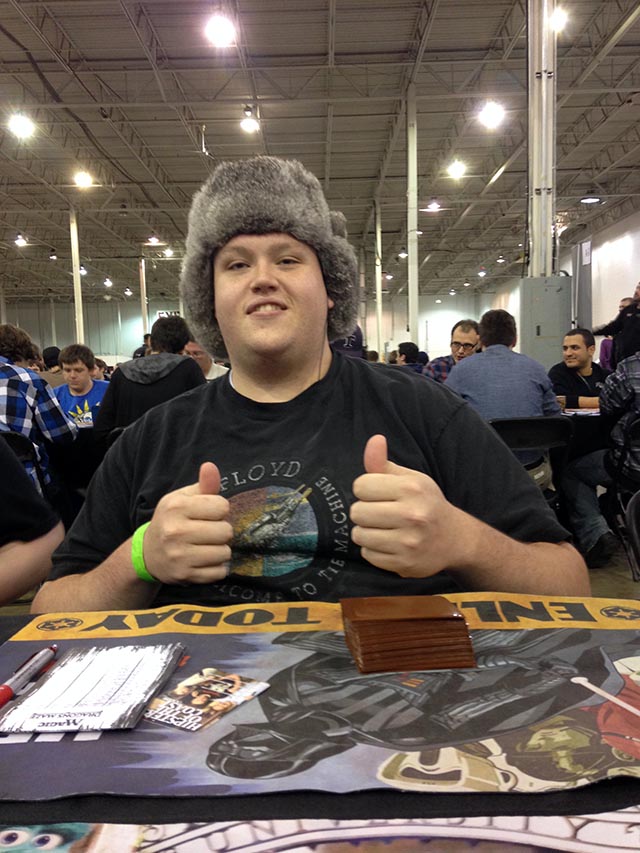 My round four opponent, Phillip, another dreamboat human being, was on MUD and through a series of misplays he beat me in three games. I played so poorly. It was totally due to utter lack of familiarity with the deck. Oh well. We talked a bit of shop afterwards and I may have my playmats printed through his company. OH! He's about seven feet tall, too.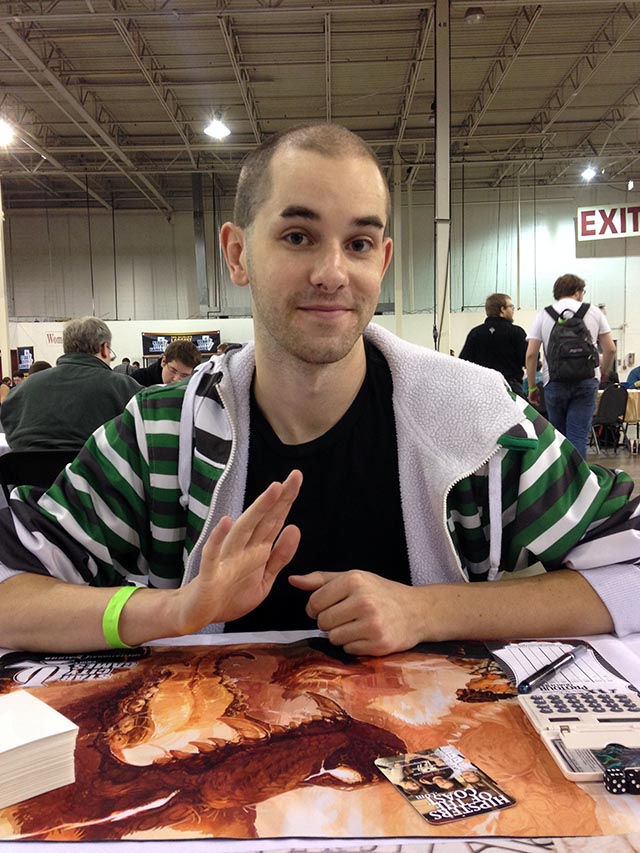 The skid continued as former Pokemon (or was it Yugioh?!) master Michael Sneak and Show'd all over me. WHAT WAS HAPPENING?!?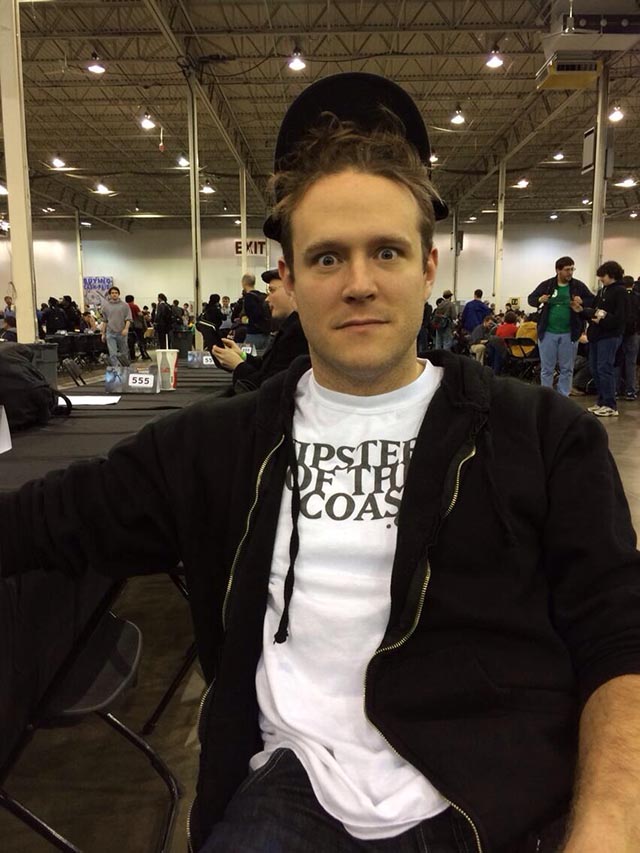 I was clearly out of sorts.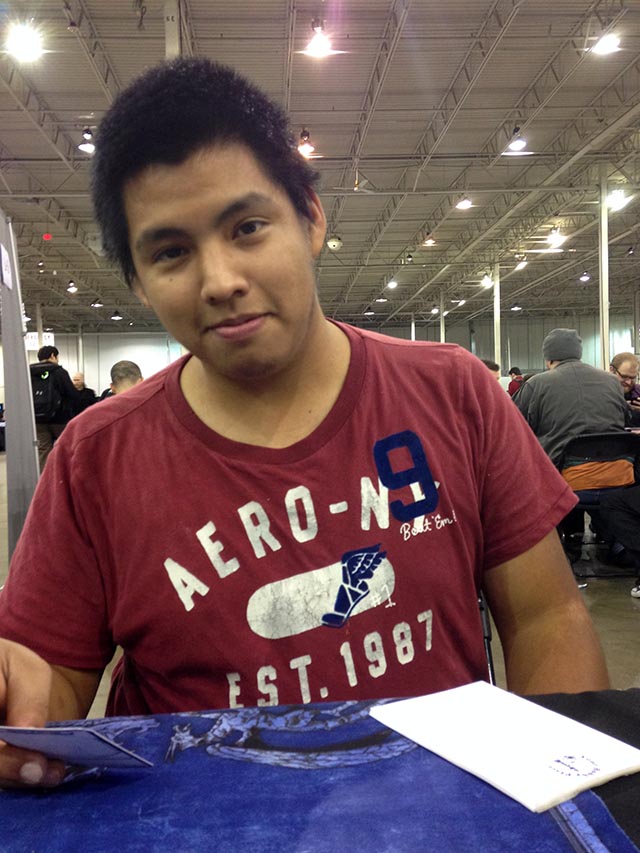 Omni Show? What the fuck? Get me away from this tournament (I lost in two or three). Jorge had me slightly tilting. Still, another good human being playing a solid game of Magic.
I thought I'd made a Thoughtseize mistake so I asked Mike Combo Master Herbig if I had and he confirmed I should've taken Omniscience. Fuuuuuuuuck.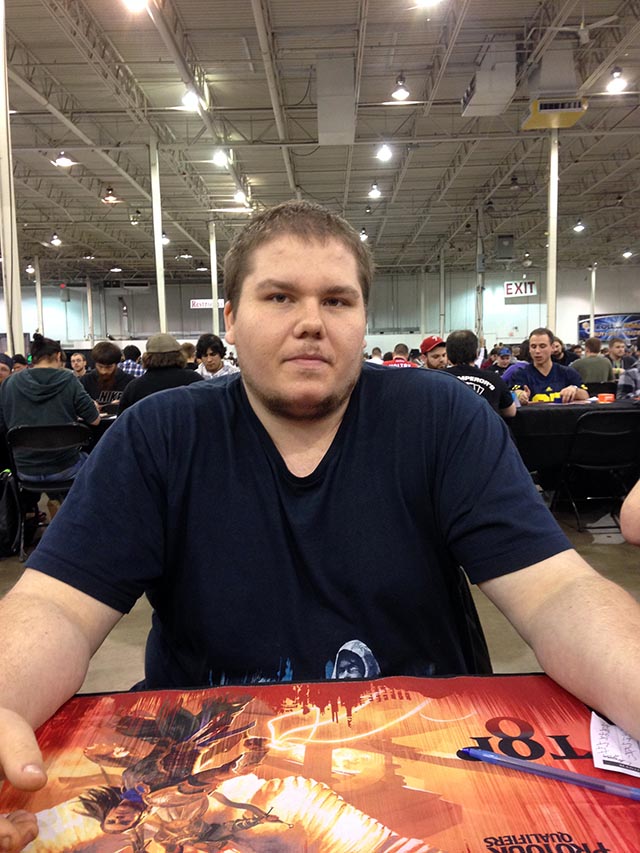 3-3 put me out of day two. Sadness. "I will not lose another match," I said to myself. And I didn't.
I beat the Matt vs. Matt Shardless BUG mirror through sick draws and tight plays. I learned that Matt here is friends with Squirtle, local Jund-aholic.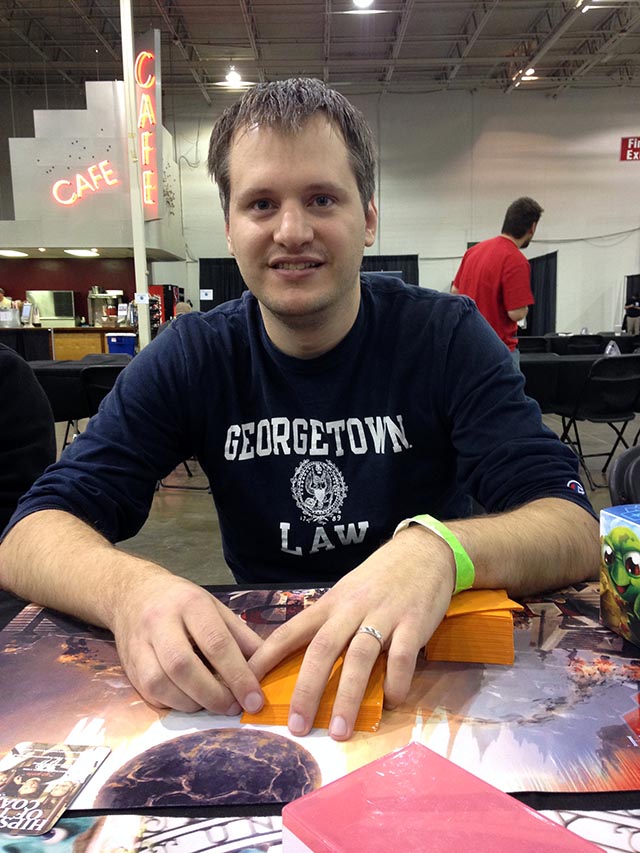 I beat another Matt's Delver deck of some sort (UW? I can't remember). Our games were really fun. I didn't know what he was playing 'cuz I housed him game one but decided it looked more like Delver than a Show and Tell deck. I sided correctly and won in three (I sided more correctly in game three …).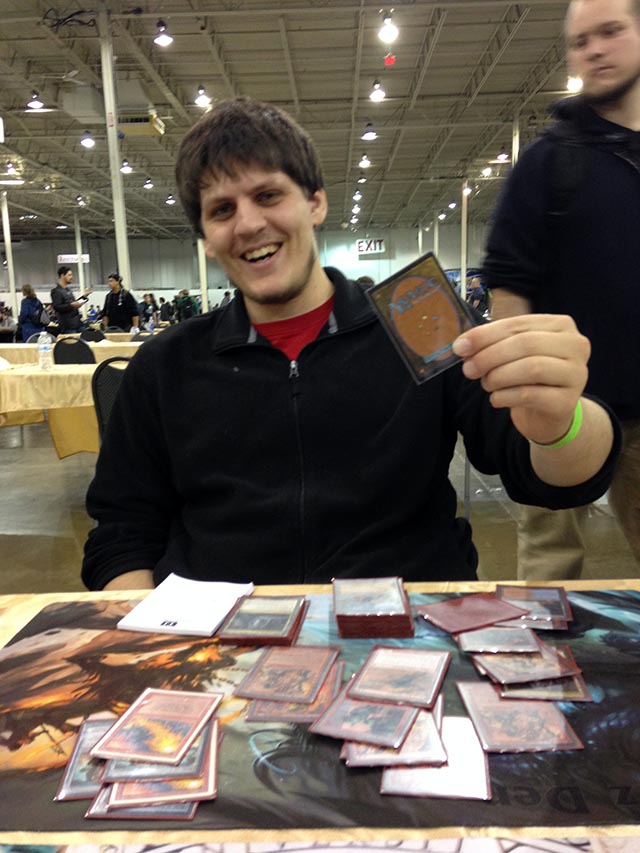 Round nine I played Adam, a very, very dedicated Goblins player. We went to time game two after a long and grindy game one. He talked to himself a lot which cracked me up!
6-3 on the day, good for 208 Planeswalker Points! Not bad!
I got to play my favorite deck of all time, too. YES!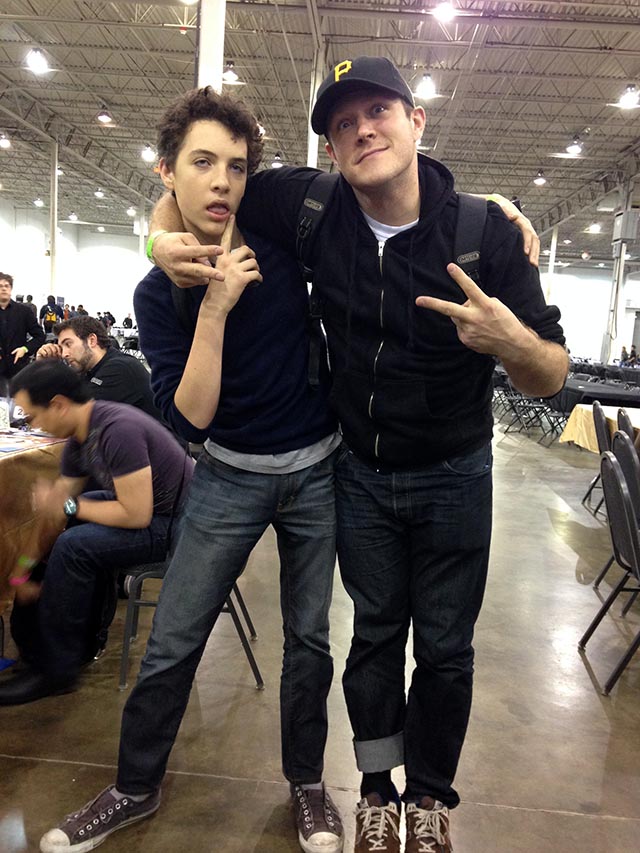 On our way out we ran into local spellslinger Charlie and harassed him a bit. I forced him to have his picture taken with me due to the joy I felt at the moment. I'm not really sure what's wrong with him but I assure you he's seeing someone for it.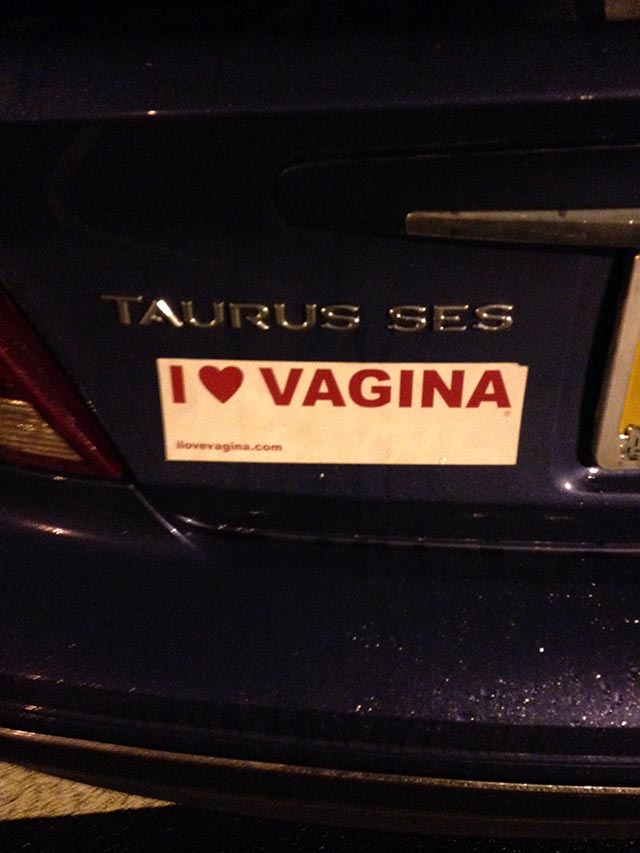 We walked past this bumper sticker on the way home.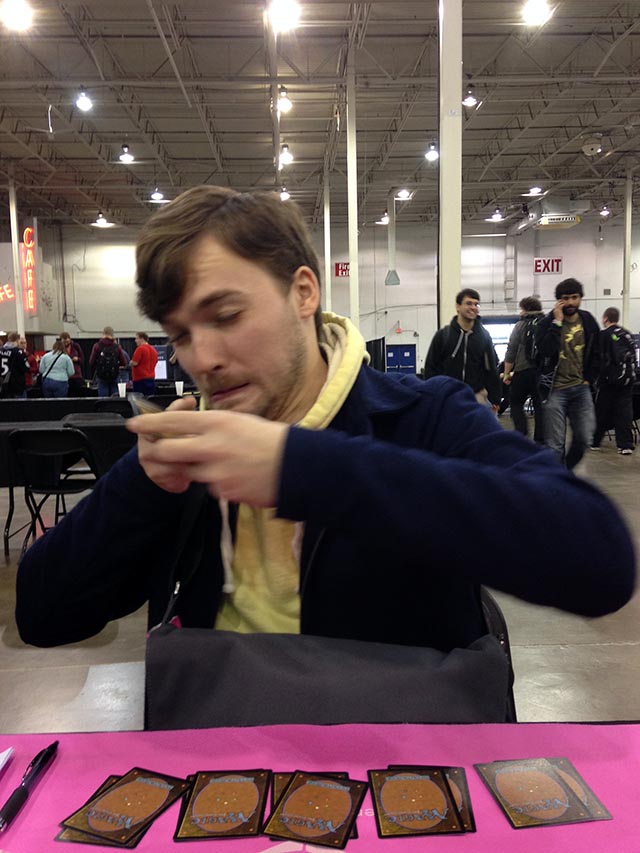 After losing the first draft I did on day two, I convinced Dave he should play in another one with me. He agreed. I faced him round one.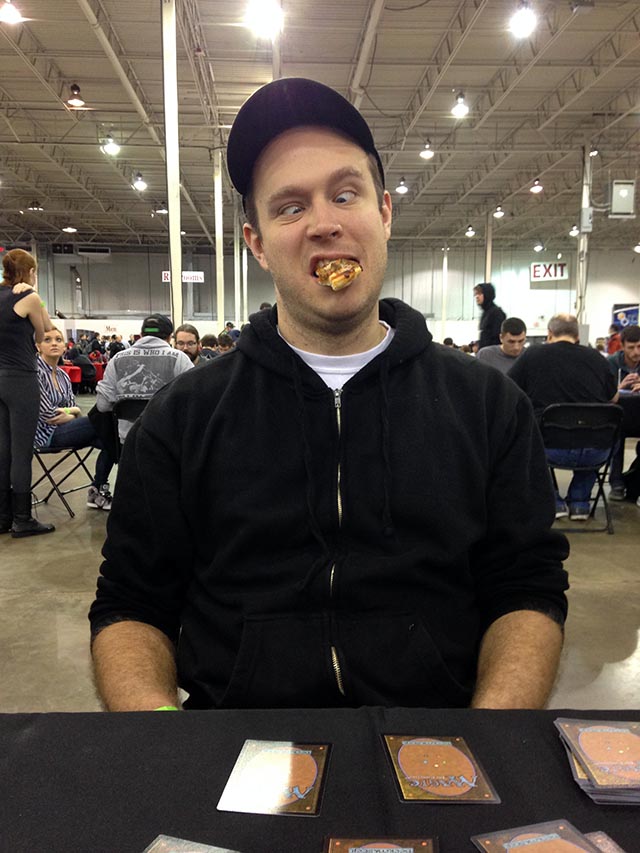 Shortly after this photo I mulled to four.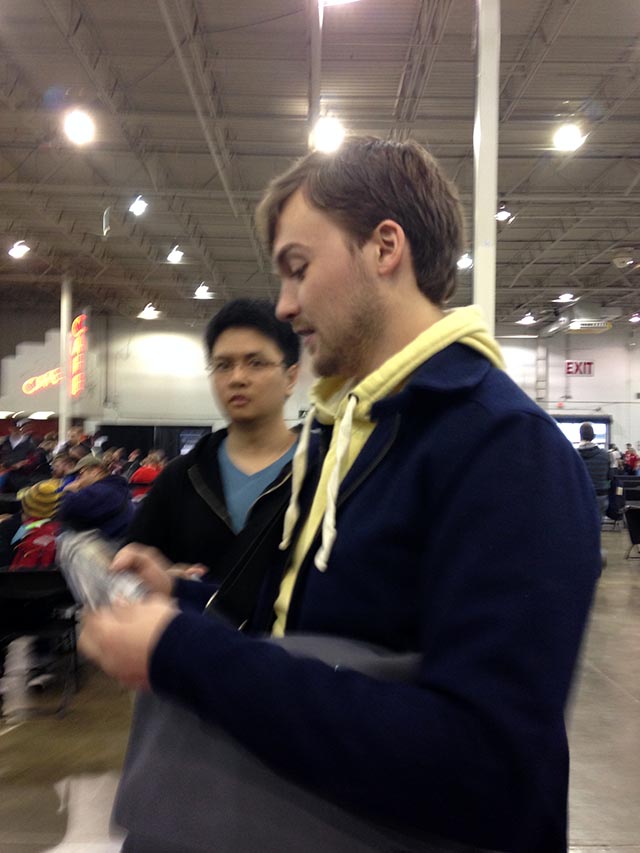 Then beat Dave in three games and took the whole draft down 3-0. BOOM!
Drafting still sucks.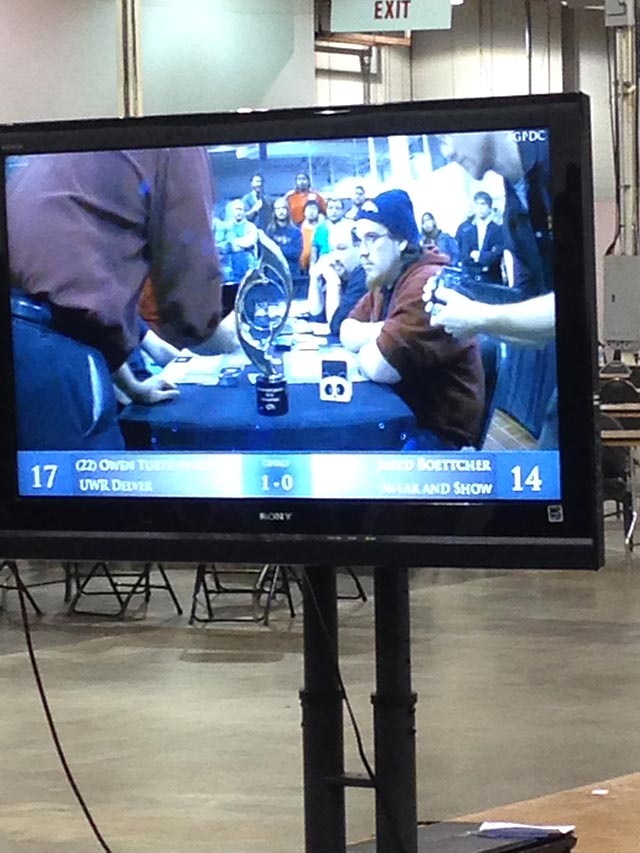 We observed excellent camera work from Wizards' tv production peeps. Owen Turtenwald won the whole damn thing with True-Name Nemesis. You should probably buy those. I picked up three Volcanic Islands really cheap. They aren't gonna get cheaper. At GP Toronto I'm going to see about picking up T-NN on the cheap.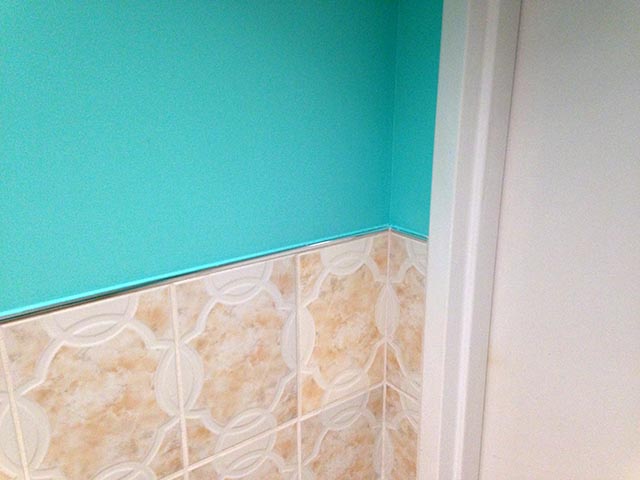 I'm obsessed with weird colors and patterns in public-ish buildings. This is a bathroom at an above average Mexican restaurant we all ignored until the last night.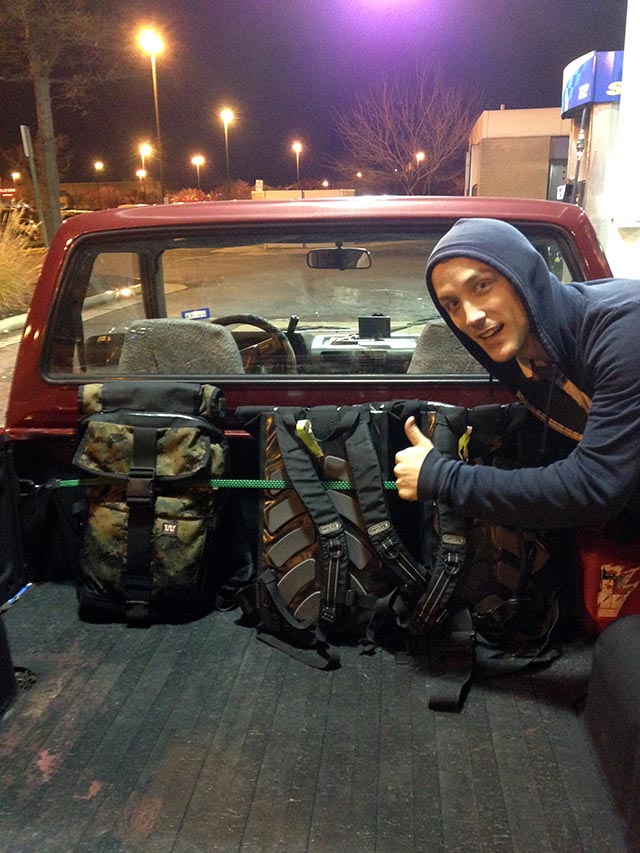 The Mikes and I secured our backpacks with a bungeecord for the NYC-DC and DC-NYC round trip. It seemed like a bad idea but totally worked.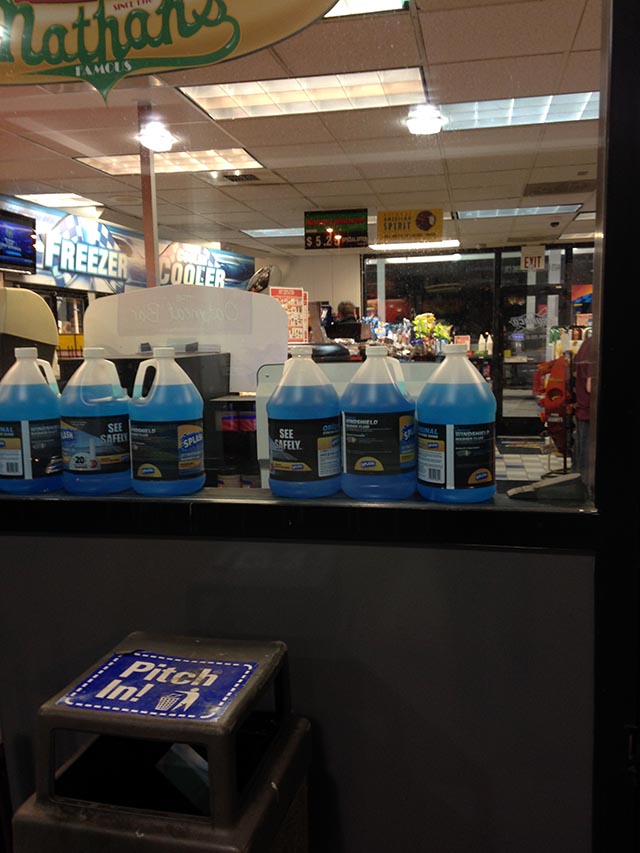 That head in the gas station?  That's Conley Woods' head. The Mikes and I were creepin'.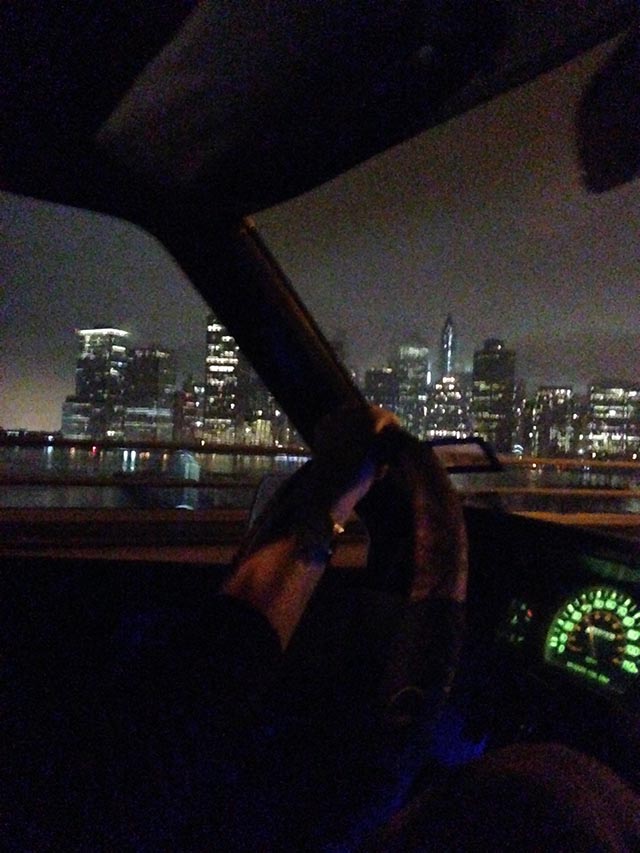 We finally made it home by one. Lower Manhattan is always impressive at night. ALWAYS.
So, what'd I learn? I learned that Legacy is a diverse format. Games can be grindy. Games can be over on turn one or two. Lots of bizarre and thrilling things can happen and I think it's my favorite format. Shardless BUG (AKA Blue Jund) is probably my favorite deck of all time. Here's what I'd make the deck look like if I were to play it today (which I will on MTGO in a few minutes after clicking "update" on this WordPress editor).
Blue Jund
I was unimpressed with Jace, The Mind Sculptor all day. I would've rather had more Liliana of the Veil, which is reflected by him going to one and her going to three in the main deck.
Playing blue cards continues to be a point of contention between me and my Magic friends. Many have said they no longer know me or that they're ashamed of me. "But it's what I need to play my way and beat combo" or "It's Blue Jund" I say to them. "Whatever you need to tell yourself so you can sleep at night," is often their response.  Sigh. I'm doing my best.
If anyone wants to play some Legacy hit me up on MTGO, especially during the holiday season when I'll be in Rochester playing online as much as I can. Look me up: The_Obliterator and say hello. Maybe I'll record our matches and post'em.
Lots of love,
Matt
MTGO: The_Obliterator
Artist, cheerleader. Matt started playing at the end of The Dark, hit his stride during Mirage block, and quit Magic after finding booze, drugs, and sex during freshman year of art school. In 2011 or 2012 Twenty Sided Store opened eight blocks from Matt's apartment in Williamburg, Brooklyn. He kept his distance for a few months due to fear of the game's power over him but eventually caved. Matt's main MTG interests are Unhinged lands and constructed formats. Power and Toughness is his weekly summation/journal article and he writes an Arting Around article now and then.