This week I played the winning deck from GP Santiago: Rakdos Aggro. Despite the fact that this hellish creation spiked a GP, no one seems to be talking very much about it. Since the GP, I found only one article about the deck and three top eight listings at random TCG Silver events around the country. So what's the deal then? This archetype seemingly flashed in from the aether, crushed the Chilean meta, and then just as quickly disappeared. I want to know whether the deck was just a flash in the pan—a strictly worse version of Red Deck Wins—or a quietly kept secret poised for more top finishes. So, per usual, I half-assed the scientific method and ran the deck through a Wednesday Night Standard event at Pandemonium to find out. I played Luis Navas' exact 75, including the one-of Rakdos Guildgate in the sideboard that I never sided in:
Navas' Rakdos Aggro
Before diving into my games, let's get down to brass tacks and talk about this deck in the simplest way I know how: a list of pros and cons.
Pros:
The deck is cheap. TCGplayer has the mid price on the deck as $173.11 and half this cost is made up of the Thoughtseizes and Erebos, God of the Underworld in the sideboard. Most of the deck is just draft chaff that people like me have laying around on windowsills or half-sleeved and dumped in a backpack.
The deck destroys Esper Control and punishes any midrange-y deck that is not extremely proactive. The fact that just about all of Rakdos Aggro's creatures have haste means that it is never safe for the control player to tap out for Supreme Verdict. Furthermore, Xathrid Necromancer ensures that whenever your creatures do trade or bite the dust to a removal spell, they are necromancied back into play. Mogis's Marauder makes sure that G/x decks can't ever just play out creatures and hope to block.
Rakdos Aggro can board out some of the blitzy all-in cards—Madcap Skills and Rakdos Shred Freak—and play a slightly longer game with Thoughtseize, Erebos, and Whip. Also, the removal suite can be tweaked very easily to deal with difficult creatures; when they play Desecration Demon and Blood Baron of Vizkopa, you can side out Doom Blade and Lightning Strike for Dreadbore and Mizzium Mortars.
The deck is pretty easy to play. While I think the notion of aggro being easy to pilot and control being hard is an oversimplification, there is something to be said about the ease of jamming threats and saying, "Do you have an answer?" Rakdos Aggro plays some of the most efficient creatures in Standard and can run them out and turn them sideways to great effect. While you do need to consider card sequencing and efficiently using mana, you mostly just get to turn creatures sideways and make them do something about it. I'm sure this is appealing for some people.
Cons
There is no blue in this deck. I seriously considered about changing the sideboard Rakdos Guildgate into a basic Island just to partially remedy this situation and to further provoke the ire of Hipsters' own Matt Jones. (Editor's Note: Have you heard that he has recently joined the dark side?)
This deck is not well positioned against the white-weenie/Boros decks that have been popping up recently. Soldier of the Pantheon, Precinct Captain, and Imposing Sovereign are insane against this deck. Your soldier blocks every creature in the deck? Oh and it gains you life when I play anything? I see. What's that? Precinct Captain? That guy also seems pretty good at blocking every creature in this deck and living to tell about it, or you know, attacking and making more guys that trade for X/1's. Boros Reckoner!? I guess my creatures will just hang out over here, far far away from the red zone.
Despite this being a two color deck, the mana really isn't that good. In the few games I played, I had to send back some otherwise reasonable opening hands because I had double mountain and couldn't cast a turn one Tormented Hero or had three swamps and couldn't play a turn two Spike Jester. This deck really needs to curve out and play all threats on time and, unfortunately, sometimes the mana doesn't cooperate with that plan. Furthermore, there isn't' really anything you can do about this aside from running guildgates which are pretty antithetical to the main plan of casting one drops on the first turn. It's possible the deck would play the black-red scry land when it is printed in Born of the Gods, but the additional card selection and mana-fixing probably still isn't enough to offset the tempo loss.
While the deck matches up pretty well against Supreme Verdict, it folds to some other sweepers; Golgari Charm, Electrickery, and, most importantly, Anger of the Gods. Since the deck plays 12 X/1's, an early Golgari Charm or Electrickery can totally turn the tide in your opponent's favor. Anger of the Gods is another card that just wrecks this deck as it comes down a turn earlier than Supreme Verdict and doesn't let you profit off of Xanthrid Necromancer's triggered ability.
This is the kind of deck I expect to lose to as soon as I come to my senses and start playing control decks again.
Since I don't want you to mistake this article for a Buzzfeed post, let's drop the list and get into my games this week:
Round 1—Stephen with RG Midrange (2-1)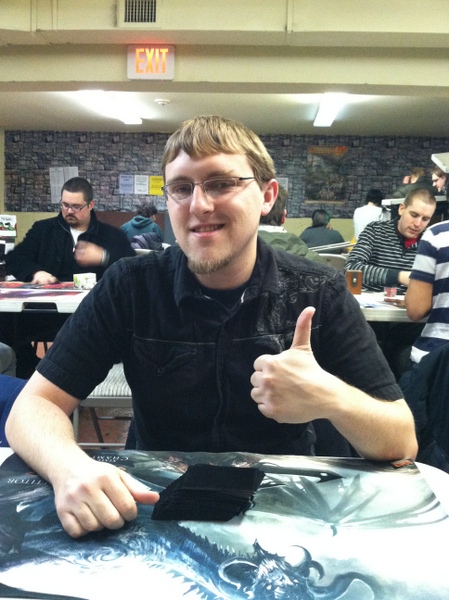 This is the first time I've played against Stephen when he wasn't playing Jund, though to be fair RG is more than halfway to Jund anyway.
Game one, I started with a double mulligan but managed to curve out pretty nicely with Rakdos Cackler, Spike Jester, and Exava. Stephen was a little land light and couldn't dispatch enough threats to stop my onslaught of creatures.
Sideboard:
-4 Madcap Skills
-2 Lightning Strike
+2 Dreadbore
+4 Thoughtseize
I figured that Stephen would be siding in a bunch of spot removal and that I should, in turn, side out Madcap Skills to avoid being two-for-one'd by Shock or Magma Jet. Thoughtseize comes in to preemptively clear out his removal and/or anything that can block efficiently. Dreadbores came in since I assumed he had Polukranos and Stormbreath Dragon which Lightning Strike isn't all that good against. However, after game one I saw Kalonian Tusker and Boon Satyr which made me want Lightning Strike again, so I ended up siding out two Thoughtseizes in order to have the full set of Lightning Strikes in game three.
Game two, Stephen played out two Kalonian Tuskers which were more than capable of blocking my early Rakdos Cackler and Shred-Freak. From there, he played out Polukranos and had spot removal for Xanthrid Necromancer to ensure I couldn't just send in my guys all willy-nilly.
Game three, I kept a hand of two Doom Blades, Lightning Strike, Xathrid Necromancer, and three lands on the play. I realize this was a risky keep as I am clearly the beatdown in this match-up, but the control player in me took over and I couldn't throw it back. I ended up just running Stephen out of threats; killing off Kalonian Tusker, Scavenging Ooze, Polukranos, and Boon Satyr. Meanwhile, I chipped away at Stephen's life total with Necromancer and the humans I happened to lucksack off the top. The final boardstate looked like this: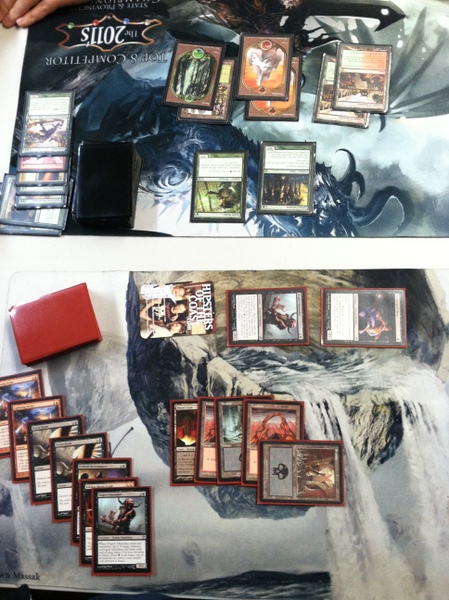 Round Two—Andrew with Junk (2-1)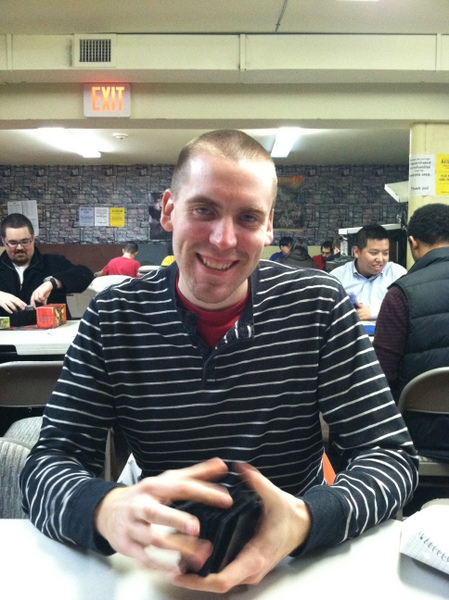 This is my fourth time facing off against Andrew. After I won this round, we are tied up at 2-2 for our lifetime matches. Andrew played a relatively standard Junk list with Sylvan Caryatid, Reaper of the Wilds, Blood Baron of Vizkopa, and every good removal spell in Standard right now.
Game one, I started off the game with Tormented Hero into Spike Jester. Andrew fiddled with some scrylands but took 10 damage before he could play anything. I was caught off guard by a maindeck Golgari Charm, which quickly binned Hero and Jester, but was able to follow up with Rakdos Shred-Freak with Madcap Skills to end the game in two attacks.
Sideboard:
-4 Madcap Skills
-4 Lightning Strike
-2 Doomblade
+4 Thoughtseize
+2 Mizzium Mortars
+2 Dreadbore
+2 Burning Earth
Madcap Skills come out since I know he has Abrupt Decay, Golgari Charm, and Hero's Downfall. Neither Doom Blade nor Lightning Strike kills anything in his deck so I brought in Mortars to kill off Blood Baron and Dreadbore to clear everything else. Mortars might not be good enough here since it doesn't deal with Reaper of the Wilds, Desecration Demon, or Obzedat, but I would need to test the match-up more to say for sure either way. Burning Earth comes in to punish the three color manabase.
Game two, this happened: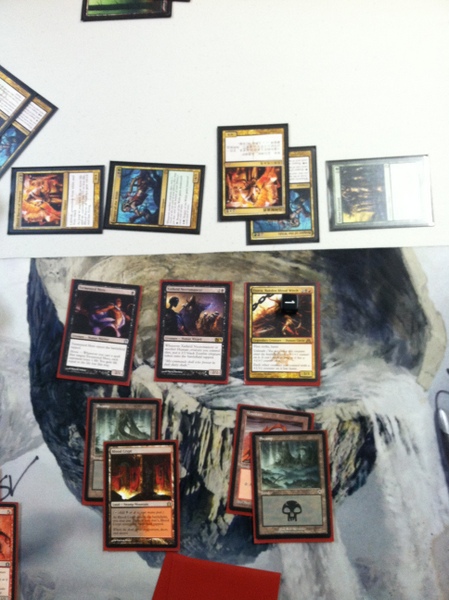 I lost.
Game three, I curved Tormented Hero into Thrill-Kill Assassin into Mogis's Marauder. I Thoughtseized an Unflinching Courage which threatened to put me in an unwinnable race. Then for good measure I played a Burning Earth to completely lock him out of the game.
Round 3—Jay with BWR Midrange (1-2)
When I gave Jay my spiel about taking pictures for the article, he said he wanted to wait until after the match to see if he had won or not. He did win but didn't say anything about the picture. This leads me to believe he only wanted his picture taken if he lost the round, which I don't quite understand.
Game one, Jay started off on the play after we both mulliganed. Turn one, he Thoughtseized me—taking a Spike Jester—and the next turn Magma Jetted a Rakdos Cackler. After slowing me down quite a bit, Jay was able to play out a Desecration Demon that I could only hold off for so long before it desecrated my life total.
Sideboard:
-4 Madcap Skills
-4 Lightning Strike
-2 Doom Blade
+4 Thoughtseize
+2 Dreadbore
+2 Mizzium Mortars
+2 Burning Earth
I sided out Madcap skills in every round. Perhaps its just the decks I was playing against, but the card just seems to scream, "Two-for-one me!" It is worth noting that a lot of the spot removal in Standard, namely Doom Blade and Ultimate Price, won't kill the creatures in this deck that could wear those madcap pants, but I still don't love this card. In this match-up in particular, Jay had Magma Jet, Chained to the Rocks, and Lightning Strike to really punish me for strapping auras on my guys.
Game two, I remember taking an early lead and then playing back to back Exava, only to be reminded that they are in fact legendary. As much as I want Exava to be Hellrider or Falkenrath Aristocrat, I need to remember that this hasty four drop doesn't get better in multiples. I still managed to win this game but hated myself for making such a rookie mistake.
Game three, my early Tormented Hero was Chained to the Rocks and my two follow up creatures were met by Anger of the Gods. I felt like Prometheus, and Jay was doing everything flavorful to punish me for giving fire to my human based aggro deck. While I lost this game, at least an eagle didn't come to repeatedly tear out my liver.
Round 4—Ben with Jund (2-1)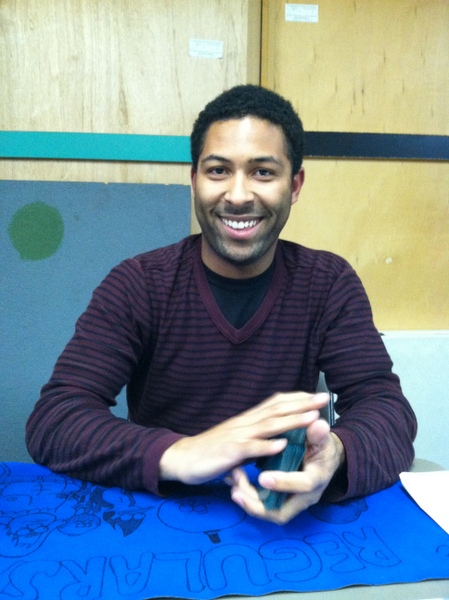 Some facts about Ben:
He is an opera singer.
He has a really cool Regular Show playmat his sister drew.
He is slowly building Melira Pod in Modern. He is missing the fetches and the chords but I did manage to trade him a Spike Feeder two weeks ago.
Game one, Ben played Desecration Demons on turns three and four. I wasn't really in the game.
Sideboard:
-4 Madcap Skills
-2 Lightning Strike
-2 Doom Blade
+4 Thoughtseize
+2 Dreadbore
+2 Burning Earth
Ah yes, another tri-colored midrange deck. Let me sideboard exactly the same way.
Game two, I played out an early Thoughtseize and took an Abrupt Decay over Desecration Demon, Polukranos, and Dreadbore. I was able to curve out after this, Dreadbore his Polukranos, and had enough guys to sacrifice to Desecration Demon to prevent him from blocking.
Game three, Ben mulliganed down to five and was stuck on one land while I turned a bunch of creatures sideways to capture the game. This is not how I like to win matches but…I'll take it.
My final record was 3-1. I didn't play against the deck's best match-up, Esper, but I managed to dodge all of the exceptionally bad match-ups as well. The deck seemed to be well positioned in my current meta of non-blue midrange decks because of how stupidly fast it can clock an opponent. While the midrange decks I played against certainly had the tools to beat Rakdos Aggro, if they stumbled at all in developing a board presence, I was able to win fairly easily.
Moving forward, this is the list I want to play next week:
Massak's Rakdos Aggro
While I wanted to maintain the deck's ability to play lightning fast aggro, I didn't want to go all in on the Madcap Skills plan. This is where Civic Saber comes in. For the same price as Madcap Skills, Civic Saber comes down, gets equipped, and sticks around afterward if things go awry. 16 creatures in the deck get a +2 bonus in power from saber and since it costs only one to equip, it can easily be attached to one of the decks 16 hasty beaters to get the opponent to the point of no return. I decided to cut Doom Blade in favor of the sorcery speed Dreadbore, since it's much more versatile and can off a problematic Blood Baron Desecration Demon or Jace, Architect of Thought. Since I boarded in Thoughtseizes in every game, I wanted to try playing two in the main. In the sideboard, I added Flames of the Firebrand and Gift of Orzhova to help deal with opposing aggro decks, Doom Blade to supplement Dreadbore against non-black decks, and a singleton Slaughter Games which has to at least be better than the Rakdos Guildgate that was in there before.
At age 15, while standing in a record store with his high school bandmates, Shawn Massak made the uncool decision to spend the last of his money on a 7th edition starter deck (the one with foil Thorn Elemental). Since that fateful day 10 years ago, Shawn has decorated rooms of his apartment with MTG posters, cosplayed as Jace, the Mindsculptorat PAX, and competes with LSV for the record of most islands played (lifetime). When he's not playing Magic, Shawn works as a job coach for people with disabilities, plays guitar in an indie-pop band, and keeps a blog about pro-wrestling.