I am writing this article on Columbus Day, the worst holiday ever conceptualized, and one day after Pro Tour Dublin. While having a day devoted to a murderous scoundrel sucks, the results of the Pro Tour were actually pretty awesome. In case you weren't watching, the break-out deck of the format was Mono Blue Devotion, a deck I am particularly fond of for both financial and personal reasons. On the financial end, this deck prominently features a full playset of Nightveil Specter, which was a speculation target I wrote about a few weeks ago. At the time I bought two playsets of Nightveil Specter for $6.88 and now using TCG midprice, two playsets of Nightveils would cost you $52.96. I even made my editor some money on this one and narrowly avoided being fired:

I was also interested in the Mono Blue Devotion deck because it vindicated my praise for Master of Waves. The past two weeks I've been playing decks built around the surfing merfolk and, while I did not play the particular shell that did well at the Pro Tour, I correctly identified how awesome this card is. I would also like to put in a vote that Master of Waves Day supplants Columbus Day as a national holiday. The merfolk lord is a master of waves and has only theoretically killed opposing mages whereas Columbus was a piss-poor navigator and actually killed opposing natives. Master of Waves Day wouldn't be offensive to American Indians and will probably be embraced by the international community because that French guy won a Pro Tour with it. I'll start circulating the petitions.
This is the deck I played this week at Wednesday Night Standard at Pandemonium Books and Games:
UR Master of Waves
This is basically a UR control deck with some explosive draws thanks to Master of Waves. I made the switch from UW to UR because I wanted to be able to reliably play turn-two Frostburn Weirds and have access to versatile removal in the form of Turn/Burn, Mizzium Mortars, and Izzet Charm. UR control is also able to get some free wins against three-color concoctions thanks to Burning Earth out of the sideboard. I think the deck is still too disjointed to be a contender, especially compared to the streamlined Mono Blue Deck, but being able to cast Anger of the Gods against aggro decks and Master of Waves against control is certainly a thing. Also, this deck should in no circumstances ever lose to Mono Red, though I have yet to play the mountainous menace, so it's sort of a moot point. Anyway, let's get to the weekly tournament report.
Round 1—Stephen with Jund (0-2)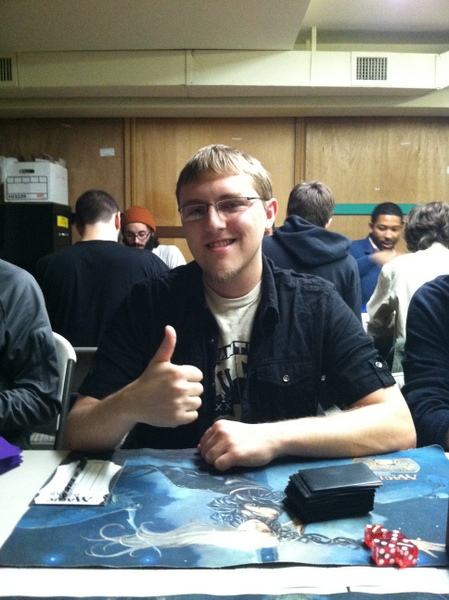 As soon as I sat down across from Stephen, I knew he was on Jund. I have never seen this man play another set of colors in the six months I have known him and can't imagine that something as paltry as a block rotating would change that. I was right of course, but me being right didn't change the fact that I was demolished in two quick games.
Game one, Stephen played a turn two Sylvan Caryatid and ramped into every spell you could ever want to cast in Standard—Chandra, Pyromaster, Xenagos, the Reveler, and a giant Rakdos's Return. At the end of the game a lone Master of Waves faced down his board of 5/5 Scavenging Ooze, two Satyr tokens, a Rakdos Keyrune, Chandra at five counters, Xenagos at three counters, and the Sylvan Caryatid that started it all. In case you were looking for a blurry visual of this board state, I have you covered: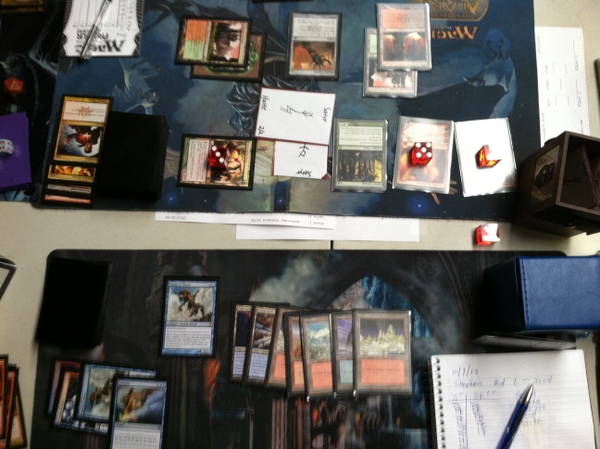 Sideboard:
-2 Magma Jet
-3 Anger of the Gods
+1 Turn/Burn
+2 Burning Earth
+1 Claustrophobia
+1 Negate
Magma Jet doesn't kill much of anything in Stephen's deck and Anger of the Gods isn't a great sweeper when he is playing stuff like Stormbreath Dragon and Desecration Demon. On the other hand, Turn/Burn kills everything and Claustrophobia is a pretty reasonable answer to Ooze, Demon, and Dragon, while also building up loyalty for Thassa and Master. Burning Earth seemed like a reasonable inclusion here but in retrospect I'm not sure, since while Stephen had plenty of non-basics, he also had Caryatids and Keyrunes to minimize the damage. Negate was brought in to counter one of the many planeswalkers, removal spells, Rakdos Keyrune, and Rakdos's Return.
Game two, I got stuck on three lands while Stephen was able to play back-to-back Desecration Demons. The game was over very shortly afterward.
We ended up playing a few more games afterward and I continued to lose every game. If UR Control is a deck, let it be said that Jund Midrange is probably a bad matchup.
Round 2—Cici with Rakdos Midrange (2-0)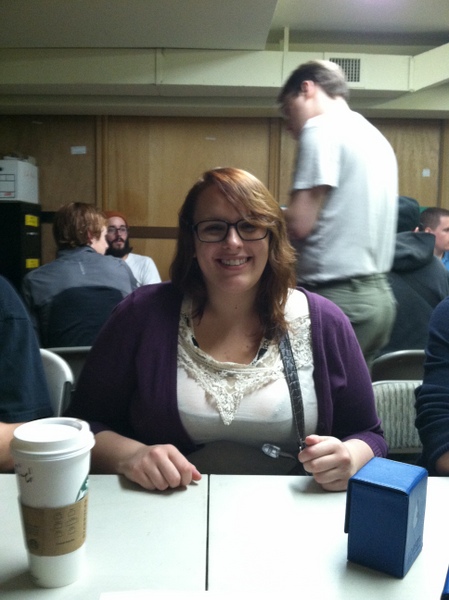 Game one was insane. Cici deployed threat after threat, attacking my life total with Stormbreath Dragon, Desecration Demon, Lifebane Zombie, and multiple Mutavaults. Then after I had dispatched a bunch of these threats, she started bringing them back with Whip of Erebos. When I was at three life, Cici brought back a Lifebane Zombie and sent it into the red zone. I couldn't block the Walking Dead extra, but Jace luckily had put up his Fleeting Distraction shield, meaning I would go to one life. On the following turn, I swung for exactsies: 21 damage. It looked like this: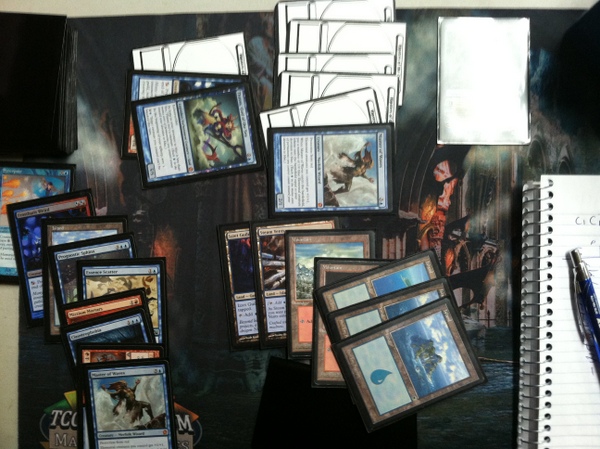 Sideboard:
-2 Magma Jet
-3 Anger of the Gods
+1 Turn/Burn
+1 Claustrophobia
+1 Dissolve
+1 Negate
+1 Mizzium Mortars
The sideboarding here is pretty similar to the Jund matchup. Magma Jet and Anger don't kill enough stuff so you bring in Turn/Burn, Claustrophobia, and Mizzium Mortars. Dissolve counters big creatures and Negate counters Read the Bones, Rakdos's Return, Dreadbore, and Hero's Downfall.
Game two went like this:
T2—Play Frostburn Weird.
T3—Play Thassa, swing for one.
T4—Play Master of Waves creating four tokens. Attack for one.
T5—Play Master of Waves creating five tokens, giving all tokens an additional +1/+1 and turning on Thassa. Swing for 20.
The final board state looked like this: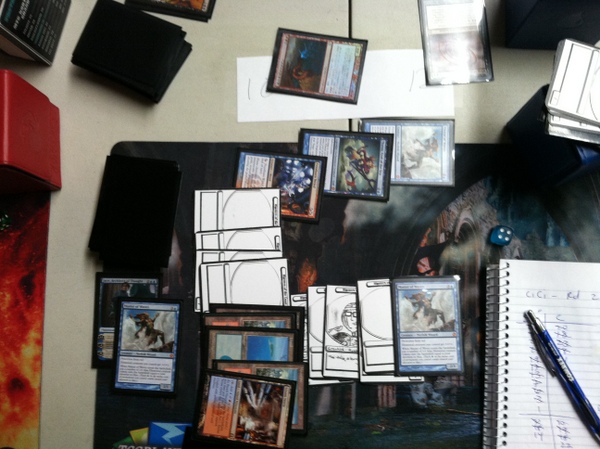 Round 3—Oscar with Rakdos Midrange (2-0)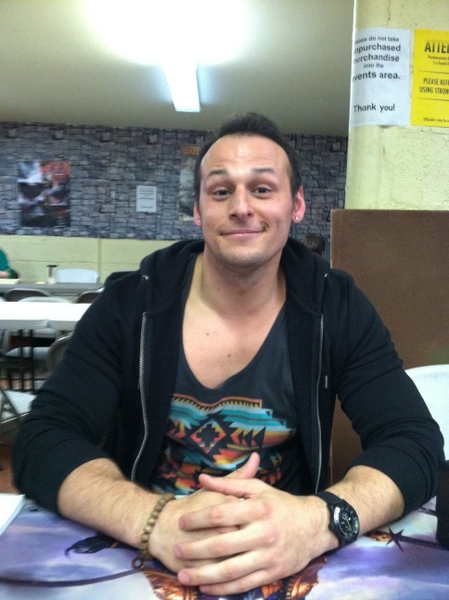 Another Rakdos Midrange player, Oscar was a nice guy I hadn't seen around at Pande before. Game one, Oscar knocked me down to two life with his double Desecration Demon draw. I Turn/Burned one of them and had to one-for-two the other one with Izzet Charm and Mizzium Mortars. Fortunately for me, Oscar stayed stuck on four lands for a while while I was able to use Jace, Architect of Thought as a card advantage engine, drawing counters, removal, and a Prognostic Sphinx. Sphinx turned out to be exceptional against Rakdos Midrange, as they don't have any way to interact with him. After a few scrys, Oscar decided he had had enough and packed up his cards.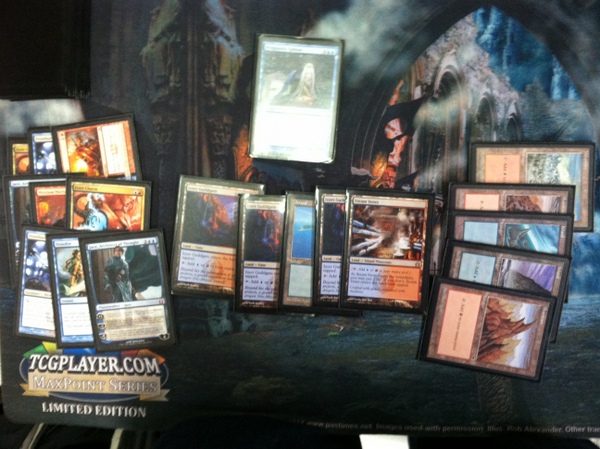 Sideboard:
-2 Magma Jet
-3 Anger of the Gods
+1 Turn/Burn
+1 Claustrophobia
+1 Dissolve
+1 Negate
+1 Mizzium Mortars
This is the same sideboard I used against the last Rakdos Midrange deck, though I learned after the fact that Oscar did not play Stormbreath Dragon, so perhaps Mizzium Mortars should have not come in.
Game two, Oscar Duressed me twice, taking Turn/Burn each time. Regardless, I was able to put Claustrophobia on his Desecration Demon and once again ride Prognostic Sphinx to victory. If you have never played with Prognostic Sphinx, I highly recommend him as a control finisher. While Dumbledore doesn't hit quite as hard as Aetherling, it costs less to play, is less mana-intensive in general, can block Stormbreath Dragon and other problematic fliers, and drastically improves your card quality. I think this card is a bit of a sleeper right now and I expect to see it more as the format develops.
Round 4—Edwin with American Control (2-1)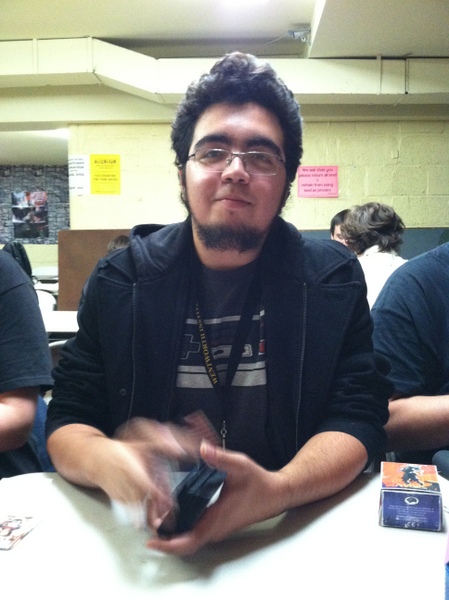 Game one, Edwin and I laughed as we had the exact same start of Izzet Guildgate into Steam Vents the following turn. However, the parity was broken shortly afterward when Edwin chained together Thassa into Ral-Zarek, into Chandra, into Aetherling. While there were some spells cast in between these things, here's all you need to know about the final board state: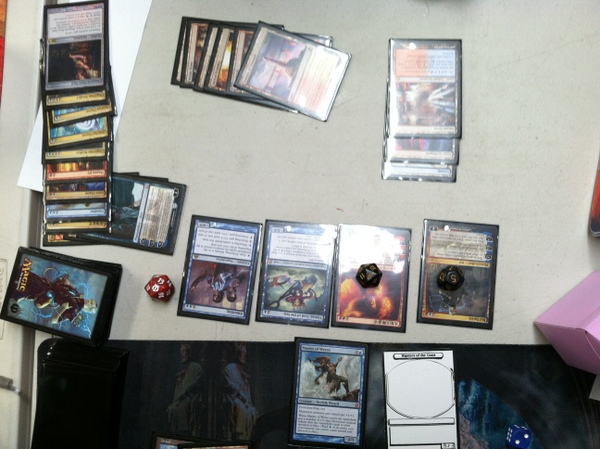 Sideboard:
-2 Magma Jet
-3 Anger of the Gods
-1 Claustrophobia
-1 Mizzium Mortars
-2 Prognostic Sphinx
-1 Essence Scatter
+2 Burning Earth
+1 Dissolve
+2 Jace, Memory Adept
+2 Negate
+2 Ratchet Bomb
+1 Swan Song
Ten cards come in here. Burning Earth punishes the greedy manabase, Dissolve offers an additional hard counter, Jace, Memory Adept provides a must-answer win condition, Negate counters almost every relevant spell in his deck, Swan Song can get Thassa, Sphinx's Revelation, and counterspells, and lastly Ratchet Bomb deals with planeswalkers, creatures, and Detention Spheres alike. I like ratcheting the bomb up to three in anticipation of Detention Sphere and then going up to four in the event that you must kill Jace, Ral, or Chandra. It turned out that Edwin didn't play Detention Sphere, but I still like bringing in Ratchet Bomb here. Since he plays so few creatures, I like taking out the Angers, Magma Jets, Claustrophobia, Mizzium Mortars, and the Essence Scatter. Prognostic Sphinx is at its worst against decks with Supreme Verdict which I assumed he left in after seeing Master of Waves.
Game two was ridiculous. Edwin played out three Boros Reckoners and started chipping away at my life total. I didn't expect to see the Reckoner come in from the board and was a bit caught off guard. I played a Ratchet Bomb right after he played the first one and desperately started ratcheting to three. Before attacking with the three Boros Reckoners, Edwin used Jace's -2 ability to show me two Boros Charms and one Azorius Charm. I tanked for a little bit about how to set up the piles but decided to put one Boros Charm in a pile and Azorius Charm and Boros Charm in the other. Edwin obviously took the pile with more cards, and used the charms to gain infinite life after I blocked the Boros Reckoners, and went down to six life. Though gaining the life is attractive here, I think that Edwin wins the game if he holds the Boros Charm to save his Reckoners from my Ratchet Bomb. Since he doesn't do this, I destroy the minotaur wizards and play Jace, Memory Adept. I managed to win the game with him at more than one billion life: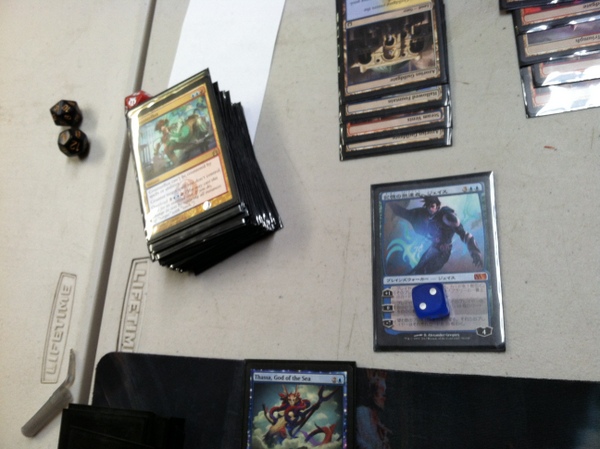 Game three, Edwin got stuck on two lands despite playing a Omenspeaker to send some non-lands to the bottom of his deck. While he was stuck not doing much of anything, I played Thassa, Burning Earth, and Jace, Memory Adept. The game ended shortly afterward.
I finished the night with a 3-1 record and a few bucks in store credit. I'm happy with the way the deck performed, although given the decks I played against, I don't think I metagamed appropriately. Anger of the Gods and Magma Jet were sided out every single round, and with no aggro decks to speak of, the deck seemed a little unwieldy. As I said earlier, I think the ideal shell for Master of Waves is the Mono Blue Devotion deck that constituted three-eighths of the Pro Tour top 8, but I still think there is something to be said about Master's place in the right midrange or control list. Only time will tell on that one.
Anyway, I'm planning on selling as much of the Mono-Blue stuff as possible while the prices are up, so I will not be playing another Master of Waves brew next week. If I can get the cards, I'll be running Paul Rietzl's deck from the Pro Tour—and if not, well, I'll be looking to port an old favorite of mine into Standard.
At age 15, while standing in a record store with his high school bandmates, Shawn Massak made the uncool decision to spend the last of his money on a 7th edition starter deck (the one with foil Thorn Elemental). Since that fateful day 10 years ago, Shawn has decorated rooms of his apartment with MTG posters, cosplayed as Jace, the Mindsculptor at PAX, and competes with LSV for the record of most islands played (lifetime). When he's not playing Magic, Shawn works as a job coach for people with disabilities, plays guitar in an indie-pop band, and keeps a blog about pro-wrestling.