Let's flashback a few weeks, Theros has been spoiled but not released and I'm talking to my brother, Eric, in the dining room I've converted to a band practice space/Magic: the Gathering enclave. We're talking about Theros, and he asks me an innocuous enough question: "What card are you most excited about?" I think about it for a minute. Thassa and Ashiok are the cards jockeying for position in the front of my mind, but I go with my heart on this one and say, "Defend the Hearth." He lifts up the patented Massak eyebrow in confusion and asks me what that card does. I explain to him that it's a Fog for two mana. He doesn't actually seem all that surprised by my answer, just sort of rolls his eyes and says, "Fucking Maze's End." This is what I had in mind at the time:
Mazed and Confused 2.0
See the thing is, I love Maze's End. Before rotation, I played the deck at FNM, took it to a top four finish at Game Day, and then decided I would write my first ever Magic article about Maze's End. I submitted this article to Hipsters of the Coast, and well, here I am, writing a weekly column. You could say that the card Maze's End is directly responsible for me actually pursuing my passion for writing about Magic. It turns out I found a piece of myself while constantly searching through my deck for the tenth guildgate; despite casting a lot of Fogs, I felt like I was finally seeing clearly about the role of Magic in my life.
Anyway, before Standard rotated Maze's End showed up in a few of the MODO Dailies and some guy named Brian Grigg top 8'ed a 5K tournament in Hartford. Then after the release of Theros there was actually some talk about Maze's End being a reasonable choice for the post-rotation meta—Josh Silvestri and Jacob Van Lunen both discussed the deck in articles on ChannelFireball—and I was excited. The talk of Maze's End being good didn't even seem that unreasonable, after all the deck lost almost nothing to rotation and gained a few new tricks, namely Swan Song, which is the perfect card for this deck. Swan Song protects you from Rakdos's Return, game ending burn spells (even Skullcrack), problematic gods like Purphoros, counterspells, and Sphinx's Revelation. Furthermore, the downside of Swan Song giving your opponents a 2/2 is negated by the fact that you have approximately one billion fogs in the deck.
So why didn't Maze's End end up being any good post-rotation? Well, let's talk about a few of the deck's main obstacles to success.
If an opponent plays Ashiok against Maze's End, well, you just lose. The +2 ability ensures that your guildgates vanish into the aether before they can win the game in conjunction with the decks namesake card. Luckily, Ashiok is not seeing a ton of play right now as most of the Esper lists that could run him have opted for the Elspeth/Jace planeswalker package instead. If you suspect an Ashiok coming in from the sideboard of an Esper player, certainly bring in Pithing Needle as well as Crackling Perimeter.
Ember Swallower is also, luckily, not seeing a ton of play right now. However, if this card goes monstrous, it's safe to say that you have lost the game. Even if you've managed not to lose all of one type of guildgate, setting you back three lands is essentially game over.
As a turbo-fog  player, you don't care that Stormbreath Dragon has haste, or that it has pro-white, or that it attacks for four in the air. However, the monstrous ability severely punishes you for being a reactive deck with a handful of spells and can often end the game as soon as it is activated.
While the Mono-Black devotion deck has a lot of dead cards against Maze's End—anything that targets a creature—Gray Merchant can end the game without ever having to attack. This Corrupt with legs just has to hit the board to kill you and can't be Riot Controlled since it's loss of life and not damage dealt.
This card is just gross. You can't ever Supreme Verdict it and it's basically impossible for this deck to race. It just has to blink a few times for you to die with half a Maze assembled. Out of the sideboard, I have Selesnya Charm to answer this card specifically.
Burning Earth/Skullcrack/Pithing Needle
These cards all do different things though I grouped them together since they are the cards most often brought in from the sideboard to hose this deck. Both Burning Earth and Skullcrack are must counters, but luckily Swan Song counters both of these cards. Dealing with Pithing Needle on the other hand is a very tricky proposition. Since you don't know what decks are able to bring in the colorless artifact, it's hard to determine when you should preemptively side in the Crackling Perimeter. In general, I haven't seen a ton of Pithing Needles lately, so I would wait to side in the Perimeters until you know for a fact that your opponent has it.
These cards are certainly formidable obstacles in the way of Maze's End being a real deck, but I don't think they totally preclude the deck from existing in the current Standard format. For every problem there are multiple solutions, it's just a matter of finding the most appropriate one.
Anyway, let's get to my weekly tournament report:
Round 1—Shawn with RG Monstrous (0-2)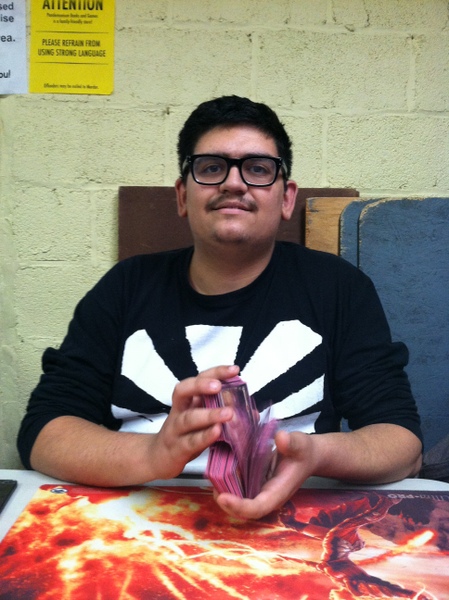 I am currently 0-4 in games against Straight Edge Shawn. I only bring up his edge affiliation because earlier in the night he tried to get me to trade him my Edgewalkers and a Firestorm, simply because the first had "edge" in its name and the latter shares its name with an Earth Crisis song. I think next time I see him, I'll gift him a copy of Rath's Edge.
Anyway, game one Shawn played out Boros Reckoner, Burning-Tree Emissary, and Ember Swallower before I cast Supreme Verdict. Though I had dodged a bullet by killing off the Swallower, Shawn cast a Chandra which ended up taking over the game. I ended up drawing a few too many lands and not enough Fogs and died when the boardstate looked like this: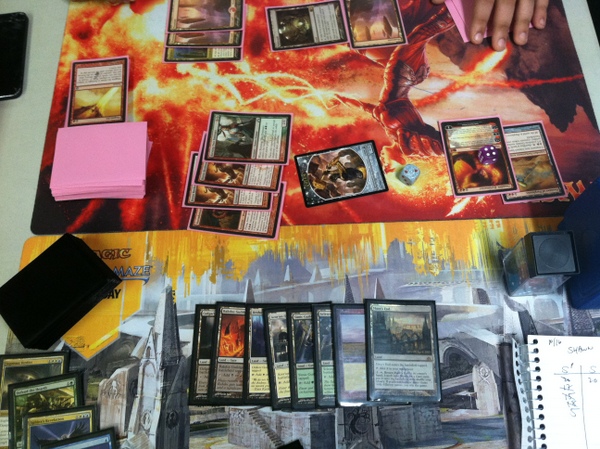 Sideboard:
-2 Into the Wilds
-1 Swan Song
+1 Supreme Verdict
+1 Pithing Needle
+1 Negate
After playing with Into the Wilds, I'm convinced that it's junk. Half the time it misses and there is never really a good time to cast it since you're always holding up mana for Fog, Riot Control, Sphinx's Revelation, etc. Moving forward, I don't think it belongs in the deck at all since I sided it out in nearly every match.
In game two, after I cast two Sphinx's Revelations and thought I had stabilized, Shawn was able to play Ember Swallower and monstrous it on the same turn thanks to Nykthos, Shrine to Nyx. Shawn had set me really far back and was able to run me out of Fogs while applying pressure with Stormbreath Dragons and a giant Ember Swallower.
Round 2—Tom with Boros Midrange (0-2)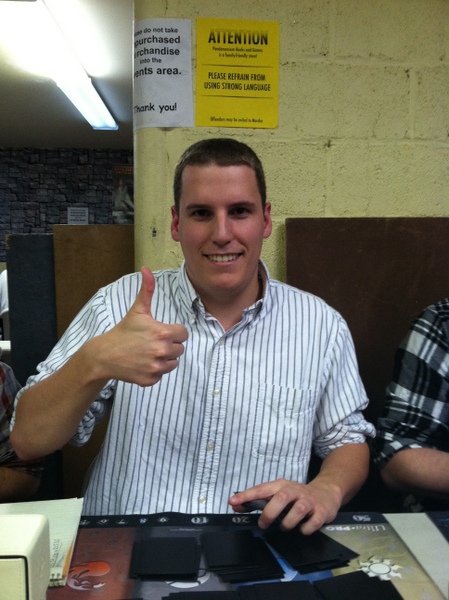 Tom gave the thumbs up and posed for a photo before annihilating me very quickly.
Game one, Tom got off to a pretty slow start with a solitary Chandra's Phoenix and I felt pretty ahead when I countered his Purphoros and gave him a consolation bird token. I felt significantly less good when Tom cast two Stormbreath Dragons, was able to put monstrous pants on them, and still had a handful of burn to do more than lethal damage.
Sideboard:
-2 Into the Wilds
-1 Gatecreeper Vine
-1 Elixir of Immortality
+1 Supreme Verdict
+1 Pithing Needle
+2 Syncopate
I don't expect to need Elixir here since I didn't see any land destruction, Gatecreeper is just Lay of the Land since it doesn't block most of his creatures, and Into the Wilds just sucks. Syncopate is a flexible counterspell that potentially counters Chandra and Stormbreath, Needle deals with a resolved Chandra or Stormbreath, and Verdict at least buys some breathing room against the beaters.
Game two, I once again felt pretty ahead, he had a ton of things in play but I had a handful of Fogs and a Maze's End slowly ticking up. He attacked for some absurd amount of damage and I cast a Riot Control, he played Skullcrack, and I cast a Fog in response. "Does that work?" Tom asked. "Uh, I think so, let's check with the judge." I raised my hand, called judge, and he explained that it didn't matter about the order, Skullcrack gave no fucks about damage replacement effects. I felt like this was something I should have known, especially if I'm to consider myself a turbo fog enthusiast. Since there was nothing I could do, I extended the hand, and waited for round three to start.
Round 3—Nick with UG Ramp (2-0)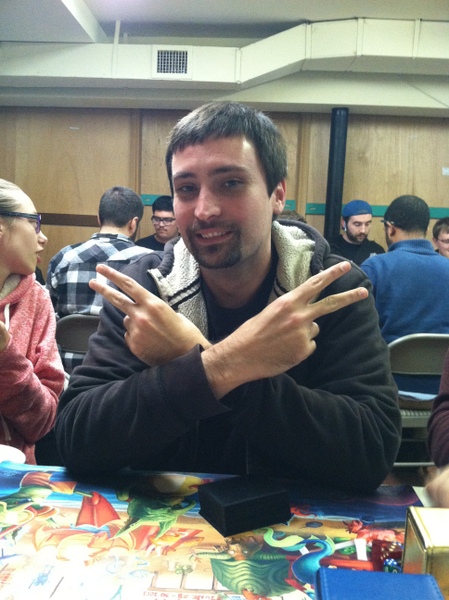 Nick wins for best pose for a photo so far.
Nick was playing a UG Ramp list he has been tweaking over the past few weeks. Since, the UG deck is so focused on jamming creatures, making them huge with Master Biomancer, and drawing cards with Prime Speaker Zegana and Garruk, it doesn't really have anything in the way of disruption. So in these games Nick had hundreds of power on the board and even drew 16 cards off of Prime Speaker Zegana but couldn't really do anything about my fogs. Here is a picture of his hand on top of his ridiculous board presence: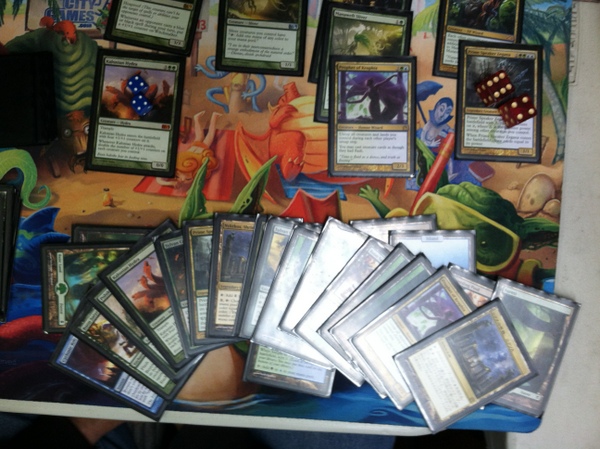 All of his plans were ruined by this: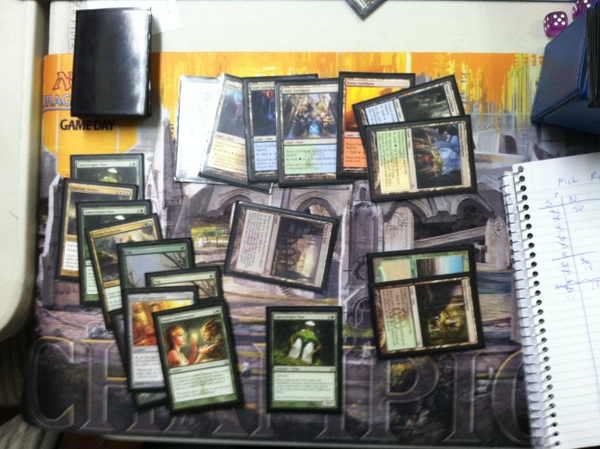 Think about this game from a flavor perspective:
Nick unleashes a massive army of creatures, Zegana is riding on a Kalonian Hydra, Boon Satyr is hanging out on the back of Prophet of Kruphix, and Garruk is leading the charge through the battlefield at me, the opposing mage. Suddenly this gigantic horde is halted because a thick Fog covers the area. After it clears, Garruk screams for his army to charge, but once again, a fog, seemingly out of nowhere, envelops the area. Undeterred, Garruk keeps his army on standby, until Isperia comes rushing out of the sky to do some Riot Control. Isperia doesn't attack anyone or anything, just makes enough of a show to delay the attack a little further. Once Isperia takes off, Garruk and his troops still rumble in, but upon arriving at my lair, they are halted by soldiers in a defensive stance, ready to defend the hearth.
At this point, Garruk is pretty frustrated and the morale of his troops isn't so high either; Zegana is sitting in the shade of a Sylvan Caryatid taking a nap, Kalonian Hydra has become so large that it's having difficulty moving its heads, and Prophet of Kruphix is seriously doubting how carrying a satyr on her back is going to help in battle. Despite all of the setbacks, Garruk realizes they haven't actually suffered any casualties and commands his army forward for one last glorious charge. They arrive at my lair just in time to see me reaching the Maze's End, hands held high in victory, yelling, "Look at all these lands!"
This is how I imagine every game I play with Maze's End.
Round 4—Cesar with Mono Black Control (2-0)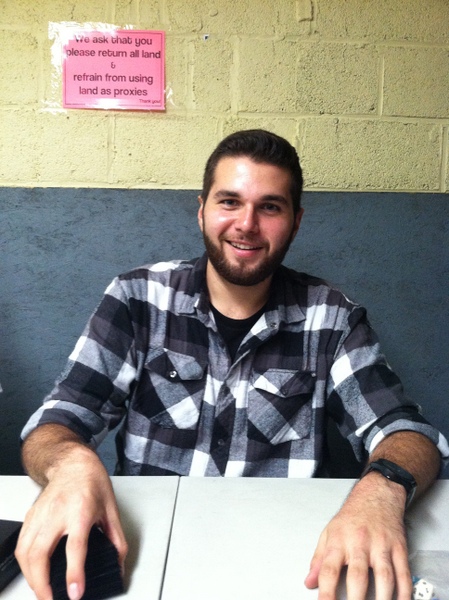 Cesar is a new player who started during Dragon's Maze. His Mono Black Control deck is still a work in progress, but has what you would expect in this type of deck: all the removal, Underworld Connections, Nightveil Specter, and Gray Merchant of Asphodel.
Game one, Cesar got stuck on three lands and didn't do too much of anything except attack me with Agent of the Fates. I mostly ignored the dubiously heroic assassin, and starting doing my landscaping work. At one point, Cesar asked me if I had any creatures in my deck and I confirmed his suspicions that I did not (except for Gatecreeper Vine). Over the next couple of turns of not drawing lands he just sort of sighed and discarded Doom Blades and Hero's Downfalls.
Sideboard:
-1 Elixir of Immortality
-1 Swan Song
+2 Syncopate
Against a grindy control deck without counters, I felt that it was probably ok to leave in Into the Wilds. I sided in Sycopates to ensure I didn't lose to a really devoted Gray Merchant.
Game two was  more of an actual game. Cesar got out an early Nightveil Specter which I had to let hit me a few times. Luckily, I didn't get all of one type of guildgate exiled because that would have been an embarrassing way to lose. Almost as embarrassing as losing to a Maze's End deck. Almost. Anyway, I was able to wrath away a pair of Specters and then protect myself with Fogs until the Maze's End had been assembled. He never played a Gray Merchant.
I ended up finishing with a pretty meh record of 2-2. It's clear this deck needs a few edits in order to deal with the many public enemies I listed earlier. After a few conversations, I'm convinced that Rapid Hybridization has a place in this deck. Hybridization prevents monstrous activations from Stormbreath and Ember Swallower and provides this deck a reasonably-priced answer to Obzedat. Hybridization works on just about every creature on the format and you don't really care so much that they get a frog lizard. Furthermore, the fact that it only costs a single mana is really important, since this deck is always a turn behind because everything comes into play tapped and you need to hold up mana for Fogs and Maze's End. I'd also like to try a single copy of Merciless Eviction to primarily act as the fourth wrath effect that could also potentially exile gods, planeswalkers, or even Pithing Needle if the situation called for it. This is what I'm planning on playing next week:
Mazed and Confused 3.0
At age 15, while standing in a record store with his high school bandmates, Shawn Massak made the uncool decision to spend the last of his money on a 7th edition starter deck (the one with foil Thorn Elemental). Since that fateful day 10 years ago, Shawn has decorated rooms of his apartment with MTG posters, cosplayed as Jace, the Mind Sculptor at PAX, and competes with LSV for the record of most islands played (lifetime). When he's not playing Magic, Shawn works as a job coach for people with disabilities, plays guitar in an indie-pop band, and keeps a blog about pro-wrestling.