Last week, I gushed about my love for the Turbo Fog Maze's End deck and wrote about the in-game flavor of enveloping creatures in fog, leaving opposing mages perpetually lost in the woods, and winning the game without ever doing any damage. This week, I want to talk specifically about the Turbo Fog archetype and the card choices and considerations for this deck. Here is the list I played this week for consideration:
Mazed and Confused 3.0
The Lands—Maze's End obviously poses some interesting restrictions for the manabase of this deck, namely in that you don't really have room for non-guildgates. Maze's End makes up for the fact that your manabase is eternally stuck in Frozen Aether by winning you the game and providing reusable card advantage. Since Maze's End does function as both card advantage and the win condition of the deck, four is the correct number. In terms of the guildgates, the deck requires one of each but is somewhat more flexible after this condition is met. When Oberg played the deck in block constructed, he chose to just play two of each guildgate since the color requirements of his spells were much more varied than the Standard Turbo Fog version. Since this deck is essentially just Bant colors, we play more Azorius and Selesnya Guildgates than gates that only add one of the necessary colors. It is worth noting that Simic Guildgate could be a three-of as well because it fulfills the necessary color requirements, however I elected to only play two to vary the number of guildgates you can naturally draw into; if you have a wider array of different guildgates, it makes the game end faster when you are able to start using Maze's End every turn. As is the case with many control decks, Maze's End requires you to hit a land drop every turn, so I think the optimal number of lands is between 26-28. With the few spots available for non-guildgates, I've elected to play basic lands. While it would be nice to play with shocks in order to further improve mana, life is an extremely valuable resource in this deck and it is better to have a land that always comes into play untapped versus yet another land that does not.
The Fogs— This deck plays 14 of the possible 16 fogs available. Ideally you hold on to fog effects until you are facing lethal damage and then start using them every turn until you can cast Supreme Verdict and force them into rebuilding their armies. I generally try to play Defend the Hearth and Druid's Deliverance before playing Fog or Riot Control because of mana considerations and the fact that the latter can prevent non-combat damage as well. Later in the game, you are trying to play Sphinx's Revelation, Urban Evolution, and activate Maze's End, making the one mana Fog more valuable. Riot Control is often saved until later in the game to potentially deal with burn spells or Stormbreath Dragon's monstrous activation, as Riot Control is the only fog effect that prevents all damage and not solely combat damage.
The Card Draw—Turbo Fog is pretty reliant on card draw in order to, well, keep drawing more fogs. Here I have elected to play Sphinx's Revelation and Urban Evolution. Sphinx's Revelation is expensive, especially when you are always a mana behind most decks, but the lifegain often acts as a pseduo-fog and keeps you alive when facing down attacking creatures. Urban Evolution allows you to draw more fogs and play more lands, which is basically exactly what you want to be doing all the time with this deck. Though my deck does not play Divination, I was intrigued to see it replacing Sphinx's Revelation in Joshua Wickenham's top four Maze's End list from a recent 2.5K. Here is his list for reference:
Josh's Maze's End
While I want to play Sphinx's Revelation in any deck that can play it, I think Joshua might be on to something here. The fact that Divination only costs three mana means that it can be cast earlier in the game and when it is cast later in the game, it is better at respecting the mana required to fog on the opponent's turn.
Another card draw option for the deck, as suggested by a recent reader, would be Jace, Architect of Thought. Jace not only draws cards but has the added utility of softening opposing attacks without spending a card or mana on casting a fog. The only reason I don't love Jace here would be that it turns on an opponent's previously dead removal. Hero's Downfall and Detention Sphere seem to be everywhere right now, and can currently only target a lowly Gatecreper Vine. I'm just imagining that it would feel awful to +1 a Jace, then have it meet its demise before drawing any cards.
The Disruption—Unfortunately, sometimes opponents have cards that you can't answer with Fog. Swan Song and Rapid Hybridization are instant speed options that disrupt an opponent's plan for the low price of one blue mana. The downside of these cards is negated by the fact that we run so many fog effects. Supreme Verdict is here to punish an opponent for overcommiting to the board. I tried out Merciless Eviction to act as an additional wrath that could also take out problematic planeswalkers, artifacts, or enchantments, but after trying it, I think it should be cut for Planar Cleansing. Initially I preferred Eviction over Cleansing because it was easier to cast in a multicolored deck and provided an answer to the indestructible gods, however my opinion has changed. I found myself in many situations where I was facing down problematic creatures and planeswalkers and needed to answer both, not either or. The fact that Planar Cleansing costs three white is certainly inconvenient, but the deck plays more white sources than any other color and is capable of searching for the necessary white with Gatecreeper Vine or Maze's End, so I think it's an acceptable one-of addition.
In Joshua's list he opted to run Detention Sphere over Swan Song, Rapid Hybridization, or an additional wrath effect. Detention Sphere is something I've considered but didn't like because three mana for a permanent based removal spell is a lot, especially when it misses on multiple targets. However, Detention Sphere is pretty flexible and is the cheapest way for the deck to answer an early planeswalker, so I can see the appeal of including it in the main deck, though I still wouldn't run it in my 60.
Everything else—I run Gatecreeper Vine primarily as mana-fixing, though it provides the deck with a speed bump for attacking creatures as well. The one-of Elixir of Immortality is just to ensure you don't randomly lose if someone destroys a necessary guildgate or mills too many cards from your deck, though to be honest, I don't really think it's necessary as this doesn't tend to happen too much in game one anyway.
The Sideboard—Most of the sideboard choices I think are pretty self explanatory, though I think it's certainly worth discussing Crackling Perimeter as it is very easy to bring it in unnecessarily. Crackling Perimeter should only come in against control decks where you have a ton of fog effects to board out, or in match-ups where you are certain they have Pithing Needle or Jace, Memory Adept. Since Crackling Perimeter doesn't effect the board, it makes the deck worse by removing important spells that delay the game or do disrupt the board. Maze's End adds mana, generates card advantage, and wins the game, whereas Crackling Perimeter only acts as a win condition and occasionally as a pretty inefficient way to deal with planeswalkers. Perimeter is a necessary evil in the sideboard, but I really don't like boarding it in unless I'm pretty damn sure I will need it.
Anyway, I played Maze's End again this week at Pandemonium Books and Games for Wednesday Night Standard. These were my games:
Round 1—Max with RG Monsters (1-2)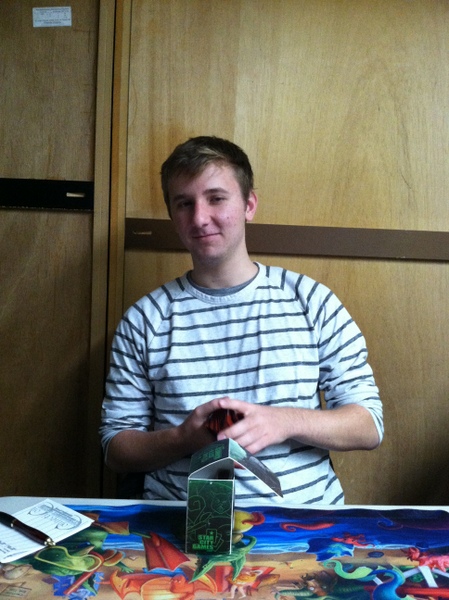 Game one, Max played two Kalonian Tuskers, two Stormbreath Dragons, two Scavenging Ooze, Polukranos, Xenagos, and managed to ultimate a Domri Rade before following up with another Domri.
I won this game.
Despite the hundreds of damage represented by his double-striking, hasty, hexproof, trampling beaters, I was able to do the necessary Riot Control and even net five life in the scuffle: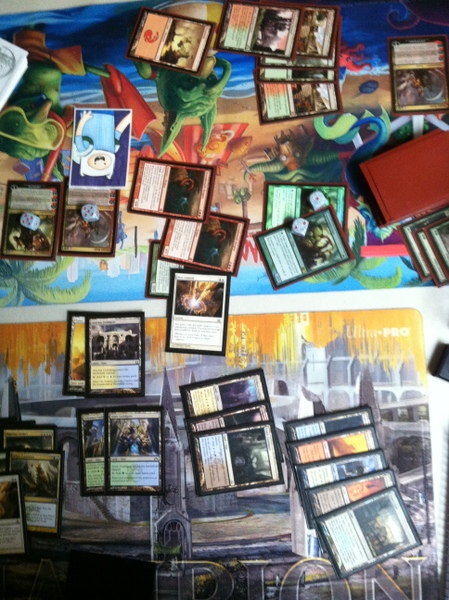 The Finn token is a Domri Emblem. 
Sideboard:
-1 Elixir of Immortality
-1 Swan Song
+1 Supreme Verdict
+1 Merciless Eviction
Despite the fact that Swan Song is pretty bad against his creature-based deck, I left two in the deck to respect the Burning Earth Max told me he would side-in. Supreme Verdict and Merciless Eviction are no-brainers against his all-permanent deck.
Game two, I never saw a Maze's End, so despite the fact that I had been routinely hitting land drops, I didn't have the Maze to ensure I hit the correct lands and win the game. It didn't help that Max played a Ruric Thar, the Unbowed, which really beats up on decks like this, even if answered right away.
Game three, I was down to 14 life when I ran out of fogs. I then had to make the decision to Mercilessly Evict Xenagos and a Domri about to ultimate or a 7/7 Stormbreath Dragon, a satyr token, and two Elvish Mystics. Since the damage from the creatures wasn't lethal, I opted to exile the planeswalkers as the Domri Emblem makes just about any creature he draws lethal especially in conjunction with the Satyr that would be produced by Xenagos. Max untapped, cast Mistcutter Hydra with X as seven, and hit me for 16 damage: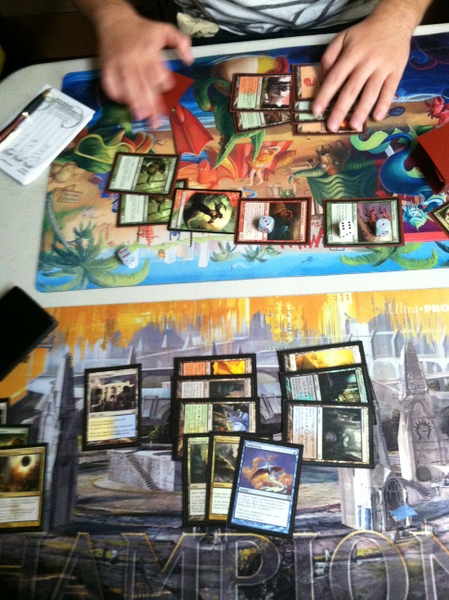 Round 2—Michael with UW Control (2-0)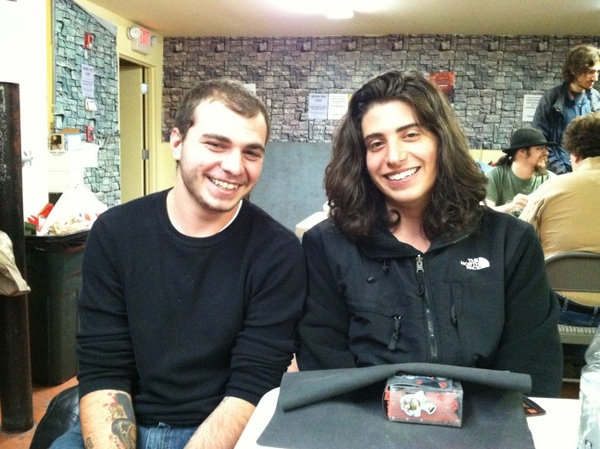 Michael agreed to pose for a picture but only if his friend could be in it as well. I don't remember his friend's name, just that both these dudes seemed, and looked, pretty out of it.
Game one, I don't think I even had to cast any spells, I just sat back and started using Maze's End on turn five. He played Divination, cycled some Azorius Charms, and played Jace, Architect of Thought. Jace never flipped over an Aetherling, so Michael just played lands, ended the turn, and discarded down to seven.
Sideboard:
-3 Supreme Verdict
-3 Riot Control
-2 Rapid Hybridization
+3 Crackling Perimeter
+2 Pithing Needle
+1 Swan Song
+1 Negate
+1 Syncopate
Here you just sideboard out all of the creature removal and a few fogs for cards that can actively disrupt them. Perimeter comes in because I expect Pithing Needle and Jace, Memory Adept, and would still like to win the game.
Game two was pretty much just like the first. He didn't play Pithing Needle or Jace, Memory Adept so I won.
Round 3—Andrew with Junk Midrange (2-0)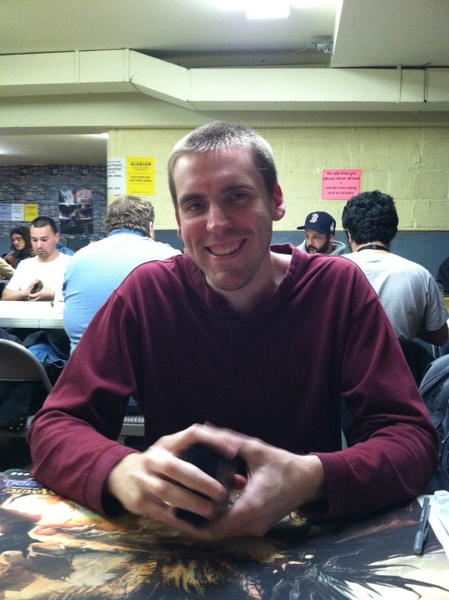 Andrew is currently in the lead for people I've played the most at Wednesday Night Magic. Since I haven't deleted any pictures off my phone yet, I think I have more pictures of Andrew on there than my family. I'm not sure what this says about me. Anyway, Andrew played a Junk list with stuff like stuff like Sylvan Caryatid, Boon Satyr, and Blood Baron of Vizkopa.
Game one, Andrew double Thoughtseized me taking Fog and Defend the Hearth, but couldn't apply enough pressure to punish me. While I really like Junk Midrange as a deck and think it could be a contender moving forward, there isn't much that it can do to disrupt Maze's End outside of Thoughtseize. After Sphinx's Revelationing for five later in the game, I was able to reach the end of the maze pretty quickly.
Sideboard:
-1 Elixir of Immortality
-1 Swang Song
+1 Rapid Hybridization
+1 Crackling Perimeter
I was nervous about Obzedat so I sided in another Rapid Hybridization to deal with the ghost father. I brought in one Crackling Perimeter because I was pretty sure Andrew had Pithing Needle in his sideboard. Elixir doesn't do anything here since I don't Junk can disrupt lands—outside of something absurd like Sylvan Primordial—or mill cards. Swan Song can occasionally counter a Thoughtseize, Boon Satyr, or a late game Pithing Needle, but having three in the deck postboard is way too many.
Game two, Andrew didn't play Obzedat or Pithing Needle and couldn't kill me through my fogs. My board at the end of the game looked like this: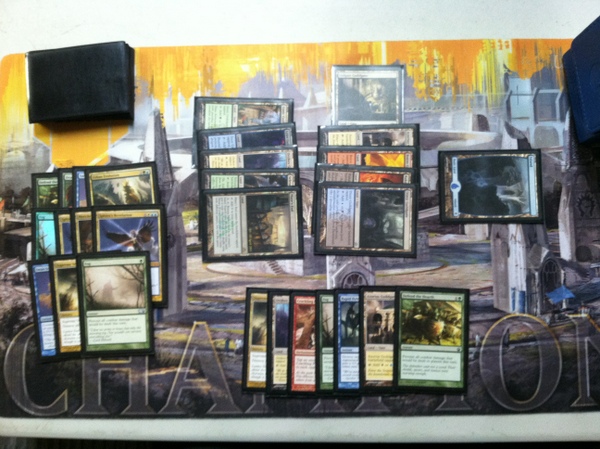 Round 4—Ian with GW Aggro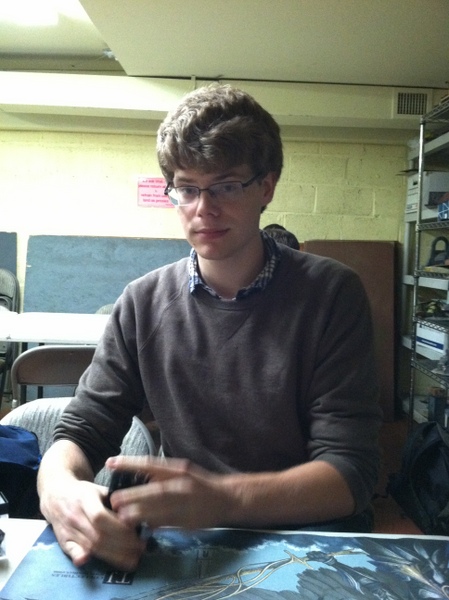 Ian is a nice dude who offered to split the last round, which at a 2-1-1 record net us both one George Washington. I usually always take splits but for the sake of the article and the hypothetical $7 I could net, I decided to play it out.
Game one we both kept sketchy hands. He was stuck on one land for two turns and I was stuck on two lands for two turns. His two Soldiers of the Pantheon threatened to end the game in short order but I was able to pull it together and chain enough fogs to get there: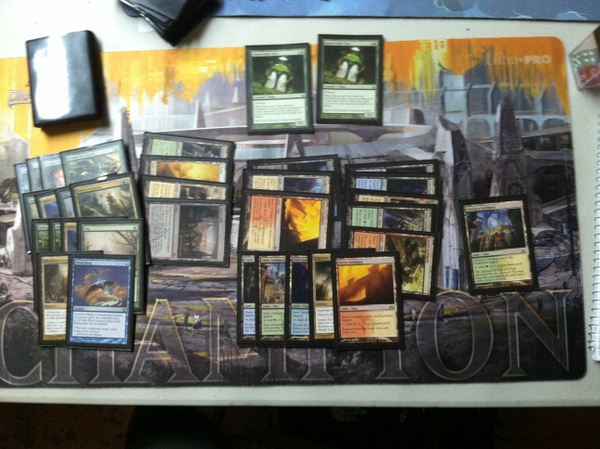 Sideboard:
-1 Elixir of Immortality
-1Swan Song
+1 Mericless Eviction
+1 Supreme Verdict
Swan Song is reasonable against Ian's deck, countering Advent of the Wurm, Boon Satyr, and Selesnya Charm, but most of the time I'd just prefer the sweeper.
Game 2, I stumbled on lands again and ended up dying to Ian's sweet curve.
Game 3, had a pretty interesting situation. I was at seven life and this was Ian's board:
I was woefully short on blue sources and used Gatecreeper Vine to fetch an Island which I played as my land for the turn. I had seven mana available. In my hand, I had two Merciless Evictions and one Sphinx's Revelation. I can cast Merciless Eviction on creatures and wipe his entire board, though if he had an Advent of the Wurm in his six-card hand, I was dead to Ajani's -3 ability. Instead of Eviction, I could cast Sphinx's Revelation for two or for three. If I draw two cards, then I would still have mana to cast Druid's Deliverance or Defend the Hearth but if I dug one card deeper I could only play Fog.
I ended up casting Revelation for two, seeing two lands and scooping up my cards. Ian did have the Advent of the Wurm so the Merciless Eviction line was certainly wrong. I looked to see the top card of my library and thought of flipping a table when it was Fog. Here is the final board state in case I missed something:
My record over two weeks with the deck is 4-4, which is a failing grade by all accounts. Yet, despite my lackluster results, I still think there is something to be said for this deck. Perhaps my brain is fogged by my love for Maze's End and I'm not seeing the truth of the matter, but I think with some tweaks this deck could be a solid metagame choice. Here are my proposed tweaks:
1. As mentioned earlier, Merciless Eviction should be Planar Cleansing. If Eviction had been Cleansing in my games this week, I think I would have won my game three's in round one and four. The exile clause just doesn't make up for the fact that Cleansing doesn't force you to choose between removing problematic planeswalkers and problematic creatures.
2. Divination should be in this deck. It feels great to cast a big Revelation or a late game Urban Evolution but this deck really needs cheaper spells. The guildgates force you to play a turn behind at all times and turn four Divination to draw a crucial land or Fog is just better than a turn six Sphinx's Revelation to do the same thing. This doesn't mean I want to cut Revelation entirely, but some cards should be shaved to make room for Divination.
3. Elixir of Immortality just doesn't need to be in the maindeck. It's nice to have at least one card in the maindeck to give you outs against some of the random stuff out there, but it just doesn't do enough the rest of the time. And also if your opponent does slams a Jace, Memory Adept against you in game one, even with Elixir in your hand you're probably still not winning that game.
4. I never brought in Saruli Gatekeepers over the past two weeks. I think the card deserves a place in the sideboard, but if you really aren't seeing any Mono Red, this spot could be occupied by something else.
Having said all that, this is my final recommendation for the deck:
Mazed and Confused 4.0
At age 15, while standing in a record store with his high school bandmates, Shawn Massak made the uncool decision to spend the last of his money on a 7th edition starter deck (the one with foil Thorn Elemental). Since that fateful day 10 years ago, Shawn has decorated rooms of his apartment with MTG posters, cosplayed as Jace, the Mindsculptor at PAX, and competes with LSV for the record of most islands played (lifetime). When he's not playing Magic, Shawn works as a job coach for people with disabilities, plays guitar in an indie-pop band, and keeps a blog about pro-wrestling.