Remember when I said I was going to play a sweet Grixis control list this week? While I was set to Magmaquake some boards, go deep with Divination and Opportunity, and flip some coins with Ral Zarek, something else caught my eye. I was scrolling through the MODO premier event Top 8's and hidden among the rows of Jund Midrange, American Midrange, and GR Aggro were the words "Burn at the Stake". Before even looking at the list, I knew I was going to do a last minute audible for Wednesday Night Magic.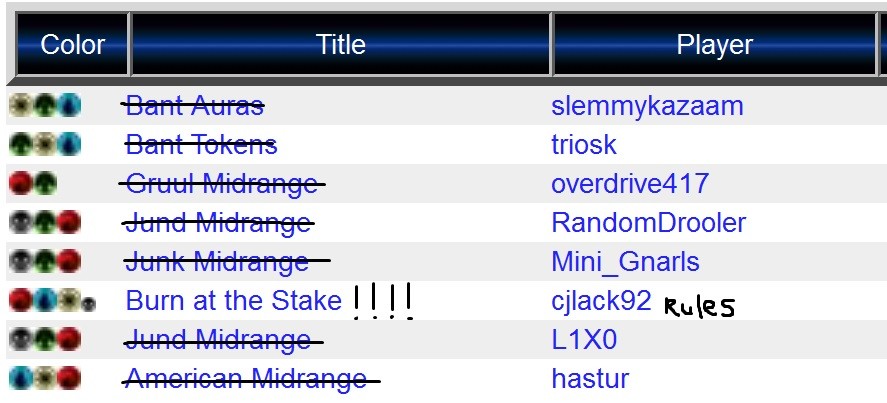 While I was familiar with the combo before being graced with the Cjlack92 list, I thought it was "cute"– something posted on Reddit that got too many upvotes– and not a viable plan for the current standard environment. I was wrong. The deck is awesome, and I'm not just saying that because I've been playing Pillow Fort for the past few weeks. Burn at the Stake (aka BATS) is reasonably resilient, can win through disruption, and has a fast clock, which is basically everything you're looking for in a combo deck. Here is the list:
Burn at the Stake
The problem with my last minute audible is that I didn't have the cards for BATS readily available. This is not to say that I don't own the cards, surely I have a veritable treasure trove of draft chaff and proxy fodder at my disposal, but I wasn't sure where the bad cards I was currently looking for were located. After finding Faithless Looting in a box of dissembled decks and Desperate Ravings in one of the piles of cards I keep on the mantle, I realized that I didn't own any Battle Hymns. I couldn't fathom how this was possible. I drafted Avacyn Restored more times than I should have and it seems impossible to not end up with some last pick Battle Hymns begrudgingly placed on the top of your stack. Regardless, I went to bed late Tuesday night having the entire deck built, minus four Battle Hymn and two Reforge the Soul, and I planned on buying the elusive Avacyn Restored undraftables the next day at Pandemonium before Standard started.
When I got to Pandemonium, I went to look for Battle Hymn in the Avacyn Restored binder. I found Innistrad, Dark Ascension, and Return to Ravnica, before locating the dusty shell of the AVR binder on top of the soda fridge. Empty. I figured they might have found their way into the Playable Red Common/Uncommon binder but after a few minutes of perusing multiple pages of Pillar of Flame, Searing Spear, and Firefist Striker, I found no Battle Hymns. I went up to the counter and John, a bearded man blessed with a booming voice, loudly informed me that they didn't have them. I went around to anyone toting a binder in the basement and asked for the missing cards but no one had Battle Hymns or Reforge the Soul. I had 30 minutes to figure something out.
I went back upstairs, looked at the shelves of boosters and thought about cracking packs of Avacyn Restored. Now, I've only cracked packs in search of a card once before, and that was nearly a decade ago. At the time, I needed Meddling Mage for a UW Fish deck I was building for a living room tournament at my friends house. I had enough for three packs of Planeshift, and in the last pack, I saw the hooded face of one Chris Pikula staring back at me. My ill conceived plan worked once, so maybe it would work again. I went up to the counter, saw that it was Alex, and not John, standing behind the register, and figured before I went in on a bad investment, I would check one more time to see if they had Battle Hymns.
"Yeah we have those, how many do you need?"
I ended up finding one Reforge the Soul in the bulk rares bin and got another from someone extremely perplexed that I was so adamant about trading for a Reforge the Soul minutes before the tournament.
After my last minute trading miracle, I shuffled up for round one.
Round 1—Ryan with Jund (0-2)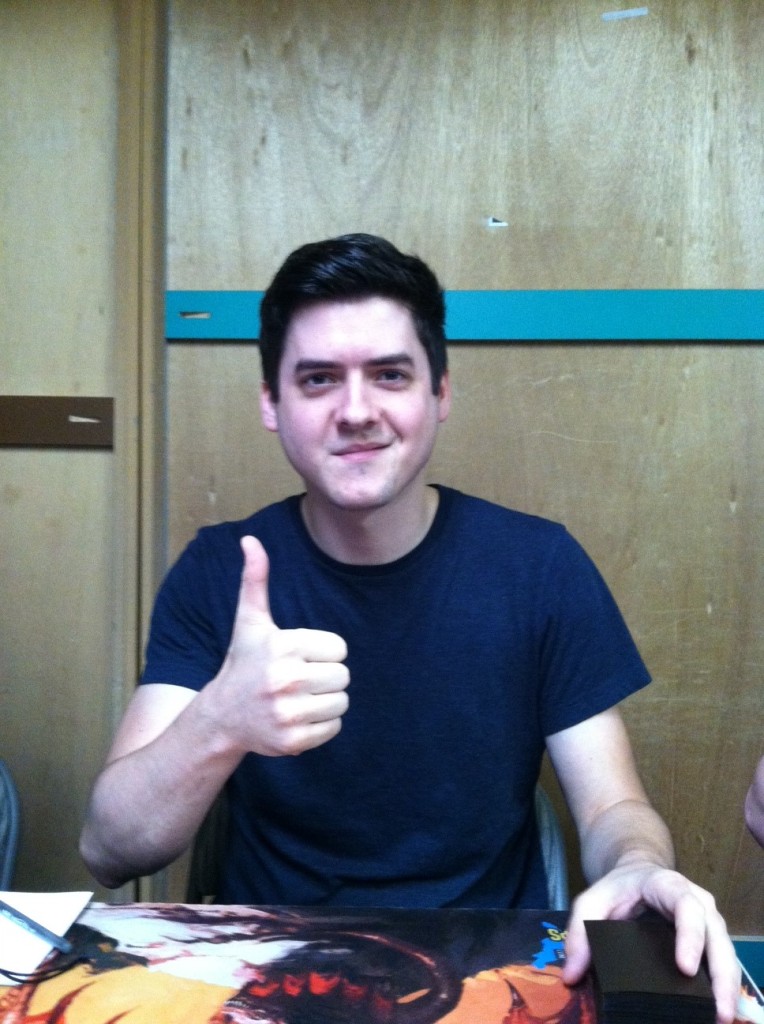 Game one, I drew my opening 7, mulliganed a one-lander, and pondered over this six card hand: Faithless Looting, Goblin Electromancer, Battle Hymn, Steam Vents, Blood Crypt, and Dragonskull Summit. While I identified the hand as a keep—it had land and looting—I realized that I really should have played a few practice games instead of going into this thing cold. Combo decks, even those with relatively straightforward game plans, require good sequencing when playing spells and a working knowledge of the ways your opponents can interact with you. While I was pretty familiar with the ways that Jund could interact, my sequencing for this game was pretty bad. Also, in all Magic, combo deck or otherwise, it's vitally important to Read The Fucking Card (RTFC), an anagram I had apparently forgotten about when I cast Hidden Strings for the first time. I thought that this card was just Twiddle with cipher, but apparently it is double Twiddle with cipher. When I had Goblin Electromancer out, I could have generated a ton of mana and used it to dig deep with Faithless Looting and Desperate Ravings, but alas, I just untapped one land each time. He played two Thragtusks and finished me off with a Rakdos's Return.
 Sideboard
2 Hidden Strings
-1 Reforge the Soul
+3 Duress
This game initially looked promising. I played a turn two Augur of Bolas (revealing Lingering Souls), then played a Duress on the following turn, which revealed: Rakdos's Return, Garruk, Primal Hunter, two Thragtusks, Pillar of Flame, and Rootbound Crag. I took the Rakdos's Return and felt pretty good about the way the game was going since his clunky threats would give me plenty of opportunity to set up the combo. Don't worry though, I managed to punt this one as well. When I was at eight, Ryan attacked me with a Thragtusk. I had four Spirit tokens, Goblin Electromancer, and Augur of Bolas on board with a stocked hand of Battle Hymn, Past in Flames, and Gather the Townsfolk and a graveyard full of Desperate Ravings and Faithless Lootings. I blocked the Thragtusk with Augur of Bolas. For no reason. By blocking the Thragtusk I turned off the Fateful Hour on Gather the Townsfolk. This gave him an opportunity on my turn to Putrefy one of my creatures as I cast Battle Hymn, totally screwing up my mana. If I had played this correctly I could have made five human tokens, generated an insane amount of mana with Battle Hymn in order to dig for the lethal Burn at the Stake. Instead I generated just enough mana to play Past in Flames, durdle around with some stuff in the graveyard, and lose the following turn to his Bonfire of the Damned.
Round 2—Bye with Goldfish (2-0)
I sat down to play round two against a guy named Bennett, who inexplicably signed up for the event but never showed up for round one. Apparently his round one opponent never told a judge that this guy didn't show up, and so instead of a real game, I got to do some goldfishing, which was really for the best considering my play mistakes the first round. A local player named Ben Feingersh, who was wincing behind me as I punted round one, took this time to run through a few sample hands with me as we discussed potential lines of play. I felt better about playing the deck after this and went downstairs to watch a few games.
I started watching a game as the last few minutes of the round ticked down. There were two minutes on the clock with one player on 4C Control, and the other playing Conley-style Mono-Black. The 4C Control Player had just had his lands divvied up by Liliana of the Veil's ultimate, and was currently sitting on three lands and one card in hand (Alchemist's Refuge). The Mono-Black player had a Liliana of the Veil on one loyalty, a Desecration Demon, approximately one million lands, an Underworld Connections, and nearly a full grip of cards. From this vantage point, there is no way that the 4C player can win in the remaining time with so few resources, but they continue to play it out, which is totally fine and well within each player's right. The 4C player draws for his turn and tanks. Spends the remaining time on the clock, flipping his two cards back and forth. The card he drew was Think Twice. I don't think there is a meaningful decision to make regarding the play here; you either play the land and discard Think Twice to Liliana or pass the turn with both in hand to give you an opportunity to play Think Twice on their turn and do the flashback on your turn. But the guy just sits there and doesn't do anything. Time runs out and he passes the turn. Desecration Demon knocks him to 12, Liliana makes him discard Alchemist Refuge. 4C dude plays Think Twice and then goes to his turn, plays nothing and passes. We're on turn three now and MBC guy swings with Desecration Demon and has it Azorius Charmed to the top of his deck. Even though he can replay it, he doesn't have enough damage to finish off 4C dude on turn five of turns. The game ends, 4C guy was up a game and he wins the match.
Does this bother anyone else? Despite the fact that this guy can't win the game, his slow play regarding a non-meaningful interaction meant that he could draw the game and win the round. While I wasn't there for the rest of the game and didn't see the rate of play during the rest of the round, the play during the last few turns was enough to bug me the rest of the night. I know the 4C player, and I think he's a pretty good guy, and while I can give him the benefit of the doubt on this one, I do think this game poses an important reminder to maintain a reasonable pace during games and let your opponent know, politely, if they are not fulfilling their end of the deal.
Round 3—Richie with GB Aggro (2-0)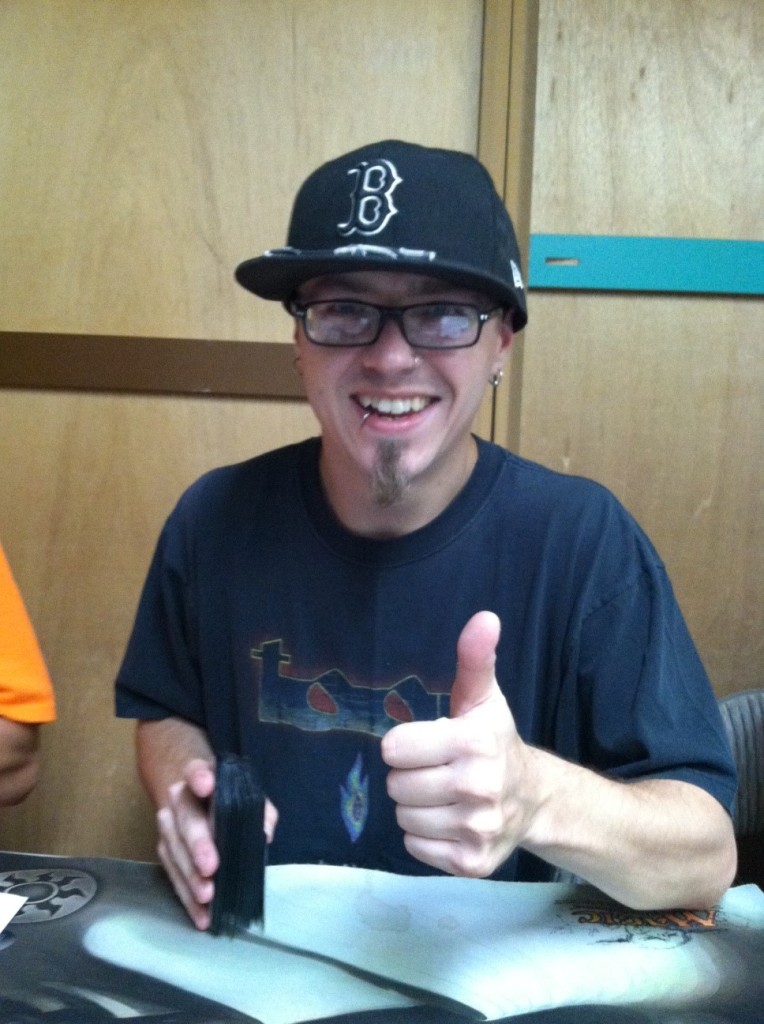 Richie was a really nice dude who was very gracious about losing to this ridiculous deck. Game one, I was on the play and here's what happened.
Richie:
T2—Strangleroot Geist attack for two
T3—Dreg Mangler attack for three
T4—Arbor Elf
T5—Look at the board in horror
Me:
T2—Young Pyromancer
T3—Augur of Bolas (revealing Battle Hymn)
T4—Young Pyromancer
T5—Battle Hymn, make two creatures with Young Pyromancer, Burn at the Stake for 15, make two creatures.
T6—Attack for the win
I didn't sideboard anything here since I wasn't really sure on the ways he could interact with the combo. Rather than weaken the combo by adding in disruption, I figured I would just keep the deck as is for game two. This game came down to Strangleroot Geist, Dreg Mangler, Lotleth Troll, and Scavenging Ooze with a Rancor attacking me down to three life. Richie used the Ooze to remove all the cards in my graveyard with flashback except for Past in Flames. On my turn, I was able to play another Young Pyromancer, Battle Hymn for a bunch, flashback Past in Flames, play Battle Hymn and then cast a Burn at the Stake for 33, which was more than enough.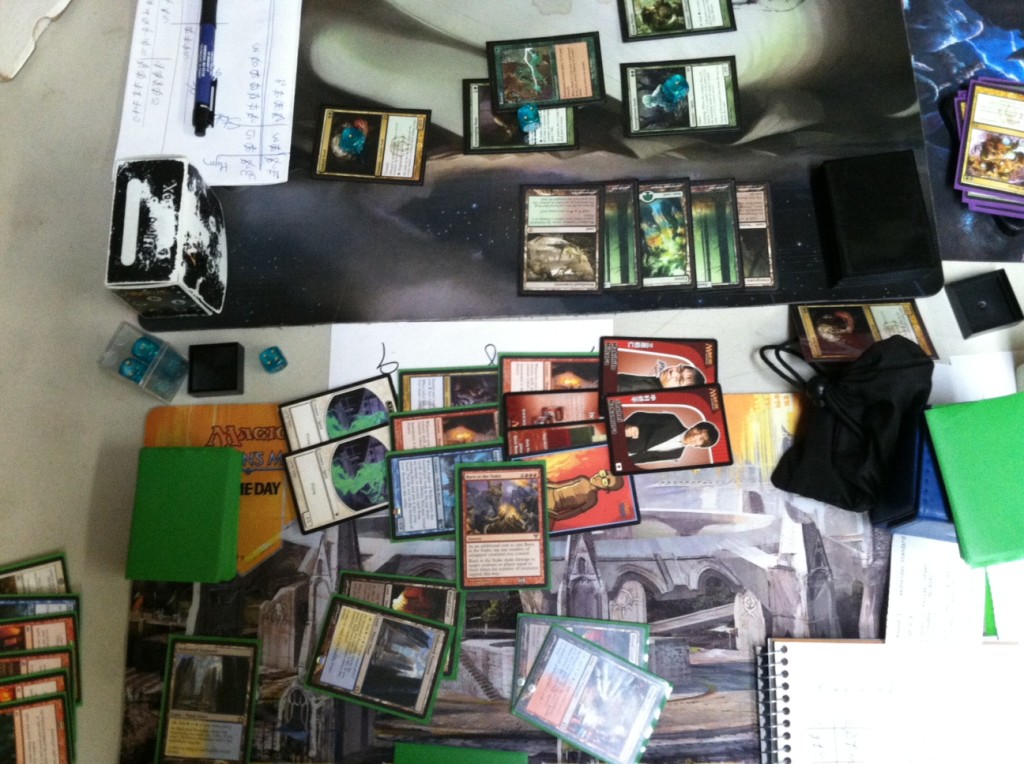 Round 4—Dave with GW Midrange (2-0)
Before the round started Dave warned me that his deck was sleeved with Emmara Tandris'. These weren't sleeves with Emmara Tandris printed on them, but rather penny sleeves with a face up Emmara Tandris card on the back of the card in his deck. He also has an EDH deck sleeved in a similar fashion, meaning that Dave owns upwards of 160 Emmara Tandris, which is more than double than the combined stock of Star City Games, Channel Fireball, and Card Kingdom. If hell freezes over and this card jumps in price, he has effectively cornered the market, but even if it stays a bulk rare, they do make really sweet sleeves.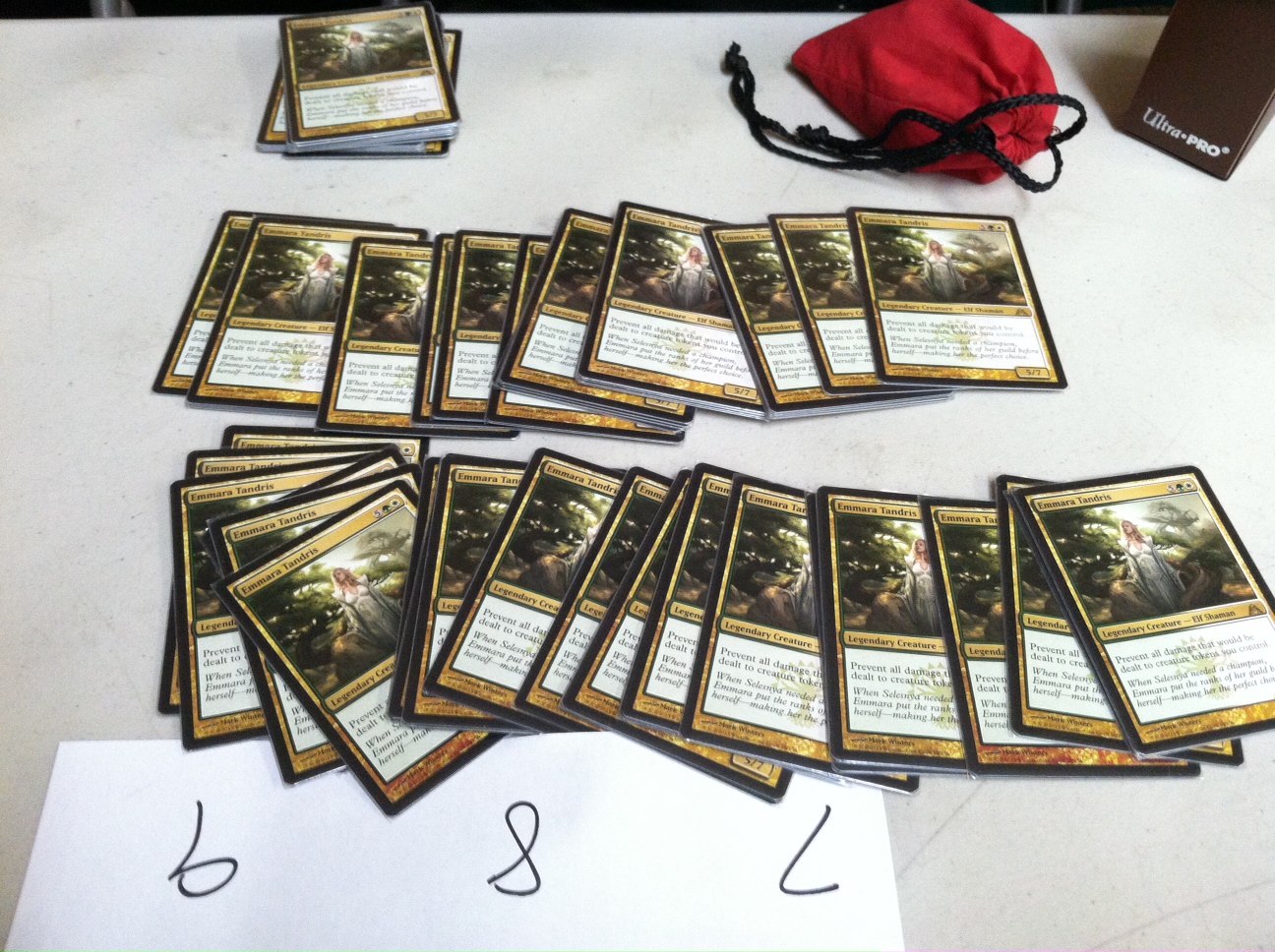 Game one, I was at seven life when he attacked like this: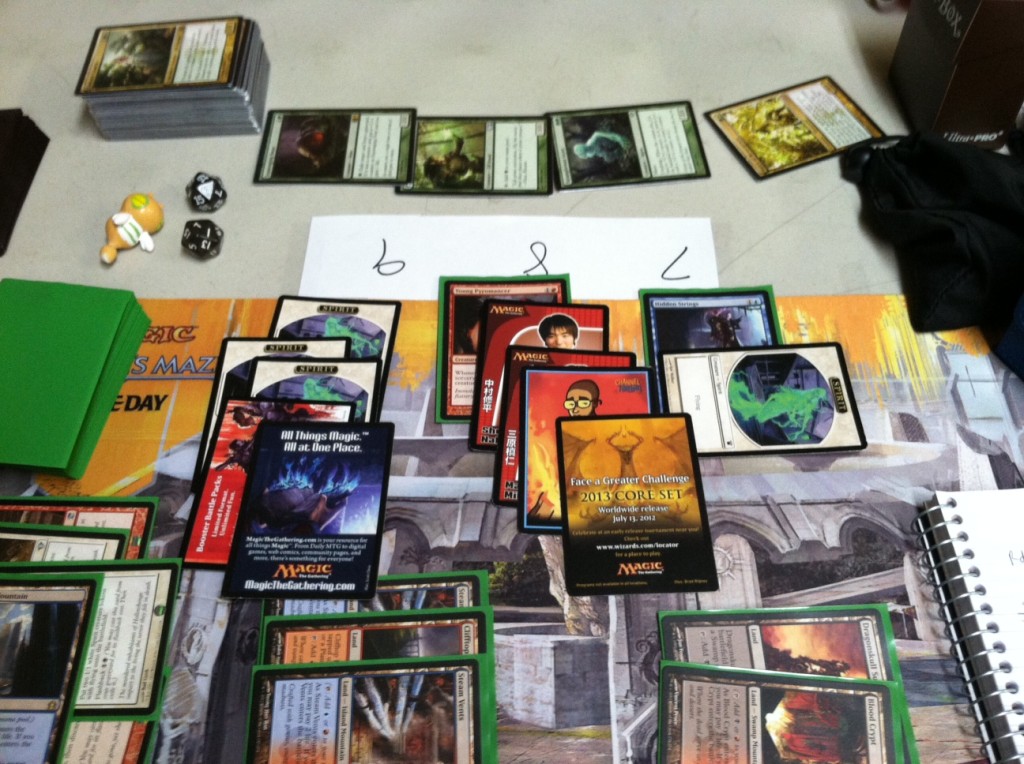 I actually had no idea how to block, since I wanted to keep as many creatures as possible in play in case I drew Burn at the Stake but didn't want to accidently die to some pump spell. I ended up playing around him having one Selesnya Charm and double blocked the Scavenging Ooze and single blocked the Elvish Mystic. He had the Selesnya charm and put me to one. On the following turn I drew another Hidden Strings and realized that I could just start attacking for the win. I could untap four creatures each time I hit with the two creatures encoded with the Hidden Strings and then make two additional blockers with Young Pyromancer triggering off the encoded spell. I won fairly easily from there though I was nervous I had overlooked something while sitting at one life.
I didn't sideboard anything again.
Here is my graveyard for game two: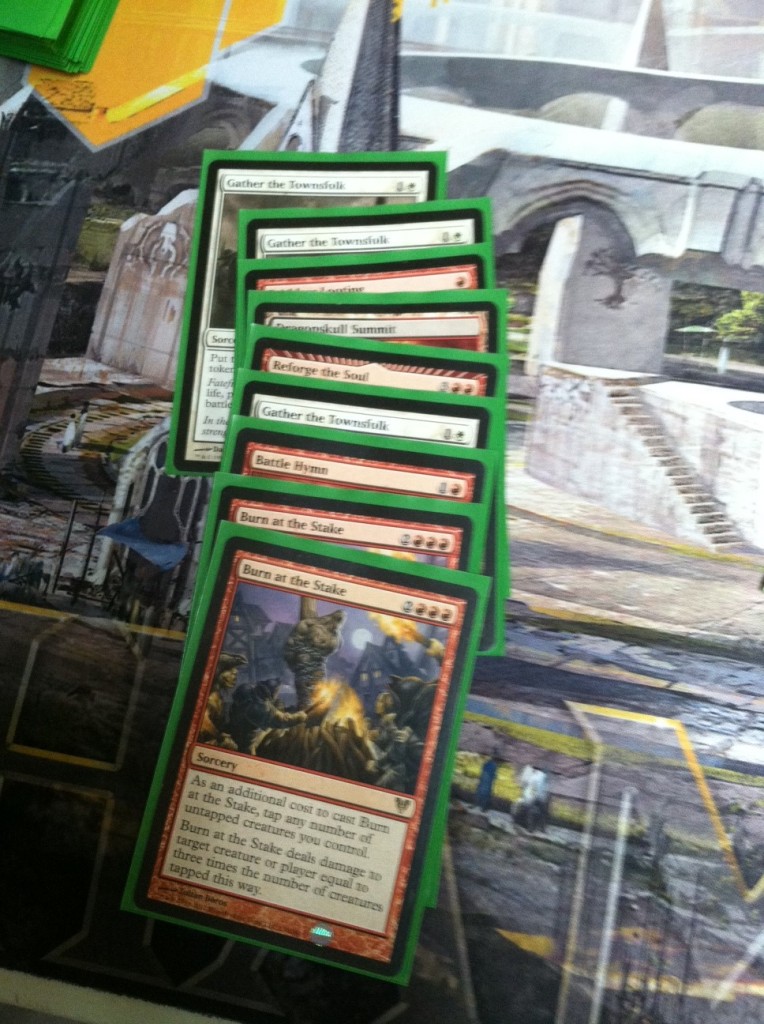 Essentially I just played a bunch of Gather the Townsfolk, then used Battle Hymn to cast Burn at the Stake for 18, drew another land the following turn and played another Burn at the Stake. Quite the interactive game.
While the sample size isn't nearly large enough to say one way or another whether Burn at the Stake is a good metagame choice or just a cool deck, I am optimistic about the deck's chances in the current standard environment. The games I lost could have gone differently had I been more familiar with the deck and made the correct lines of play. Burn at the Stake is fast enough to keep pace with the aggro decks of the format and certainly has some game against midrange decks that seek to jam big threats without actually disrupting the game plan. I am not sure if the deck is quite resilient enough to be potent against sweepers and counter magic—ie UWR Midrange—but hopefully I'll find out next week at Wednesday Night Standard.
Lastly, it is possible I underutilized the sideboard, or perhaps didn't sideboard correctly in the one game I brought in cards. I am not sure whether the sideboard is correct when I didn't get a chance to play with most of the cards. My round three opponent suggested the possibility of bringing in Boros Charm to protect against sweepers and to dome the opponent for the last few points of damage when Burn at the Stake doesn't quite get there. Boros Charm also fits in with the decks game plan of…well…being an instant, a card that can be fetched with Augur of Bolas, creates tokens with Young Pyromancer, and can be flahsed back with Past in Flames. This is what I'm looking to try next week:
Burn at the Stake
At age 15, while standing in a record store with his high school bandmates, Shawn Massak made the uncool decision to spend the last of his money on a Seventh Edition starter deck (the one with foil Thorn Elemental). Since that fateful day 10 years ago, Shawn has decorated rooms of his apartment with MTG posters, cosplayed as Jace, the Mind Sculptor at PAX, and competes with LSV for the record of most lifetime Islands played. When he's not playing Magic, Shawn works as a job coach for people with disabilities, plays guitar in an indie-pop band, and keeps a blog about pro wrestling.