Good morning everyone, and welcome back to the Mirror Gallery on Hipsters of the Coast! It's once again time for another Grand Art Tour, and this time it's through Magic's most recent release, The Lost Caverns of Ixalan! Today I've drawn from all three major components of the new set: the Main Set, Commander Decks, and newly launched Special Guest series (leaving out only the Universes Beyond: Jurassic Park subset). By my count it's just under 500 pieces of artwork. While it's still a lot, it is less than we've seen in recent releases, and I think the body of work is better for it (more on that later). The set was largely art directed by Senior Art Director Ovidio Cartagena, who's directive work we first saw in principal in Phyrexia: All Will Be One. Hailing from Guatemala, he has a deeply-rooted devotion to Mesoamerican culture. His foresight and passion to make this set something special rings as true as anything I've ever seen in my years writing about Magic.
Before we begin, if this is your first time joining for the Grand Art Tour, it's my regular review series begun back in 2019 and inspired by New York Magazine art critic Jerry Saltz's 2010 article entitled A Grand Tour. Just as that article chronicled Saltz's favorite paintings from New York's museums of that summer, this article will do the same within the confines of the Lost Caverns, evaluated through a critical eye and weighed by their storytelling propensity and technical prowess. 
The theme of today's article is scale, both quite literally as we explore deep beneath the surface, and in regards to the breadth of storytelling. The first trip to Ixalan laid a basic framework, but this newest illumination turns the dial to 11 in more ways than one. Let's take a look at how. 
This is the Lost Caverns of Ixalan Grand Art Tour.
Gishath, Sun's Avatar by Zack Stella
We begin today with a traditional work by one of Magic's best. Before he was an Art Director, Zack Stella was an illustrator for the game, and now only picks up the scarce commission here and there. He illustrated the original Gishath, Sun's Avatar, and I absolutely LOVE when an artist is given the opportunity to revisit a subject, and show why we call it a 'level-up.' This work, with Gishath in all their glory, surrounded by the dinosaurs that make Ixalan unique, it feels like my childhood reading dino books and dreaming of a time millions of years ago. It encapsulates the entire creature type as it's found in this place, and on a magnificent scale.
And as a fun aside, this work is one half of a diptych with Lars Grant-West's Ghalta, Primal Hunger, as Stella pointed out on X. Pretty neat.

Star Compass by Alix Branwyn
Just this past weekend (though in regards to something entirely different), I heard the phrase: "You did way better than that card deserved," and though a bit blunt, that's what we're seeing here. Although a 'Special Guest' inclusion, Star Compass has but one printing, is not expensive, and sees a marginal amount of play in Commander. And yet, Alix Branwyn created one of the very best paintings in the entire release to give this card its first new artwork in more than 20 years. It's a small work for her at only nine inches by twelve inches, but the amount of detail carved into the thematic compass and woven into the fabric is something to be celebrated. Alix has become quite a regular Grand Tour inclusion, and is rising to the very top of those working in the game today.
Resplendent Angel by Victor Adame Minguez
Victor Adame Minguez was one of the concept artists that helped realize this new lens of Ixalan, and had nine illustrations across seven cards in the main set to build upon that experience. Resplendent Angel is a shining example of the angels found on Ixalan, a creature type, a creature type that had not appeared on Ixalan previously as well as something Victor helped design during the initial concept push. The result is a phenomenal reimagining of this all-star card by way of heavenly host. We get just a peak of the continent in the background, but that's all we need to know just how high these angels fly. 
Ojer Kaslem, Deepest Growth by Ryan Pancoast
Maker of mythos Ryan Pancoast is back in the Grand Art Tour once again, illustrating two cards after also being responsible for designing some of the other legendary creatures we see throughout the set. The earliest work we saw is this one, Ojer Kaslem, Deepest Growth, and there is so much going on in this image. It's unbelievably legible at card size: a god, serpent heads, an animal host in the foreground, a sweeping verdant grassland, a mountain, and a little bit of sky? And yet we can see everything we need, even within the tiny confines of the art box.  It's a brilliant work at card size and full size, plain and simple, and we as fans of Magic art simply cannot ask for anything else. 
Disturbed Slumber by David Palumbo
Is it an eyeball-sized soldier, or a soldier-sized eyeball? 
Once again we get to see a massive scale played out at card size, as these explorers have obviously awoken something they certainly should not have. Palumbo puts us as the viewer on eye-level, as if we're the third member of their company, and directly in the action that's about to unfold. I'll also make mention of the glowing mushroom 'torches'; I'm not sure if this is something the artist came up with, or more than likely something that was concepted and added to the style guide, but in either case it makes this illustration uniquely Ixalan and that much more unique. Disturbed Slumber, indeed.
Dargo, the Shipwrecker by Kai Carpenter
The Giant Pirate gets his first new card artwork in the Special Guest series, and Kai Carpenter has painted the legend as if he's about to burst right through the frame. A force perspective places us within a pile of treasure facing Dargo, the Shipwrecker, looking up as he charges directly towards us. But even with the central figure our primary focus, there is plenty of detail to be seen, from the sunlight beaming in the top left to the treasure falling from his hands. This is another legible and dynamic scene that shows just how much larger than life these characters can be. 
Xolatoyac, the Smiling Flood by Campbell White
Campbell White's work for Ixalan, from Colossaldactyl to Malicious Eclipse all play up this immense size of just where we are, but it's the Xolatoyac, the Smiling Flood that gets the nod for this article. It's that damned smile.  Maybe it's because axolotl, from which this serpent draws its inspiration, are very small, but there is something fantastical about a sea-monster sized salamander preparing to deluge a coastline. This is all not to mention we're inside a planet to begin with, as White mentions on X. And for the record, I do like this version better than the original sketch he shows there too, which feels completely unhinged. He's destroying a city, yes, but he's just a friend! 
Caparocti Sunborn by Donato Giancola
This was Hipsters of the Coast's own preview card, previewed by Dora Rogers, and we are thrust directly into the camp of the Sun Empire. Donato can paint a glow like no other, and we see that full beam in Caparocti Sunborn, shown fireside and weapon at the ready. From the resolve in his face to the shine of his spear, this is a masterwork of a painting, albeit just an uncommon in the game. 
Sinuous Benthasaur by John Tedrick
John Tedrick has eight dinosaurs in this set, which might be as many or more than any artist in the entire main set (yes, I'm looking at you Sid)! His incredibly realistic work captures both the tempestuous and the tender of the creatures that can be found within this world. Working in his signature limited palette, keeps these unmistakably in color, and instantly recognizable across the table. I particularly like the inclusion of the underwater pyramid in Sinuous Benthasaur as it situates it specifically on Ixalan, and as some works before it, lends a bit of history and memory to the story being told.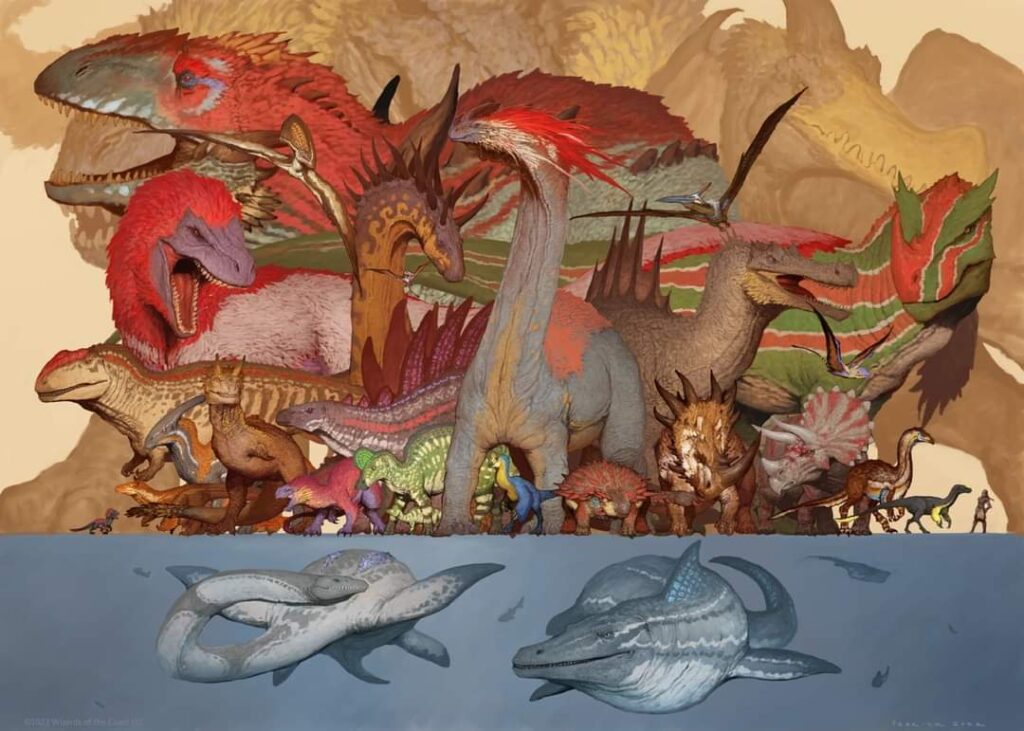 Tedrick was also responsible for this very cool poster found in prerelease kits, featuring a drove of the dinosaurs you might find inside, all individually painted. This is something folks might miss, but I'll be trying to track myself one down to see in person.
March of the Canonized by Domink Mayer
I would be remiss if I did not include a Vampire-centric work in this article, and perhaps none capture the ethos of the kindred as Mayer's March of the Canonized. Painted as if found in a book of legends, we see an ecclesiastical legion of ghost flowing into the Oltec city, and chronicling the story of what took place under the Chimil, the Inner Sun. I'll also make mention this is another inclusion of Mayer's work into a main set vs a Showcase series, and I'm glad to see him continually included in Magic's largest vessel for visual storytelling.
Frilled Cave-Wurn by Aaron Miller
Once you look past the adorable little hands of Frilled Cave-Wurm (look close), you see something small that Aaron Miller mentioned when the work was sold. If the foreground looks familiar, it was indeed inspired by Théodore Géricault's The Raft of the Medusa (1818–19)
I love a little art history with my giant cave-wurms, and especially love to see historical juxtaposition brought into our fantasy in general. Just this tiny detail elevates the work as a whole, and helps to make it a standout within the set.
Sunken Citadel by Matteo Bassini
Matteo Bassini is not new to Magic, and his unique environment work appears every so often within the Showcase series of certain sets: Zendikar Rising, Streets of New Capenna, and most recently, Wilds of Eldraine. But now, and for the first time, has brought his work into the Main Set, and his Sunken Citadel is the perfect work to end on. I'm a sucker for symmetry, always have been and always will be, and the mirrored stone heads funnel our vision right to the center subject. The work stirs a need for discovery, to know what lies beyond, deeper within, as we're quite literally pulled into the work. This entire exploration is because of artworks like this one, and has kept me inspired to keep learning more about this wondrous setting. 
Wrapping Up
And that's that folks, here ends our Grand Art Tour of the Lost Caverns of Ixalan. Big and small, from high above the ground to deep within the plane's core, there is beauty to be seen, and painted by the very best in the business. Magic pulled their top folks as you see here under a single banner, and the result is one of the strongest sets artistically and aesthetically in the game's history. There are highlights, yes, and we see that on full display, but what's even more noteworthy is the overall art quality of Lost Caverns. It's a notch or two above 'normal', which is generally above average to begin with, and that's damn hard to do on a scale this large.
Ovidio and the handful of other art directors working in tandem did something very special here, and we need to be having the same heralded conversations now we had last year about what Zack Stella and team did with Kamigawa: Neon Dynasty. This is that good. A year removed, that work is up for an award, and I hope to see Ovidio's name on that Chesley list next year. It will be on my suggestion ballot, no question.
Remember, to see original #mtgart and other #vorthos related things, follow me on Twitter. Feel free to ask questions or retweet to continue the conversation. Thanks and see you next time!
Donny Caltrider (he/him) is a Senior Writer at Hipsters of Coast writing about all things related to the art of Magic: The Gathering and the larger imaginative realism genre. He has an M.A. in Museum Studies from Johns Hopkins University and enjoys telling stories about art, objects, and the intersection of fantasy with real-life. When he's not writing for Hipsters or working with artists, you can find him traveling with his wife, petting his two cats, and watching the Baltimore Orioles.