During the month of May 2022, two pieces of original artwork by Ayami Nakashima from Magic: The Gathering were sold publicly on the MTG Art Market on Facebook, for an approximately combined $32,000. Each a Mountain from the Japanese Alternate Art edition of Kamigawa: Neon Dynasty, the two works sold for 2,200,000 JPY and 1,950,000 JPY, respectively.
Each Mountain by Ayami Nakashima is a traditional work of Japanese pigment on Japanese paper, done using a traditional technique and framed by the artist. Each work measures 20cm by 29cm (7.9" x 11.4") and is framed by the artist to 30cm by 40.5cm (11.8" by 16"). They were commissioned as basic lands for the recent expansion Kamigawa: Neon Dynasty, and featured as a part of the Japanese Alternate Art Showcase, which reimagined Magic: The Gathering Basic Lands in a traditional Japanese ukiyo-e frame for the first time.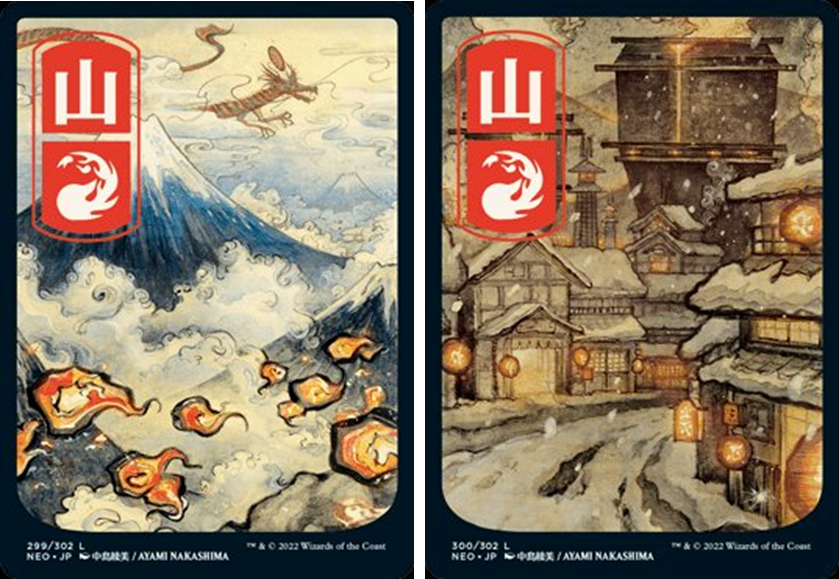 The auctions were run in succession on the MTG Art Market on Facebook by Mitchel Kwiatkoski of TokyoMTG acting as agent for the artist. The auctions were run in JPY currency with approximate conversions available within the listing.
This slideshow requires JavaScript.
Each work had an opening bid of 500,000 JPY and saw considerable bidding from public and private collectors throughout the duration of the auction. At the end of each seven day auction the works were hammered sold; Mountain #299 was sold to a private bidder, and Mountain #300 was sold to a collector bidding in the comments.
This slideshow requires JavaScript.
Art Market Note:
Ayami Nakashima has created three cards for Magic: The Gathering, all for Japanese alternate art showcases of their respective sets. Her first card, Natural Order, was also done traditionally but the final painting will remain in the collection of the artist. A 1/1 repaint for the Art Market was created, and sold on 5/8/22 for 1,110,000 JPY, or approximately $8,538 preceding these sales.