Good morning folks, and welcome back to Masterpiece Theater here on Hipsters of the Coast! With my Parallels series now in the rear-view mirror and no real announcements yet on any upcoming original art products from Upper Deck, it's time for Sketch Card summer! For the next few months my articles will focus on the sketch card subculture that is very much a part of the larger Marvel card universe. This first article will hopefully be one of many solo artist articles, and we'll begin with an artist who's work I've collected across sets over the past two years, Johnathan Ruple.
Since the release of Marvel Masterpieces 2020, I've collected 36 of Ruple's sketches he created for this set (plus two Artist Proofs), as well as an additional 20 (plus an incoming Artist Proof as well) from his contribution to Marvel's Black Diamond/Exquisite Collection release from the summer of 2021. His style is wholly unique and has made for a great lens in which to explore the world of Marvel. With every new release he gets more technical, more detailed, and is creating work like no one else in the space.
Join me, as we go Into the Rupleverse!
Into the Rupleverse
Johnathan Ruple hails from Ohio in the United States; by day he's an eCommerce Specialist for online retail, but at night and on weekends, he's a Marvel sketch card artist. He began taking art seriously back in 2012, when an English teacher, noticing the doodles alongside his notes and papers, encouraged him to pursue his artistic talents. From there he began attending Comic Cons and building a portfolio, and started on Marvel Premier 2017 with his first handful of sketch cards. He's worked on a half dozen sets since, and has continued to create the Rupleverse in sketch card form over the last few years. The term came from fellow collector Dan Modeski during an early conversation in my collecting journey, and the more I've collected Ruple's work, the more I've seen this imaginary place fleshed out in full.
He takes his inspiration from across the genre of Imaginative Realism, from folks like Jesper Ejsing of Magic: The Gathering fame, to the gritty and stylized art of Tim Kelly as seen on Deviant Art, to the comic book artist Olivier Coipel. He wants to continue working towards his own, in his words, "gooby, memey" style, emphasizing texture and proportion while making something recognizable yet unique.
This slideshow requires JavaScript.
Outside of Marvel, I've collected a handful of his personal work that exemplify these artistic goals, from Pokemon to Magic: The Gathering fan art. You can often catch him at Steel City Con, but if you jump on over to his Instagram you can see all the originals and prints he might have available for your collecting pleasure. Now without further ado, let's dive into his sketchcards from Marvel Masterpieces 2020 and Black Diamond!
Marvel Masterpieces 2020
Marvel Masterpieces 2020 included more than 75 Ruple sketches, all done in watercolor, and is composed of some of Marvel most popular characters alongside a few wildcards. These below currently reside in my collection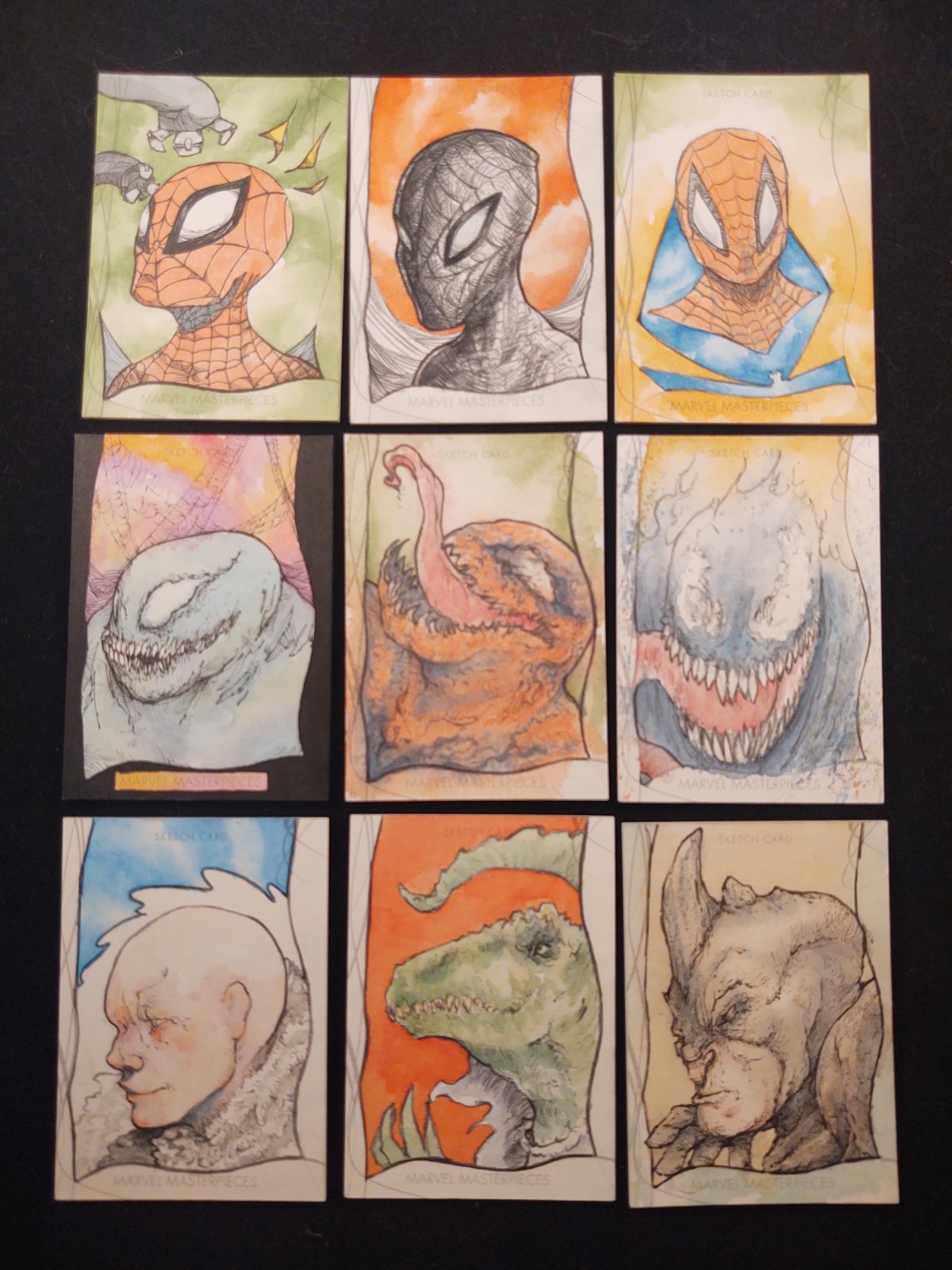 Spider-Man, Venom, Carnage, and the other array of villains are a staple of his work, and one of his favorites to illustrate. My personal favorite here is the 'spidey-sense' Spider-Man with the Doc Ock tentacle.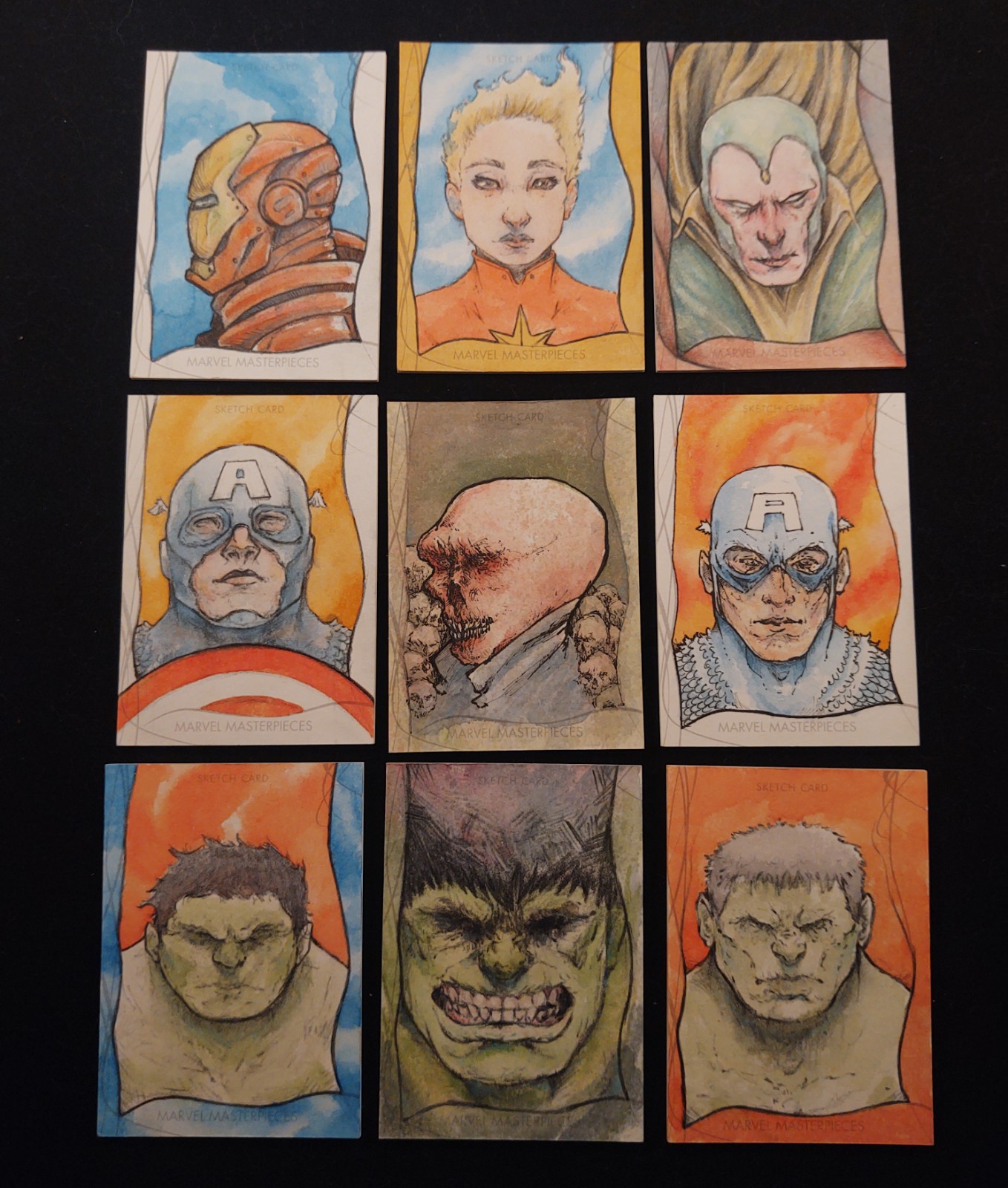 As you'd imagine the Avengers are no stranger to this set as well, capturing Cap, Iron Man, Vision, and even Groot in his signature style. His rendition of Red Skull is particularly cool, and I managed to add three different Hulk to this grouping.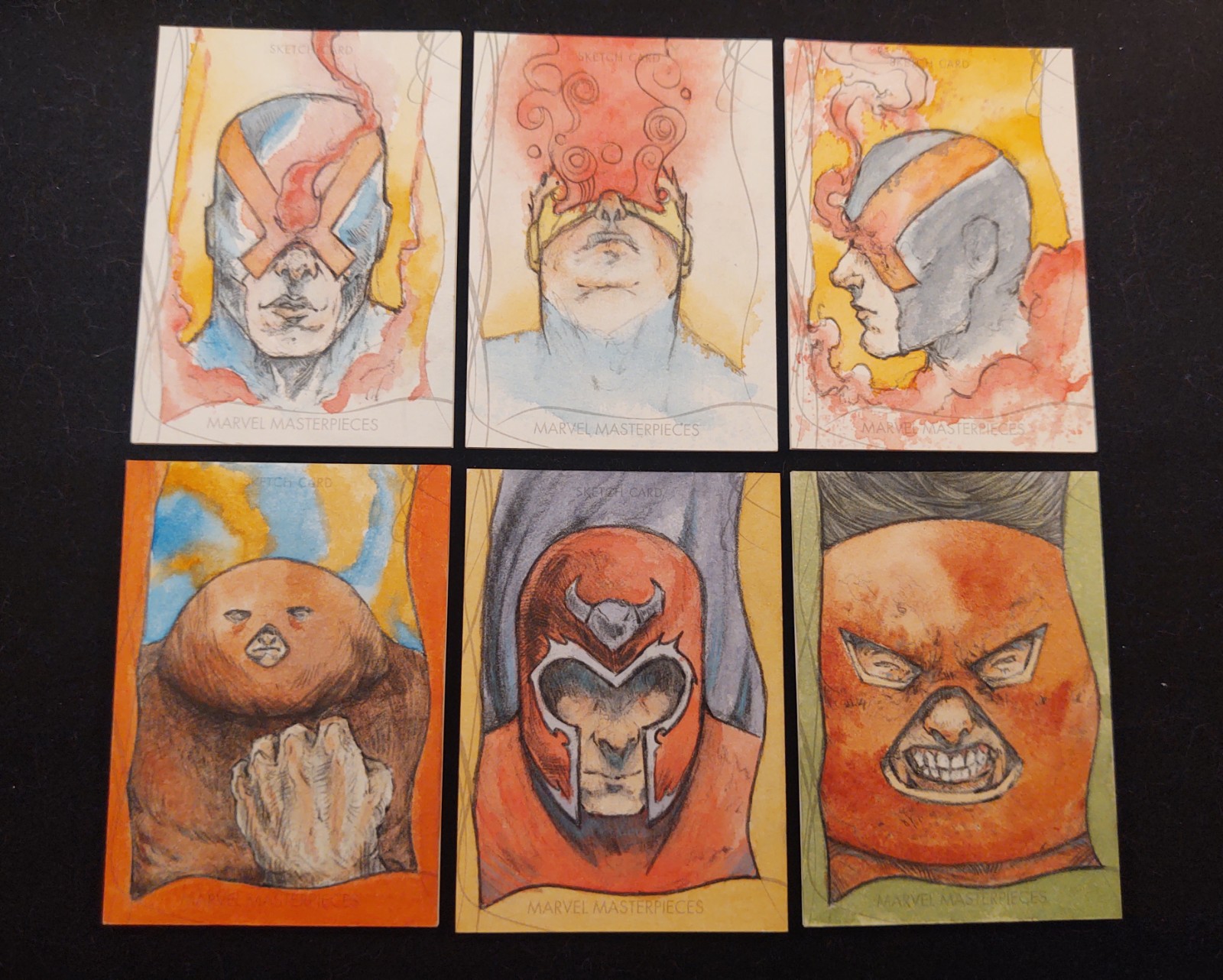 The same goes for the X-Men and those adjacent, with Juggernaut being the star of the shown alongside a Cyclops Triptych I've completed over the years.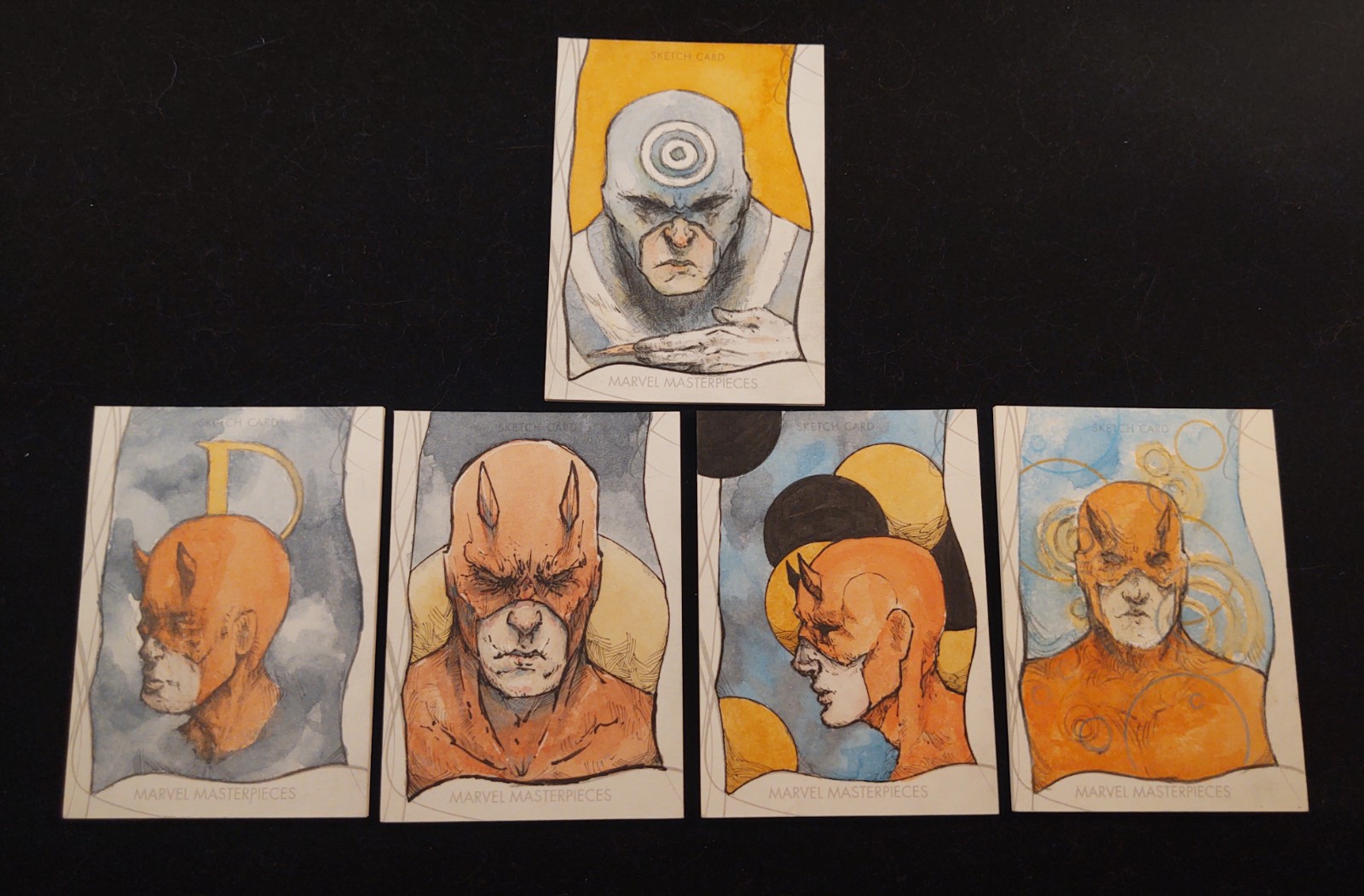 We certainly can't forget Daredevil and his foes—he has four different versions in my collection, and Bullseye-Daredevil even makes an appearance.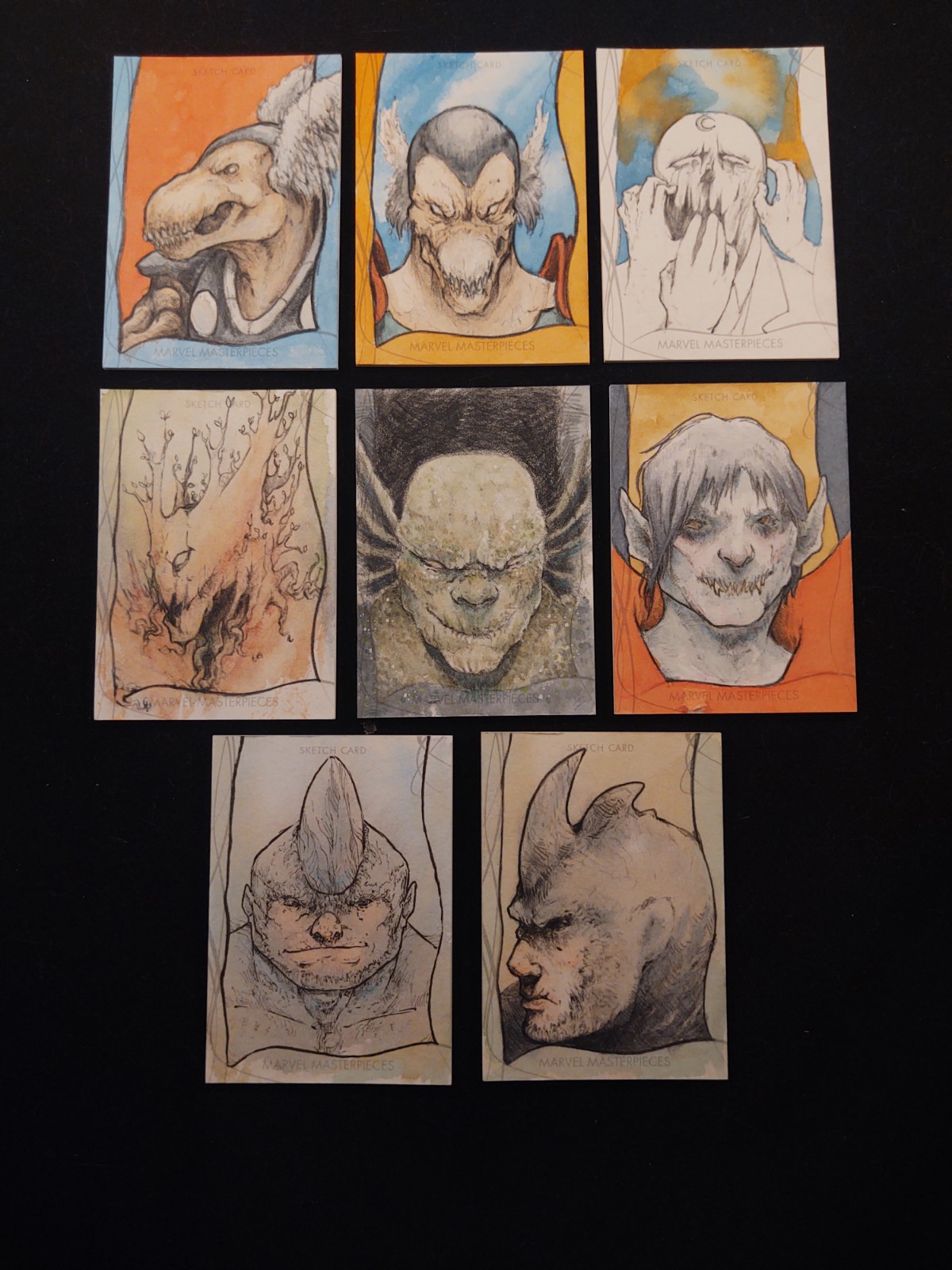 And before we wrap-up, there are quite a few characters that don't fit a label! Beta Ray Bill, Moon Knight, Morbius, Captain Marvel, and Abomination round out this crew. Oh, and another pair of Rhino; I think these look like a Mugshot, and I wanted to show them together.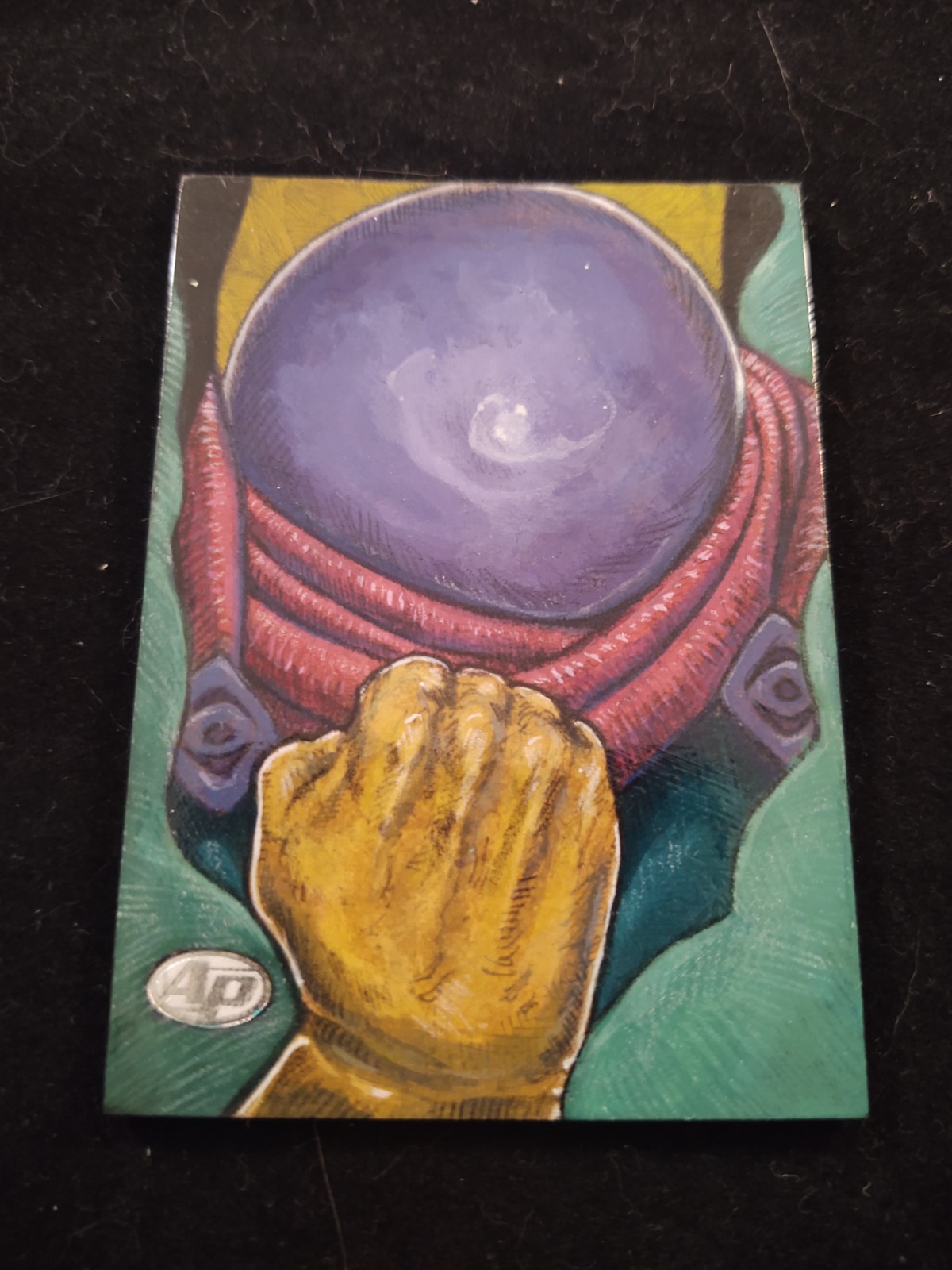 And also two APs, because the best way to support your favorite sketch card artist is to commission their work outside the set. You get great art, they keep all the money, and everyone wins. Mysterio lives within that collection's binder, and Moon Knight will soon be flying this way.
On Black Diamond & Exquisite
Ruple's next set was the Black Diamond and Exquisite release of 2021. He initially completed two rounds of sketch cards, but while they were approved by Upper Deck they were rejected by the licensor. When this happens, the artist's work is not returned, nor do they get paid for their time or effort. It's an archaic system (that will get its own article later this year), but for a time it seemed all of Ruple's work for this set would never be seen by the public. It literally made him want to quit sketching cards entirely.
Fast forward to the Black Diamond ePack release on July 23, 2021 and what pops up? A Ruple sketch from his second wave! He had no idea that their approval had been revised; as far as we both can tell, as many as 35 sketches from his second set were released, all exclusively on ePack. These were done in acrylic and include next-level detailing and some extra imagination into exactly how we might encounter these heroes and villains in his alternate universe.
Now 20 of those 35, twelve of them Exquisite, reside in my collection, and there are only a handful that have not surfaced (or were not approved to begin with). You can see all those I collected below: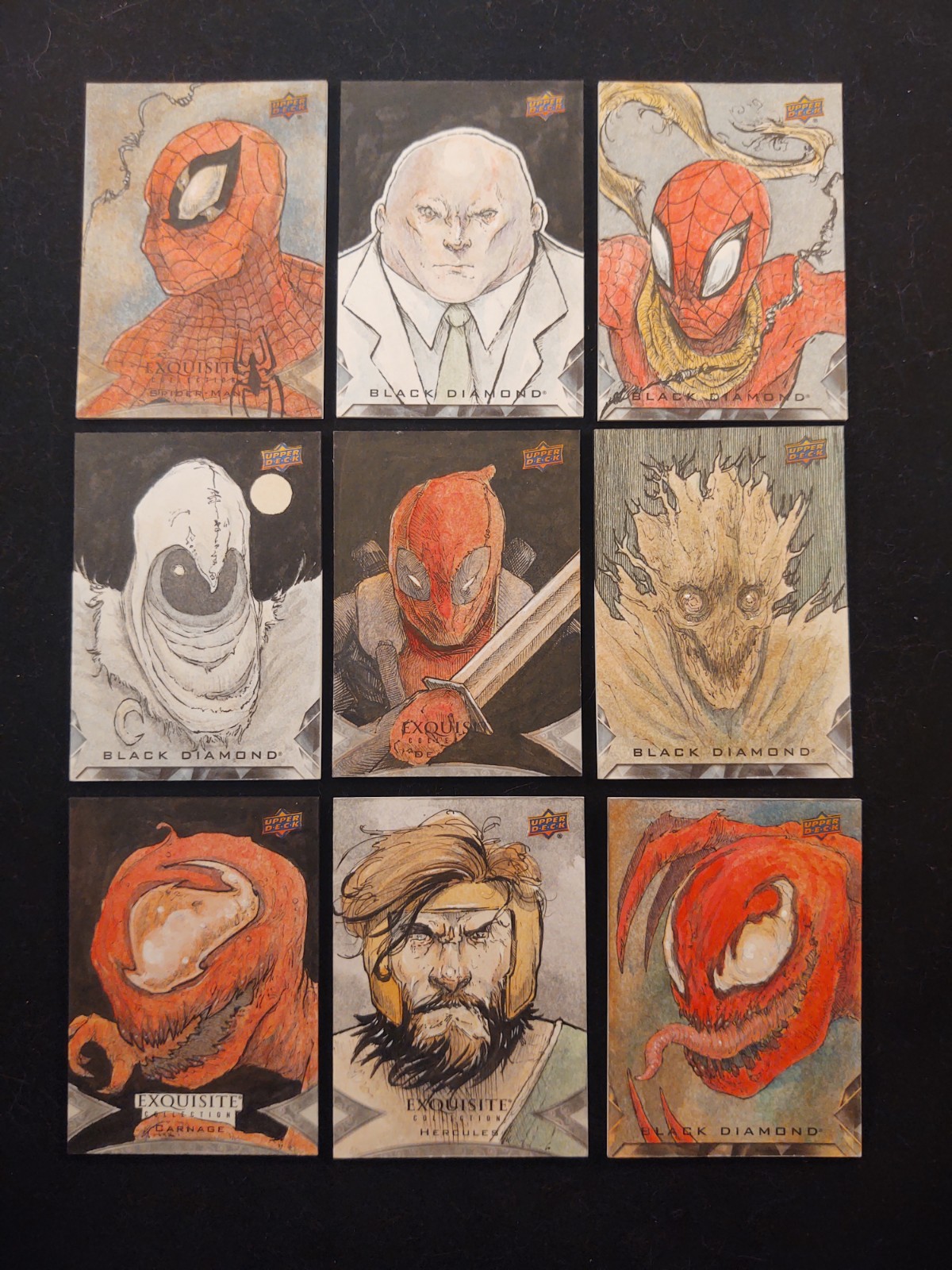 These cards are another level above his MM20 work I loved so much, and are just incredible in person. The attention to detail and nuance in rendering have carved a path for his art that will be realized in all of his future work. I could not have put together this set without substantial help from the MCCW group on Facebook and my fellow collecting friends; so to everyone who kept an eye out, traded or sold me any of this work, your awesomeness has not gone unnoticed, and is so very much appreciated.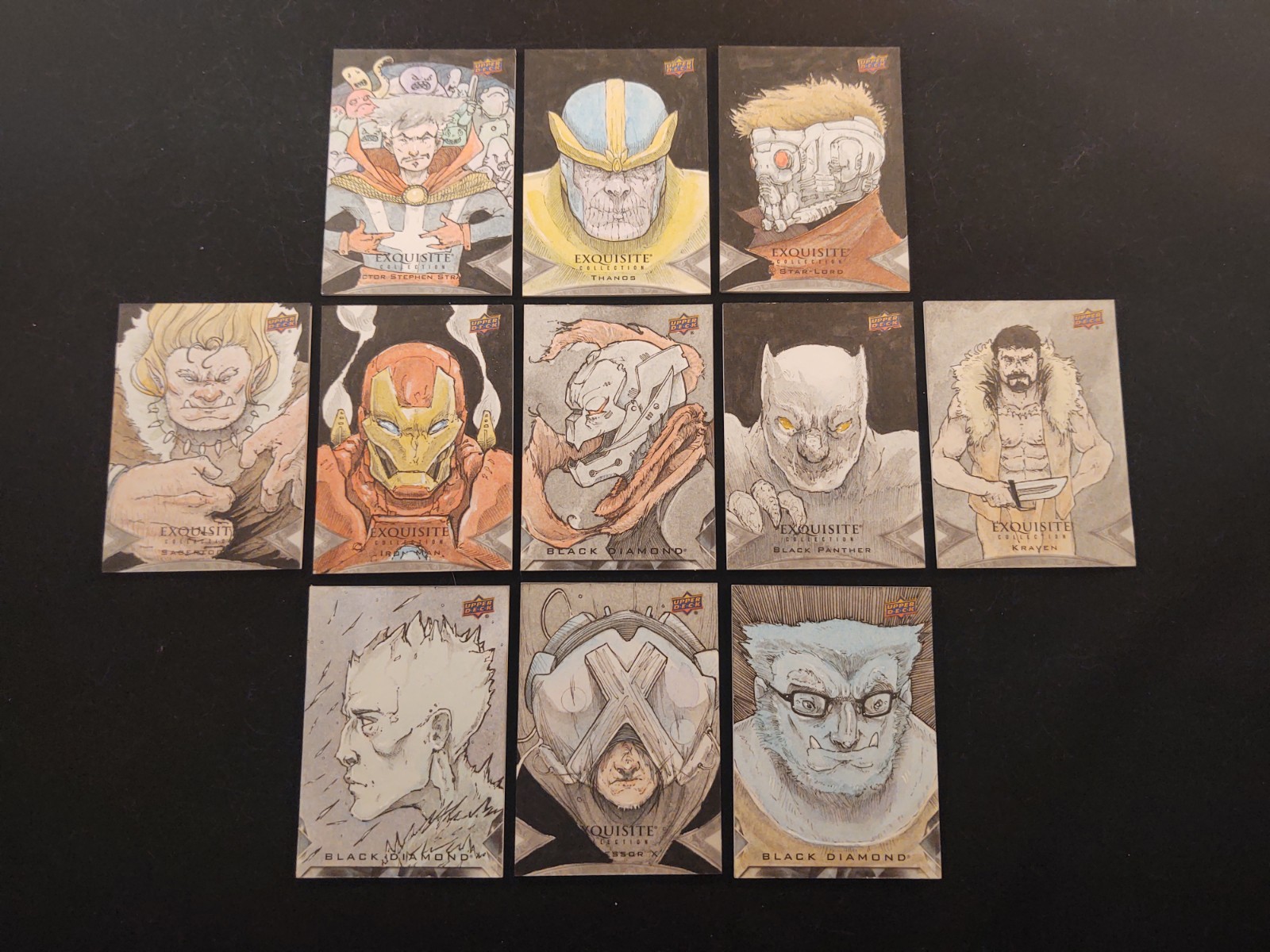 Wrapping Up
Ruple's work ignited my passion for collecting sketch cards, and over these last two years I've been fortunate enough to have regular conversations with him about everything from Magic: The Gathering to Marvel to art in general. I'm also very excited to say he is actively working on a new sketch card set for an upcoming Marvel release, also painted in acrylic. Even after the Black Diamond debacle, there will be another opportunity for all of us to get excited about his unique style once more!
To see more of his work, you can check out his website, or follow him on Facebook or Instagram to see his latest art updates, originals and prints for sale, and what he's working on related to Marvel. I guarantee you'll have your socks blown off even more than what you've seen here.
And, shameless PSA: I'm still actively collecting his work. I know of at least three MM20 sketches I missed at auction (now whereabouts unknown), and another four or so currently in other great collections with community members. There are a handful of Black Diamond sketches of his on ePack still as well, and if anyone reading this happens to have an MM20 or Black Diamond/Exquisite Ruple Sketch for trade or sale, you now know where to find me; I'm your huckleberry. I fully understand that this may make it more challenging, but promoting an artist at the risk of my own wallet is something I've done for a long time, and I'm happy to do.
Next time in Masterpiece Theater it'll be one of two articles: either Sketch Card Showcase #4 or the long-awaited My Mysterio article, depending on what AP commissions arrive between now and next month. Either way, there's still a lot of great art to look at while we await Upper Deck Entertainment's next big release.
You can keep up with all things Marvel cards by following me on Twitter. Feel free to ask questions or retweet to continue the conversation. Thanks and see you next time!
Donny Caltrider has been playing Magic since 2002 and collecting original Magic art since 2017. He has an M.A. in Museum Studies from Johns Hopkins University and enjoys telling stories about art, objects, and the intersection of fantasy with real-life. You can find him on Twitter talking about #mtgart, museums, and other #vorthos related goodness. Follow along and continue the conversation!