Good morning everyone, and welcome to the final deep-dive of a four article mini-series here in Masterpiece Theater, taking that in-depth look at the weekly-release Marvel Unbound set from Upper Deck Entertainment. Unbound has been an ePack exclusive set of cards, redeemable for their physical counterparts, made up of 52 different base cards and four quarterly achievement battle cards featuring new original work by smash-hit artists fred.ian!
fred.ian is an artistic duo made up of French artist and illustrator Fred Roy and his studio assistant Ian. They work traditionally in oils and have been painting comic book characters for the past eight years. You can find their sketch cards in various Upper Deck sets as far back as 2017, and now for the first time they've now been commissioned to bring an exceptionally vivid and hyper-realistic style to a full set of cards for Marvel.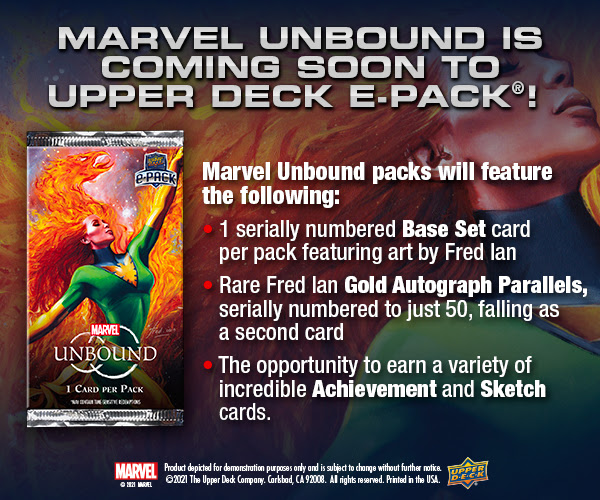 This adventure began in May 2021, and has now concluded 52 weeks later. At 9am PST every Monday for the last year, one card in the series was released via Upper Deck's online trading platform ePack. Collectors could purchase up to three one-card packs per transaction for as long as they are available (usually less than 15 minutes, and never more than a few hours; only one lasted until the next day).
Each card is limited to 999 numbered copies, along with 50 Gold Autograph Parallel variants—base cards signed by the artists and included as a second card in the pack. Base Set cards can be redeemed for Quarterly Character Achievement Cards, and when all four Achievement cards are earned, they can be redeemed for an exclusive 16" x 20" fred.ian signed lithograph! (And you do get to keep all the cards along the way).
For those collectors who were die-hard or lucky enough (or both), 33 different hand-painted Sketch Card Achievements have been made available for those who amassed a full set of 51 Gold Autograph cards (Card #52, Wolverine, was not required for redemption per an announcement just before release). This article contains ALL 33 Sketch Cards that Fred & Ian completed, and is the only place online to see them as a single collection in their entirety.
This is the last of my four article series, and covers the final 13 paintings plus the battle Achievement card and aforementioned Achievement sketches  This is Quarter 4, and cards #40-52.
#40 Proxima Midnight
One of the newest characters in the Unbound run is Black Order member and one of Thanos's right hand aliens, Proxima Midnight. I love this composition that's equal parts scary and sexy, posed and poised with power in front of an extraterrestrial wormhole. The spear she leans upon is created from pure star matter, and capable of doing unspeakable harm. I was glad to see her included in this set, and hope she continues to appear more often.
#41 Red Skull
MCU fans know just how maniacal the Red Skull can be, and Fred and Ian have captured the crazed persona of Johann Schmidt in oils for this first Unbound series. He towers over us as the viewer, crop in hand and dressed head to toe in dark eather that glows in the firelight. Menacing to every end, this villain is not one to mess with.
#42 Sentry
This is Sentry's second major appearance since 2020—he recently had a holofoil card in Marvel Masterpieces 2020—and is in full beefcake mode. A recent addition to the Marvel superhero lineup, his "power of one million exploding suns" is as interesting as his rollercoaster backstory from overweight, middle-aged Robert Reynolds to this full on superhero returned to fight the forces of evil (and perhaps also himself). His figure fills this card and blinds us with his overwhelming presence.
#43 Spider-Man
This was the card and artwork that changed the entire landscape of this product, launching it from a more niche, weekly release to something everyone was watching across all of trading cards. This is a quintessential Spider-Man in mid-flight; the diagonal composition pulling your eye through the piece from top to bottom, and the tilted background being just disorienting enough to make the viewer feel as if they're flying too.
#44 Spider-Woman
And what is a set without the Spider-Woman, and in this case it's her first iteration in the red and yellow suited Jessica Drew. A webby backdrop and radioactive fist show us exactly who we are faced with, and I love that Fred and Ian chose to paint her at the larger size as well. Spider-Woman is one of my favorite female superheroes, and hopefully we'll see her again in one of her other many costumes.
#45 Storm
Unbound's Storm is the 'Mohawk Storm' that first appeared in Uncanny X-Men #173 in the early 1980s. This version of the heroine has become one of her most popular costumes over the last forty years. The sky behind her cracks with lightning as she descends from on high, and Ororo Munroe is absolutely unforgettable in her weekly debut.
#46 Taskmaster
The mercenary known as Taskmaster has been making a resurgence in Marvel popular culture over the last few years, appearing in sets like Marvel Masterpieces 2020, movies like Black Widow, and now in Marvel's first Unbound set. Complete with sword, shield, and skull facemask, Fred and Ian have given us the OG villain again from the 1980s, shown as he first appears on the cover of Avengers #195. It's another classic cameo that makes this set nothing short of comprehensive.
#47 M.O.D.O.K.
M.O.D.O.K. stands for Mental/Mobile/Mechanized Organism Designed Only for Killing, and the artists took every opportunity to focus on creating the absolute out of this word face of evil. One of the most detailed portraits of the entire run, the anger of fury of this bionic bad guy is unmistakable as she rockets through the card frame in front of us.
#48 Thor (Jane Foster)
Just in time for Thor: Love and Thunder comes the Jane Foster Thor we've all been waiting for, arriving in a chariot of lighting with Mjolnir charged and at the ready. With her debut in this set, it will be interesting to watch if further trading card Thor inclusions will follow suit and take the form of Jane as well. And while I know it was not at artist's discretion exactly who to paint, I'm glad to see this variety found from Fred and Ian's hand.
#49 Warlock
The New Mutant known as Warlock has been around since the 1980s but isn't often seen in the pop culture merchandise and trading card sets; and yet, how cool is this character? This is another perfect example of the artist's prowess not only for faces but for wonderfully intricate and narrative backgrounds. We see Warlock in his infinite weirdness, and he's just a fun bit of relief in a set of serious good guys and bad guys.
#50 Venom
One of the most popular characters in all of the Marvel Universe, this set just wouldn't be complete without the symbiote Venom. Found as we would expect, crouching and hunched in a dark alley deep within the city, this is everything we expect to see in a classic Venom depiction. We've seen throughout this set the artist's ability to give us something fresh while staying true to Marvel's roots, and this rendition is no different.
#51 Whizzer
Our penultimate character is perhaps the most esoteric inclusion in the entire series, Whizzer hearkens way back to the Golden Age of comics books, and appeared from 1941-1946 in USA Comics, a series that even predates the Marvel name. Infused with mongoose blood, Robert Frank has super-human speed, and the artists have created an appropriate wind-tunnel-esque to show just how fast this guy might be. Is his appearance here foreshadowing of things to come? Could be…
#52 Wolverine
And who better to end this inaugural series than the man known as Wolverine, depicted in his classic brown and ochre suit that was a part of so very many childhoods. Rippling muscles, claws out, and a background that bears his signature slash marks was the perfect finale for the first Unbound. Even though this card wasn't required for any redemptions, it will be one collected by many for a long, long time.
Achievement Card #4: Captain America vs. Iron Man
At the end of every quarter, a collector can redeem one of each of the thirteen weekly cards for an Achievement card showcasing a signature superhero battle. The final quarterly achievement card is the Civil War, Captain America vs. Iron Man, a show of tenacity vs. technology and strength vs. steel. I love how each half of the work, when cut diagonally, works as its own artwork, and then when combined, we're given the full story. Two titans of Marvel clashing once and for all at the end of this landmark set.
Exclusive: Sketch Cards Achievements
I am now very excited to be the exclusive showcase of all of the Achievement Sketch Cards that were available for redemption for the complete fred.ian Gold Autograph Unbound set. They are available in two sizes, both the standard sketch card size as well as larger 5" x 7" and are absolutely mind-blowing. This is the only place you can see all 33 in their entirety.
There were 10 cards at the 5" x 7" size:
This slideshow requires JavaScript.
And an additional 23 at the standard sketch card size:
This slideshow requires JavaScript.
Each of these cards are completely hand-painted, and also feature a sneak peek of the artist's studio on the reverse.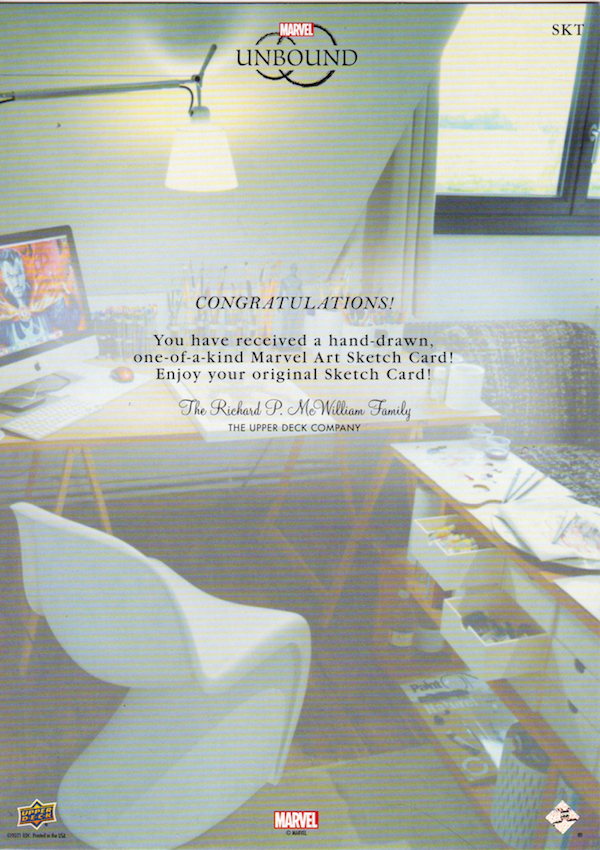 Fred.ian sketch cards have become the absolute pinnacle of sketch card collecting, and these are no doubt the ultimate prize of 2022. What a journey, and what a pot of gold at the end of the rainbow!
Wrapping Up
Here ends the series of the very first Marvel Unbound, featuring all 52 pieces of weekly artwork, four achievement battle scenes, and even the complete collection of Sketch Card Achievements. Congratulations to those that finished their base set, and kudos to those hordcore folks that managed all 52 autograph cards and got one of those sweet, sweet fred.ian original sketch cards. This has been an absolute pleasure to chronicle these fresh new depictions of fan-favorite Marvel characters, and I think Unbound will live in the minds and memories of collectors for a very long time.
Perhaps so much that, right on the heels of Unbound came the announcement for Unbound 2, featuring another brilliant array of artwork from fred.ian of all new Marvel characters, and in a yet to be known new format on ePack. Unbound is dead, long live Unbound!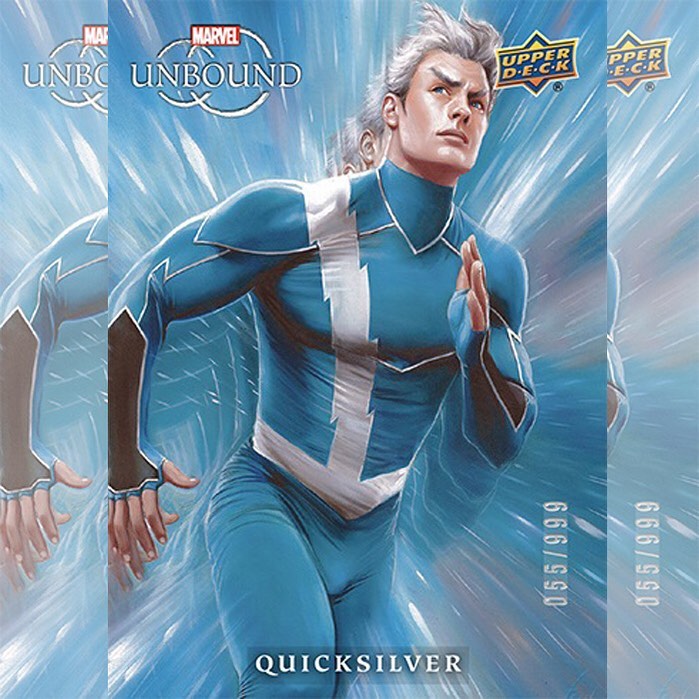 You know I'll be back doing the same thing once the next set begins. As always thanks for reading, and make sure you stay tuned to Masterpiece Theater here on Hipsters of the Coast for more info about this new Unbound set, and all things Marvel original artwork from Upper Deck Entertainment!
Donny Caltrider has been playing Magic since 2002 and collecting original Magic art since 2017. He has an M.A. in Museum Studies from Johns Hopkins University and enjoys telling stories about art, objects, and the intersection of fantasy with real-life. You can find him on Twitter talking about #mtgart, museums, and other #vorthos related goodness. Follow along and continue the conversation!