Last week, we reviewed the white and blue commons of Innistrad: Midnight Hunt. Today, we'll go through the rest of the set, which is a lot to cover. If you'd like a refresher to the unusual scale we're using, we're reposting it below. Otherwise, feel free to skip to the section on black cards.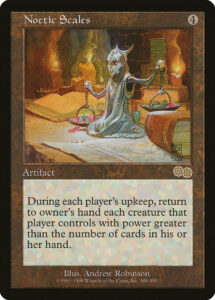 The Scale
I use a different kind of scale than folks might be used to. I want to employ the full spectrum of letter grades and am only considering commons, so powerful higher rarity cards would go off the scale. Elsewhere, an A or 5.0 refers to unbeatable (often mythic rare) bombs. Here, it refers to set's top commons. I'll also avoid using pluses and minuses to keep from splitting hairs (where possible).
A: One of the best commons in the set. These are first-pickable (but often pale in comparison to strong higher rarity cards).
B: A high quality common. It should almost always make your deck (if it's in your colors) and sends a strong signal that this color is open. This can also include powerful, archetype-specific cards that don't go into every deck of this color.
C: A fine common. This includes most creatures with decent stats, serviceable removal spells, and strong combat tricks.
D: A serviceable common. This category tends to include most combat tricks (they compete for space with creatures and removal, so I rate them lower), as well as cards that can be strong out of the sideboard.
F: You'd rather these cards not go into your deck. This includes low-power cards and cards that in very specific archetypes might have a role to play. Maybe.
Black Cards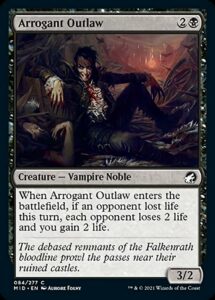 This is extremely context-sensitive. Sometimes the bonus from cards like Vampire Spawn is irrelevant. Sometimes, a 2/3 is better than a 3/2. Sometimes it's easy to enable Bloodthirst. My gut and limited experience with the format suggests that vampires is missing the aggressive support it needs to function and this suffers for being unable to effectively block Decayed zombies. It could've been a C, but I think enough black decks can't profitably enable this that it's worse than it looks.
Grade: D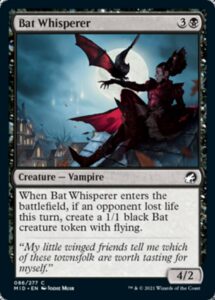 This is almost the exact same card as Arrogant Outlaw, except with even worse stats and a slower ability.
Grade: F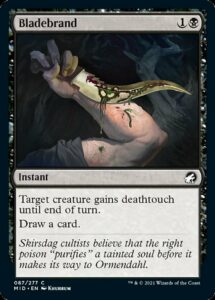 A fun combat trick at the best of times, the mere existence of Bladebrand makes your Decayed zombies even more awkward to block. It's still a combat trick and those always struggle for space alongside creatures and removal, but a cantripping, cheap combat trick is rarely painful to include.
Grade: D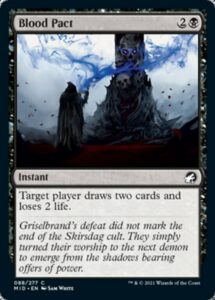 These tend to be worse than they look. Cards like Dark Bargain that also provide selection (and exist in a slower format) often overperform, but Blood Pact is awkward. Vampires wants to apply pressure on turn three and isn't look to durdle and Zombies has better card advantage tools in blue. This is another always-playable, rarely good card.
Grade: D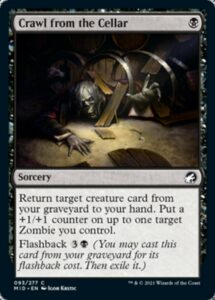 Raise Dead with upside is a common staple among commons. Here, it gets two bonuses and does so without costing any more mana! Despite the problems of this being neither creature nor removal and being archetype-specific for maximum value, I've been impressed by this.
Grade: C
Black gets three high quality common removal spells in addition to several strong creatures. This happened in Theros Beyond Death and warped the entire format around the color. These honestly seem even stronger than what black had in THB, since all of them can kill broad swaths of creatures with little effort.
Defenstrate is likely my pick for the weakest of the three, since it doesn't function against bombs like Liesa, Forgotten Archangel. It's nominally the most effective against werewolves, except Olivia's Midnight Ambush kills all of them when they're most threatening. But all of these are high picks and likely to distort the entire format.
Grades:
Defenstrate: B
Eaten Alive: A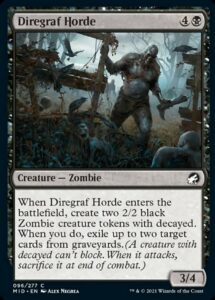 This is one of the coolest common five mana 3/4s I think I've ever seen. It's incidental graveyard hate in a format with Disturb, Flashback, and various recursion spells. It sets up one big attack or a bunch of synergies with its token friends. You don't want more than a few 5+ mana cards, but I think I'll always be happy with the first and possibly the second one of these.
Grade: B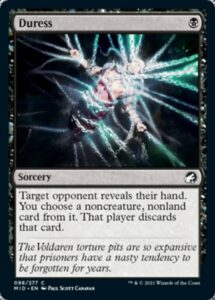 Duress is a Constructed card. Once in a blue moon, you can board it in against UR spells, but even then, binning a Flashback spell or redundant cantrip isn't good enough.
Grade: F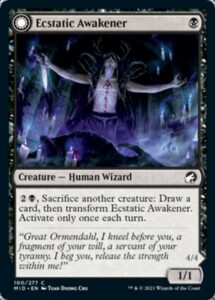 One drops have gotten consistently good enough to consider. I think there are better ways to use Decayed tokens and Disturb creatures, plus this is vulnerable to instant-speed removal, but it's still a massive threat on its own. As long as you make sure your opponent can't respond to the sacrifice trigger, you're guaranteed to get your card and probably force your opponent into an awkward combat or using a good removal spell.
As a reminder, cards like are the reason why Candletrap and Trapped in the Cemetary aren't as good as they look.
Grade: C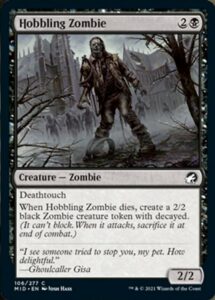 Daggerback Basilisk is generally an unimpressive creature and merits a D. In Midnight Hunt, Zombies are the most powerful tribe and Hobbling Zombies shores up its minor weakness against aggressive decks like BR, RG, and RW while enabling exactly what the tribe wants to do.
Grade: B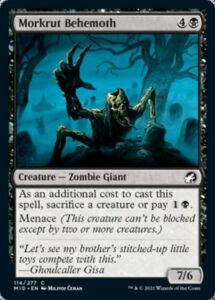 The removal in this set is too powerful for this to function. It's a fine late game threat, but you don't need that many in this format and can do better.
Grade: F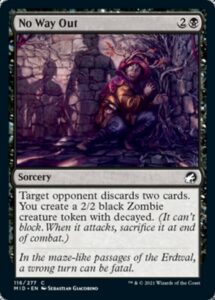 Mind Rot is a little worse when Flashback and Disturb undo the card advantage. It's a little better when those mechanics also encourage players to deploy all of their lands and a lot better when you can use that zombie.
Grade: D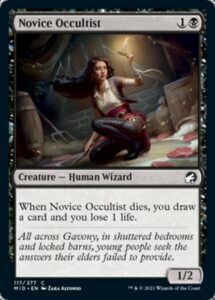 Novice Occultist is worse than it looks. It doesn't apply pressure for BR and isn't a zombie for UB. If you can make use of a 1/2, this is a fine card, but most decks can't.
Grade: D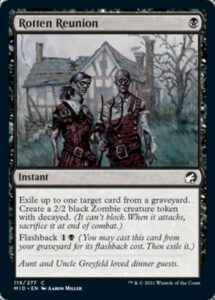 Decayed zombie tokens are surprisingly useful. But their value comes from being incidentally valuable, not spending an entire card to generate them. Even as a sideboard card, I'm not impressed.
Grade: F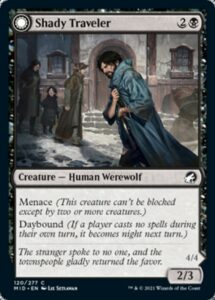 This is a fine aggressive threat that eats zombies for breakfast. It doesn't really fit into any archetype, but is eminently playable (if a bit worse for its lack of synergies).
Grade: C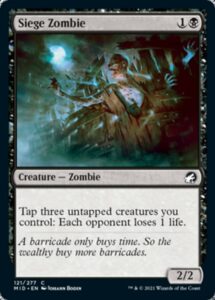 During preview season, I thought Siege Zombie was strong for its ability to convert Decayed zombies into recurring source of damage. Having played with the card, it is incredible. It's cheap, it blocks early, and it turns the board stalls Zombie decks want to create into untenable situations.
Grade: A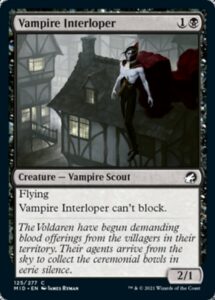 Ten years ago, Vampire Interloper was awful. Today, common creatures are much stronger than they used to be. This is still awful.
Grade: F
Red Cards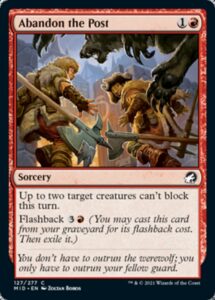 Falter effects are super situational. As with Nightbird's Clutches, this will occasionally win you the game and more often lose you the game for not doing anything.
Grade: F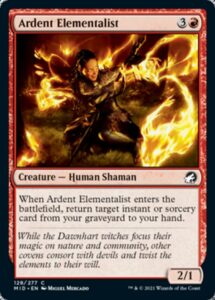 I love Archaeomancer and this is basically a strictly better one. It's a bit awkward in that UR spells wants to minimize the creatures it runs, BR and RW are aggressive and don't want the game to go long enough for this to matter, and RG has plenty of mana-hungry werewolves to cast. It looks powerful and is, but struggles in that it doesn't intersect with many of the set's themes.
Grade: C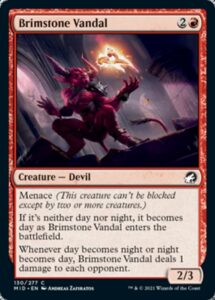 Ah, the giant wall of text that says very little. I'm still not a fan.
This is eminently playable. A 2/3 is fine stats in a world of Decayed zombies, Menace makes it able to get in extra damage, and sometimes it plinks your opponent for 2 points of damage because the sun moved around.
Grade: C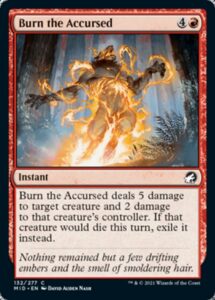 It's easy to overload on five mana spells, but this is the kind of spell you're happy to have. It kills almost everything and has two relevant bonuses to boot.
Grade: B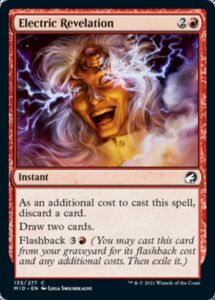 Without Flashback, this is an F. It's less efficient than already weak (in Limited) cards like Thrill of Possibility. But this provides a lot of selection over time, gives Werewolves decks an easy way to trigger nightfall, and is a fine (if replaceable) component of the UR spells deck.
Grade: D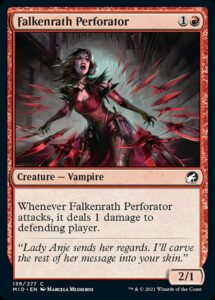 2/3s are good in this format, making this card worse. You'll still play it, but it gets outclassed easily.
Grade: D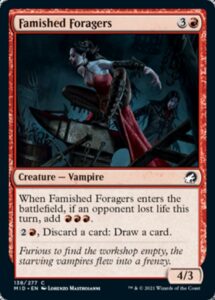 This does a bunch of things, but none of them well. Even Keldon Raider wasn't that great, and that always functioned.
Grade: D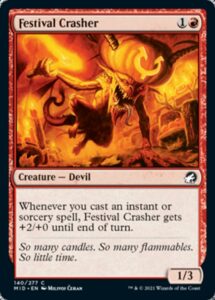 Sanguinary Mage and its variants were never good, since they really needed two spells to be threats. Kiln Fiend had amazing damage potential, but suffered due to dying to any blocker. Festival Crasher threads this balance by having acceptable stats and being a threat with a single spell.
Grade: B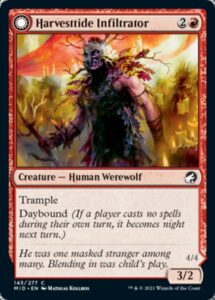 A three mana 3/2 Trample is an F in most Limited formats nowadays. It's always going to trade for a one or two mana spell from your opponent or be blanked by a four drop. Obviously, this is quite strong when it flips, but actually triggering nightfall early on is a challenge, or is facile because your opponent stumbles (and would lose to this even as just a 3/2).
Grade: D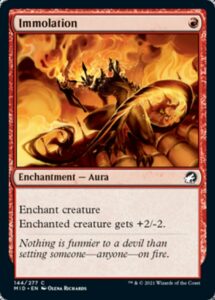 Last seen in Fourth Edition, Immolation is the worst of both worlds between Shock and Dead Weight. It's still a perfectly fine spell, but is context-sensitive (sometimes, your opponent's deck doesn't have enough targets) and the kind of spell you can easily have too many copies of.
Grade: C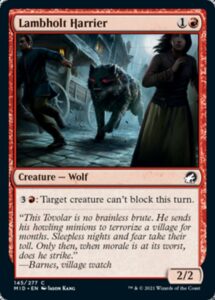 It's a playable two drop that can create awkward combats for your opponent. Most red decks in the format seem in the market for that, even if this isn't exceptional in the way that Siege Zombie is.
Grade: C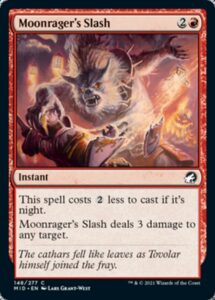 Nightning Bolt is a good removal spell at base rate and becomes outstanding at night. The only complaint I've got here is with the artwork—this looks like a combat trick of creature spell because the image pulls focus from the right side of the frame.
Grade: A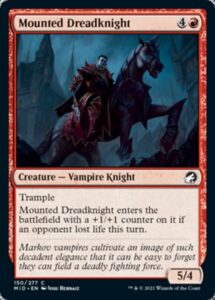 An eminently playable threat that sometimes is even better. If black's removal was weaker and werewolves didn't exist, this would probably dominate the battlefield.
Grade: C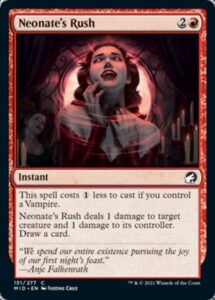 Zap with upside is only good when there are X/1s to kill. There aren't that many and several have Disturb. Perhaps this is a key component of BR Vampires, but even spending two mana doesn't leave you much leftover mana to play Bloothirsty reward.
Grade: D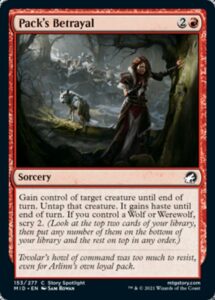 There aren't enough sacrifice outlets to make this work. As with Abandon the Post, this only fits into very, very aggressive decks and will often be much worse than just playing another creature instead.
Grade: F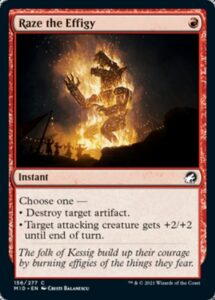 This is a bad combat trick stapled to a Shatter in a set with few artifacts. You can do better than this (but will enjoy having it in your sideboard in certain matchups).
Grade: F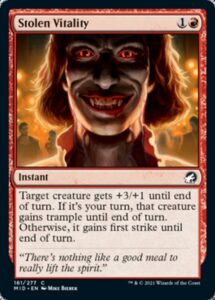 A flexible combat trick that sometimes turns into a risky defensive removal spell. This gets the same grade as all but the best and worst combat tricks.
Grade: D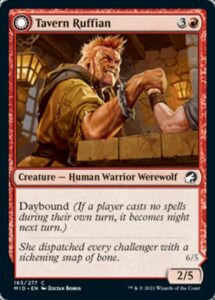 A werewolf that buys you time and eventually turns into a serious threat. That's a bit awkward when Werewolves are inherently an aggressive archetype. It also follows the convention of previous common red werewolves in the past two Innistrad blocks—it looks cool, but is more awkward to use than it looks.
Grade: D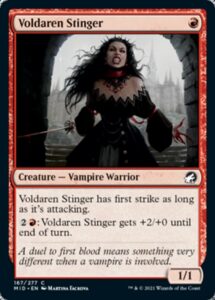 A different take on Fearless Pup looks like the core component of a BR vampires archetype and no other decks. I've been unimpressed thus far by vampires by how difficult Bloodthirst is to enable and how anemic its payoffs are, but Voldaren Stinger solves the first of those two problems.
Grade: D
Green Commons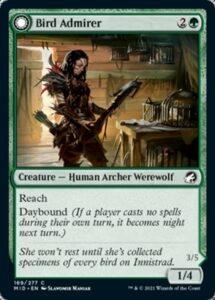 There are over 20,000 Magic card names. Many are awesome, many of are world and lore-specific. Some are generic, while others tell a particular story. This is the rare kind of card name that knocks me out of my immersion by how silly and bland its name is.
Oh, sorry, the rating. Right. This is basically a strictly better version of Tavern Ruffian. It's cheaper, protects you better, and sets the Day/Night clock a-ticking a turn sooner.
Grade: C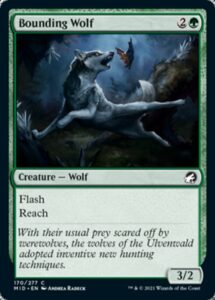 Pouncing Cheetah gets better when Daybound rewards you for taking a turn off flip your Werewolves. Unfortunately, there aren't many turn 2 creatures that make it Day for this to matter, and beyond turn three, this measures up terribly against whatever your opponent is doing (and already is poor against most two drops).
Grade: F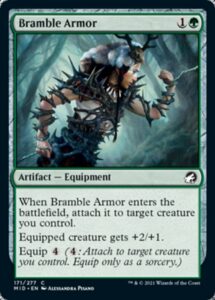 This is more my style of Werewolf-supporting card. It does something early, in the mid-game it gives you a use for mana without casting a spell, and in the late game it turns all of your creatures into threats. It's still not very powerful and suffers against black removal, but there are worse cards to put into your few noncreature, non-removal spell slots.
Grade: D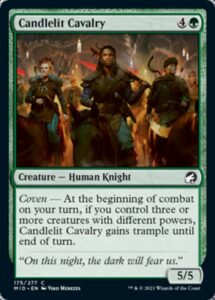 Every now and then, big, (basically) vanilla creatures overperform in Limited. That was the case with Grizzled Outrider, where creatures were unusually small and it had the benefit of a semi-relevant creature type. Midnight Hunt features werewolves, an entire class of creatures that cost less and, when night falls, are comparably large. This has benefits as a curve-topper in an aggressive Coven deck, but that's not a high priority pick and this is eminently replaceable by cards like Tireless Hauler.
Grade: D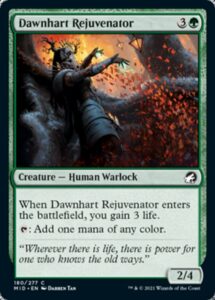 Centaur Nurturer is back and is probably still fine. Outside of GU, there doesn't seem to be a ton to ramp into, partly due to werewolves making normally large creatures cheaper. This loses a fraction of a point for providing the most common power for Coven, but this also doesn't seem the least bit interesting to a coven deck. I've not seen a single one of these in play yet, but I wouldn't be surprised if this powers out value decks reliant on cards like Shadowbeast Sighting.
Grade: C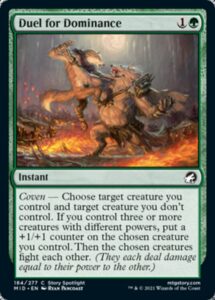 Pit Fight isn't a great card. The bonus is nice, but inconsistent enough to likely not outweigh the downside of costing two mana. You'll play these, but it's liable to underperform relatively to Prey Upon and Hunt the Weak.
Grade: C
This looks awesome. A 2/3 seems like an already solid set of stats, but this has the potential to both draw you an extra card and enable all sorts of graveyard shenanigans. This feels like green's best common. It's not the flashiest card, but it does multiple things well and incidentally interacts with what a variety of decks want to do.
Grade: B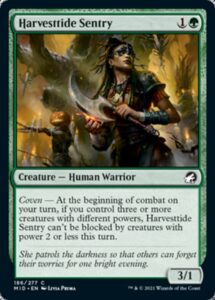 In an aggressive deck, this is probably a fine pickup. In other decks, this still blocks well and applies pressure. There also aren't that many good 1/4s or incidental pings to hate on this. It's no Cathar Commando, but it seems like a fine card.
Grade: C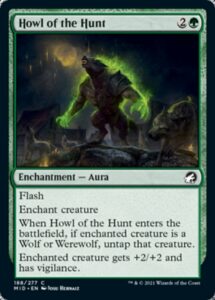 When it works, Feral Invocation feels great. You not only win a combat, but when your opponent kills your creature, you've still even on card advantage. Here, you don't have the benefit of Constellation or Heroic, it's designed to allow you to flip your werewolves and eat an attacking creature. The problem is that werewolves shouldn't need or really benefit from the extra stats, and using this on defense opens you up to the powerful instant-speed interaction blue, red, and especially black have.
This seems eminently playable, but it requires finesse to use and doesn't fit neatly into a curve.
Grade: D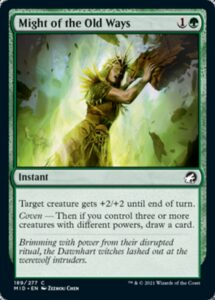 It's a bit odd having both this and Howl of the Hunt in the same set. Also, their names have the same structure and are alphabetically sequential.
Of the two, I'm much more favorable towards Might of the Old Ways. With Coven, this is more of a blowout and safer than a permanent +2/+2 buff. And without Coven, this doesn't cost so much as to mess up your turn.
This is likely still weaker than Duel for Dominance, which doesn't reflect well on green as a color.
Grace: C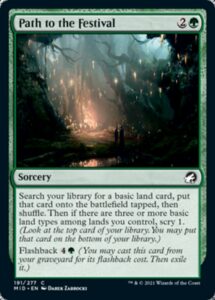 Most decks likely won't want this, but if the ramp deck is good, this will be a core component. This doesn't feel like it ought to be one of green's best commons, but perhaps green isn't especially set up for success.
Grade: B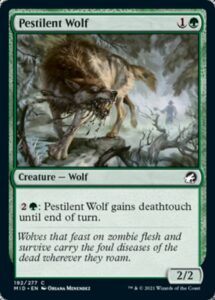 This ability is too expensive to hold up to threaten activation on defense, but could allow your two drop to trade for a three drop (though the math will still put you at a mana disadvantage). Seems like another four two drop in a set with a fair number of them.
Grade: C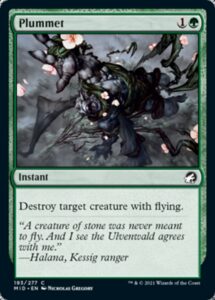 Sideboard material at the best of times, Plummet will have plenty of targets against Disturb decks, but Disturb inherently makes Plummet worse by being a card advantage mechanic.
Grade: F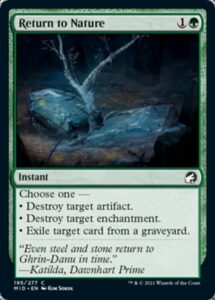 Another sideboard card like Plummet. It gets an F, but against that grade is more about how maindeckable a card is than how useful it could be post-sideboarding.
Grade: F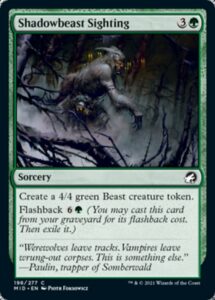 It's not a tribal card, but it's card advantage, aggressively stated at four mana, and plays nicely with graveyard cards. I've not been much impressed by common werewolves, but this looks solid.
Grade: B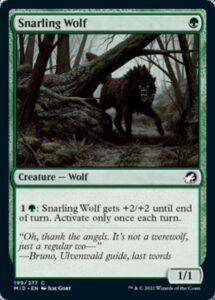 I accept that Pestilent Wolf and Snarling Wolf coexist within the set. Yes, they're very similar designs, but the set needs cheap wolves and wolves want activated abilities to make it less painful to trigger nightfall.
Voldaren Stinger is likely a much more important iteration of this effect, since BR vampires really cares about getting in a point of damage on the first few turns. This is likely still fine, but doesn't seem quite as essential for green decks.
Grade: D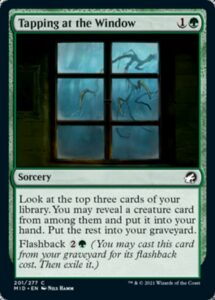 Two kinds of decks would love this effect: those with enough creatures and Flashback/Disturb spells to turn this into an expensive Divination, and graveyard combo decks that want additional copies of Otherworldly Gaze. Perhaps black-green is the best shell, since this bins creatures to reanimate later. But this strikes me as more of an archetype-specific piece than a general-purpose card for most decks.
Grade: D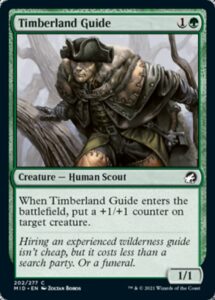 +1/+1 counters aren't a theme, investing resources into a single creature is dangerous in a format with strong removal, and this lacks tribal synergies. But even considering that, two drops remain an important feature in basically all current Limited formats and Timberland Guide can customize a Coven out of nowhere.
Grade: C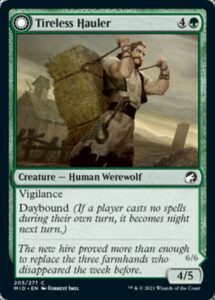 A 4/5 Vigilance is an already serviceable playable. But as a curve-topper that might immediately transform into a 6/6, it's the sort of thing I'd love to have as a my common top end.
Grade: B
Colorless Cards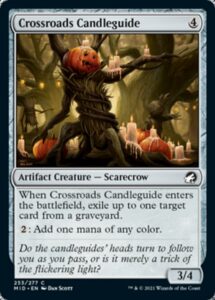 A fine, but unexciting set of stats with a relevant interactive ability and mediocre mana fixing is a nice way to combine multiple decks' needs into one. You don't want this in your deck most of the time, but it plays enough roles that it shouldn't be terrible when it does.
Grade: D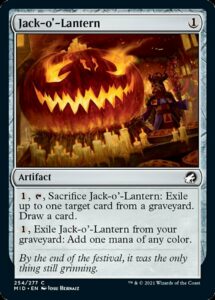 Similar to Crossroads Candleguide except it doesn't have stats. It's nice that it cantrips, but it stills costs mana and a card slot to have little effect on the game state (and is pretty lousy at fixing). The floor can only be so low for a cantrip, but the ceiling isn't much higher in Limited.
Grade: F
We've come along way from Flamecast Wheel. This is both good against werewolf decks and in them (as it gives you a way to spend mana and get an effect without casting a spell).
Grade: C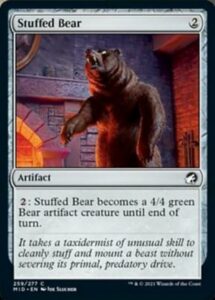 Two mana is a lot to ask for repeatedly, even for an undercosted 4/4. The few times I've seen this on the battlefield, it didn't go well for my opponent.
Grade: F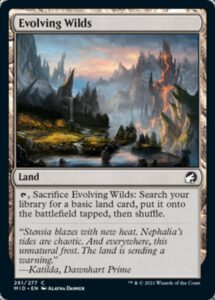 Evolving Wilds is almost always a worthwhile pickup, since one or two of these can easily enable a splash. I'm still rating it highly here, but I've yet to see many particularly strong multicolor decks. The format seems to reward curving out and synergy, neither of which are helped by a tapped land that helps stretch your colors. Moreover, many powerful rares and uncommons are color-committing, making splashing harder. Perhaps as the format adjusts to UB Zombies more multicolor decks will emerge, but this might be one of Evolving Wilds' weaker times in rotation.
Grade: B
And that's every common! Here's hoping you're enjoying Innistrad: Midnight Hunt and looking forward to many more drafts.
Zachary Barash is a New York City-based game designer and the commissioner of Team Draft League. He designs for Kingdom Death: Monster, has a Game Design MFA from the NYU Game Center, and does freelance game design. When the stars align, he streams Magic (but the stars align way less often than he'd like).