On May 26, 2021, the original painting for Grist, the Hunger Tide by Victor Adame Minguez was sold on the MTG Art Market by way of Buy It Now for $35,000, a record for the artist.
Grist, the Hunger Tide by Victor Adame Minguez is a work of oils on gessoboard measuring 10.5 inches by 14.5 inches and rendered on 12 inch by 16 inch" board. It was commissioned as one of three alternate art, borderless frame Planeswalkers for the just released Modern Horizons 2 expansion for Magic: the Gathering. It is the artist's sixth Planeswalker illustration for the game.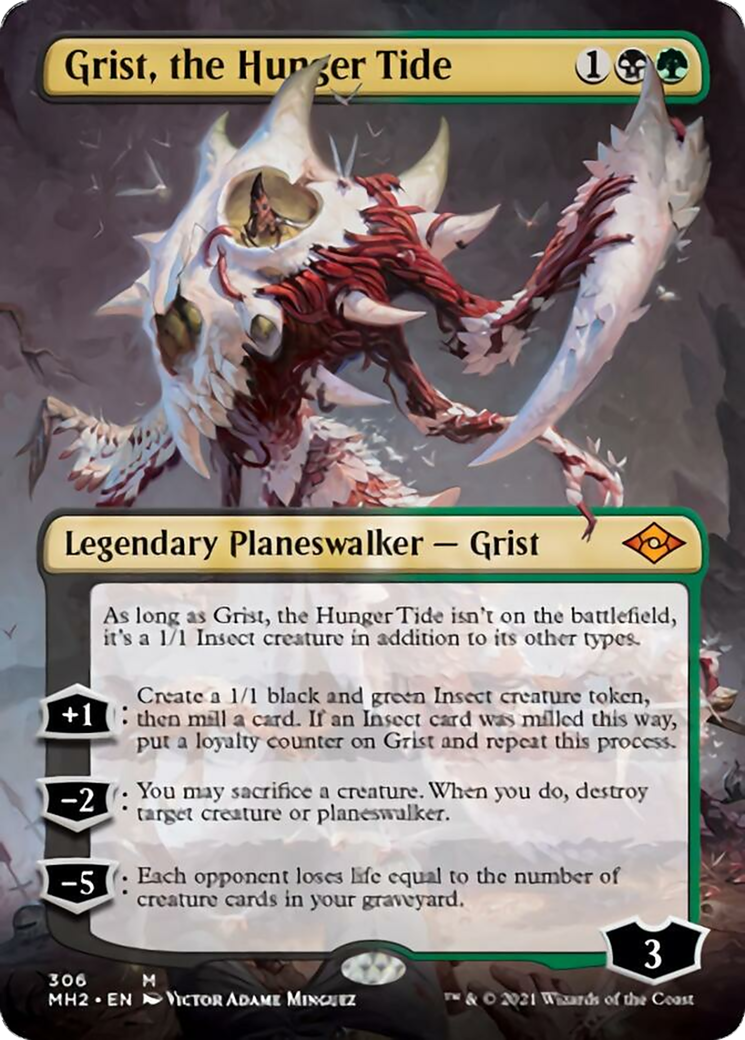 The painting was offered on the MTG Art Market by Mark Aronowitz acting as agent for the artist. The opening bid was set at $5,000, and a Buy It Now for $35,000 was added soon after. The opener was met at 11:38am just three minutes after posting, and the bidding race began.
Less than an hour later at 12:22pm the painting was already at $12,000. And then at 12:32pm, something amazing happened. The comment was posted by Aronowitz:
"Buy It Now is pending"
Twenty minutes later it was confirmed sold and the auction was officially over, all but as quick as it started; the work was sold privately and headed to a brand new collection for a phenomenal price. Today's Art Market Minute has a rare treat, as we now get to hear from the new owner of this work, who wishes to remain anonymous, and just why they felt so moved by its brushstrokes:
Since Magic's inception, we've seen a noticeable shift in 'traditional' MTG art where some artists have not only pushed themselves beyond the 5×7 aspect ratio, but have opted for a more classical, larger-than-life style of painting. Victor's work sits within this realm of execution and style. Grist was one such piece that immediately stuck out—luring me into the mind of its creator. I could not take my eyes off of it. It embodied the perfect marriage of classical style and technique with imagination and narrative. It possessed all the checkmarks I respond to when it comes to art. It's that tell-tale adage "when someone loves what they do, you can always tell by the work." It's abundantly clear that Victor puts just as much love into his art as he has for the game of Magic.
As an artist myself, understanding the sheer difficulty of painting in oils and how to achieve that illusion of light requires extreme precision, patience and knowledge of the world around you that only a master of their craft can truly understand. When I finally got to meet Victor and see Grist for the first time (in the flesh), I was taken aback by how he managed to make a traditional piece look BETTER than its digital counterpart. In the digital world, one can tweak and tinker with light and color, but to execute flawlessly using one of art's most complex mediums (without an undo button), left me both awed and confused. I was also surprised to discover that when it comes down to certain colors, Victor is color blind. It left me thinking… that although some may consider this a hindrance to their craft (especially one that relies on how well the eye can see), it's one of the bedrocks which lay the foundation to Victor's perfectly executed approach to light as value and form. In other words, he trained his eyes to understand grayscales better than most.
In addition to his elaborate execution, this piece also embodies what I love most about Magic—incorporating a narrative. Victor's passion for his craft feels honest and well conceived. One can clearly see that this is an artist in love with imaginative realism. His talent naturally conveys his extraordinary imagination with every meticulous detail and deliberate stroke of the brush. His approach to describe light and form here is very telling of his adoration for the great masters. I get a sense of who Victor's influences are, but I'm also beholden to the fact that this is an artist who's already reached a level of mastery that only artists fully committed to the art form can—carving an impression and style he can call all his own.
One can see the levity of the scenario, and almost become disgusted by it. Discovering that this creature is an insect swarm driven by a single intelligent creature hiding inside (or is it?). Worms twisting and tying themselves together forming musculature to represent appendages. Wings of flying insects weaving together and forming patterns of what appears to be a dress—all purposefully selected by its insect queen to represent the form of a monarch—all clues which convey a sense of intelligence to the life form orchestrating every decision from the inside. Bones (from its victims?) being pulled together like trophies, shielding itself from oncoming threats. An attacking soldier whose flesh may have been devoured, with what appears to be their skull (hanging like a trophy) and being absorbed into the hive as the warrior who once stood as a threat (indicative of the sword lodged in its side) is now being puppeteered and used as a weapon to fend off against its own kin. Just a horrifying narrative at play here.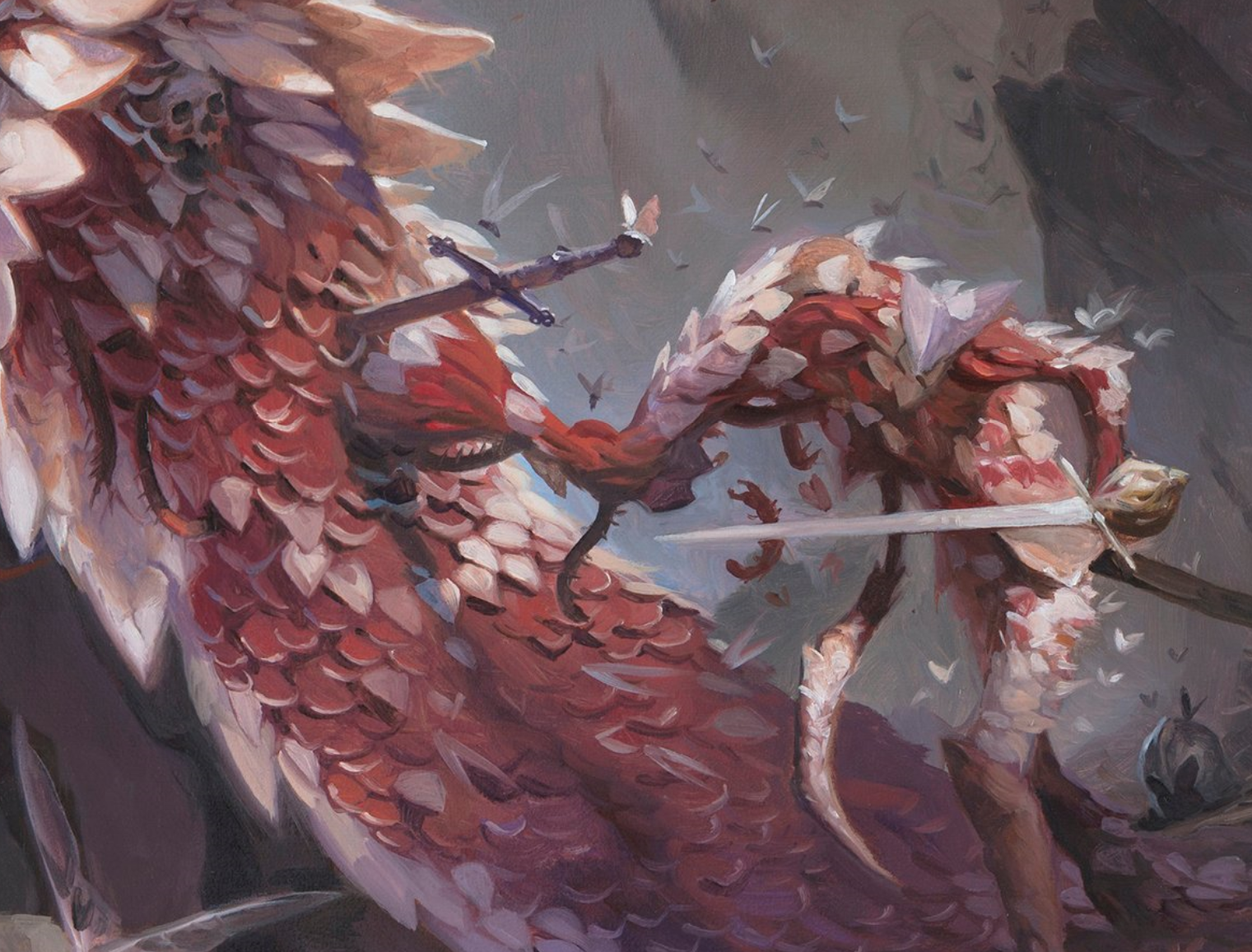 The longer one stares at this piece, the more stories can be pulled from it.
Upon closer inspection (in the bowl of the skull), could this be the tiny planeswalker insect queen (below?) who possesses a spark that has the power to control all insects? I'd like to think so. Pretty cool! As a Magic player, this is the flavor I relish when deck building, hoping to create unique gameplay synergies and narratives with other players. It's what keeps us playing this game. We owe a lot to the imaginations of these artists who tap into their own psyche and deliver their nightmares unto us.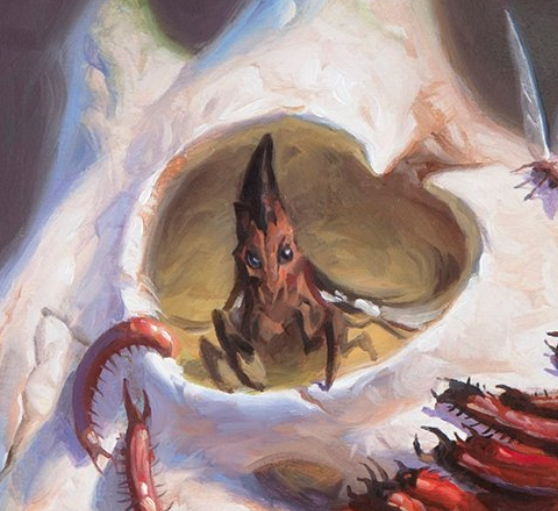 Taking all of the above, marrying both imagination and technique, and you have a work of art which transcends the medium. You have a conversation. A visceral reaction which weaves a disturbing narrative distilled down to a single, impactful image.
Thank you for this nightmare, Victor Adame Minguez.