Spring has sprung, and that means that it's time to get started on your application to Strixhaven! Located on the plane of Arcavios, Strixhaven the most prestigious wizarding school in the multiverse.
The Planeswalkers
Earlier this week, we learned that Kasmina and Liliana were in Magic's newest set. But who else will be there?
First up, Rowan and Will Kenrith have just enrolled at Strixhaven. They were "sent to Strixhaven by Kasmina to test both their magical skills and their character," explained Taylor Ingvarsson, Senior Art Director at Wizards of the Coast.
Oh—and the twins form the front and back sides of the very first modal double-faced Planeswalker!
Meet Rowan, Scholar of Sparks and its back side, Will, Scholar of Frost.
We first met the Kenrith twins in Battlebond and then later on their home plane of Eldraine in Throne of Eldraine. You can read about Will and Rowan's arrival at Strixhaven in Episode 1 of the Strixhaven's web fiction, "Class is in Session."
In that very same episode, we meet Lukka, who was introduced in last year's Ikoria: Lair of Behemoths expansion. Lukka is "still coming to terms with his power and is drawn to this crazy mysterious presence of these dark mages called the Oriq," Ingvarsson reveals. According to the story, the Oriq are a "secret society of mages [that are] obsessed with forbidden magics and power at any cost."
We didn't get to see Lukka's card, put we did get a peek at the art for both his normal and borderless versions.
The Colleges
We already knew quite a bit about the five colleges of Strixhaven a month ago, but today's previews gave us a look at the philosophies and people that make up each of them.
Lorehold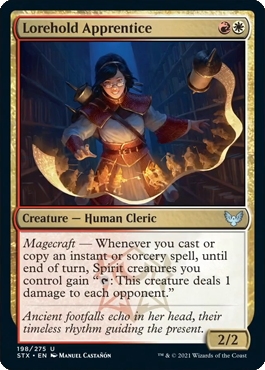 Lorehold is the College of Archaeomancy. "The Lorehold mages actually bring the past to life—literally," Doug Beyer, principal game designer at Wizards, told Polygon. They are "bringing back historical figures and embodying them in haunted historical monuments."
Currently, the college is lead by two deans, Plargg, Dean of Chaos and Augusta, Dean of Order, who combine to form a modal dual-faced card.
It was founded by the dragon Velomachus Lorehold, whose card has yet to be revealed.
Prismari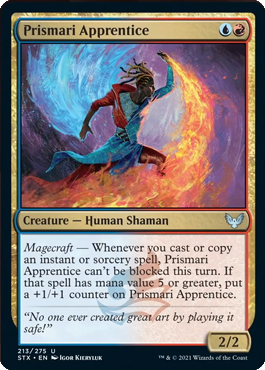 Prismari is the College of Elemental Art. According to Beyer, the Blue of Prismari represents "technique and careful study," while Red represents "raw expressiveness and emotion."
The college is lead by two deans, Uvilda, Dean of Perfection and Nassari, Dean of Expression, who combine to form a modal dual-faced card.
It was founded by the dragon Galazeth Prismari, whose card has yet to be revealed.
Quandrix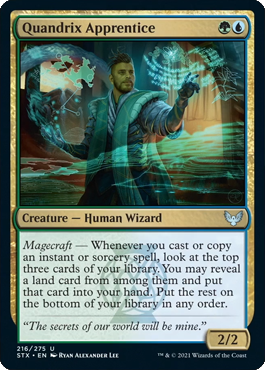 Quandrix is the College Numeromancy. "They're focused on the the essential power of numbers within nature," Beyer told Polygon. "They're using their studies to warp reality by finding numerical truths."
The college is lead by two deans, Kianne, Dean of Substance and Imbraham, Dean of Theory, who combine to form a modal dual-faced card.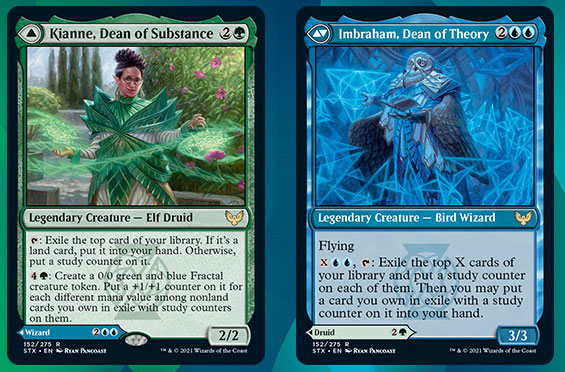 It was founded by the dragon Tanizir Quandrix, whose card has yet to be revealed.
Silverquill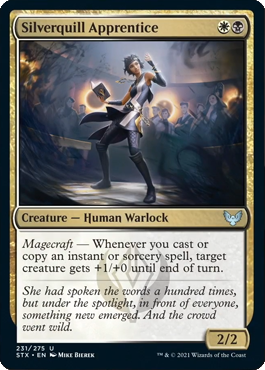 Silverquill is the College of Eloquence. They like "to use the power of words, from battle poetry to biting insults," Beyer said. "They inspire others with speeches or cut them down with insults."
The college is lead by two deans, Shaile, Dean of Radiance and Embrose, Dean of Shadow, who combine to form a modal dual-faced card.
It was founded by Shadrix Silverquill, the only founding dragon to have its card revealed today.
Witherbloom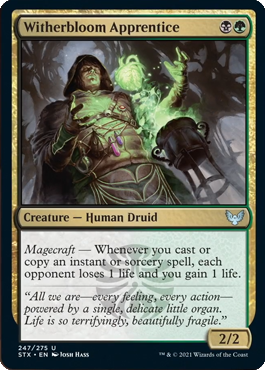 Witherbloom is the College of Essence Studies. They're the "goth, witchy biology majors" of Strixhaven, Breyer said.
The college is lead by two deans, Valentin, Dean of the Vein and Lisette, Dean of the Root, who combine to form a modal dual-faced card.
It was founded by the dragon Beladross Witherbloom, whose card has yet to be revealed.
The Dual Lands
No Magic set is complete without a rare cycle of lands and Strixhaven is no exception. The new dual lands complete the "reveal" cycle that began in Shadows Over Innistrad (Port Town, Choked Estuary, Foreboding Ruins, Game Trail, and Fortified Village), which require you to reveal a basic land with a matching type or the dual land enters the battlefield tapped.
Strixhaven completes that cycle with five new lands: Frostboil Snarl, Furycalm Snarl, Necroblossom Snarl, Shineshadow Snarl, and Vineglimmer Snarl.
The Mechanics
Strixhaven will feature four mechanics—one returning and three that are (mostly) new.
Modal Double-Faced Cards
Modal DFCs continue their run in three consecutive sets after debuting in last Fall's Zendikar Rising. However, as in Kaldheim, the mechanic will only be used on rares and mythics.
Magecraft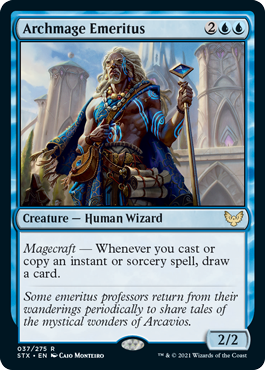 Magecraft is an ability word that triggers whenever you cast (or copy!) and instant or sorcery spell. The effect will be unique for every card—in the case of Archmage Emeritus, you'll draw a card, while Eager First-Year will get +1/+0 until end of turn.
Learn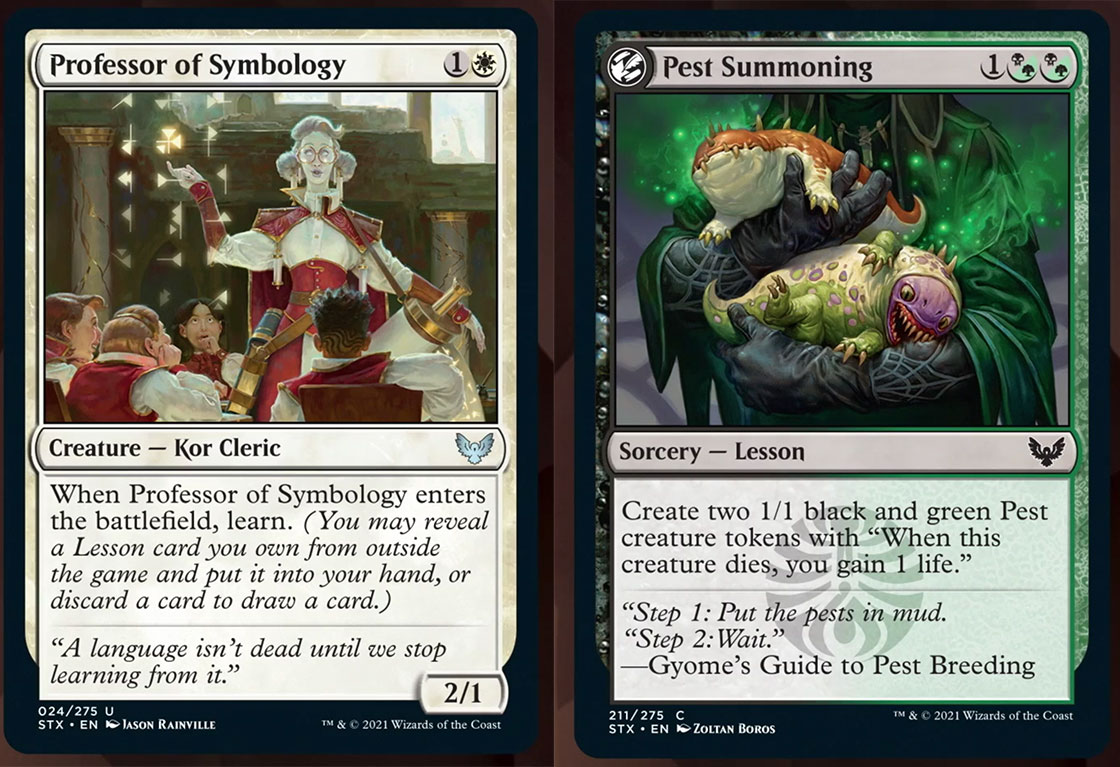 Professor of Symobology and Pest Summoning
Learn is a new keyword that is connect to a new spell type, Lesson. When a card tells you to Learn, you can retrieve a Lesson card from outside of the game (your sideboard) and put it in to your hand. If you don't, you can instead discard a card and draw a card.
As Sheldon Menery clarified on Twitter, Learn's "outside the game" part won't work in Commander—but you can still loot!
Ward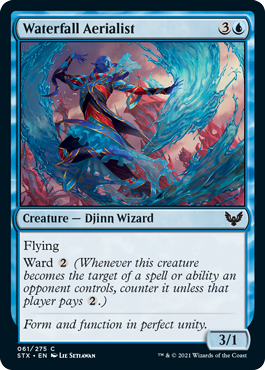 Ward isn't really a new mechanic—it's just a newly-named keyword that makes an existing effect into an evergreen mechanic (while providing some variation) that will show up in most sets.
Ward takes gives your permanent an extra layer of protection from your opponent's spells and abilities, forcing them to pay whatever cost the Ward requires. "That cost can be mana, life, or pretty much anything else that can be a cost," Wizards said.
The Mystical Archive
The existence of the Mystical Archive in Strixhaven's Biblioplex was revealed last month, but we now know more about its contents after today's previews.
The Mystical Archive is made up of 63 instants and sorceries from throughout Magic's history. A card from the Archive will be included in every Draft Booster and every Set Booster, while at least three will be in each Collector Booster, two of which will be etched foils. All but seven of the cards in the Mystical Archive will be legal in Historic.
And, oh my, there are so. many. awesome. cards in the Mystical Archive—and every single one will have an alternate Japanese version! Check out some of the highlights that were previewed today, including Duress, Lightning Bolt, and Time Warp. (Unfortunately, Lightning Bolt will not be legal in Historic.)
…and their amazing Japanese alternate versions!
And then a pair of powerful (and banned in Historic) spells, Channel and Counterspell, and a currently Standard-legal spell, Strategic Planning.
Finally, Wizards snuck a surprise into the Mystical Archive—a card from Modern Horizons 2, which isn't due to be released until this Summer! Meet Abundant Harvest, a sibling of the classic card, Abundance. It will be legal in Historic, Legacy, and Vintage when Strixhaven releases in a few weeks, but won't be legal in Modern until Modern Horizons 2 is released.
The Commander Decks
Magic's annual Commander product will also be taking place in Strixhaven. Commander 2021 will feature five decks, with each featuring one of the colleges of Strixhaven.
Wizards previewed all five Commanders today: Osgir, the Reconstructor, Zaffai, Thunder Conductor, Adrix and Nev, Twincasters, Breena, the Demagogue, and WIllowdusk, Essense Seer.
The Commander 2021 decks will have their own preview days after Strixhaven previews conclude from April 5-9.