After a year's worth of Secret Lair drops, Wizards of the Coast has given us a glimpse of the product's direction for the next year—including a preview of five drops coming in 2021. (And one in 2022!)
Don't miss our coverage of today's other Secret Lair news: the revelation that The Walking Dead Secret Lair was the best-selling drop ever, Ultimate Edition 2, and the Foglio Secret Lair.

Secret Lair Will Move to More Superdrops in 2021
In its first year, the Secret Lair Drop Series was focused on individual drops that were available for a 24-hour period. Well over half of those 29 drops were made available available in that manner, while 12 were available as part of two "superdrops" that were made up of multiple individual drops that could be purchased over a longer period of time.
"We've learned [over the last year] that, for a lot of our fans, those bigger event-style sales are really convenient," said Mark Heggen, Product Architect at Wizards of the Coast. "There's less to track, you can check in, […] see what's for sale, [and] see if anything works for you."
"Our plan right now is to run almost [every Secret Lair Drop] through these superdrops next year," he continued. "There will always be exceptions—there will be a specific drop here or there that calls to stand alone. For example, we did a drop with Extra Life [this year] that was raising money for their campaign and that's the kind of thing that just works best on its own."
The first superdrop of 2021 will be in February. That superdrop "will be a similar size and scale" to the current Secretversary Superdrop, meaning that "all of the cards will all go up and go away as a group." Then there will be another "a couple months after that and [another] a couple months after that," according to Heggen.
Secret Lair is Focusing More on Artists
"New and unique art is always going to be one of the main bloodlines of Secret Lair," Heggen said. "We are not only looking to push into more and more art styles, we're going to keep trying more 'out there' things creatively, [and] we want to also work more specifically around our artists."
This new focus is apparent in the new Secret Lair: Artist Series that Wizards debuted last week with Artist Series: Seb McKinnon. "We start a conversation with the artists that we're going to work with and we say to them, 'What do you want to do?'" Heggen explained. "Sometimes they have a specific card in mind, sometimes they say, 'Well, I don't care about the card but I have a picture of the art I want to create—what's a good home for this?'" Wizards will work with the artist to make their vision into a reality.
2021 will feature more entries into the Artist Series, beginning with Artist Series: Johannes Voss. Wizards didn't reveal the contents of the drop but did preview a piece of art from one of the cards.
But contemporary Magic artists aren't the only ones getting in on the fun—Wizards has also partnered with fan-favorites Kaja and Phil Foglio to produce their very own Artist Series, which is scheduled to be released in 2022.
Wizards is also looking to bring new artists to Magic in 2021 through Secret Lair.
"We also have a lot of new artists, people who haven't ever done a Magic card but they're amazing artist talent and we want to bring them in," Heggen explained. "So we're going to try a new thing next year as almost more of a 'special guest.'"
The first special guest Secret Lair will feature Fiona Staples, an award-winning comic book artist. "Check in next year for a drop start to finish done by Fiona Staples [that will] bring her attitude and energy onto Magic cards for the first time," Heggen said.
More 2021 Secret Lair Previews
Heggen also said that the unique style of the Party Hard, Shred Harder drop went over really well with Magic fans and that Wizards is going to do more full-frame treatments like that in the future.
In fact, he previewed a card from an upcoming drop that continues the concert poster theme but moves away from the death metal style of Party Hard, Shred Harder. Check out this amazing version of Nature's Lore by Jeff Soto that will be included in a drop in 2021.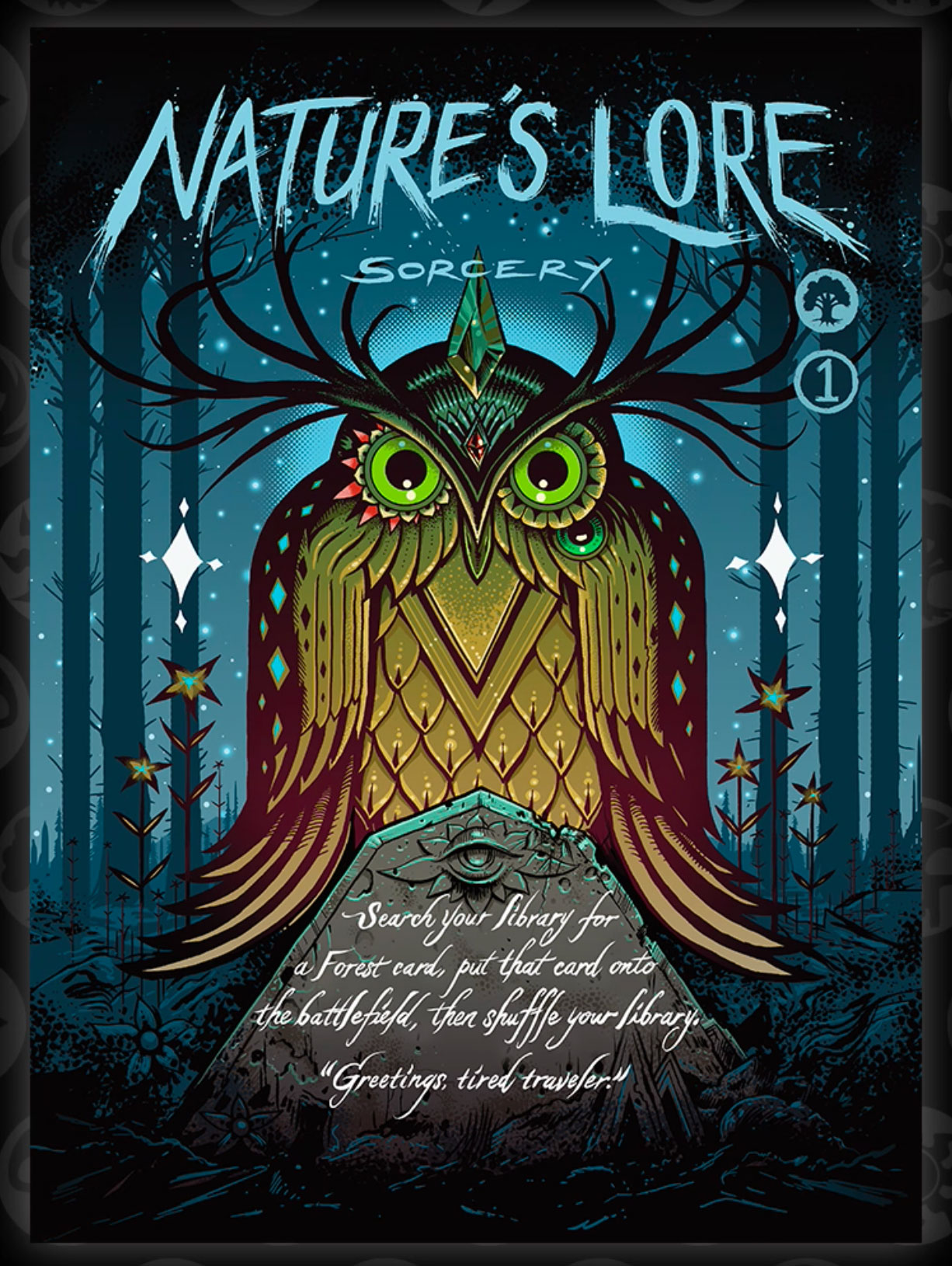 Wizards ran a few Secret Lair polls last month that asked people to choose between two creature types. In one, Dinosaurs beat Knights, so apparently Wizards will be making a Dinosaur Secret Lair drop in 2021, as well.
Finally, Wizards teased a Read the Fine Print drop in a split-second image that flashed on the screen near the end of the stream. The drop will contain four creatures and one enchantment, though that's the extent of the information teased on the image.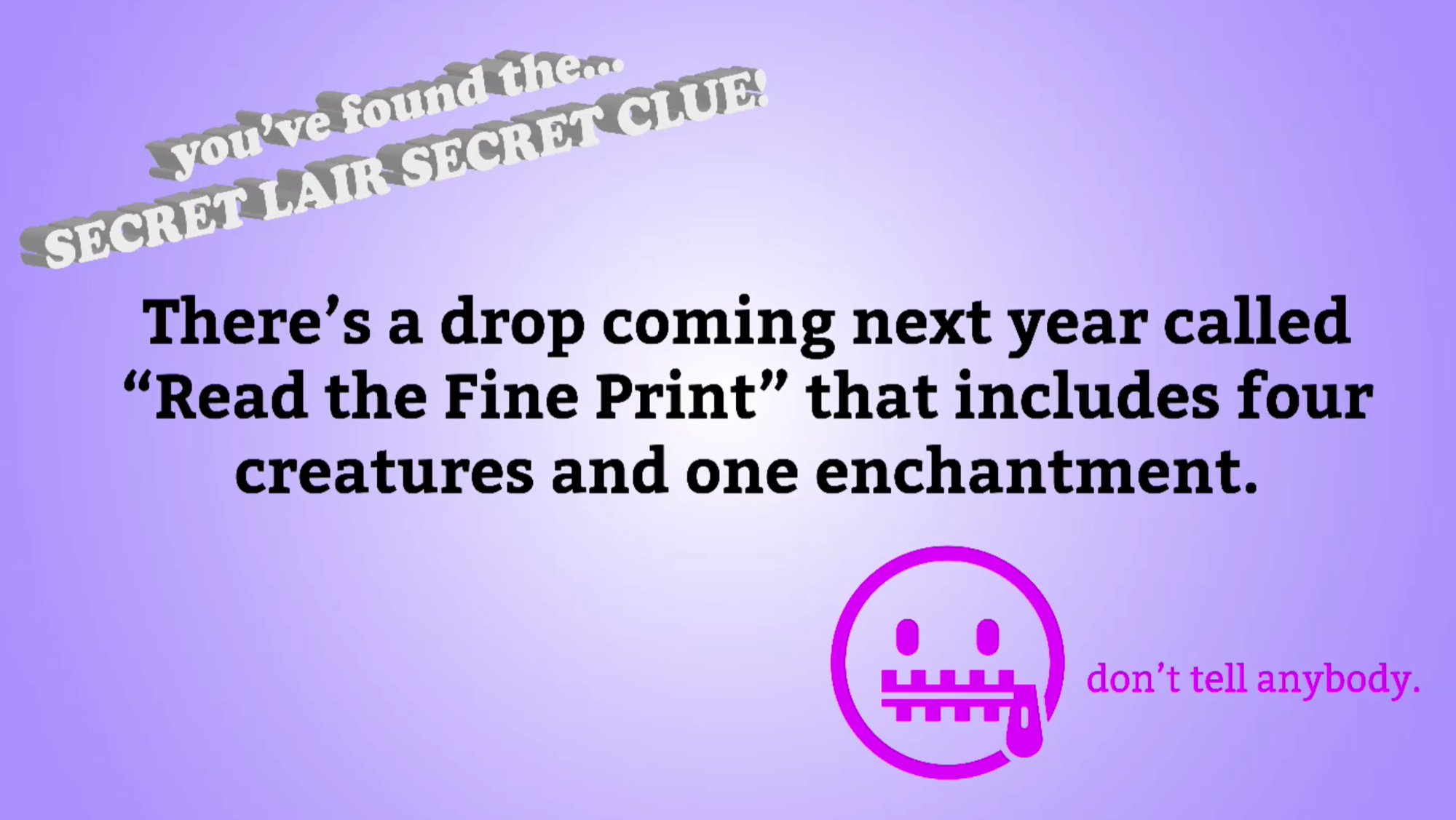 Ordering and Fulfillment Improvements
Some of the biggest frustrations with the Secret Lair Drop Series in its first year have been around the time between the preorder period and shipping and the limited regions to which Wizards can ship the product.
Starting with this week's Secretversary Super drop and continuing into 2021, Wizards will allow you to preorder a drop and then be charged around the time the product is ready to ship. They will send you an email when the drop is about to ship and provide a two week window in which to pay. Previously, customers would preorder a drop, pay, and then wait months before the drop was delivered.
Wizards has also increased the number of continental distributors they work with in order to provide shipping to more countries. They recently partnered with a Chinese company to distribute drops in China and are actively looking to do the same in Latin America.