On Monday August 10th 2020, the original painting for Pete Venters Baron Sengir from the 1995 Homelands expansion sold for $32,500 on the MTG Art Market.
Baron Sengir by Pete Venters is a work of acrylics on illustration board created 25 years ago for the Homelands expansion that released in 1995. It has resided with the artist since its creation; this was the first time the painting had ever been publicly available.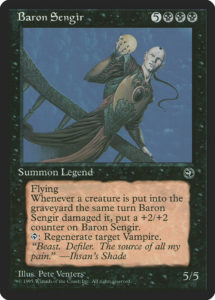 The auction was first announced by the artist on July 6th and began approximately one month later on August 3rd. It was run on the MTG Art Market by Mark Aronowitz acting as agent for the artist. The opening bid ask of $10,000 was placed almost instantly, and even quicker still raised to $20,000 with much fanfare and support towards this particular collector. Shortly thereafter a third bidder advanced to $21,000, which was met with a $30,000 offer from the previous high bidder within literally two minutes.
This slideshow requires JavaScript.
This amount would hold until later that evening, when a $32,500 bid was placed to an unusual result. In an all but unprecedented move, a major collector pledged $2,500 on top of the standing bid to help ensure that bidder would win the day, citing the importance of the work to the pursuing collector and highlighting the positivity he brings to the community.
This bid of $32,500 would stand until the final hammer, and send the piece to a new home and very special collection. But why was it so exciting for it to end here? I was able to get the story of just why Baron was such an important piece, straight from the winning collector:
"My first grails ever were Shauku and Baron. They both were NFS (Not For Sale) and still with Pete Venters, the original artist. After talking with Pete and finding that we have much in common especially our game taste, he likes especially black mana spells and creatures and he is more comfortable drawing them while I love collecting such illustrations, he decided that he could entrust selling me Shauku. For me it was an amazing joy because she is my grail.
Here the funny thing: he drew in Unhinged a card named "Drawn Together" where we can see Baron Sengir and Shauku together as a couple: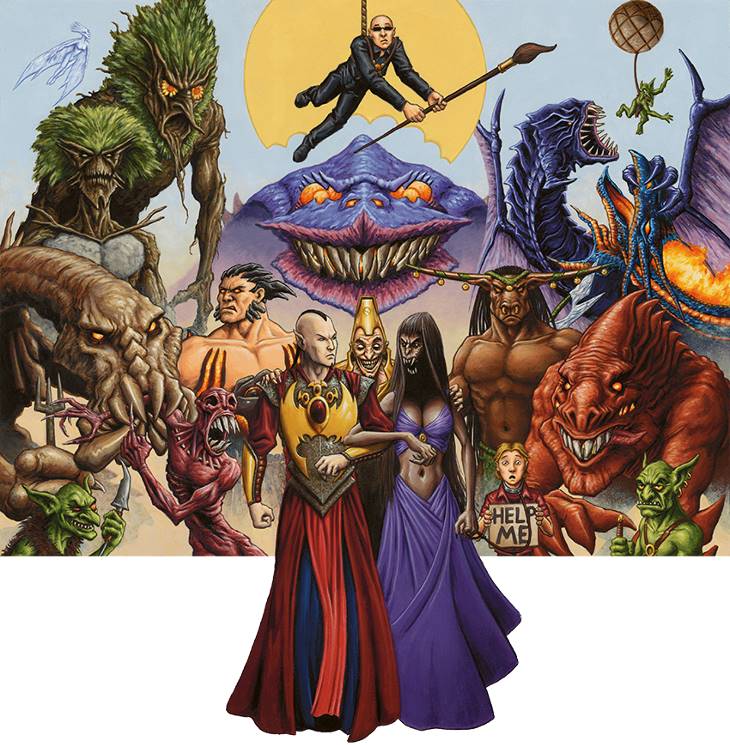 Since I saw them I always fancied about reuniting them both (and Baron Sengir was already my other grail; even before Drawn Together card I loved them). So basically when Baron Sengir auction started I decided that I need to have him with me and reunite him along Shauku. 
Winning this auction means to me so many things wrapped together in an explosion of joy, basically touching my apex as collector. It was getting my grail—some out there never have this chance ever so it's a huge gift get your grail. It was reuniting Baron Sengir with Shauku and recreating a little Drawn Together theme and I'm still overjoyed about it. And it was joining an auction with Pete who originally sold to me Shauku and I have a huge gratitude feeling toward him! Also the community of MTG it's awesome because so many collectors supported me in this journey—so long of a week but to me seems months long!
The sale of Baron Sengir is nothing short of the capstone to the pretty incredible story that is this collector's journey.
I was also able to catch up with Pete to get some of his thoughts and feelings about finally letting the Baron go, and sending him off to his new home:
Ever since the 20th anniversary of Magic, there's been a steady uptick in the Magic art collector market. Paintings that once sold for $800 sell for $8,000 or several times more than that if they're from Alpha. Few people can afford the big pieces but with thousands of originals out there there's usually something for everybody.
I finally sold the remaining pieces of my back-catalog of Magic art this year, leaving me with about a dozen paintings close to my heart. But occasionally I find it's time to let a piece go. This happened with Shauku a few years ago, and Megatog more recently. A little over a year ago, at an after-show dinner at one of the many MagicFests, I discussed with Mark Aronowitz the idea of auctioning the Baron some time in 2020. Then, just a few months later, the new Baron art was revealed for Commander Legends and I took that as a sign that it was indeed time to let someone else own the Baron.
After the very aggressive bidding of Day 1, I had friends asking me all week where the price was at and I had to tell them it hadn't changed since hurtling to $32,500. I suspected nothing would happen until the last hour of the auction and even then I wondered if the gauntlet had been thrown with sufficient force that other bidders knew it wasn't a fight they could win. Would I have liked a crazy last minute bidding war? Oh sure, who wouldn't? But the fact is that the price the Baron sold for was a generous sum and easily met my hopes for the auction.
And the fact that Shauku and the Baron will be reunited under one roof is just the perfect finishing touch. Shauku and the Baron have no canonical link, it's just that Shauku was the very next vampire I painted after Homelands. I decided to make Shauku have a mirroring composition. It's not just that the picture is angled in the mirror opposite of the Baron's, it's also the colors. The Baron's background is a blue night sky, and his outfit is predominantly gold and red. Shauku's outfit is a blue-purple and her background is the warm yellows and reds of fire.
So, against the odds, 25 years after their creations, they're gonna be under one roof again."
It's almost serendipitous, what happened here, and makes for a fabulous tale of Magic art.
Venters just had his brand new version of this classic legend, Sengir, the Dark Baron, previewed on Saturday August 22nd as a kick-off to the upcoming Commander Legends set.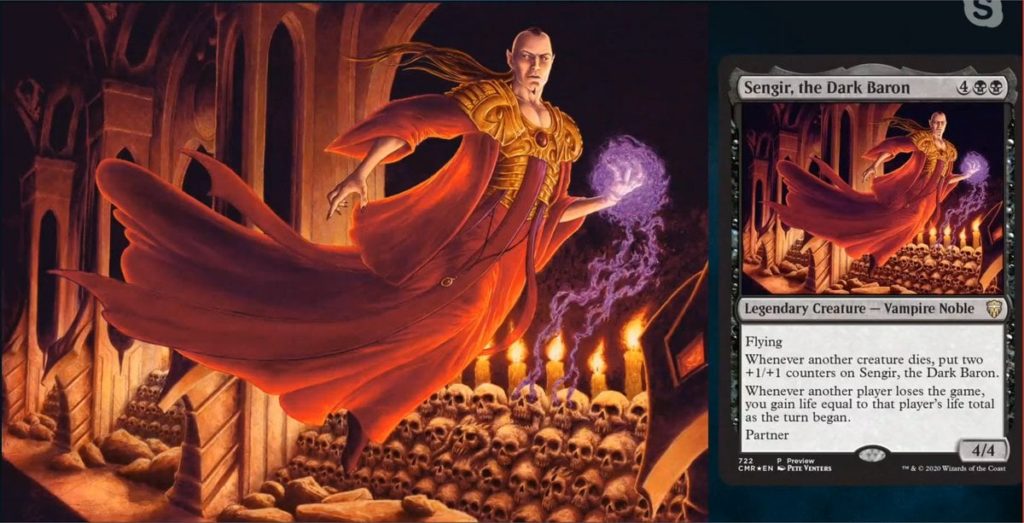 There's quite the story about this new artwork as well, and you can read a short recap on his blog. Later this year I'll join forces with Pete to tell the whole story start to finish, including the completing of this traditional painting, right here on Hipsters of the Coast. Stay tuned!