Wizards of the Coast revealed another Secret Lair drop today, "Every Dog Has Its Day," which includes four cards with dog-themed art and an MTG Arena sleeve style. It will be available for 24 hours starting Wednesday, August 26 (which is International Dog Day) at 12 PM and will cost $29.99 for the non-foil version and $39.99 for the foil version.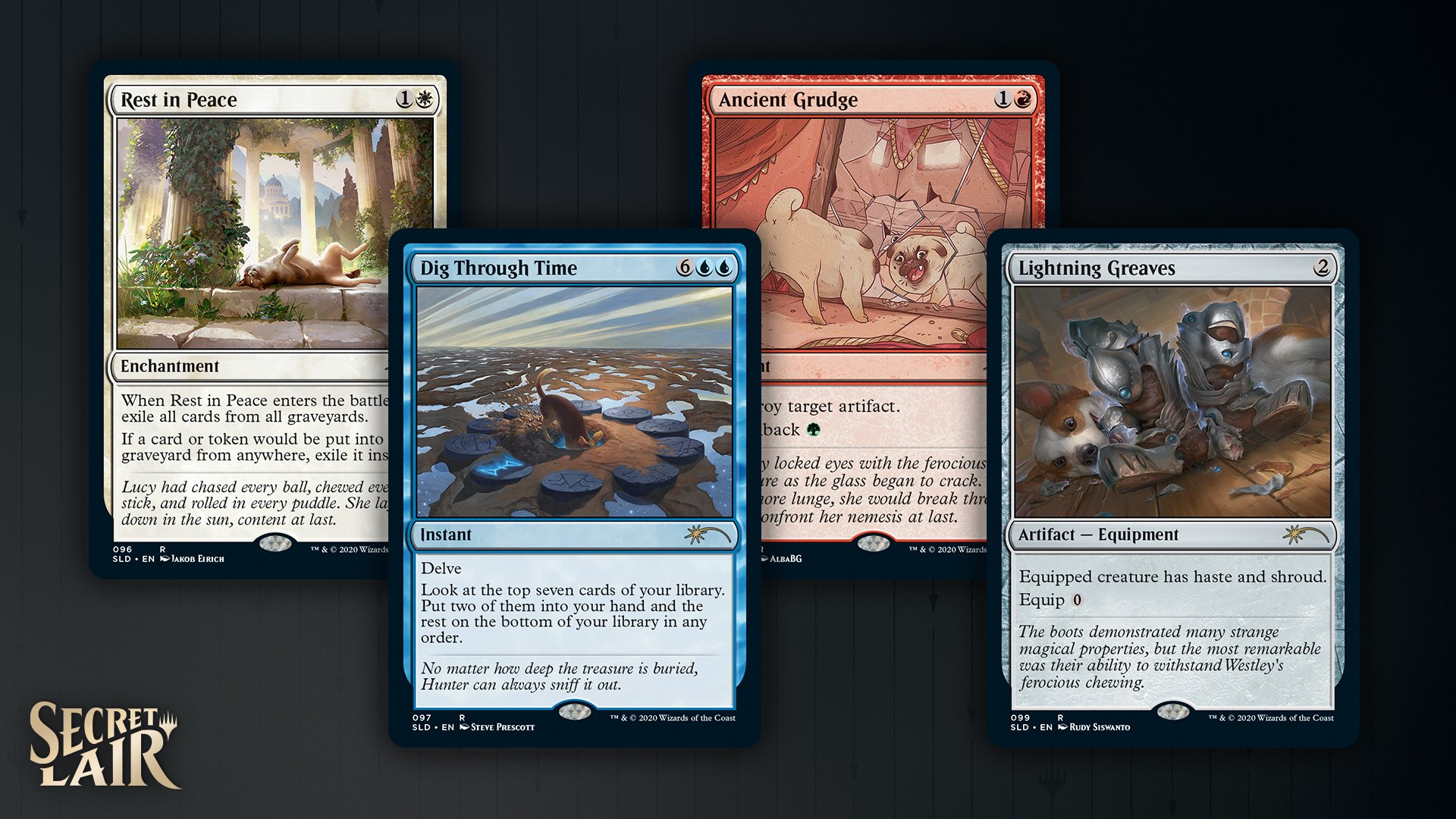 The four included cards aren't dog creature cards, as one might guess a dog-themed Secret Lair would contain—especially after Wizards changed the Hound creature type to Dog with the release of Core Set 2021 in July. Instead, Wizards decided to use cards that reference stereotypical dog behavior, like digging or eating shoes, and paired them with art featuring dogs partaking in those very actions.
Each of the four pieces of art is based on a dog of a Wizards employee: Lucy on Rest in Peace, by Jakob Eirich; Shelby on Dig Through Time, by Steve Prescott; Hunter on Ancient Grudge, by AlbaBG; and Wesley on Lightning Greaves, by Rudy Siswanto.
Every Dog Has Its Day is the 25th drop in the Secret Lair Drop Series and comes hot on the heels of Monday's Prime Slime drop. It is the first drop to feature a choice between regular and foil versions of the cards, with the non-foil drop costing $29.99 and the foil drop costing $39.99, which is a boon for players that either love foils or would prefer to avoid them.
Check out all four cards and their art below!
Rest in Peace
Dig Through Time
Ancient Grudge
Lightning Greaves