On October 20, 2002 Jens Thorén defeated Tomi Walamies in three games to win the 2002 Magic Invitational and changed the game of Magic: the Gathering forever.
Good morning everyone, and welcome to the Mirror Gallery here on Hipsters of the Coast. Today we're going to talk about one of my favorite Magic cards, one which was also freshly reprinted in Core Set 2021: Solemn Simulacrum. This is a card that most folks have probably seen and played with over their Magic career, whether they started twenty years ago or just last week. Over the last eighteen years this automaton has received five different artworks, and this is the subject of our exploration today.

The "Sad Robot" as it's often and affectionately known, has become nothing short of iconic. Today we'll trace its roots from inception through its different depictions, all the way to the Mirror Gallery wall where one of these pieces of artwork now hangs. This is Solemn Simulacrum: A Study.
In the Beginning…
First, some history and some context. This is an abbreviated version, but Gavin Verhey did an excellent recap of how this card came to be on his Good Morning Magic.
Rewind again back to 2002. Jens Thorén, the 22 year old student from Sweden, had won his first major Magic event, what was then "Magic's equivalent of an All-Star Game." The winner of the annual Magic Invitational, in addition to the trophy and monetary prize, was afforded an opportunity to design their own Magic card. The card would be printed in a later set, and the artwork would bear their likeness.
His idea as submitted began as a 2/2, four mana blue and green Elf Wizard called Forestfolk: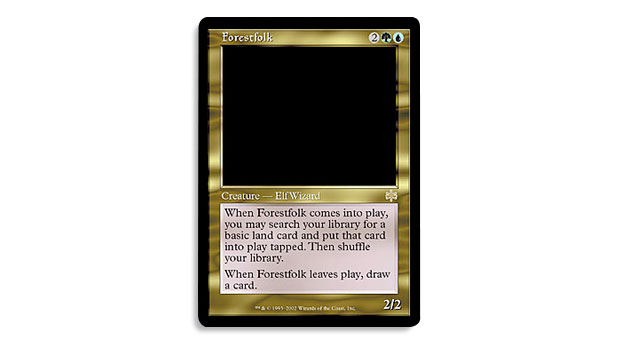 But with Mirrodin on the horizon, it would be changed in development into an artifact creature to fit the flavor of the new set. This change would ultimately make it one of the most versatile and widely played cards in the game's history, and be the catalyst to the relevance it's had over the years.
The first commission was assigned to one of the most prolific artists in the game's history both then and now, Greg Staples. His portrayal, a portrait of the Invitational Champion himself, is where we begin.
The Solemns
Solemn Simulacrum by Greg Staples
So we've already learned a bit about this first Solemn Simulacrum, the OG, and the one that is Jens Thorén himself. Greg needed to make this new robot look both like Jens, but also be relatable as an Everyman of sorts. I was able to get his thoughts via email on this commission from near twenty years ago:
GS: I think the thing about Solemn Simulacrum I remember the most is the need to do the winner justice for him and for all the players. The Magic community is very close and very supportive and I felt this was my opportunity to try to make someone part of something they loved. It was many years ago now but I still remember doing it quite fondly, I was honoured to be asked to do the art for this card.
I think Greg achieved what he set out to do in this work, and in doing so set an impressive precedent on exactly who and what Solemn Simulacrum was supposed to represent. It's legendary artwork from a legendary artist, and nothing less.
This card would be printed twice, in Mirrodin and the original Commander, before it received its first art update when it was reprinted in Magic 2012.
Solemn Simulacrum by Dan Scott
The robot no longer bears the likeness of a human, but now stands stoic and full-bodied against a backdrop of billowing clouds. A champion raised above the dust, replete with a pulsing red core. The work really has a beautiful simplicity that truly takes its namesake to heart.
I caught up with Dan to hear just what he thought about getting this commission back in 2011:
DS: When I got the commission to do a new painting for Solemn Simulacrum I was very excited. I had played Magic since Revised and was very familiar with the card, having used it many times in my own personal deck builds. I always loved the utility of the card as a mana fixer, accelerant, card drawer and 2/2 body. I knew the original printing was made to be a likeness of the Magic player who won the ability to help design the original card.
Rather than try to recreate that likeness I wanted to make sure there were no facial features on my design and have the "Solemn" part of the description come through in the pose. I felt like it was such an iconic card that I wanted the character to be the main focus with very little background in the art. It's been very cool over the years to see so many different artists' interpretation of the character.
How cool must it have been for him to be able to paint with a card he'd played with for ten years? Dan Scott took the utmost care in reimagining Solemn Simulacrum, and some of these design elements can be seen reverberating through its future representations.
After two more printings with Dan's artwork, Solemn Simulacrum would then receive its third illustration, now residing on the plane of Kaladesh.
Solemn Simulacrum by Daarken
This would be the first full art version of Solemn Simulacrum, encapsulated inside the brand new Masterpiece frame of the Kaladesh Inventions, a subseries that reimagined some of Magic's most famous and important artifacts within that planar setting. Shortly after set release in September 2016, Daarken shared his experience about creating this new version of the sad robot on his blog.
DKN: Solemn Simulacrum was fun because it's an existing card. Creating new art for an existing card can be tricky because people will always want to compare them to one another. I'm always worried that I'll let down the fans and create something they don't like. Of course the sad robot is sitting alone in an alley. I think the brief said that he was on display, which is why he has the fancy platform around him. I didn't want to put him in a very complicated downtown market scene because it would take away from the focus, plus it would make the painting much harder to execute. I think putting him alone in an alley helps his solemn persona. Or maybe I'm trying to find excuses for why I didn't paint a very complicated street scene…
I think his loneliness displays another side of Solemn Simulacrum. Perhaps it traveled to Kaladesh, taking on this new full form, in search of something and has yet to find it? It's another chapter in its story, and a beautifully rendered illustration.
Due to its special nature, Daarken's art would only be used this one time. For Commander 2019, when a brand new Solemn Simulacrum was revealed, it would be painted by a living master making his return to Magic.
Solemn Simulacrum by Donato Giancola
Donato Giancola, one of Magic's most prominent artists and a legend in the larger genre of imaginative realism, was commissioned to do his version of Solemn Simulacrum for Commander 2019. It was a tall order, and he told me the story for this article:
DG: What I recall was being torn between trying to capture the mood of a 'sad' solemn entity while at the same time making it 'roughly human' and 'constructed of black glass and metal, with magic emanating internally' as per the art description. As you can imagine, that is a tough dish to serve up!
My choice was to push the 'roughly human' aspect more, going off into wacky, unexpected design, much like what I did with Cromat decades ago. Fractured glass played a part in thinking about opening up the silhouette of the figure and moving away from 'human.' Also I made the golem feel a bit off balance through use of perspective and view point. Not even sure why I choose these directions, but there you have it, artistic decisions are many times non-verbal and intuitive!
The window was added to hint at medieval stained glass, grounding it with a touch in 'fantasy' given the sci-fi nature to the concept, with geometric designs of the stained glass hinting at the mechanics of machinery.
All in all it was a fun piece to explore these new directions, and one of the main reasons I love fantasy and science fiction art so much.
You may have picked up on it from this short anecdote, but Donato loves robots. Like a lot. He has an entire series of his professional work, known as the Empathetic Robots, dedicated to his fascination with the subject; they are one of his most favorite things to paint, something I talked about in my Commander 2019 Grand Art Tour. The original painting resides in his personal collection as the perfect marriage of his two professional proficiencies.
Donato's Solemn Simulacrum appeared in both Commander 2019 and Commander 2020 before being reprinted in the just released Core Set 2021. But this time, the golem didn't come alone…
Solemn Simulacrum by Joseph Meehan
For the first time there are two versions of Solemn Simulacrum in the same set. Sad Robot is now Showcase Robot, receiving its first ever borderless treatment featuring art by Joseph Meehan. It's an entirely new take on the classic creature, and the card does not do it justice—it must be viewed outside the frame. Meehan created the largest traditional Magic painting ever painted as a commission for the game in Solemn Simulacrum at a staggering 46 inches by almost 35 inches, and he gave me some insight into exactly what went into his monumental version:
JM: The description said "its body language gives it a solemn, dignified, and/or pensive look." I immediately thought of Dr. Manhattan, and how he was a perfect being, so beyond humans that he began to see nothing but futility in our existence. For that reason I wanted him to appear strong or even perfect, and therefore I made him gleaming chrome instead of the "rough steel" the brief called for. And for his anatomy, I wanted him to look like an Olympian but didn't want any specific muscles being identifiable, so I went to great length to try and find ways to imply quads, biceps, delts, etc with clean metal forms.
In the first sketch, I had him looking at the dust in his hand, as if he was contemplating mortality, i.e. "Ashes to ashes, dust to dust." Yes he's an ageless metal man, but hey most metals turn to dust eventually too, and maybe mortality to him is the mortality of the universe. The feedback called for him to be looking up, which I get, this is a beauty shot of a character after all. So now there is a bit of a disconnect between him and the dust, but that's ok. In most portraits of rulers all through history, there were always symbols placed all around the image, globes and scepters etc, with no need for the subject to be interacting with them.
The thought and execution that went into this fifth Solemn Simulacrum shines through all the way to the final painting. Meehan left no detail unconsidered, and made sure to weave as much meaning as possible into the finished work, things only gleaned from a little extra looking beyond the card frame.
So we've traced this robot's path through Magic's history, but our secondary exploration is the one that led a certain pencil sketch to its forever home on my wall. Onto Part II!
A Personal Aside: Solemn Simulacrum Sketch by Donato Giancola
The sketch for Solemn Simulacrum by Donato Giancola is a work of watercolor pencil and chalk on toned paper measuring 11 inches by 14 inches. It came to me only by a bit of luck, as seems to work with pieces I've collected from Donato in particular. A short story:
During Commander 2019 previews, in addition to the regular previews done by content creators from around the Magic community (including one by yours truly) the full decklist for each pre-constructed deck was revealed at the end of each day by The Command Zone. I did my best to tune unto these, but it wasn't until my friend Brian sent "(Expletive) me, did you see solemn by Donato?!" in our group chat that I knew this day would be a bit different.
I sent an email to Donato a few hours later to both let him know the artwork was revealed, and inquire about the painting. He indicated he was probably going to keep it, as robots are a great love of his, and it marries his Empathetic Robots series with his Magic work, as we've seen. I couldn't blame him, and left it at that.
It wasn't until five days later where I had one of those cartoon-esque moments where the little lightbulb appears over your head. The pencil sketch! Why didn't I ask about the sketch! I even own a Donato sketch, so in my subconscious I had to know it existed! I emailed straight away, and found I was only second in line. Not bad. The first person would have to pass. Fingers crossed.
That next week I saw Donato in person at the first ever Lightbox Expo in Pasadena, CA, and the person in front of me was still deciding. I stayed optimistic, and a few days later, got an email that the other person had passed. I decided on the spot that I would purchase it, and make arrangements to pick it up the next month at IX .
I still can't believe how it happened, but I'm so very glad I was able to add this piece of Magic history to my collection.
Wrapping Up
I hope you enjoyed this exploration of this fabled and fabricated relic and it's evolution through the sands of time and nearly two decades of Magic: the Gathering history.
I think Solemn Simulacrum is very much the nostalgia exemplar for Magic. Your favorite artwork version, the one you associate with the card and your go-to cardboard choice, is often the one that's close to when you started playing. For me, the original had always stood above the rest—Mirrodin was one of my first sets and played it in my Tooth and Nail decks of old—but after getting to know Donato Giancola and owning the original sketch for this newest version, that Solemn has become my artwork of choice.
Next time in the Mirror Gallery we're back on the Grand Art Tour train, looking at some of the absolute knockout works in two juxtaposed categories found in the upcoming Jumpstart release a few weeks away.
Stay tuned for that, be excellent to each other, and I'll see you next time. Thanks for reading.
Donny Caltrider has been playing Magic since 2002 and collecting original Magic art since 2017. He has an M.A. in Museum Studies from Johns Hopkins University and enjoys telling stories about art, objects, and the intersection of fantasy with real-life. You can find him on Twitter talking about #mtgart, museums, and other #vorthos related goodness. Follow along and continue the conversation!