We're excited to introduce a brand new series on Hipsters of the Coast: Cosplay of the Multiverse. Zenaide Beckham joins the Hipsters team as our dedicated cosplay columnist, and we're delighted to welcome her to the team. 
With over a quarter of a century of Magic: the Gathering cards, books, art, computer games, and more it's no surprise to find the cosplay phenomenon present in the MTG community too. If you've been to a Magic Fest or searched #mtg on social media, there's a good chance you've seen cosplayers impersonating popular Planeswalkers and classic cards.
Do you know how many hours go into producing one cosplay? Do you know how to heat shape and seal EVA foam or how to sew wefts to a wig? Did you understand what you just read?
Cosplay of the Multiverse
Bringing characters to life demands not only oodles of creativity, but also a lot of practice and work. You'll utilize a wide range of expertise and details from costume design to special effects, from makeup to even live performance. I'm excited to highlight the efforts of talented individuals in the MTG cosplay community and bridge the cosplay jargon into everyday, relatable terms for the average player and collector. In this column you will find:
Interviews of your favorite Magic: the Gathering cosplayers

Break-downs of their costumes and props

Making-ofs and how-to guides

Behind the scenes preparations with plenty of tips and tricks
Whether you are looking to gain the confidence to cosplay or just enjoy admiring the amazing transformations which bring MtG to life, I'm here to give you a fresh inside perspective, full of a fabulous flair!
Zbexx
You'll most likely know me as "ZBexx" if you've seen images of my Cosplay. My name is Zenaide Beckham and I've been charismatically Cosplaying MtG since 2011, showcasing over twenty characters from the multiverse, including: Serra the Benevolent, Liliana of the Veil (Liliana Claus), and Serum Visions. I incorporate garment construction, embellishments such as sequins, rhinestones, LED lights and thermoplastics into each cosplay build to suit the character's aesthetic needs. Besides dazzling by dress-up I also show up with shining stage presence from my dance, theater and pageant backgrounds. I love playing the game Magic and you will often find me competing in the main event of whatever Grand Prix I attend.
Wanting to fit in and be a part of the culture while visiting my first Magic event is what initially inspired me to put my sewing skills to use. Back then I didn't even know "Cosplaying" as a technical term or title; I was just reproducing a role curated by illustrations from the nerdy game I love. Almost ten full years later I not only consider myself a cosplayer showing up in part at Magic Fests and my local game store's prereleases, but I also portray other characters from video games, TV shows, and movies, and do volunteer cosplay in my community.
Recognize Revelry
Now you know a little about me, let me refresh where you may have most recently seen me:
And one more clip for the night from #PTPhoenix.

Unfortunately, we cannot promise that no spinning wheels were unharmed in the making of this video. Sometimes, the Theros revelry has consequences (featuring @MissMariapants and @ZBexx). pic.twitter.com/r9YtLl5YGW

— Magic Esports (@MagicEsports) February 8, 2020
My most recent appearance I was seen reveling to music, dancing all day as Gallia of the Endless Dance at Magic Fest Phoenix. The day was full of fist pumps, high fives, and woo-girl whoops! As Maria Bartholdi from coverage recapped, "You embodied Gallia in look as well as spirit. No one could have knocked over a wheel quite as well!"
About the Cosplay
Gallia was not the new Theros cosplay I intended to bring to Phoenix. With my favorite guild being Selesnya and running a Tuvasa EDH deck, Calix, Destiny's Hand seemed like an autopick for my next cosplay. On my first trip to the fabric store I failed to find the materials I knew existed and left with only a small piece of fabric for a minimal detail. After a good night's rest I woke up with a fresh perspective, perhaps via a premonition from the Theros gods: what card did I share to my social media accounts immediately after it was spoiled?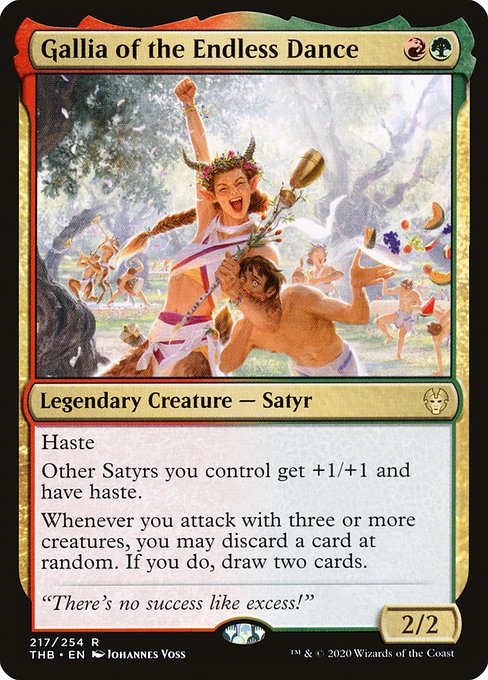 She's even a dancer, how fitting! With all due respect to the conclave, Gruul is my second favorite guild and fabric store trip number two with a new character in mind was a jackpot for my necessary pieces. It was Thursday night when I decided Gallia was a "Go" and I had materials in hand. I had through Monday night to complete this new cosplay. Fortunately, I work well under pressure and know the time frame most steps take which gave me the determination and drive to complete the full cosplay in just under 20 hours! 
Gallia Breakdown
Toga Wrap Top & Skirt—2 ½ hours
Used a serger (a sewing machine with 4 needles to loop thread around the edge of the fabric) to add the magenta trim and regular sewing machine to permanently fix the position of the strippings to look naturally folded.
Birch Branch with Goblet & Satyr Horns—2 hours
Can you believe the base for my birch branch is a leftover wrapping paper roll covered in thermoplastic scraps? I love recycling! I also painted the fake flowers found here to perfectly match the coloring in the card art by Johannes Voss.
Wig Styling & Flower Accessories—3 hours
Tip: Don't mirror your cosplay image while creating.
You may be disappointed in photos later if your cosplay is back to front! 
When I use a digital reference photo I will flip the image so that I may copy the details and not have them reversed in my finished project. If you look close even the pink flower on the middle-right-side of the crown pops up perfectly!
Satyr Pants with Tail & Large Calves—10 ½  hours
Faux Fur can be expensive and is much thicker and different than working with regular fabric. The material I was using had no stretch which is important to keep in mind for allowances.
Tips for Working with Faux Fur
Mark the direction of your fur on the back of your fabric, called the nap. This will help when cutting out pieces so the fur lays in the desired direction.

Use sharp scissors and small snips, cutting close to the fur backing.

Wear a mask. The little fibers you cut will get everywhere, even your lungs.

Use packing tape to remove loose pile after cutting or throw in a cool dryer for a couple minutes.

Clips > Pins

On a sewing machine use a zig-zag stitch and sew slowly.

Henson Stitch (yes, like Jim Henson and the muppets) is your best friend for hand stitching. There are lots of videos/articles about this technique!
Is That a Banana?
For me, leading a day in the life of Gallia was my favorite day of the whole weekend. When I first entered the hall I raised my staff above my head, made a strong stance at the front of the Command Zone and yelled, "Who's ready to party, IT'S FRIDAY!" and began gallivanting around the grounds. 
Yes, I made sure to have a banana on hand and put many in voluntary head locks!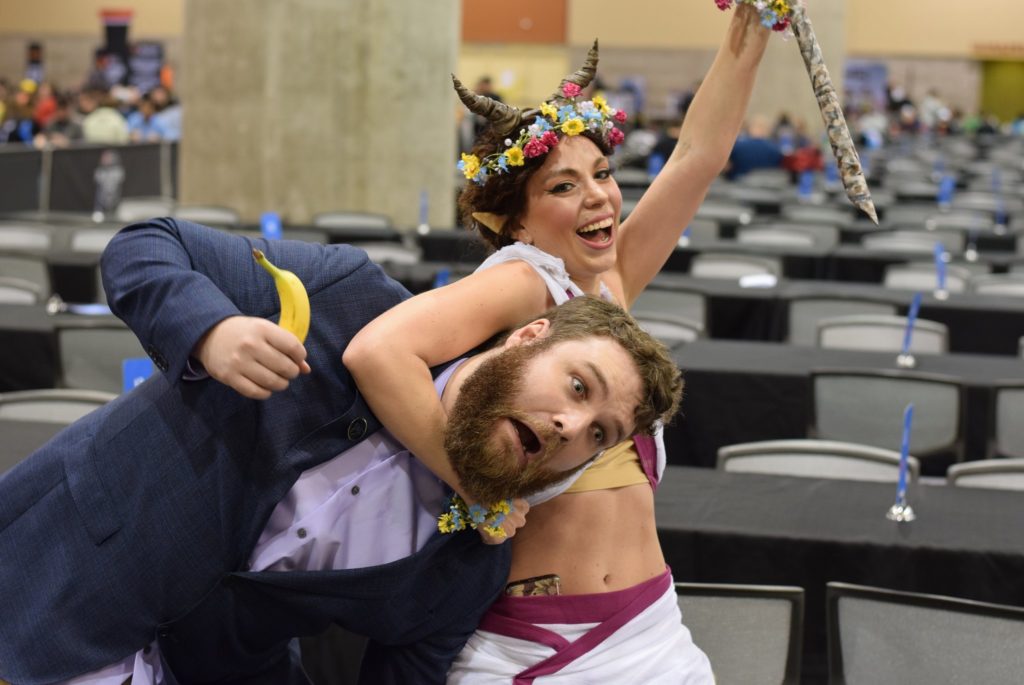 As Caleb Durward exclaimed to me, "Losing these dance contests really gets my goat".
It wasn't all 'Stomp the Yard' on the floor. I was also teaching vendors how to get groovy.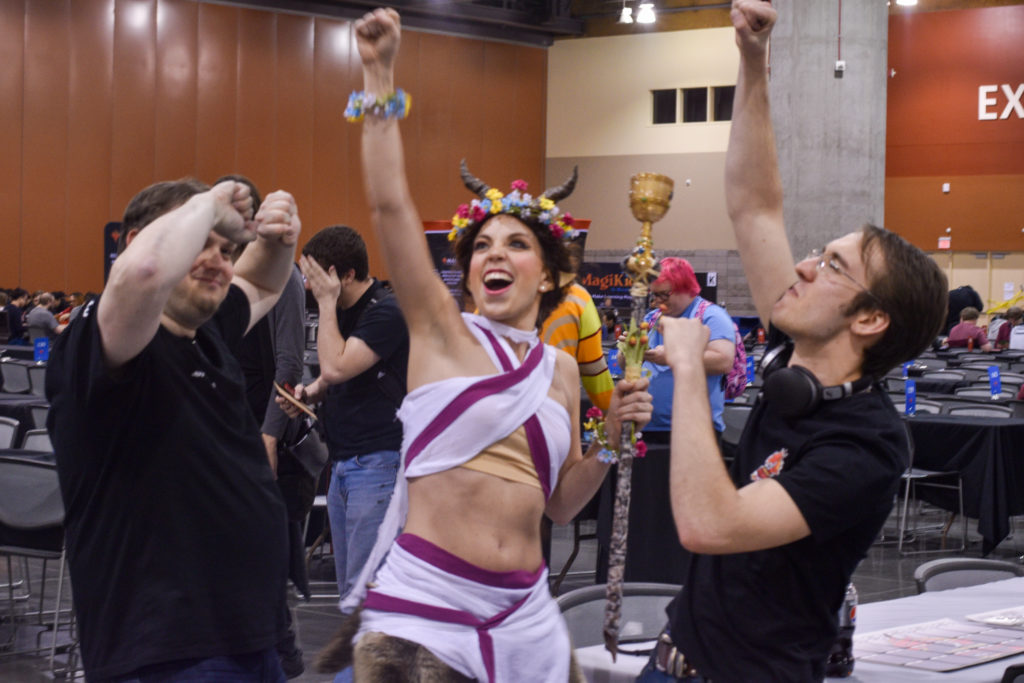 The dancing was infectious throughout the floor from vendors to players, and even judges! Emilien Wild said, "You made my day. Gallia is my favorite character from Theros Beyond Death and seeing her was a shocking surprise. I've always loved it when cosplayers don't just put clothes on, but let the character inhabit them and shape their behavior . . . you really were the Endless Dance."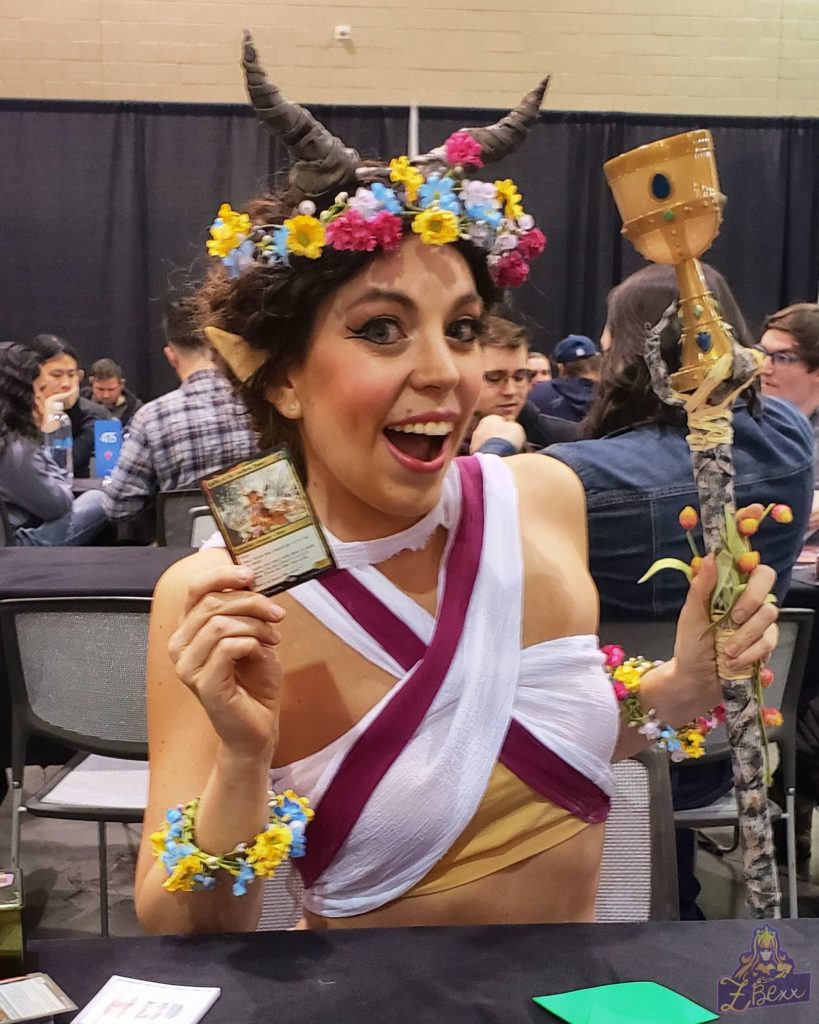 One last bonus for this boisterous satyr was following my cardinal rule, or more of a common-for-me-coincidence of "Cosplay the Card, Open the Card" by pulling Gallia in my Sealed Double Up!  You bet I played the card, my pool had on-color rares and satyrs to support! I could go on and on but the thing is I'm still dancing . . .

As you can see, there are many facets on the cosplay front to cover. The artists of cosplay combine so many different techniques and talents from constructing the costume to embodying the appropriate enigma while at an event. I look forward to sharing all the sensational cosplayers in the multiverse with you, and next up is someone who is very passionate about their favorite guild.
Let me know on Twitter what cosplayer you'd like to see featured next!
Zenaide "ZBexx" Beckham is an Oregon-based cosplayer, gamer, and MTG judge. Her favorite format is Legacy, because just like performing in dance or cosplay she gets to Show and Tell.