Blizzard has suspended Chung "Blitzchung" Ng Wai, a professional Hearthstone player from Hong Kong, for 12 months and stripped him of his prize money from Grandmasters Season 2 after he expressed support for the pro-democracy Hong Kong protests on a Taiwanese Hearthstone stream.
UPDATE (10/11/19): Blizzard has reduced Blitzchung's suspension to six months and awarded him his prize money. In a statement, Blizzard President J. Allen Brack said that, "In the tournament itself blitzchung *played* fair. We now believe he should receive his prizing." He also claimed that "[t]he specific views expressed by blitzchung were NOT a factor in the decision we made…our relationships in China had no influence on our decision." 
The suspension came in response to Blitzchung's interview on an official Taiwanese Hearthstone stream after defeating Jang "DawN" Hyun Jae, a South Korean Hearthstone pro, in a Hearthstone Grandmasters match on October 6. Blitzchung wore a mask during the interview—a reference to the masks worn by Hong Kong protesters—and shouted a popular protest slogan, "Liberate Hong Kong, revolution of our age!"
The casters who conducted the interview were also fired by Blizzard.
In today's statement, Blizzard says that Blitzchung's interview "violated the 2019 Hearthstone Grandmasters Official Competition Rules section 6.1 (o) and is individual behavior which does not represent Blizzard or Hearthstone Esports." Section 6.1 (o) states that, "Engaging in any act that, in Blizzard's sole discretion, brings you into public disrepute, offends a portion or group of the public, or otherwise damages Blizzard image will result in removal from Grandmasters and reduction of the player's prize total to $0 USD."
"Grandmasters is the highest tier of Hearthstone Esports," Blizzard continued, "and we take tournament rule violations very seriously. After an investigation, we are taking the necessary actions to prevent similar incidents from happening in the future."
Blizzard posted an additional statement on the Chinese microblogging site Weibo, saying, "We will, as always, resolutely safeguard [China's] dignity."
Blitzchung's suspension has caused an uproar in the Hearthstone community, causing the Blizzard subreddit to be locked, and has even reached far outside of the larger gaming community, resulting in statements from the likes of United States Senator Marco Rubio.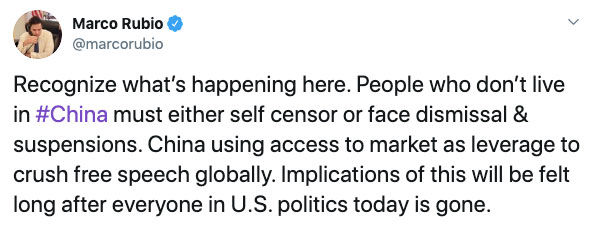 Bending to Chinese Pressure
Blitzchung's suspension is widely seen as a concession to pressure from the Chinese government and Chinese fans to limit support of the pro-democracy protests taking place in Hong Kong in order to maintain their access to the Chinese market. In addition to Hearthstone, Blizzard also makes World of Warcraft, both of which are very popular in China. Blizzard made $1 billion in Asian markets in 2018, which is over 13% of Blizzard's 2018 global revenue of $7.5 billion.
Blizzard's actions come on the heels of a similar decision by the NBA, which counts China as one of its biggest partners. Houston Rockets general manager Daryl Morey tweeted (and then deleted) a message in support of the protests last Friday, saying, "Fight for freedom, stand with Hong Kong," after which the Chinese Basketball Association, which is chaired by former Rocket player Yao Ming, criticized Morey for making "an inappropriate comment related to Hong Kong."
In response, the NBA distanced itself from Morey's statement and the NBA's chief communications officer Mike Bass said that "his tweet does not represent the Rockets or the NBA."
"We recognize that the views expressed by Houston Rockets General Manager Daryl Morey have deeply offended many of our friends and fans in China, which is regrettable," Bass continued. "We have great respect for the history and culture of China and hope that sports and the NBA can be used as a unifying force to bridge cultural divides and bring people together."
Magic and China
Magic: the Gathering has historically underperformed in China, which is the second-largest economy in the world—just behind the US. But in 2018, Wizards has started making an active effort to expand its presence in the Chinese market with China-specific products and a partnership with Tencent to distribute MTG Arena.
In May 2018, Wizards revealed the Global Series: Jiang Yanggu & Mu Yanling product, which were two Planeswalker Decks that "were created specifically to imbue Magic with Chinese mythology and culture, and also as on-ramps for players in the Chinese-speaking world." The cards in the two decks were also made Standard-legal in China.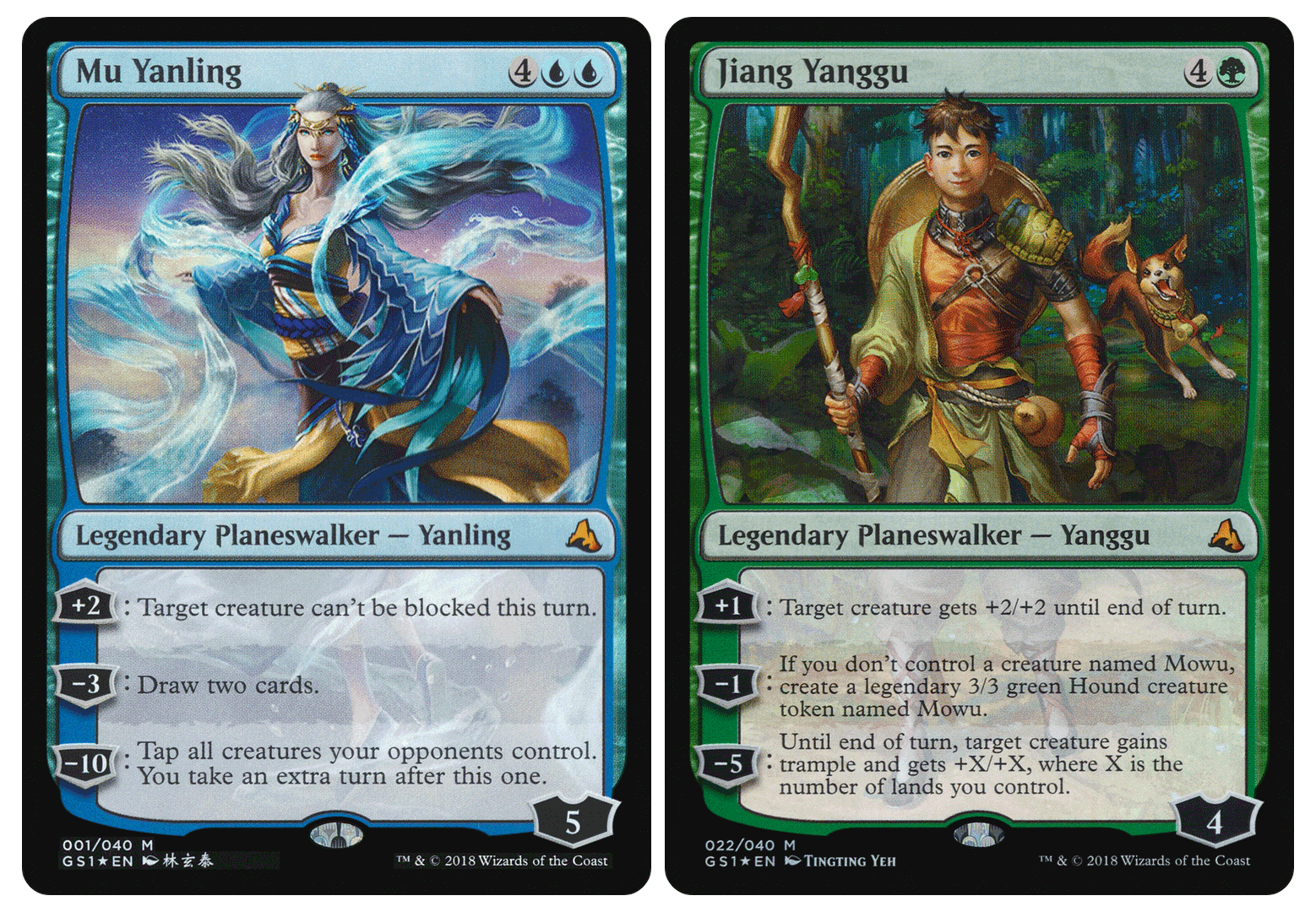 Previously, in April 2018, Wizards had announced that it was partnering with Tencent, the world's biggest investment corporation, to distribute MTG Arena and broadcast Magic in the Chinese market. The agreement also covered many other other countries in southeast Asia: Thailand, Vietnam, Indonesia, the Philippines, Malaysia, Singapore, Myanmar, Cambodia, Laos, and Brunei.
In addition to Magic, Tencent also owns the Asian broadcast rights for League of Legends.
Lee Shi Tian and the Hong Kong Protests
Like Blitzchung in Hearthstone, professional Magic also has prominent Hongkonger in its ranks: Lee Shi Tian. Lee is a member of the Magic Pro League and the Magic Hall of Fame, as well as an outspoken critic of the Chinese government and an active participant in Hong Kong's pro-democracy protests.
Lee is no stranger to protesting. In 2014, he Top 8'd Pro Tour Khans of Tarkir after participating in the "Umbrella Revolution" pro-democracy protests just weeks before the tournament.
Hong Kong is one of the censored topics in China, and both Blizzard's suspension of Blitzchung and the NBA distancing itself from one of its GM's comments supporting the protests appear to be an extension of that censorship by pressuring American companies to tamp down any such support.
Tencent is commonly understood to be subject to—and even participate in—censorship and surveillance by the Chinese government. Given Wizards' active desire to increase Magic's Chinese player base combined the partnership with Tencent to distribute MTG Arena in China, it's possible that Wizards and Hasbro could face pressure to punish players who support the Hong Kong protests. This cloud of censorship could hit the Magic community soon, but for now, there haven't been any hints of any such pressure.