Today, Wizards of the Coast revealed the divisions for the Magic Pro League Eldraine Split, which begins on September 30 with the Sapphire Division, whose Top 4 will be broadcast on October 5.
The Magic Pro League will then take a two-week break for Mythic Championship V, which runs from October 18-20, and return the following week with the Ruby Division, whose Top 4 will be broadcast on October 26. That will be followed by the Pearl Division broadcast on November 2, then another week off for Mythic Championship VI on November 8-10, with the Eldraine Split set to conclude on November 16 with the Emerald Division. The winner of each division will advance straight to Day 2 of Mythic Championship VII, which takes place from December 6-8, 2019.
The Eldraine Split will continue the changes made to the Magic Pro League for the Core Split in August. Splits have been reduced to four weeks from five, and each MPL division now plays its entire divisional schedule in its own dedicated week. That week will feature a round robin tournament in the first half of the week, and then a Top 4 double-elimination bracket that will be broadcast every Saturday on MPL Weekly.
But this split will introduce two new twists for the Top 4 brackets. First, players have to play the same deck for the round robin portion and Top 4 bracket. Second, if more than four players finish with 4-3 records or better, then the first through third seeds will be seeded by record and tiebreakers as usual, while the fourth seed will be determined by a play-in round among the remaining players, the winner of which will be the fourth seed in the Top 4 bracket.
The Eldraine Split is the final split in the 2019 Magic Pro League Season, after which the MPL will be reduced to 24 players from its original 32 and play a shortened 2020 season. At the end of the 2019 season, which includes Mythic Championship VII, the Top 20 players in the MPL will remain in the league for its shortened 2020 season, where they will be joined by the Top 4 Challengers from 2019. The bottom 12 players will be relegated to the Magic Rivals League, which will act as a sort of a minor league for the Magic Pro League.
The 2020 Magic Rivals League will feature 32 players, including the bottom 12 players from the 2019 Magic Pro League season, vying for a chance to be promoted to the Magic Pro League. You can find a more detailed look at the new Magic Pro League, Magic Rivals League, and MPL Gauntlet in our coverage of the announcement.
The Eldraine Split Divisions
Sapphire

"Magic Hall of Fame-elect, and tied for first place in MPL season standings, Reid Duke leads off the Sapphire Division for Eldraine Split. Rei Sato, Spark Split division winner, was knocked out of the Core Split playoff by Duke and it's a rematch we could see. Piotr Głogowski, Martin Jůza, Alexander Hayne, John Rolf, and Lucas Esper Berthoud are here as well, vying to move out of the middle of the MPL pack. Rounding out the division is Jessica Estephan who can make up for a slow start to the year here with a strong finish."
Ruby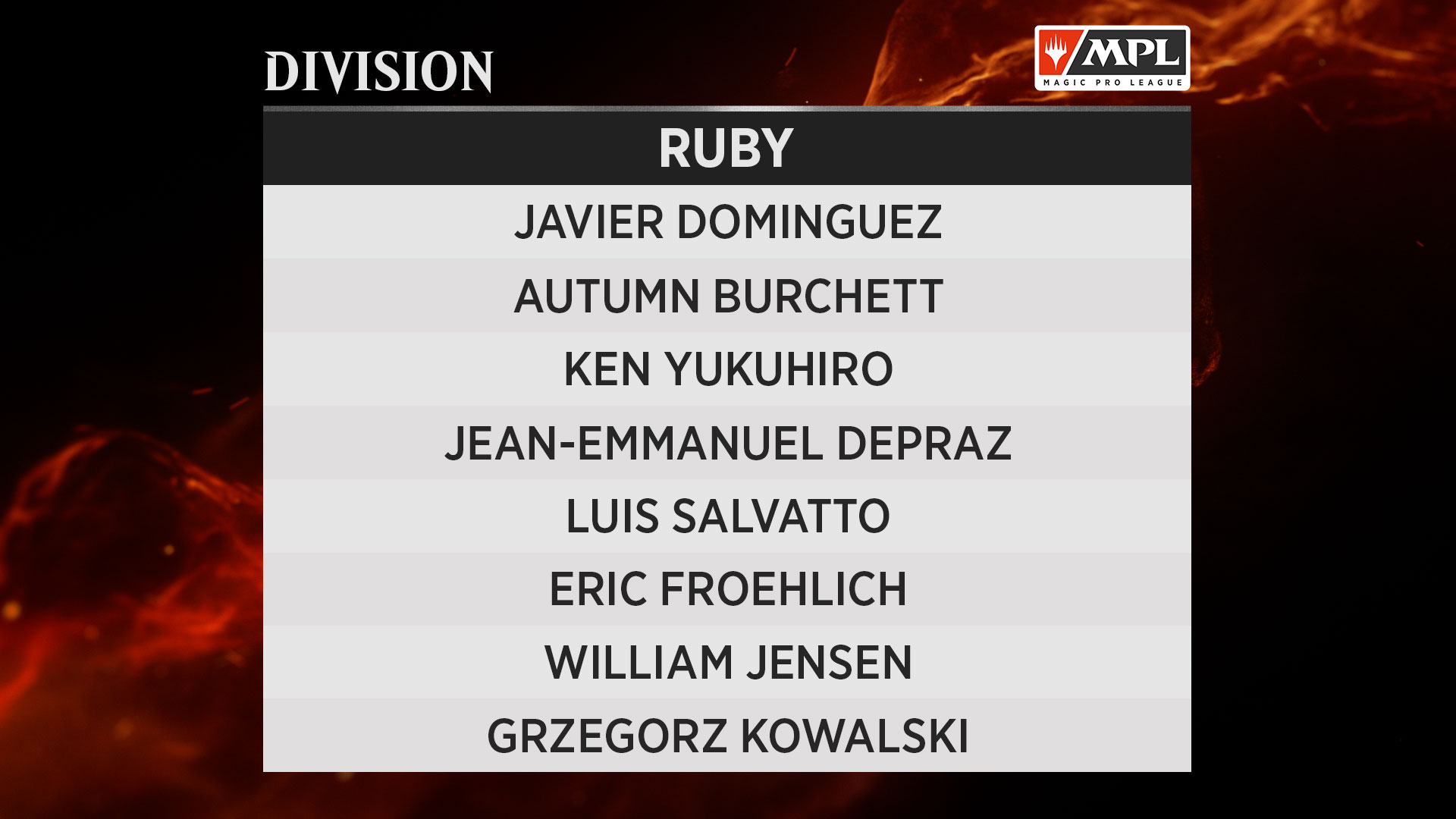 "2018 World Champion Javier Dominguez and Mythic Championship I winner Autumn Burchett headline the Ruby Division for Eldraine Split. Joining them are a division winner from Spark Split, Ken Yukuhiro, as well as Luis Salvatto and William Jensen. Salvatto is looking to make up lost ground within a tough division rounded out by Jean Emmanuel-Depraz, Eric Froehlich and Grzegorz Kowalski who are all ahead of Salvatto in Mythic Points."
Pearl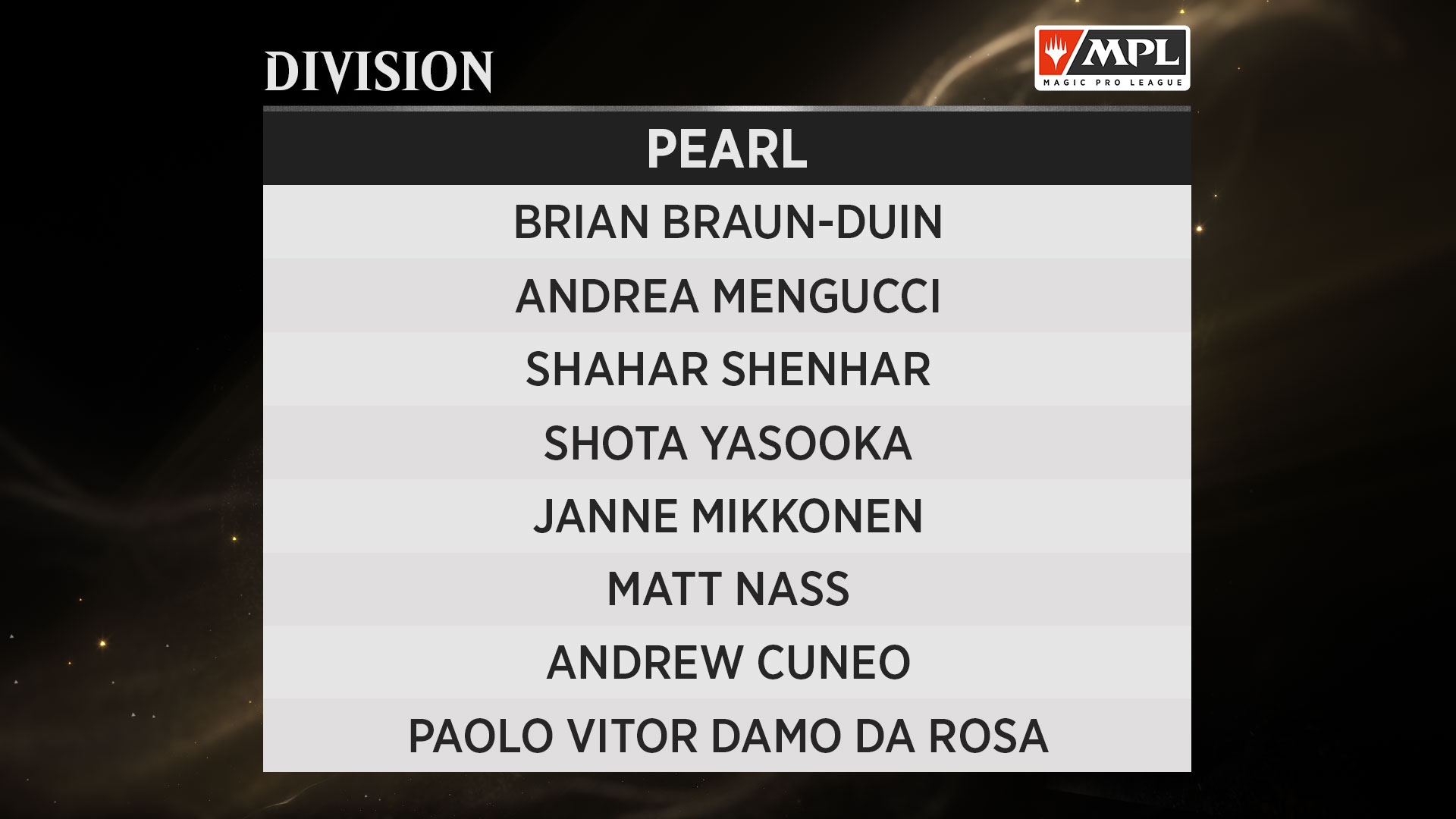 "Brain Braun-Duin, tied for the top of the MPL season standings with excellent league and Mythic Championship performances with a Spark Split division win to boot, leads a formidable Pearl Division in Eldraine Split. Andrea Mengucci and Shahar Shenhar are here as well with Shota Yasooka and Paulo Vitor Damo da Rosa adding to the Murders' Row of players. Janne "Savjz" Mikkonen, Matthew Nass, and Andrew Cuneo round out the division, each hunting for points in the final stretch."
Emerald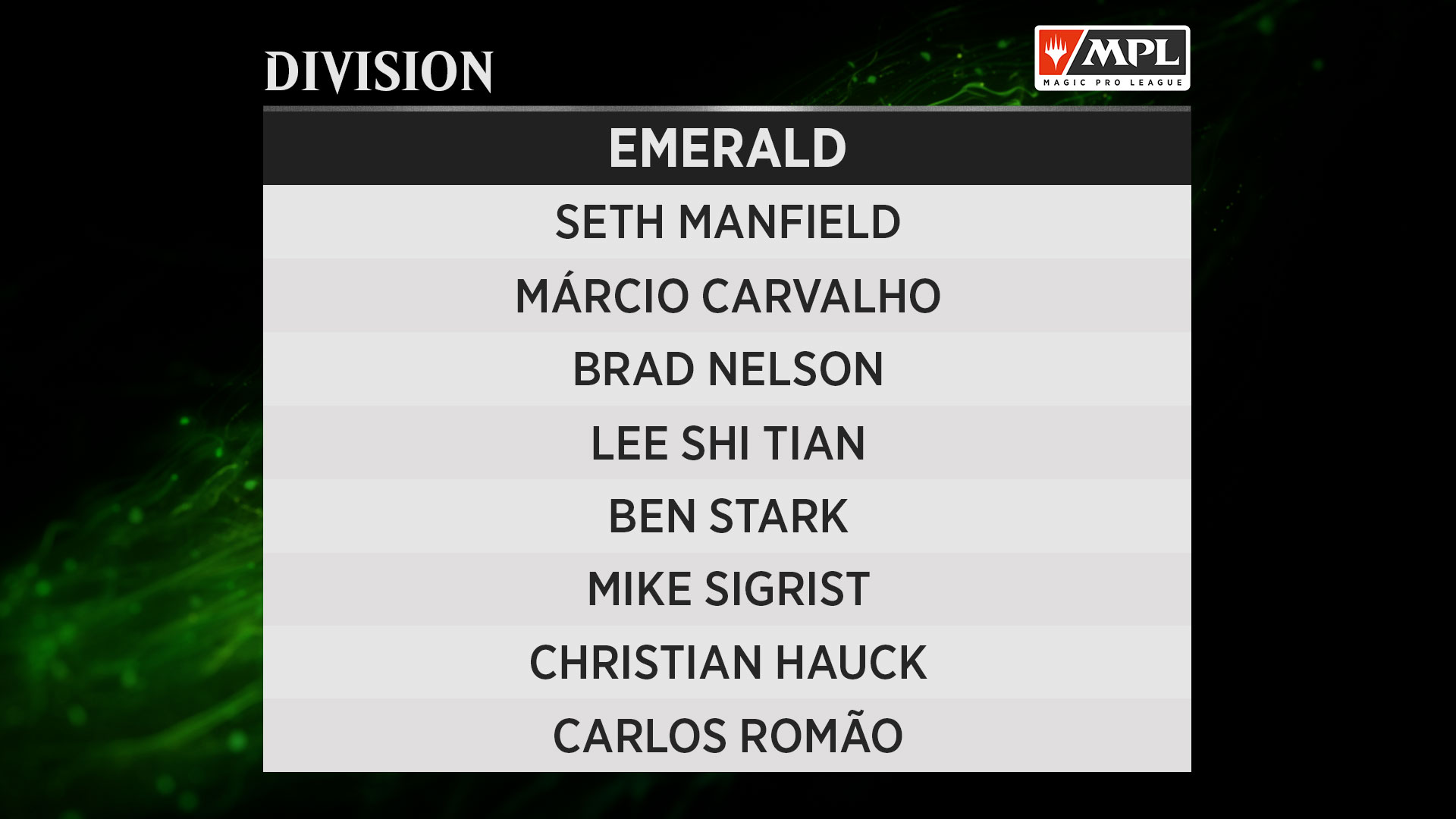 "The Emerald Division for Eldraine Split is packed with previous split winners: Seth Manfield, Ben Stark, Carlos Romão, and Lee Shi Tian were all Core Split winners, and Brad Nelson picked up a division win in Spark Split. Márcio Carvalho is tied for fourth in MPL standings with Manfield, and therefore race to the World Championship, but both Christian Hauck and Mike Sigrist round out a division where everyone is eager to move the needle on their standings."