Mythic Championship III kicks off this Friday in Las Vegas, Nevada. Here's everything you need to know about the first MTG Arena Mythic Championship.
This is an excerpt from this week's Hipsters Weekly MTG Newsletter. Every Monday, we tell you know what you need to know about the week's most important Magic news. Subscribe here! And don't forget to join our Mythic Championship III fantasy leagues over on Thousand Leagues!
The Event
Mythic Championship III Las Vegas starts on Friday, June 21 at 8 AM local time (11 AM Eastern) and will end on Sunday, June 23. The tournament will take place at the Mandalay Bay Convention Center and will be streamed live on twitch.tv/magic.
The winner of the Mythic Championship will take home $100,000, while second place will be awarded $50,000, third place $40,000, and fourth place $20,000. Players that finish in the Top 16 will receive $12,500 and the tournament will pay $7,500 to anyone placing lower than 16th.
The Players
68 players are invited to Mythic Championship II London, including the entire Magic Pro League and the 16 discretionary invitees.
The 16 discretionary invites were given to players that span many different categories. They include three Hall of Famers (LSV, Kai Budde, Raphael Levy), successful Magic pros (Wyatt Darby, Ondrej Strasky, Noah Walker), prominent community members (Emma Handy, Teresa Pho, Nhi Pham), streamers (Amazonian, AnnaMae, MuffinPastryPie, NessaMeowMeow, Bloody), and popular Hearthstone streamers that have made the jump to MTG Arena (Sjow, Amaz).
32 of the invites went to the 32 players in the Magic Pro League, including new additions Jessica Estephan, Janne "Savjz" Mikkonen, who will be playing their first major event as members of MPL. 16 invites went to the Top 16 of the Mythic Championship Qualifier Weekend on May 25–26, and the final four remaining invites went to the three winners of Pro Tour 25th Anniversary—Allen Wu, Ben Hull, and Gregory Orange—and the winner of Pro Tour Guilds of Ravnica, Andrew Elenbogen.
The Format
Mythic Championship III will feature Best-of-Three Standard Constructed throughout the tournament. Day 1 will be eight rounds of swiss pairings, with players either advancing to Day 2/the Top 16 after reaching six wins or being eliminated after four losses. 12 players will advance to Day 2, where they will be joined by the four Magic Pro League division winners, and will compete in 16-player double-elimination bracket, with four players advancing to the Top 4 on Day 3, which will be a four-player double-elimination bracket.
The decision to use a traditional format—Best-of-3—for Mythic Championship III will be a relief to many after the use of "Duo Standard" at the Mythic Invitational in March. Duo Standard was widely panned by players and fans and was one of the few negatives about an otherwise excellent tournament.
The Commentary Team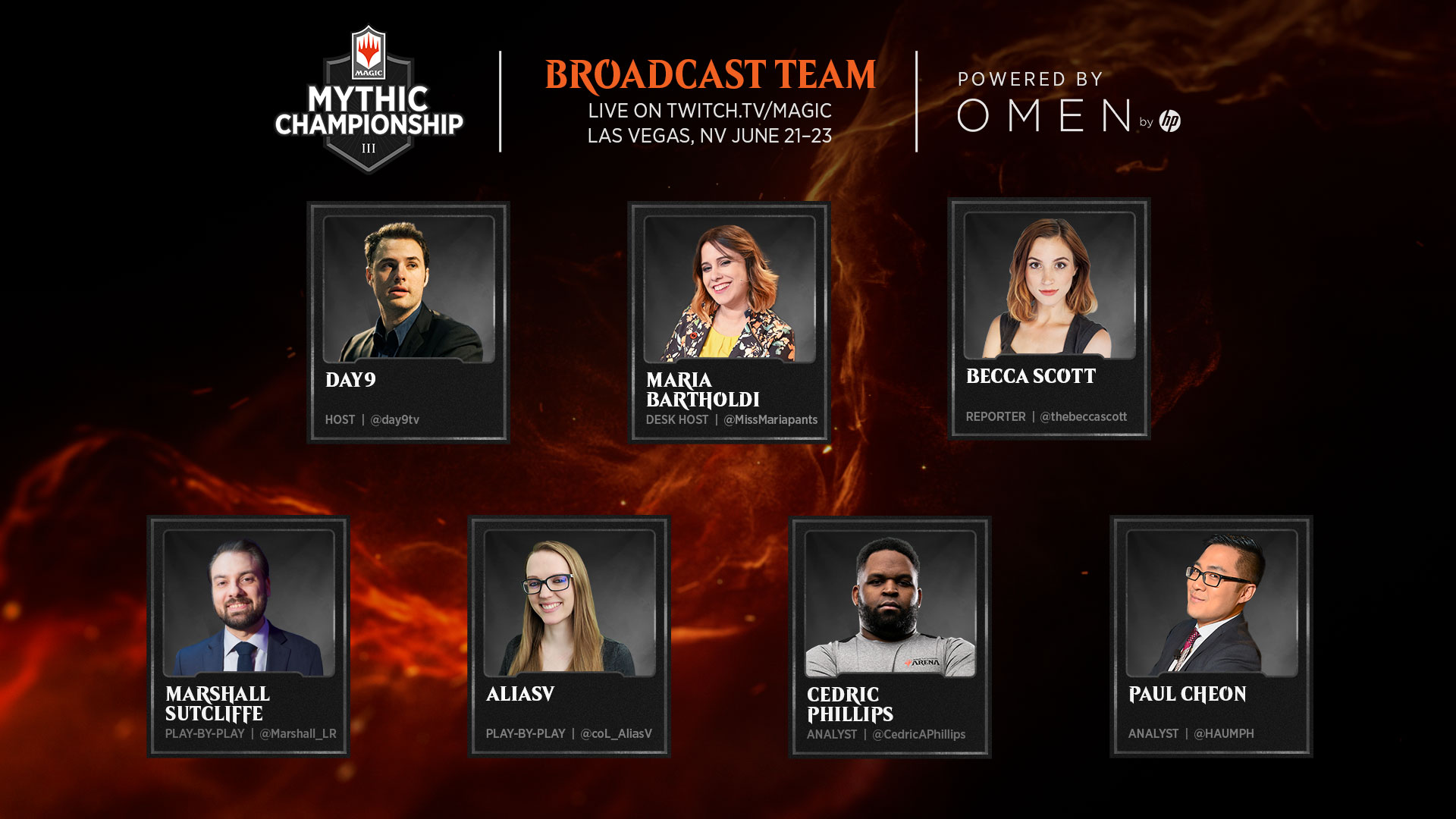 Day9, Becca Scott, AliasV, Marshall Sutcliffe, and Paul Cheon return to their roles from the Mythic Invitational for Mythic Championship III. Maria Bartholdi, a mainstay of the tabletop Magic coverage team, will make her MTG Arena coverage debuts, as will Cedric Phillips, who is a commentator for Star City Games.
The Fantasy Leagues
As usual, we're running plenty of Mythic Championship fantasy leagues over on Thousand Leagues! You can enter one of our public leagues for the chance to win a Guilds of Ravnica Mythic Edition or some sweet Hipsters gear—or you can start your own league and invite your friends!