Late in the evening on May 7th, 2019, the original painting for Richard Kane Ferguson's Blackblade Reforged from Gideon's Signature Spellbook was sold on the MTG Art Market for $8,000. It is Ferguson's first Magic illustration in ten years.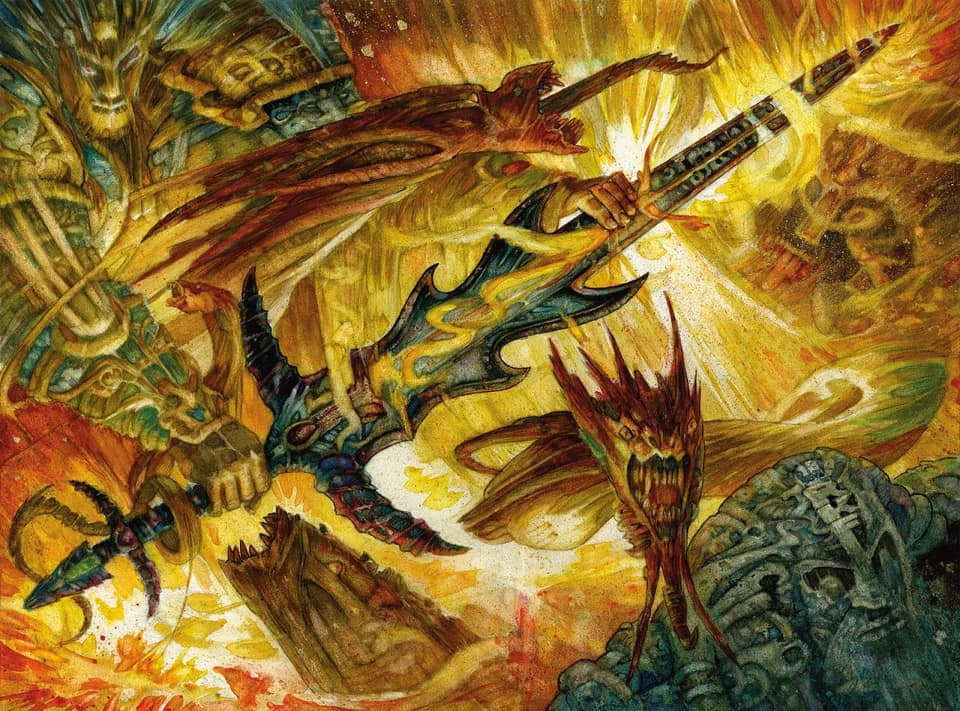 The Facts
Blackblade Reforged by Richard Kane Ferguson is a work of watercolor, acrylic, and ink on 500-series archival Strathmore Bristol paper. The painting itself measures 13.75 inches by 10.25 inches, created on an area 22.5 inches by 14.5 inches. It is RKF's third illustration related to the Blackblade, as the artist has previously illustrated Dakkon Blackblade for the Legends expansion and a promotional version of Future Sight's and Korlash, Heir to Blackblade. It is his 66th card illustration for Magic, and his first since 2008's Eventide expansion.
This card was commissioned for the recent Signature Spellbook: Gideon supplemental product, a group of flavorful cards to commemorate the life and death of Gideon Jura, a hero of the multiverse and casualty of the War of the Spark on Ravnica.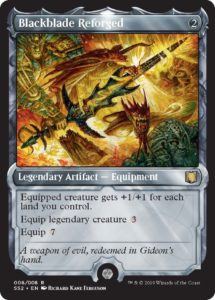 The Hammer
The cards for Signature Spellbook: Gideon were shown on the second to last day of War of the Spark preview season and no one was quite ready for what they were going to see. With the reveal of this new Blackblade Reforged, Mark Aronowitz, agent for the artist, took to the MTG Art Market to let everyone know that a two-week auction would be forthcoming. The sale began the following Tuesday on April 23rd, and ran concurrently with three preliminary pieces also related to the final work.
The auction for the final painting opened at $2,500, and moved quickly to $5,500 by the end of the first day, less than twelve hours after it began. From this point forward all bids were placed privately, and the price moved to $6,500 after another day of bidding. The painting plateaued here until the final half hour; remember, for a majority of auctions it's the first 24 hours and last 24 minutes that are most important, and this was certainly true here. A handful of further advances landed the painting at its final selling price of $8,000, sealing an impressive return for the longtime Magic artist.
There were also three associated preliminary pieces all sold on the same night, and their prices realized are as follows: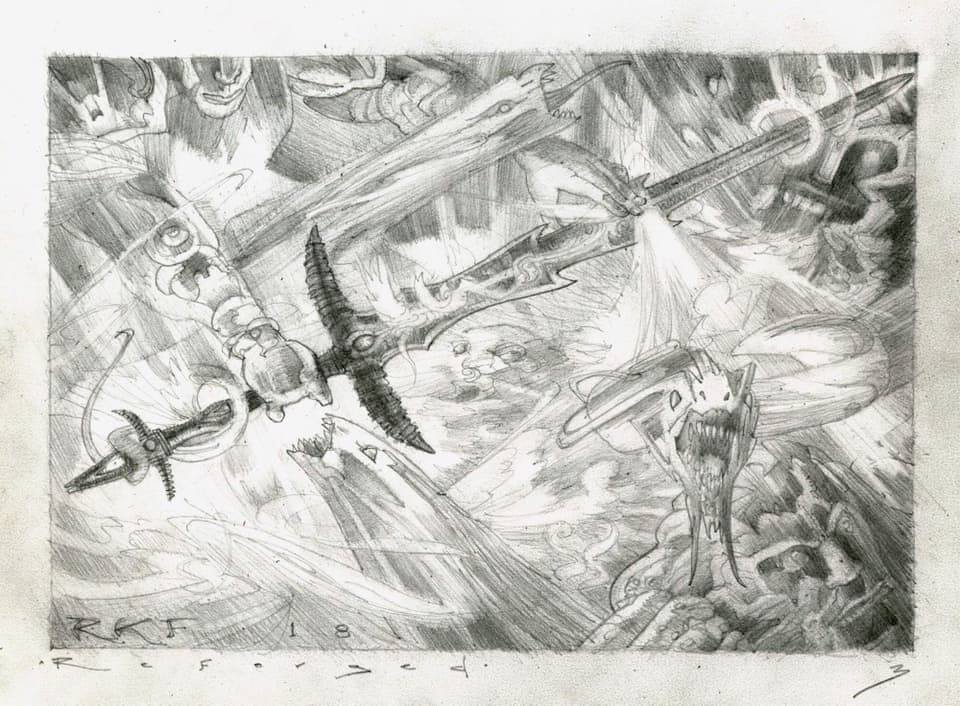 Final concept sketch for Blackblade Reforged by Richard Kane Ferguson, graphite on 500 series Bristol paper, 10.5" x 7.75", SOLD for $525.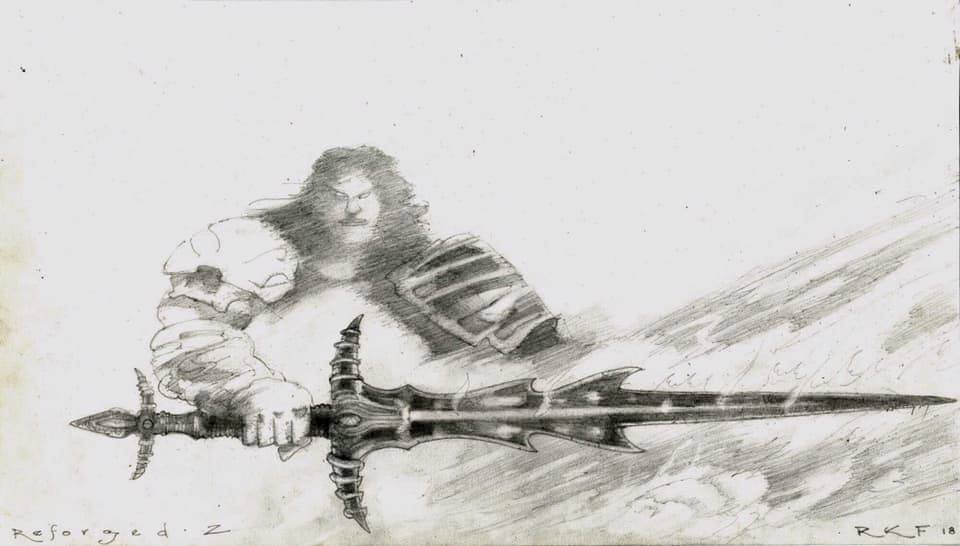 Study sketch for Blackblade Reforged by Richard Kane Ferguson, graphite on 500 series Bristol paper, 15" x 9", SOLD for $325.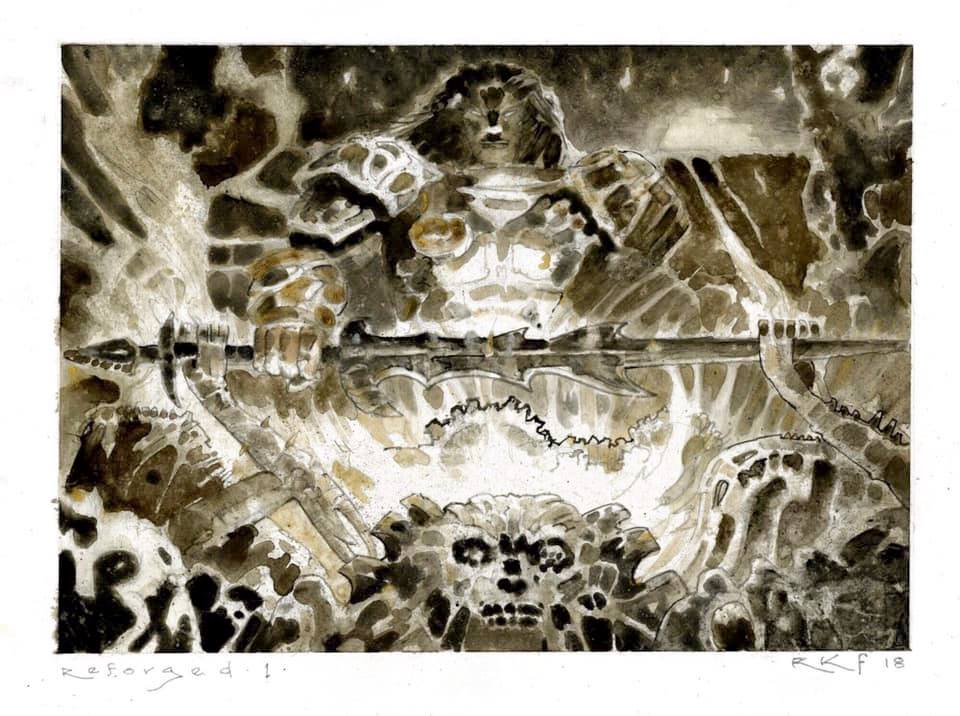 Concept painting, Gideon Forging the Blackblade, watercolor, acrylic and ink.on 500 series Bristol paper, 10.75" x 7.75", SOLD for $1,025.
The Art
The Blackblade has been a part of Magic since its earliest days, and Wizards of the Coast Senior Game Designer Ethan Fleischer took us through a visual journey of the artifact on Twitter. Let's look at where it started to see how we got here:
In 1994, Richard Kane Ferguson illustrated Dakkon Blackblade alongside nine other multicolored legendary creatures as his first commissions for Magic.
In 2007, Korlash, Heir to Blackblade now carried the sword, and was illustrated by Daarken.
Ferguson was also commissioned to do a promotional version or Korlash; he had now illustrated both carriers of the Blackblade.
The sword returned to the story in Dominaria as an artifact of its own, illustrated by Chris Rahn.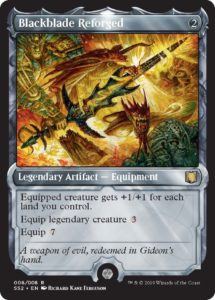 And now Blackblade Reforged has returned for a final time in the swan song set of its last owner, once again illustrated by Richard Kane Ferguson, the man responsible for its visual genesis.
It's on rare occasion when something like this happens, having a Magic artist that had long ago left illustrating for the game return to reprise an old illustration. Richard Kane Ferguson is a legend of the Old Guard of Magic artists, and to bring him back to illustrate a signature card adjacent to his artistic past is a flavor home run. The response to this commission was resounding, and I think we'll see things like this continue. When cards and characters from Magic's past are recalled to the present, bringing their original artists with them is just wonderful to see.
Bravo Wizards—we're ready for the next one!