Now that the big Modern tournaments have passed, let's shift away from competitive Modern to focus on a very different topic. What are the best ways for newer players to enter the format? Modern can be intimidating on first impression. There are so many options, spanning more than a decade of cards, with new ones being added all the time.
This week I offer a crash-course for entering Modern. We'll look at some budget-friendly options that can be competitive at Friday Night Magic, which can be upgraded into established strategies down the road. I'm looking at this from the perspective of a Standard player wanting to enter Modern. That's the most common scenario I see from players, so there will be plenty of focus on Standard in this piece.
Do you want to play Modern?
This is your first question. Do you want to play Modern? The format has many attractive qualities: cards don't rotate out of the format, the metagame is diverse, and you can mostly play whatever kind of deck you like. In addition, the upcoming new supplemental product Modern Horizons will inject new and exciting cards into the format.
Not only that, we're currently in a phase where Standard has a variety of powerful cards and archetypes that translate well to Modern. That means the gap from Standard to Modern is shorter than usual. It's an excellent time to make the jump.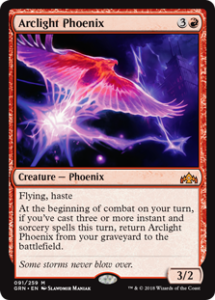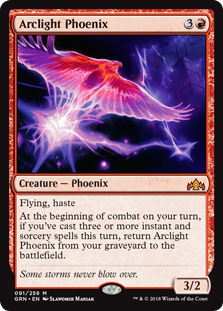 For all the positives, there are negatives too. The biggest criticism of the format is its price tag. A top-tier Modern deck can cost upwards of $600-$1000 to assemble, while Standard decks tend to be half that price. It's easy to get discouraged by this, but you can build your collection over time. If you are genuinely committed to playing Modern, you will play the format despite not owning expensive cards. And by building over time, you can take advantage of price fluctuations or timely reprints to get better deals on the most expensive cards.
In fact, playing Modern should be your priority instead of over-committing on an expensive deck you might not enjoy. Modern rewards format knowledge and experience. You have to build that knowledge over time. Playing as much of the format as possible will benefit you long-term, even if you are playing a cheap deck instead of your dream archetype.
Find your archetype.
Once you've identified that you want to play Modern, the most challenging aspect of Magic is finding a strategy you enjoy, and this remains true for Modern. It will take time, effort, and maybe some financial support before you settle on an archetype or deck you are happy to play. You should have a rough idea of what you enjoy through other formats such as Standard, which will make the process easier.
When I first entered into Modern it took me roughly six months before I figured out a strategy I thoroughly enjoyed playing. I went from a Boros Aggro brew to a higher-tier strategy in Jund Burn, and then settled on Eldrazi Tron.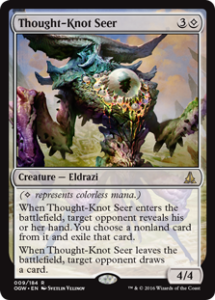 The defining factor for me was the head start I got from Standard. Not only did I enjoy Tron strategies, I also was playing Oath of the Gatewatch Standard at the time. This meant I could use my Standard-legal cards to start building Eldrazi Tron, because Thought-Knot Seer and friends were new cards at the time. I saved money and time building the core of my deck, plus I enjoyed playing these cards in Standard and already knew what they could do.
I highly recommend starting with a Standard deck and improving it towards Modern application over time. Your cards go further and your initial investment isn't as substantial if you find out that Modern isn't for you.
Build a deck.
As I mentioned earlier, Standard offers some powerful strategies on a budget that make fantastic starting points to jump into Modern. As an example, Mono-Red is a popular recurring Standard archetype, and one that also tends to be less expensive to acquire. We can use the core of Standard Mono-Red and upgrade it into Mono-Red Burn for roughly $100. If you are playing Mono-Red in Standard, this a great route to go down and gives you plenty of options in the future.
Budget Mono-Red
I created this list when I wrote about Modern Burn following Ravnica Allegiance's release, and still maintain it's a great starting point if you want a budget option in Modern. There are two routes you can take with this list. You can remain in Mono-Red and go into Mono-Red Phoenix, which is a competitive and powerful strategy which still uses Standard-legal cards. Alternatively, you can expand into White and go into Boros Burn, which is one of the more established strategies but requires more expensive upgrades in the future.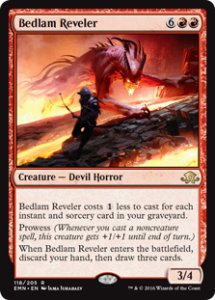 I recommend going into Mono-Red Pheonix to begin with, as it's still budget in comparison to the other established decks in the format. The deck will cost you about $300, and if you already have Arclight Phoenixes it becomes even cheaper.
Mono-Red Phoenix
Although we're adding more creatures to the mix, the win condition remains the same. Mono-Red Phoenix uses the same core as the Mono-Red Burn but allows a different axis of attack recurring Arclight Phoenix plus Bedlam Reveler for value. Cards such as Manamorphose are powerful but aren't essential. You can easily run Flame Slash, Lightning Axe or another Forked Bolt to fill out your cheap spell count.
Mono-Red Phoenix is a powerful deck which is cheap enough to build over time. If you want to continue down this path you can upgrade this into Izzet Phoenix which is one of the more premier decks on offer currently. Due to Izzet Phoenix's popularity, the deck has become incredibly expensive—mostly due to Scalding Tarn and Surgical Extraction. But you can build a budget version with Shivan Reef, Sulfur Falls, and Gut Shot instead.
Alternatively, if you play white-based aggressive decks in Standard then this list from GP Sao Paulo may interest you. Wendell Santini created a low-to-the-ground Mono-White Tokens strategy, which earned him a Day Two at the Grand Prix back in April. This deck is under $150.
Mono-White Tokens, by Wendell Santini
The deck adopts similar strategies from Azorius or Mono-White Aggro in Standard. By incorporating cards such as Conclave Tribunal and Venerated Loxodon, you tap into the powerful Convoke mechanic seen on Modern staple Chord of Calling.
You can make this list even more affordable by cutting Karn, Scion of Urza and adding two more Gideon, Ally of Zendikar for additional token generation. Path to Exile is one of the best removal spells in Modern, and I highly recommend running a set if possible. If you can't get Paths, Oust and Dismember are perfectly fine substitutes.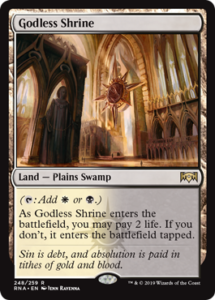 Once again you can follow a few different routes with this list. You can upgrade on this build or evolve this into Souls Sisters, a similar strategy that also gains a lot of life. Let's go with the former and focus on upgrading the current budget list.
Budget Mono-White Tokens
The main focus is the sideboard, where Rest in Peace and Stony Silence do a massive amount of work in the format. Teyo, the Shieldmage is an excellent budget alternative to Leyline of Sanctity that also helps fend off aggressive matchups.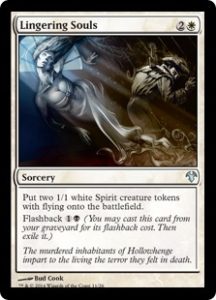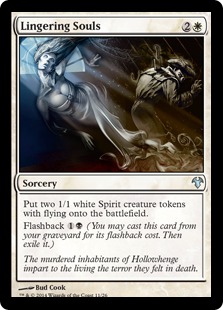 Lingering Souls replaces Servo Exhibition. You need some lands that produce black mana to use flashback, so Isolated Chapel and Godless Shrine join the deck. The objective remains the same: go wide and be aggressive. But now you now have additional tools to deal with the threats the format has to offer. This list comes to around $250 and should be treated as a guide—tune it to your preferences.
Modern is a broad and deep format that may seem terrifying at first. But once you find a strategy you enjoy, it's a lot of fun. Standard currently offers a number of affordable entrance points to viable budget Modern decks. Although you may not have the most expensive or most powerful deck, learning is part of the process—the most enjoyable part in my opinion. I'm excited to see what Modern Horizons will bring as I expect more budget friendly lists to come to fruition, and I can't wait to get brewing!
Emma is a writer and Modern enthusiast based in Suffolk, England. She has been involved in Magic since Khans of Tarkir's release back in 2014, but won't shy away from Cube and MTG Arena. Follow her on Twitter @emmmzyne to join in on the conversation!