On February 21, 2019, Magic: the Gathering artist Seb McKinnon announced his Magic Kickstarter Round 2, a second exclusive opportunity for players and collectors to acquire his art as a playmat, print, Artist Proof card, or 1/1 giclée canvas.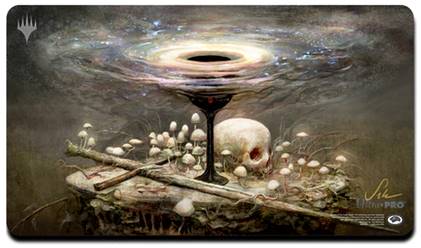 About the Kickstarter
Seb's new Kickstarter begins where his first campaign ended. His first campaign launched in May 2018 and raised $395,648 CAD, or approximately $298,971 USD from 3,450 backers. It made 14 of his most popular past Magic artworks available as either prints or playmats, with the caveat being that this would be the only time these works would ever be available and printed as such. All proceeds would head directly to the creation of his first feature length film currently in development. The Magic community did not sleep on this unique opportunity, and it was a resounding triumph.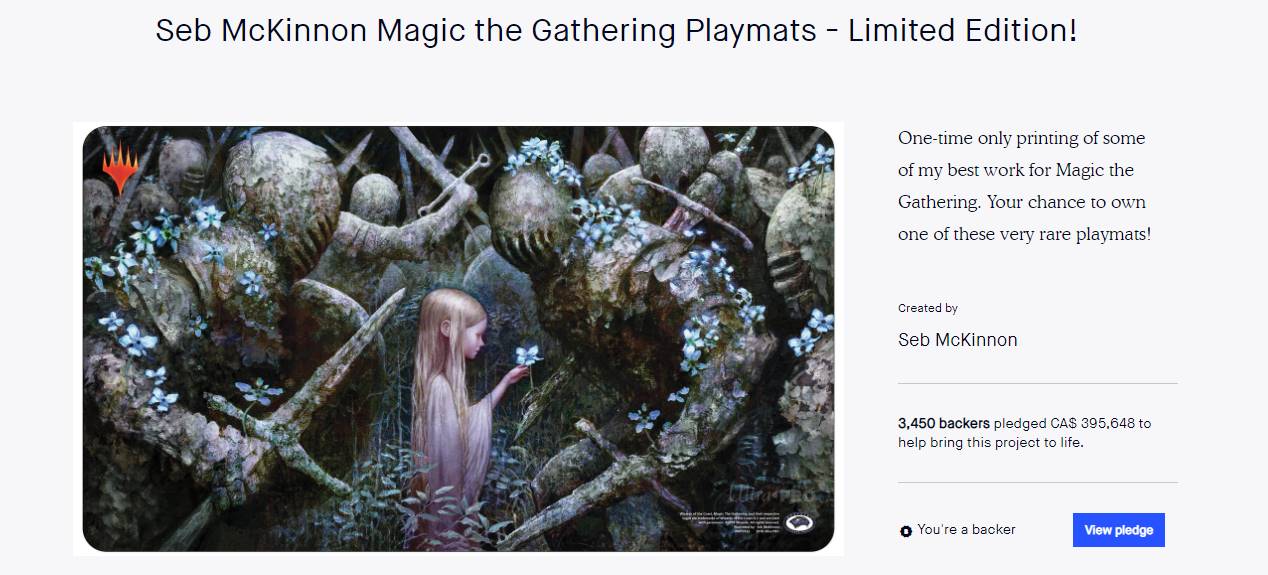 After the exceptional reception of his pieces from Ravnica Allegiance, players and collectors continued to ask about a Kickstarter reprise, and Round 2 was born in order to feature some of his latest illustrations. Just as with his first offering, each playmat or print features exclusive extended artwork beyond the traditional borders as it appeared on the card, and will be the only time these are printed and offered: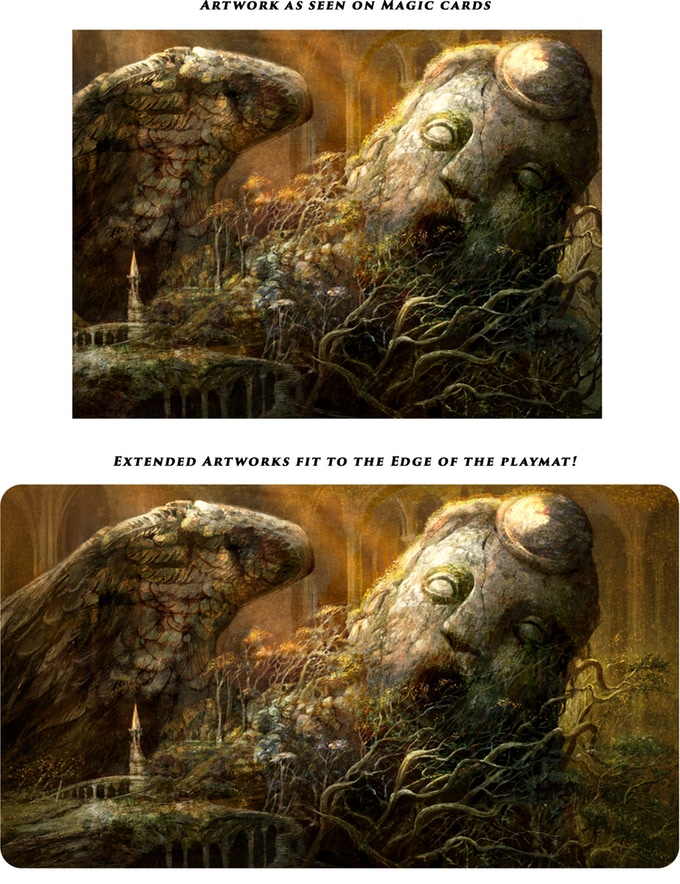 Kickstarter Round 2 begins with 4 unlocked, extended options for prints and playmats:

There are also some fresh opportunities with this new Kickstarter, including prints from his KIN Fables art, as well as The Grand Patron Collector's Package for select pieces of Magic work: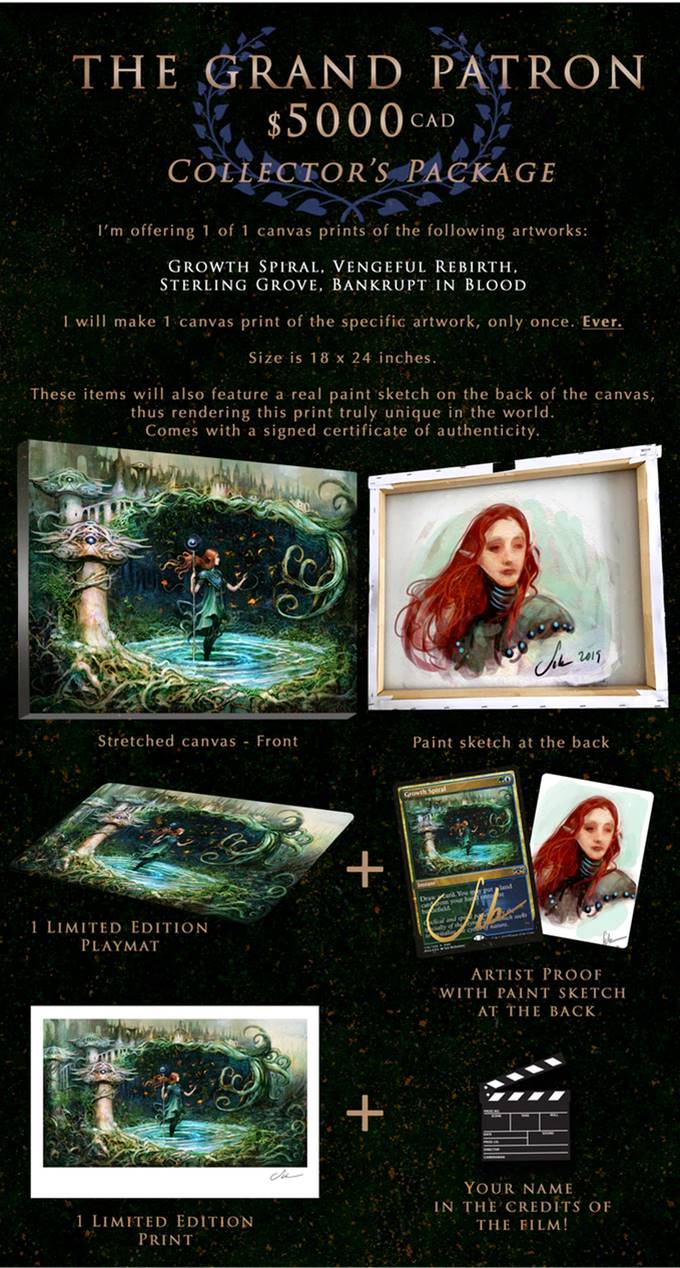 For $5,000 CAD (or about $3,797 USD), a backer could receive everything Seb can create related to one of four artworks. The package includes a 1/1 giclée canvas with painted sketch on reverse, playmat, print, and painted foil artist proof card. In fact, this Growth Spiral package as pictured was claimed within about an hour of the campaign's launch, and the corresponding package for Bankrupt in Blood was reserved over the weekend.
These packages are no doubt partially inspired by the recent successful sale of McKinnon's Bedevil suite on the MTG Art Market. The artist auctioned a collection of art including the original pencil and gouache sketch (16" x 20"), and similar to these packages a 1/1 archival quality giclée on canvas with color sketch (18" x 24") on reverse, and a fully painted foil artist proof. The Bedevil group realized an astounding final price of $5,600 and captured the attention of collectors, and these Grand Patron tiers seek to follow in those record-setting footsteps.
Interest in Kickstarter Round 2 was fast and furious just as with his first venture, and in about two hours the new enterprise would be fully funded. Before day's end, over 1,000 backers had joined the cause and pushed the amount past the first and second stretch goals of $100,000 CAD and $150,000 CAD, unlocking the Vengeful Rebirth and Chalice of the Void artworks. By the end of the weekend, the total had surpassed $225,000 CAD and unlocked another two designs to be voted on by current backers. There is no way to know just how far this one will go, but it's certain Magic fans are fully invested in supporting McKinnon's art.
About the Film
Away from the brush, Seb's passion lies in filmmaking. Just as with his first Kickstarter, all proceeds from this campaign are going to fund his first feature length film, KIN Fables: The Stolen Child. Seb has been building the world of KIN Fables for the last six years, and is getting ever closer to making a full feature film a reality. Each mat and print brings the artist one step closer to realizing his dream. As Seb said in his introduction video, "This is art, supporting and creating, more art."
From everything he has released thus far, the film looks nothing short of incredible. Take a look at this teaser for the movie, shot in 2018:
Wrapping Up
I asked Seb what all this, from the Kickstarter support to the incredible interest in his originals and canvases, meant to him as an artist and filmmaker. He said:
"It's simply wonderful. When I really stop and think about what's happening here, I'm just in awe. The MtG community is funding a fantasy film to be directed/produced by an MtG artist. There was zero financial support for this movie for a very long time, until I turned to the community…The MtG players and fans of my artwork are truly shaking things up in a big way. It's a huge gust of wind in my sails, and I can't thank all the Kickstarter backers enough. I still need much more money to shoot the film though, and I want everyone to know that every dollar raised from the campaign is going towards the screen. My goal is to make a gem of a fantasy film. Let's do this!"
Seb McKinnon has become one of the most recognizable artists in the history of Magic. His work is widely popular, and he is on pace to surpass over a half million US dollars in Kickstarter funding between these two campaigns. It's incredible art yielding incredible results fostering more incredible art, and it's a beautiful thing, both literally and figuratively.
If you'd like to become a part of Seb McKinnon's Kickstarter Round 2, here is the link again, and if you'd like to learn more about the artist and his work, check out the Mirror Gallery Behind the Brush interview from earlier this year.
The shores are unknown as to just how successful this new Kickstarter will be, but it certainly has all the makings of being as wildly fruitful as the first. The Kickstarter concludes after 60 days from its start, on April 22, 2019.