This past weekend revitalized my love of Legacy because of the SCG Team Trios Open in Baltimore. I teamed up with Dylan Hand and Kevin Jones, and we managed to squeak into cashing the event in 16th place. This was my first Open cash, and I had an amazing weekend all around, especially getting to play my favorite format.
I've had many people asking me to write about Eldrazi Post, so here's a short crash course on the deck!
Legacy Eldrazi Post, SCG Baltimore Team Open Top 16
This is the deck I played in the Legacy seat for the Team Open. I ended up 10-5 in individual matchups losing to Lands, UB Shadow, Grixis Delver, Eldrazi Stompy, and Storm. Most of these matches are often quite close, except Lands. If you decide to play this type of deck, avoid Lands at all costs.
The Strategy
Eldrazi Post creates a lot of mana and uses it to overpower opponents quickly with powerful creatures. The deck also uses early mana to lock opponents out of the game with Chalice of the Void and Thought-Knot Seer. When you have a ton of mana, you can end the game with Ulamog, the Ceaseless Hunger or Walking Ballista.
Why This Version of Eldrazi?
The advantage to playing Eldrazi Post over Eldrazi Stompy/Aggro is the absurd amount of mana you can produce every game with Cloudpost paired with Vesuva and Glimmerpost. Because you are aiming for a large amount of mana every game, you get to cut mediocre cards like Endless One and Eldrazi Mimic in favor of impactful spells like Walking Ballista, Endbringer, and Ulamog, the Ceaseless Hunger.
Additionally, because the Post version goes bigger than the Stompy version, Eldrazi Post is favored against Eldrazi Stompy, while also being able to leverage "odd" sideboard cards better like Ensnaring Bridge. Some Stompy lists have been playing Ensnaring Bridge on their sideboards, however the card is much more effective in the Post strategies because the big-mana win conditions can close a game after Bridge locks it down.
Overall, Post matches up well against the majority of the field. The most popular decks in Legacy tend to be Brainstorm decks, which often fold to a Chalice of the Void on one. From the seven months I've played the deck, I have only lost to Grixis Control once. If these decks don't interact with your lands, you are free to go wild and cast Thought-Knot Seer on turn two, Endbringer on turn three, or even two Matter Reshapers on turn two. You have good ways to fight with combo decks as well, with the sideboard Thorn of Amethyst helping the maindeck disruption to stop most combo decks to the point where you can buy time to push ahead with your game-ending creatures.
The Sideboard
The sideboard has some pretty locked spots including Ratchet Bomb, Leyline of the Void, and Thorn of Amethyst. You need Leyline and Thorn to interact with combo decks like Storm, Dredge, Arclight Phoenix, and Reanimator. Ratchet Bomb is necessary to succeed against Miracles or another Back to Basics deck. Miracles is actually a great matchup for Post, until they play Back to Basics; then the game is essentially over.
Ensnaring Bridge is quickly becoming one of my favorite cards in the sideboard. This weekend I brought it in against Eldrazi Stompy a handful of times and against Sneak and Show. It's also very powerful against Reanimator, Dredge, and Turbo Depths. The rest of the spots are fairly flexible. This weekend I played a Basilisk Collar because of the interaction it has with Walking Ballista and Endbringer. It might be a little too cute however, because I only got to kill a couple of Reality Smashers and Eldrazi Mimics with Walking Ballista/Basilisk Collar in one match. Emrakul, the Promised End is an interesting card. It's very powerful in the mirror and any fair deck, however it often seems like a "win more" card instead of actually having a meaningful impact on the game.
The Flex Spots
Karn, Scion of Urza, Oblivion Sower, and Sorcerous Spyglass have all been seen in the main decks of Eldrazi Post. Karn is a good consideration moving forward because of the uptick in Wasteland/Delver decks. Being able to gain card advantage or recover from your lands being destroyed is very important in those matchups. Karn, Scion of Urza is great against most blue decks or other fair decks. I did not play Karn this weekend because of the prevalence of Storm.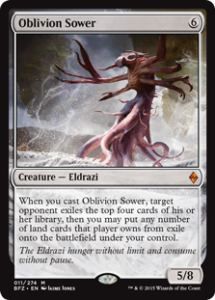 Oblivion Sower is another card to start considering in the shift in the Legacy metagame. It can help you regain lands, and additionally it is good against Gurmag Angler and Death's Shadow because of its high toughness. Additionally, while Lands is almost an unwinnable matchup, the matches I have won against Lands involved Oblivion Sower.
A last common flex spot is Sorcerous Spyglass. This card is often always in the list somewhere, but is most commonly seen in the sideboard. This is one of my favorite cards to put in the flex spot to attempt to hedge against Wasteland and Jace, the Mind Sculptor. After this weekend, I want at least two Sorcerous Spyglasses in the main deck, with one to two more on the sideboard.
Going Forward
Going into SCG Syracuse in a couple weeks, I would be looking at a list similar to what I played this weekend:
Eldrazi Post Going Forward
The notable differences are that I want to play around with some amount of Oblivion Sower as I think it is powerful against the decks that are starting to creep back into the metagame, like the Delver decks. Additionally, the only real card I lost to this weekend was Wasteland. To help with that I want an additional Sorcerous Spyglass on sideboard, however this could easily turn into four copies across the main deck and sideboard.
Ally Warfield is a Magic grinder and personality. She is an up-and-coming grinder with an impressive range in terms of archetype selection. You can find her on Twitter @ArcticMeebo.