Burn has been part of Modern from the beginning. Now with predictions of Death's Shadow, Lantern Control and Izzet Phoenix rising through the Modern ranks, Burn looks primed for resurgence. Burn is an excellent choice if you are entering an unfamiliar metagame because it offers a solid gameplan and punishes unprepared opponents. And with Ravnica Allegiance hitting the shelves, Skewer the Critics and Light Up the Stage want to join the party.
It's been a while since Burn received any major improvements. Other than Inspiring Vantage, the last big upgrades came from Khans of Tarkir block: Monastery Swiftspear and Atarka's Command. Ravnica Allegiance looks to change that with Skewer the Critics and Light Up the Stage. Skewer the Critics is easy enough to cast for one mana, although paying three mana still works once you're low on cards. Burn has struggled to find card advantage, and Light Up the Stage looks to be the perfect fit—at least in Rakdos Burn decks with mostly one-mana spells.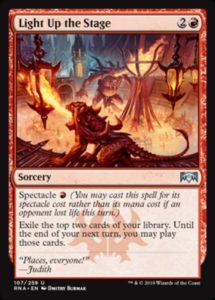 Ravnica Allegiance was released early on Magic Online, allowing players to try out new cards in their decks. If recent Competitive Modern League data was anything to go by, Ravnica Allegiance looks to be a good influence on the format. This week, I dive into this data and see the variants of Burn on offer, and how these new cards are incorporated.
Boros Burn (5-0 Decks)
Boros Burn is the premier variant thanks to Lightning Helix and Boros Charm. White also promotes versatility in your sideboard options if you want to pack Rest In Peace or Path to Exile. When you have access to two mana cards such as Boros Charm, however, Light Up the Stage doesn't look as good.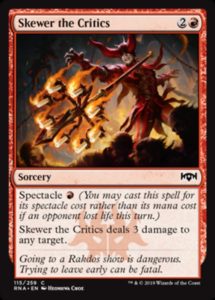 Skewer the Critics is an instant four-of, which will be common going forward. Moving Skullcrack to the sideboard in favor of Skewer packs more Burn for your mana. I foresee this being common practice in Burn decks going forward, as Skewer the Critics will likely cost one mana in most cases given the high damage output Burn offers.
Although Boros Burn is deemed to be the best variant of the archetype, you can also play the low-to-the-ground version of Rakdos Burn.
Rakdos Burn (5-0 Decks)
Rakdos Burn is far more explosive than Boros Burn but loses versatility as a result. As you can see from this list, twenty spells deal damage to the opponent, which is the biggest draw to play this deck. Mana-flood isn't a downside either as you have access to Ramunap Ruins and flashbacked Bump In the Night. Although I'd be tempted to cut Ramunap Ruins for Shard Volley, this can also synergise with Light Up the Stage if you find land.
Rakdos Burn packs a lot of punch and can deal a lot of damage in succession. Despite these positives, Lightning Bolt is your only burn at instant speed which means you have to prioritise your spells accordingly. You could also consider Sovereign's Bite, but you want to distance yourself from Light Up the Stage if that's the case. Collective Brutality offers more options and can deal with Kor Firewalker in post-board games.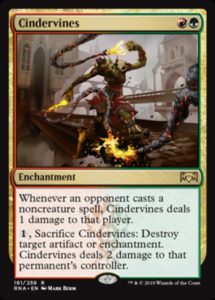 If you want to lean more in the direction of green, Cindervines is another potential addition from Ravnica Allegiance. There has been some talk of Cindervines cropping up in Burn sideboards alongside Destructive Revelry or even replacing it. I don't think the comparisons are as simple as that and feel it's a trap to add Cindervines to your Burn lists. Although Cindervines is generic enough to hit a lot of cards, Destructive Revelry offers mana efficiency—an essential strength of Burn decks. Cindervines demands a lot of consistency before it's useful, and even some cases having two on the battlefield before it becomes good. By doing this, you're taking turns off to play cards with low damage output, which isn't the goal for Burn. You are better running Destructive Revelry or Smash to Smithereens—enchantments aren't a big problem right now.
Alternatively, if you are playing Mono-Red in Standard and looking to make the jump into Modern, you can easily convert this into a decent budget Modern deck featuring the new Ravnica Allegiance cards.
Emma's Budget Mono-Red Burn
Although there's plenty of improvements to make with the list, the intention was to create something basic to get you started. The core of the build follows the best Burn decks, supplemented by cards from Mono Red in Standard. This allows you to play a Modern FNM with a budget deck and learn the format. In addition, if you have access to Arclight Phoenix and Runaway Steam-Kin, Runaway-Red is a viable choice in Modern that adopts a more midrange strategy than traditional Burn decks.
Thanks to Ravnica Allegiance, Burn has plenty of paths to explore. Although Boros Burn is widely regarded to be the best variant, you can expect Rakdos, Mono-Red Burn, and Runaway Red to pull in results with these new cards. I'm excited to see how Skewer the Critics and Light Up the Stage fare in Modern, and expect these cards to influence the format for a long time. I feel Burn will be well positioned since the removal of Krark-Clan Ironworks from Modern. It's an excellent time to pick up cards, bolt your opponents, and light up the stage.
Emma resides in Suffolk, England and started playing Magic back in 2014 when Khans of Tarkir first hit the shelves. She dabbled in Standard for a while then shifted into Modern, in particular playing Eldrazi Tron and Commander where she has found her home. Follow her on Twitter @emmmzyne to join in on the conversation!