Check out our Day 1 recap here.
After 16 rounds of Magic in Atlanta, Georgia, the Top 8 of Pro Tour Guilds of Ravnica is set.
We already knew six of the eight players who would play on Sunday before the final round even started: Wilson Mok, Michael Bernat, Kasper Nielsen, Yuuya Watanabe, Tay Jun Hao, and Luis Scott-Vargas.Jeremy Dezani and Andrew Elenbogen won their Round 16 matches to join the others in the Top 8 of Pro Tour Guilds of Ravnica.
White-Based Aggressive Decks Dominate on Day 2
Going into the Standard rounds at Pro Tour Guilds of Ravnica on Friday, the odds-on favorite for best deck in the format was Golgari Midrange. Many people seemed to agree with that assessment, with 22% of players choosing to bring Golgari to the tournament. Seeing as Green Black decks, also known as Rock decks, are focused on value and consistency, it's fitting that Golgari Midrange also represented 22% of the decks in Day 2.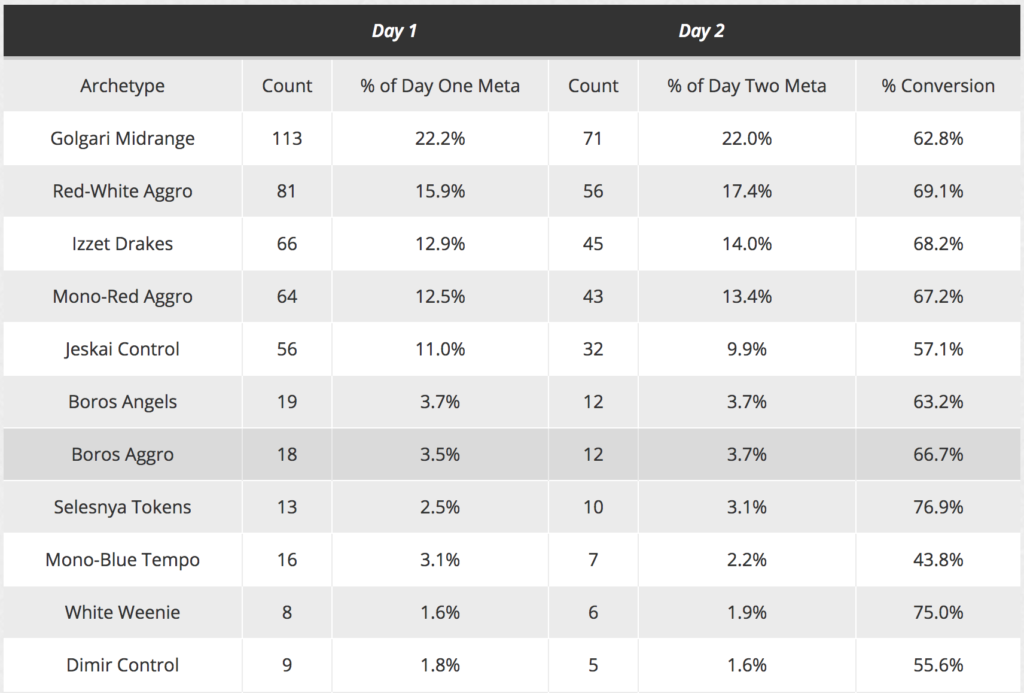 But as Day 2 wore on, it became clear that the White-based aggressive decks were climbing to the top of the Standard pile and put a total of six copies into the Top 8. Jay Jun Hao, Luis Scott-Vargas, Kasper Nielsen, Michael Bernat, and Andrew Elenbogen all played Red-White Aggro, which features a mostly-White maindeck with Red cards in the sideboard, while Jeremy Dezani played Boros Aggro, which had many more Red cards in its maindeck along with basic Mountains.
Those six White aggressive decks will be accompanied by a Jeskai Control deck, piloted by Wilson Mok, and Yuuya Watanabe's Izzet Drakes deck.
More Top 8s for Hall of Famers Luis Scott-Vargas and Yuuya Watanabe
Fan-favorite Luis Scott-Vargas, of Team ChannelFireball, secured the ninth Pro Tour Top 8 of his career. He continues to build towards what is basically a second Hall of Fame career after being inducted into the Pro Tour Hall of Fame in in 2013. Scott-Vargas has Top 8'd four more Pro Tours since 2013, as well has five Grand Prix, winning GP San Jose in 2015.
Japenese all-star Yuuya Watanabe, of Team Musashi, tallied the fifth Pro Tour Top 8 of his career at Pro Tour Guilds of Ravnica. He was inducted into the Pro Tour Hall of Fame in 2016 and is likewise well on his way to building a second Hall of Fame career for himself. Since 2016, he has Top 8'd two more Pro Tours, one Grand Prix, and won the 2017 Magic World Cup.
The Frenchman Jeremy Dezani, of Hareruya Sword, made his second Pro Tour Top 8, having converted his only previous Pro Tour Top 8 into a win at Pro Tour Theros in 2013. He has Top 8'd 14 Grand Prix and won four of them: GPs Lyon (2012), Dublin (2013), Milan (2014), and Brussels (2018). Dezani is well on his way to building a Hall of Fame career of his own with two Pro Tour Top 8s and a win.
Joining them in the Top 8 are Wilson Mok, in only his fifth Pro Tour; Kasper Nielsen, in his third Pro Tour appearance; and Andrew Elenbogen, in his fourth Pro Tour; as well as Grand Prix Las Vegas 2018 Limited champion Michael Bernat, who earned his first Pro Tour Top 8 after more than 20 appearances; plus two-time Grand Prix winner Tay Jun Hao.
The Top 8 of Pro Tour Guilds of Ravnica begins tomorrow at 9AM Eastern on twitch.tv/magic.