Graveyard strategies have been popular since Modern's origin. Even back in the days of Extended, decks such as Living End were dominant and volatile. Swarming the board with high-powered creatures in the first few turns isn't something to shy away from, and is a common tactic still used today.
Living End remains powerful but has fallen out of favor. That doesn't mean it's terrible, though. Benjamin Lao took down SCG Syracuse earlier this month with Living End. There are myriad other graveyard-matter decks at the top of the Modern metagame, such as Black-Red Hollow One and B/R Bridgevine. Both of these decks broke out from Pro Tours this year and are shaping present Modern. B/R Hollow One offers high power creatures and variance, whereas B/R Bridgevine offers acceleration and a broader board state. This week I focus on Bridgevine in particular.
Vengevine is similar to Hollow One. Both are free four-power creatures that demand a particular set of tools to get the mana discount. Since the printing of Insolent Neonate, players have attempted to solve the Vengevine puzzle, but the decks have been fragile. As a result, Vengevine decks have seen fringe play. But that is now changing thanks to Stitcher's Supplier, giving birth to B/R Bridgevine.
Black-Red Bridgevine by Jacob Nagro
Since Pro Tour 25, this has become the new deck in Modern. Stitcher's Supplier is the perfect card for Vengevine, filling your graveyard while helping bring back Vengevines for one mana. Piling up your graveyard with Bloodghast, Bridge from Below, and Vengevine is where you want to be. In addition, Stitcher's Supplier is a Zombie to turn on Gravecrawler. Faithless Looting also helps fill your graveyard, but isn't a creature.
Hangarback Walker and Walking Ballista play a neat and somewhat unusual role in the deck, akin to the God-Pharoah's Gift decks in Standard. By casting these cards for zero, you trigger Bridge from Below to create Zombies and get halfway to bringing back Vengevine. There's been plenty of opinions shared on what X-mana creatures you want—Walking Ballista, Hangarback Walker, or Endless One. Endless One is a fantastic budget option if you can't obtain Walking Ballistas or Hangarback Walkers straight away, but the versatility of the latter two cards are ideal and improve the deck significantly as great mana sinks. Walking Ballista can close out a game on its own, and Hangarback Walker can be sacrificed to create multiple thopters.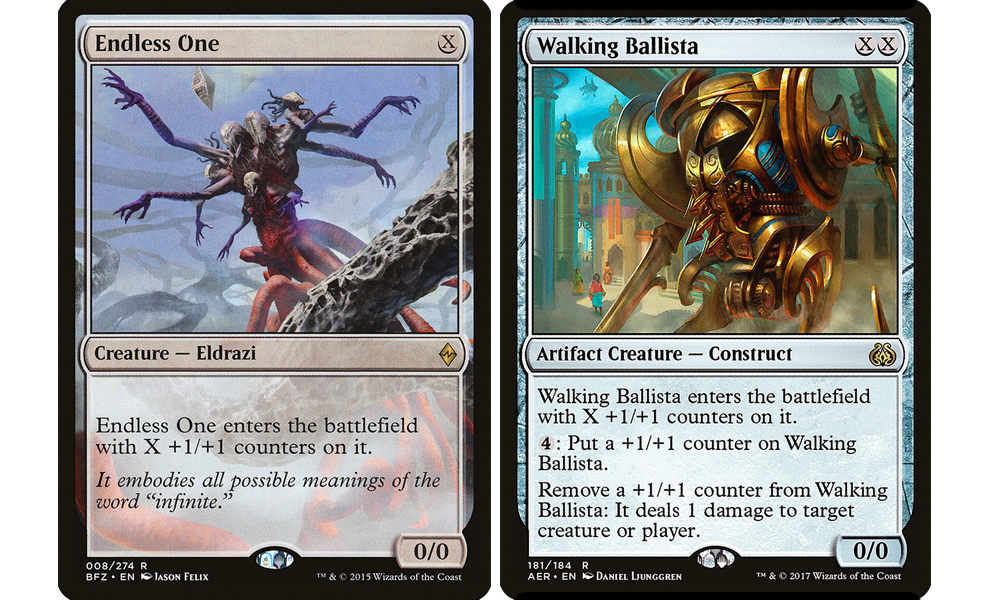 Although B/R Bridgevine has evolved since Jacob Nagro's list at Pro Tour 25, the core remains the same. Initially, four Greater Gargadons were common, but the number has been trimmed so that a big Gargadon provides upside rather than focus. Using Greater Gargadon as a sacrifice outlet is acceptable, especially if you have excess fetch lands, but it's nothing special.
Consider Takumi Utsunomiya's list from GP Hong Kong last month as an example:
Black-Red Bridgevine by Takumi Utsunomiya
As you can see Greater Gargodon is now a one-off. Viscera Seer takes up the other slots as a cheap and powerful sacrifice outlet that sculpts your draws. Viscera Seer becomes better with more Bridges in the graveyard, allowing you to reach to a point where you can keep scrying until you find a particular card you want—usually Goblin Bushwhacker—which is absurd. Goblin Bushwhacker is another excellent roleplayer which takes advantage of having so many creatures on the field. Giving your creatures haste from a kicked Goblin Bushwhacker is a common way to win in a single turn.
As usual with new decks coming into a format, variants soon follow—and Bridgevine is no exception. Grixis Bridgevine is one avenue to go down. This deck uses Hedron Crab as a pseudo-Stitcher's Supplier that adds value to fetch lands you draw later in the game. Hedron Crab also makes a decent blocker to reduce damage from quick, aggressive decks.
Grixis Bridgevine by Austin Hoth
This is an exciting avenue and feels less all-in compared to the R/B variant. Prized Amalgam has started creeping into these lists, and Narcomoeba could be another decent addition. Figuring out what to remove may be an issue—Hangarback Walker already came out to get to this point.
When it comes to deckbuilding, you don't want to remove too much of the core which can compromise the combos in the deck, but I feel there is room to tinker. You could just play Dredge instead, which has these cards already included but is a different style of deck altogether. Like I said about Modern U/W Turns, Grixis Bridgevine could be a change of pace at an FNM, and you might enjoy the deck more compared to the popular version.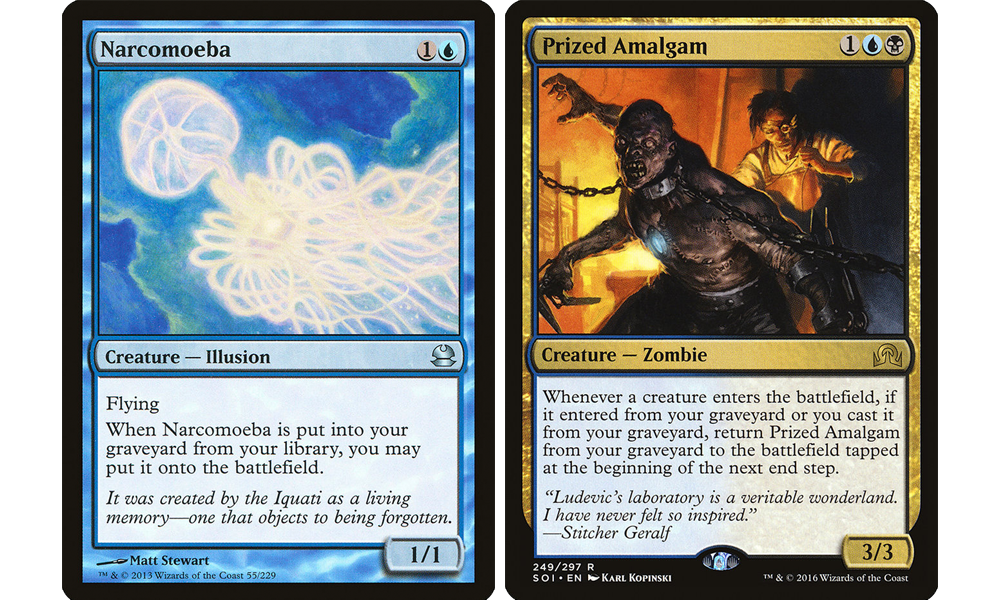 Sideboarding changes with the metagame, but Leyline of the Void defines much of it—both as something you struggle to answer and a tool fight against opposing graveyard-matter decks. To beat Leyline, Destructive Revelry gets the job done in principle, but Wispmare combos with Bridge from Below and is cheaper. Splashing white for Wispmare is worthwhile in my opinion, and gives a better approach to dealing with the many sideboard enchantments in Modern. However, Assassin's Trophy is an exciting new addition from Guilds of Ravnica which could replace Wispmare in that slot and may even play a better role. Assassin's Trophy has been garnering a lot of hype across Modern, and may fit well here.
So, is the deck here to stay or is it a flash in the pan? Modern is aggressive and a somewhat degenerate format right now, and B/R Bridgevine hits this principle well. It also has good match-ups against the top decks in the field. Modern has shifted into a very creature-matters metagame, and Bridgevine has more resilient creatures than most decks. Despite this, Bridgevine gets hit by all the graveyard hate in Modern, most notably Rest in Peace and Leyline of the Void.
Bridgevine can be resilient to the hate, especially when your opponent keeps a non-functional hand because it has Leyline. You can cast creatures and attack fairly well, after all. Bridegvine is still in its infancy as a deck archetype, so it's particular strengths and weaknesses are not yet set in stone.
Once Guilds of Ravnica joins the format, will the surveil and undergrowth mechanics bring something new? Will Assassin's Trophy make the cut? Don't hesitate to get in touch on Twitter or Facebook to share your opinions!
Emma resides in Suffolk, England and started playing Magic back in 2014 when Khans of Tarkir first hit the shelves. She dabbled in Standard for a while then shifted into Modern, in particular playing Eldrazi Tron and Commander where she has found her home. Follow her on Twitter @emmmzyne to join in on the conversation!