With some of the new cards coming out from Core 2019, I want to talk about one of my favorite decks for Modern and what will change going forward for the Spirits archetype. So first, let's discuss the new Spirits from Core 2019 that have me excited!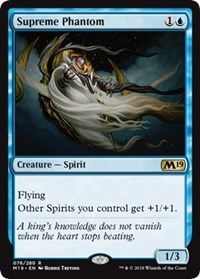 One of the things holding Spirits back as a Modern deck was the amount of lords we could run. There's Drogskol Captain—which is great—but because we only had one playable lord we were forced to play Phantasmal Image. Don't get me wrong, Phantasmal Image is a great card but it doesn't have as much impact in a deck like Spirits compared to a deck like Humans. The Spirits deck plays at instant speed; we have cards like Spell Queller and Rattlechains to give our Spirits flash. Phantasmal Image doesn't work with the Spirits off-battlefield plan. But now we have another option: Supreme Phantom.
So, let's break this down. Not only is it a two-mana lord, it's also is a 1/3 flier. Why is this good you ask? Well against the more aggressive decks like burn, we can block a 2/2 for days without sacrificing our board presence and that is huge. Supreme Phantom is the card that Spirits has been waiting for. With a deck that has so much interaction, we needed something to help us apply pressure in an already fast format.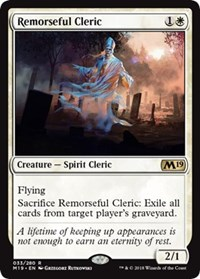 Remorseful Cleric is another card I am very excited about in Core 2019. It will definitely see play outside of a Spirits shell in other Collected Company and Chord of Calling decks as tutorable graveyard hate. Remorseful Cleric may not be as powerful as something like Rest in Peace, but it definitely has its uses. A lot of the time in Spirits, we want our 2/1 fliers to do something more than just attack. Remorseful Cleric is another creature that does just that.
So How Will these Cards Affect the Archetype? Well, Spirits is unique because of all of the shells it can be played in. Let's go through the many different ways to build Spirits: Bant, Esper, and Azorius.
Bant Spirits
Green adds two strengths to Bant Spirits: mana dorks and Collected Company. This allows the deck to be a little more aggressive than its other counterparts.
Bant Spirits
Collected Company gives you a lot of great options in such a creature-heavy deck. Not only is that valuable, but the quality of options you get are very high with Spirits. From Spell Queller to Mausoleum Wanderer, you have many interactive hits. With mana dorks like Noble Hierarch and Birds of Paradise you can cast Collected Company on turn three, which should either swing to board state heavily in your favor, or put your opponent in a position where it is difficult to attack into your Spirits. Because of this, Bant Spirits is a more aggressive way to play the archetype.
Esper Spirits
Supreme Phantom makes Lingering Souls the frontrunner of cards to include in Spirits, which means we are now Esper. What else can black add to the mix? While Bant can use early mana ramp and Collected Company to attack quickly, Esper Spirits has a more reactive game plan with cards like Fatal Push and Collective Brutality.
Esper Spirits
Everyone knows that Black is one of the strongest colors in Modern, so why not play it in Spirits? In addition to Lingering Souls, also only brings the hand disruption to the table. Eight lords make Lingering Souls stronger than ever. The card sees play in a lot of different shells, such as Abzan and Mardu Pyromancer, because of how much value it generates. Add in Selfless Spirit to protect your board, and you might have a great Spirits deck brewing.
Azorius Spirits
Azorius is another way you can go with the Spirits archetype, forgoing both the green and black splashes. This build traditionally allows you for a more tempo-style deck, with cards like Aether Vial, and having a mana base nice enough to allow utility lands like Ghost Quarter.
Azorius Tempo Spirits
The tempo list has a lot of things going for it. Some people even go to the extreme with "Spooky Taxes," a Spirits shell that also includes taxing cards like Leonin Arbiter to help shut down the opposing game plan.
But what if we played Spirits in more of a control shell? My friend @DillEPape has been pioneering an aggro-control iteration of Spirits that play the best Spirits with the best control game.
Azorius Control Spirits
This list takes the controlling aspect of the Spirits archetype to a whole new level, giving you access to more countespells and options with cards like Snapcaster Mage. Beating your opponent down with four damage a turn and counter backup is this deck's main game plan. With decks like Krark-Clan Ironworks, Tron, and Mardu Pyromancer in the metagame, this might be a very strong option going forward.
Four Color Greedy Spirits
Lingering Souls and Collected Company both add a ton of power to the Spirits archetype. What if you can play both? I'd like to show you what Spirits deck I am going to start testing and working on for the upcoming Ravnica Allegiance PPTQ Season:
Four Color Spirits
I know, you probably think it's crazy; but I think splashing black for Lingering Souls is a powerful move. While I believe Collected Company is one of the strongest things you can do in the Spirits archetype, adding Lingering Souls as a "Company 5-8" is a smart move. We already know decks like Mardu Pyromancer splash the white for Lingering Souls, so why don't we splash the black? We already have such strong tribal synergies, and being able to have that much pressure with one card and a lord in our deck is very powerful.
Just imagine this hand: Turn 1: Birds of Paradise. Turn 2: Lingering Souls. Turn 3: Collected Company into Drogskol Captain plus Supreme Phantom.
Your Lingering Souls effectively made 3/3s, and that isn't unreasonable now that we have access to Supreme Phantom in the mix. And to think people play Lingering Souls card when they can only have the tokens at 1/1.
Conclusion
With the arrival of the new Spirits in Core 2019, the archetype is about to take off in all sorts of directions. Spirits has a unique spot in the metagame where it can compliment any style of game play. In the upcoming weeks, I will be streaming some Magic Online to test Four Color Spirits. You can check it out by following me on Twitch.
If you want to reach out to me and talk about the different types of Spirits decks, go ahead and shoot me a tweet, @kintreespirit_. You can also join the conversation about Spirits on Discord! Thanks everyone for reading! Next time, we will be taking a deep dive into my favorite Spirits sub-archetype: Four Color Spirits!
Lexie is a chemisty student by day and a Modern grinder by night from Fort Wayne, Indiana. You can see her traveling the Midwest playing and scorekeeping Magic: the Gathering events.