Welcome back everyone, to another edition of the Mirror Gallery. Last time we took a close look at Gilded Cerodon by Matt Stewart. And remember, this whole journey was inspired by my first foray into writing about Magic art over on the Original Magic Art website for their Collector's Tales blog.
This time we are going back to where it started, to the first piece I acquired: Izzet Cluestone by Raoul Vitale for the Dragon's Maze expansion. I bought it a year ago from another collector on one of the two major Facebook groups for original Magic art, the MTG Art Market and the MTG Art Exchange. It was offered for only a short time, and an unexpected "flash sale" reduction is what really pushed my hand and told me it was the right work to begin with. It was the perfect fit, and an excellent acquisition for my collection overall.
A Note on Buying Your First Piece
Be patient.
If you think collecting original Magic artwork might be something you are interested in, when you first start exploring you can be overwhelmed. There are always pieces available from both artists and other collectors, and these come at a variety of prices. Maybe that favorite art is right there waiting for you, in your budget, and you can acquire it and jump right in with two feet. More often, it takes a few months or a year to find the right first piece. Look back at my Five Things to Consider and always make sure you fulfill #1. Ask yourself: Do I Love It? If you do, then go for it. If not, then a piece will come along soon enough, and you'll be glad you waited.
Now, back to Izzet Cluestone!
The Artist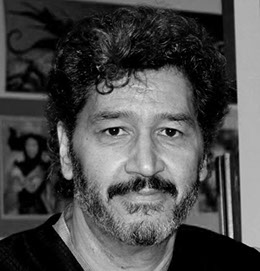 Raoul Vitale has been a freelance illustrator since 1999, and he has an incredible body of work that prominently features storybook-esque scenes from Tolkien's Middle Earth and other fantasy environments. He has been illustrating for Magic: the Gathering since 2013, starting with the Dragon's Maze set; and to date has illustrated 48 total cards, including a full cycle of basic lands for Ixalan as well as the cycle of ten Cluestone cards for Dragon's Maze. He is entirely self-taught and works traditionally (non-digital) in oils, almost always on board.
Although newer to Magic than some artists, his career earned him the commission to re-envision and recreate the infamous Mox cycle for the North American and European Vintage Championship. These were all traditionally-rendered oil-on-board paintings that were framed as oversized cards and given to the winners of each tournament. This commission alone speaks volumes about his art; and he is continually tapped to create works for these competitions, most recently reimagining Ancestral Recall for the 2018 European Vintage Championship. You can see all of these paintings by Raoul and other top Magic artists here.
He also has one Masterpiece commission, Aether Vial, for the Kaladesh Invention series. It is the third different art for this card, and an incredible rendition of the iconic artifact. The original sold instantaneously.
Raoul has won several Chesley Awards and has been featured in both Spectrum and Infected by Art. As we talked about last time, these publications are no small matter for contemporary illustrators and fantasy artists. They are a huge deal and building block for furthering their career. Magic art and artists rarely made the nomination ballot until recently. Now they are not only in competition, but winning awards and finding card illustrations on the cover of these printed volumes. For Raoul, these accolades have all been for work outside of his Magic illustration thus far, but I have a feeling the day is coming soon when his commissions for Magic will be the pieces winning these awards.
Raoul is slated to attend Illuxcon 2018 in Reading, PA, for the first time since 2008 and you can bet I'll be spending some time in his booth getting to know him a bit better.
Artifact Alley—What is a Cluestone?
To be entirely honest, I didn't know what a cluestone actually was until I started doing some research for another project after I purchased this piece. I am notoriously bad for keeping up with Magic's main website and had just started getting back into the game and following along when Dragon's Maze was released.
What I did know was that there were ten cluestones, one for each guild. I also knew they all functioned the same way on the card, and that each art was parallel, featuring the guild symbol, a magical sphere, and a guild-appropriate setting.
Lucky for us Trick Jarrett wrote about Cluestones, placing them in context alongside their artifact brethren. The Ravnica signets came first, followed by the Return to Ravnica and Gatecrash keyrunes, and now the cluestones from Dragon's Maze, which are entirely different in form and function than their predecessors. He defined them as:
"A Ravnican might think of the Cluestones as an "in case of emergency break glass," providing useful magic to the members of their guild."
This basic definition lets us paint the picture: A member of the Izzet League moves through the city, runs into some unfriendlies, and is able to open the swirling globe for a little extra magic in order to take care of business.

If we zoom in on the actual "cluestone" we can see the incredible life that Raoul Vitale brought to the magic held inside the sphere. It blends into its surrounding so as to only be accessible to its own guild members, yet captures the viewer's attention immediately.
Where Are We?
I prefer a strong location identity in the works I collect, and this goes for Izzet Cluestone as well. Although I remember a time without them, the ten guilds of Ravnica are a core part of Magic lore. The symbolism of the guilds is exceptionally prevalent in the artwork of the six sets set on the plane of Ravnica.
The dragon crest of the Izzet League is one of the most recognizable of the ten Ravnica guilds, a symbol of their parun (founder) and Guild leader Niv-Mizzet, the Firemind and Dracogenius of Ravnica. We also have the cluestone we just looked at as a part of the crest, so putting them both together we know we are either on Ravnica, or at the very least somewhere where Ravnicans could be.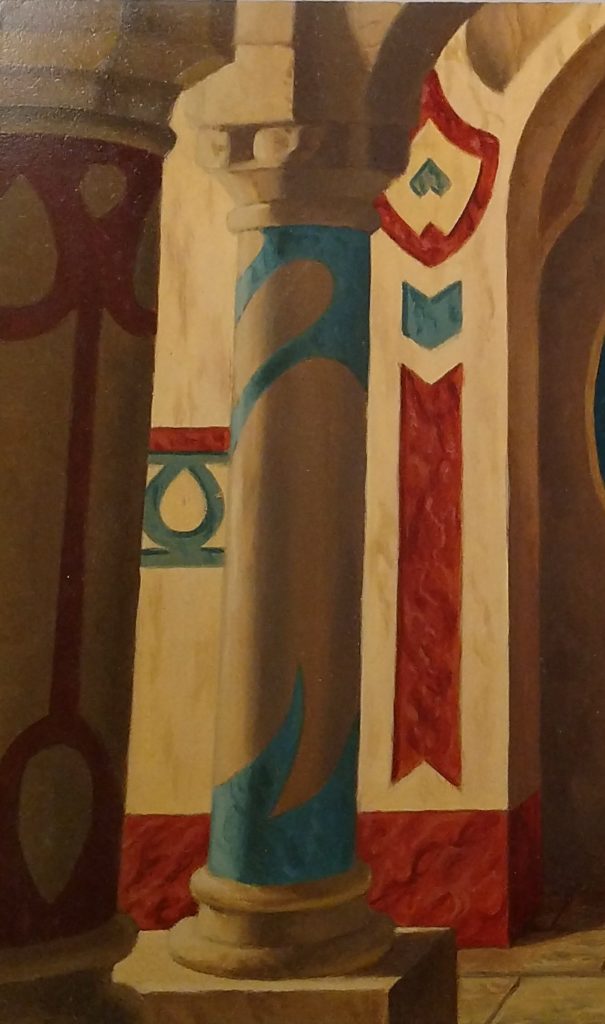 For this cluestone, the setting beyond the crest lets us known we are deep within the city. The urban setting of Ravnica has made it somewhat unique to Magic, and the shadowed alcove and pillars in which the crest and cluestone reside can almost be no other place. We see the guild colors of blue and red inlaid and repeated within the stone, and their shapes mimic the crest itself.
Why This Piece?
So why did I decide to make Izzet Cluestone my first piece of original Magic art? Let's take a look:
1. Do You Love It?
When I first saw this piece offered on the secondary market, I knew it was a definite possibility for my first piece. I've always aligned with the Izzet League, and being a fantastic representation of that guild made it a great fit. The centralized Izzet guild crest in full form really makes this special.
2. The Work
Passing the Sofa Test, where the art is appropriate to hang in a living room setting, with flying colors, Izzet Cluestone can exist as more than just card illustration. It's an excellent representation of the guild with the large inclusion of the symbol and appropriate colors swirling in the cluestone and on the pillars. It's a pseudo-landscape, and that gives it a universality of display that is sought by collectors and admirers of Magic art.
3. The Artist
Raoul Vitale, like many Magic artists, is accomplished both within the game as well as in the larger fantasy genre. He is doing some high level work within Magic, from Masterpieces to Moxes and now full basic land cycles. His influence on the game will only grow, and I expect to see more high level art commissions from him in the future.
4. The Card
Being one of a cycle of ten cards, none of the cluestones are exceptionally powerful within the game. However, they all were used to some degree in Limited play when Dragon's Maze was first released because of their utility. If you say "cluestone" many players will know what you're talking about, somewhat more so than "keyrune" but maybe less so than "signet."
Dragon's Maze also happened to be the first set I played with when returning to Magic, and that counts for something in terms of nostalgia pushing on my collecting habits.
5. The Environment
Dragon's Maze was not the most popular, powerful, or played set; but the setting of Ravnica is beloved and growing in importance within the game's storyline. Again, Izzet Cluestone was used in Limited play but was not a standout, so in this case it's the set environment that really makes this piece shine in this category. Ravnica has been and will continue to be a beloved and important location within the game.
So bringing it all together, Izzet Cluestone is an early work by a prolific artist that is growing in Magic, and is from a location in the multiverse that was not only groundbreaking but is about to become much more important. It passes the Sofa Test and is a homerun acquisition for an Izzet League member like myself. I am still excited to call this my first piece, and doubt it will ever leave my walls.
Put it on the Wall!
Once I had acquired this piece, I knew I needed an appropriately nice and fitting frame. As we saw in my last post about Gilded Cerodon, making the frame a cohesive extension of the work is very important when permanently adding a piece to my own, or really any collection.
Before getting into original Magic artwork, I had never had anything else custom framed, either buying my frames at a local big box frame store or, in many cases, buying things already framed from the dealer, gallery or auction. I sought referrals from other art and antique dealers and colleagues, and was told by two different people there is nowhere else to go in the area but Ain't That a Frame, the store I introduced in my last article.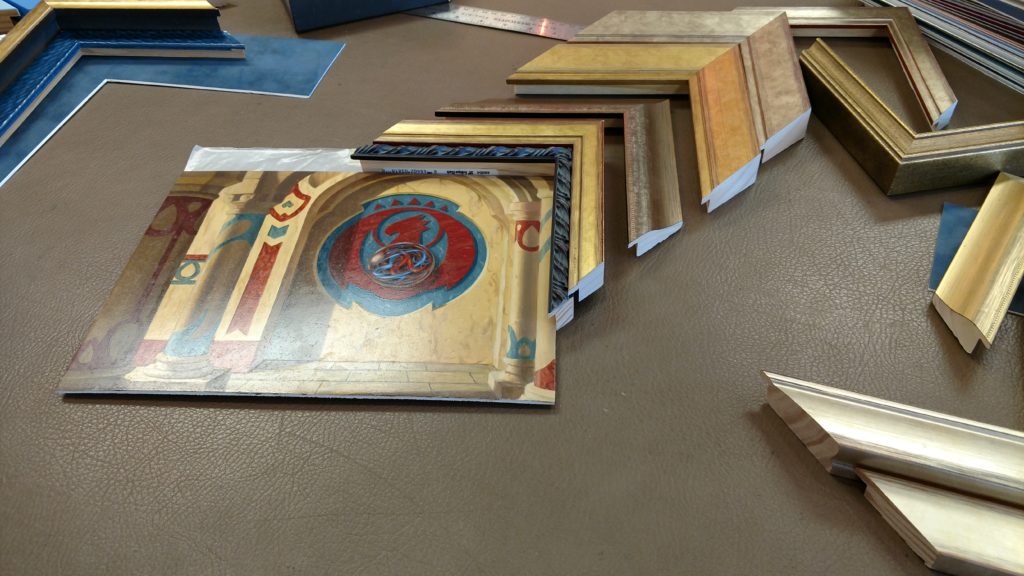 One Thursday when I was able to get off work early, I headed to the gallery to see exactly how this worked. I knew I didn't need glass, as oils are almost never put behind glass, and this would allow a little larger budget to do something extra on the frame itself. I was there for almost an hour with one of the custom framers and we tried just about everything. Light, dark, wide, skinny, plain, and ornate. Because the piece had warm tans, cool blues, and hot reds, finding something to complement all three was no easy task.
We finally chose a 1 1/8" width bronze tone frame that would complement all three hues and temperatures of the colors present. When doing a bit more research on the frame itself for this article, I found its catalog title is "domus," named for the ancient Roman word for "home." It was serendipitously fitting for my first piece in my home. It would be even more so, it turns out, once I revealed the finished product to the collecting community.
Once the outer frame was decided upon, the question was asked if I had considered an inner frame. Still being very new to custom framing, I listened to some different options, and with some room still left in my budget, we started essentially all over again looking for a complementary inner frame. What we found couldn't have been more perfect.
Noted in the catalog as "antique black," this 3/8" mini-liner was almost a perfect replication of the swirling magic found inside the cluestone itself, appearing blue in the light and weathering to red on the edges. It could not have been a better fit and I couldn't have been happier.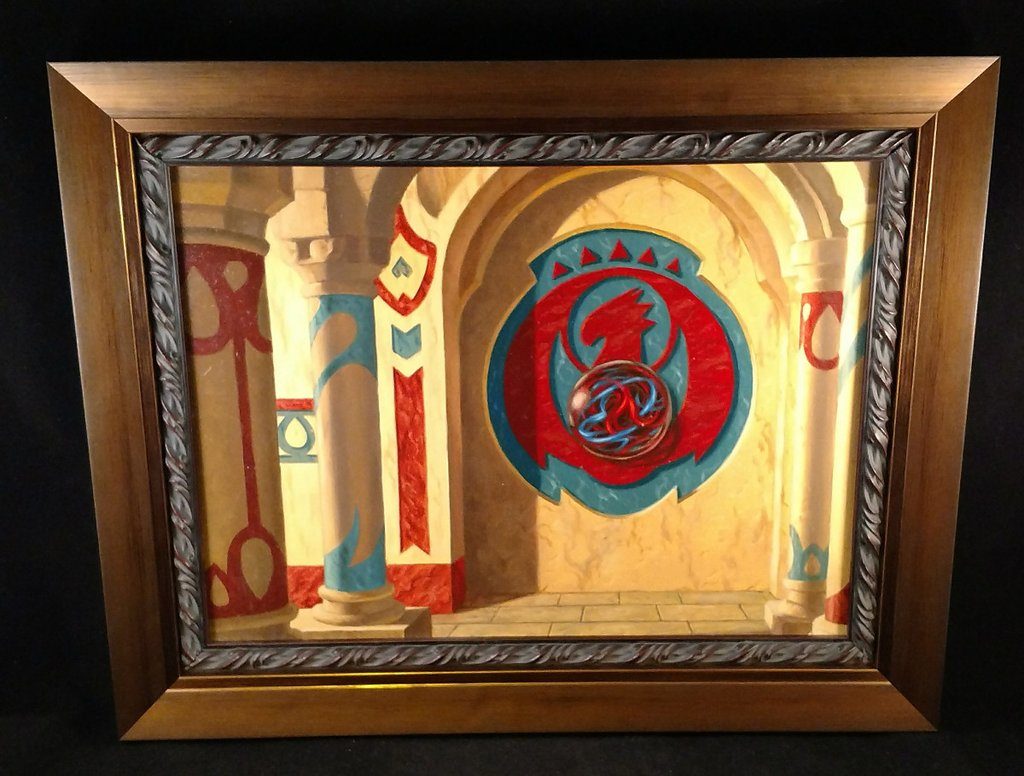 Next was "the reveal" as I had watched so many other collectors do before me: posting their newly acquired and freshly framed pieces on the two Magic Art Facebook groups. The response was incredible as people warmly welcomed me to the hobby and loved what I had done with Izzet Cluestone. My favorite comment from a fellow collector was "It looks like you're actually looking out a window into the city." Remember the frame being named for the word for "home?" I had created a window in my home as if it was a Ravnican home, and everything was brought full circle.
Build Your Collection
Raoul Vitale is only getting better and better commissions within Magic. Pieces of this caliber are excellent additions to any collection, and just about all of his Magic work can be considered above average.
He works through his agent Mark Aronowitz for all his Magic-related art, from selling his finished traditional pieces to artist proof purchases and commissions. His available pieces are usually sold or auctioned through the MTG Art Market and MTG Art Exchange on Facebook shortly after they are spoiled during preview season.
Currently, Raoul and Mark have two pieces available, both the finished work and the pencil sketch of Durable Handicraft from Kaladesh. Raoul's pieces usually sell during preview season, so this is a rare opportunity to pick up one of his pieces yet collected by the community. If you are interested in acquiring either, please shoot me a message on Twitter and I can put you in contact with Mark and Raoul.
Additionally, some of Raoul's work can be found on the secondary market. In the last year, five of the ten cluestones (in addition to Izzet Cluestone that I acquired) have been made available for purchase by other collectors on the secondary market. I will generally only publish works available from the original artist or their agent with prices, but if you are interested in pursuing one of the pieces above, I can point you in the right direction in contacting the current owner.
Secondary Market Side Note
Adam St. Pierre, a known collector of original Magic art, has started a movement to send 5% of the sale price of a work purchased on the secondary market back to the original artist. You can find more info here.
Many times a work is sold for considerably more well after its initial sale, especially if a card becomes particularly played or important. This agreement is ultimately at the seller's discretion (i.e. assuming they did not sell the work for less than they paid) and is generally aimed at high-caliber works sold for $5000 or more. However, it does seem that those collectors who have joined often donate the 5% back to the artist regardless of sale price. I would encourage those of you purchasing on the secondary market to at least mention it to those who you are buying from. It's a great way to show your appreciation of great art, and keep Magic artists, both past and current, engaged with the community. I have added my name to the list if I should ever sell a work from my collection.
Wrapping Up
I hope you enjoyed this flashback to where my passion for collecting original Magic artwork started, and maybe it even inspired you to start looking for your first piece. Next time we will be looking at something completely different. I don't want to give it away just yet, but I guarantee you'll enjoy it!
Remember, to see original #mtgart and other #vorthos related things, follow me on Twitter. Feel free to ask questions or retweet to continue the conversation. Thanks and see you next time!
Donny Caltrider has been playing Magic since 2002 and collecting original Magic art since 2017. He has an M.A. in Museum Studies from Johns Hopkins University and enjoys telling stories about art, objects, and the intersection of fantasy with real-life. You can find him on Twitter talking about #mtgart, museums, and other #vorthos related goodness. Follow along and continue the conversation!