Although Mono Red dominated the Pro Tour, the Standard metagame has been ever-shifting. Standard is as healthy as it's ever been, with both viable aggressive, midrange, and control strategies vying for first-place trophies. As I gear up for my RPTQ this weekend I'm frantically searching for the right 75 that will lock up my invite to Pro Tour Ixalan. But to figure out what's best for me to play this weekend I first have to take a gander at the Standard metagame and see what the major players are going into the GP Denver and RPTQ weekend. Let's jump in.
The Creature Decks
It's no secret that aggro is the name of the game. Ever major event since the Pro Tour has been won by an aggressive strategy. Zombies took first at the Grand Prix in Minneapolis while Mono Red and G/B Aggro took first in both StarcityGames Classics the past two weekends. Looking at a snapshot of the current metagame, these three decks are the most played and best performing strategies: Mono Red, Mono Black Zombies, and G/B Constrictor variants.
Two other aggressive strategies trail close behind the big three: Temur Energy and Mardu Vehicles.
Temur Energy—James O'Shaughnessy SCG Richmond Standard Classic Runner Up
I definitely like the Skysovreign, Consul Flagships and four Whirler Virtuosos maindeck, putting up as many roadblocks for Mono Red as possible.
Mardu Vehicles—Ray Huang GP Minneapolis Top 8
This isn't your classic Vehicles deck. With only two copies of Gideon, Ally of Zendikar main and three Aethersphere Harvesters, this list looks to beat Mono Red and Zombies by taking to the sky. Did you ever think you'd see a Mardu deck Top 8 a GP with only two Gideon main?
While all of these decks have put up tournament wins you have to keep in mind what your edge is when playing in a tournament, especially a large event like a Grand Prix. G/B Constrictor is a powerful deck, don't get me wrong, but what happens if you get paired up against Brad Nelson on the same 75. Chances are, you're probably going to lose. No offense, but Brad is a Standard master. A. Master. Do you think you can beat him at his no game? Probably not. I've experienced this first hand, and it wasn't pretty. You can defeat Brad though, don't get me wrong. Which leads me to the next deck…
The Control Deck
Not every deck is so creature-centric. Some don't even have creatures at all! As I wrote about last week in my Second Sun writeup my tournament success came from beating Mono Red and multiple Zombies opponents in the Swiss rounds. Second Sun is my leading deck choice going into this weekend for a variety of reasons. But I can't talk about why this is my leading choice without first talking about "Binder Bant."
This is yet another Dan Ward "masterpiece" that I piloted to my first SCG Classic Top 8 back at the Roanoke Invitational weekend. The week before the Invitational I was distraught on what to play in Standard. Every deck seemed like a "fine" choice. I was torn between G/B Energy, Temur Energy, and Zombies. The format was comparable to our current Standard metagame: multiple creature decks vying for power. But how do you get an edge when everyone is attacking you?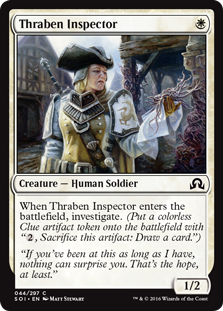 The goal of this deck was simple: put roadblocks in the way of your opponent, give yourself breathing room with Fumigate, then finish them off with either angels or Traversing for Ulamog, the Ceaseless Hunger.
The swiss rounds went all according to plan. Temur creatures and Zombies were met with board wipe after board wipe, locking my Top 8 spot, my loss being to probably my worst matchup in the entire room: U/W Control in the hands of Jody Keith. I eventually fell to multiple Elder Deep-Fiends from Temur Emerge in the quarterfinals, but at the end of the day "Binder Bant" did what it was supposed to do: defeat the aggressive creature strategies.
Now back to Second Sun. Even though people are aware of Second Sun as a deck now it still doesn't diminish the fact that it has edge in the current metagame. Some matchups are better than others. Zombies is almost un-loseable, while the diverse threats from Mardu Vehicles is more annoying.
I wouldn't be surprised to run into mirror matches this weekend if Second Sun was my weapon of choice. If your edge is to play this deck some updates needed to be made to the sideboard. Sphinx of the Final Word is a perfect answer to the mirror, making your Second Suns uncounterable. Just be careful of Fumigate and Blessed Alliance.
The "Others"
There are still some other decks in Standard I haven't touched upon just yet, but I'm unlikely to play them this weekend.
Mono Black Eldrazi—Matt Tumavich SCG Syracuse Classic Top 8
This took a ninth place finish at GP Minneapolis and a Top 8 finish at the Syracuse Classic in the hands of friend Matt Tumavitch. While Matt crushed the Swiss, he was met with a swift defeat by Miles Rodriguez on Mono Red. I'm not convinced this deck is better than the G/B variants out there but its threats are no joke. Transgress the Mind and Lost Legacy can give Second Sun a run for its money, but its threats can be easily managed by Cast Out and Fumigate.
God-Pharaoh's Gift
God-Pharaoh's Gift variants are another deck that was big going into the Pro Tour but fell short to Mono Red. This deck is interesting but I don't think it can hold its own against the fast creature decks. There probably is a good 75 out there but I'm not sold yet considering that this deck hasn't put up any solid finishes.
Blue Red Control
While Second Sun wants to avoid Disallow like the plague, U/R Control just gets crushed by Mono Red, as shown by the Pro Tour results. Second Sun has a better time dealing with the threats from the creature decks with Blessed Alliance, Fumigate, and Aether Meltdown while turning the corner quickly after resolving an Approach. Bled-red just can't turn the corner as quickly and has worse answers across the board. I'll pass on this control deck for sure.
Gruul Ramp MOCS Runner Up
While this deck hasn't put up many paper results, it recently 8-0'd the Magic Online Championship. What is this ramp deck doing right that others aren't?
For starters it can go toe to toe with the creature decks. Multiple board wipe and cheap answers can help reset the board and clear the path for hard-to-answer threats Ulamog and World Breaker. The weakness for this deck is the normal negative when playing a ramp strategy. You can lose games with multiple fatties stuck in hand or lose to mana heavy draws, since so much of the deck is made up of mana sources. However, this 75 seems much more tuned for the current metagame and I'm even considering playing it for the RPTQ. I'm wary of playing a ramp deck to begin with, but maybe I can be convinced that this is worth the risk.
Summary
If I had to pick my top three decks for the weekend I'd go with Second Sun, RG Ramp, and G/B Constrictor, in that order. I think you can have a huge edge by preparing for a creature-heavy metagame by playing Second Sun. Although you're weak to other control decks you can easily shift some cards around in the board to be prepared for any random control deck you might face or the mirror. The MOCS GR Ramp list also seems like it has game against the creature decks and can also have an edge against Second Sun by being able to ramp quickly into fatties that remove lands, hence choking them on mana to cast their only win condition pre-board. Finally, with the right build, you can have a GB deck that's ready both for Zombies and Red while having plentiful sideboard options for Second Sun.
In conclusion, I'm really not sure what I'm going to sleeve up this Sunday. I know that I should have an edge, which probably means Fumigate will end up in my deck to combat everyone in the room touting their Winding Constrictors, Earthshaker Khenras, and Cryptbreakers. But with Second Sun on the (sun)rise I'll have to prepared as best I can for the decks looking to prey on the other creature decks.
That's it for me this week, wish me luck! If there's a weekend where I needed the luck it's this one, and I'm going to fight tooth and nail for my invite to Pro Tour Ixalan.
Roman Fusco (Twitter: @Roman_Fusco) is a current film student and aspiring Magic pro living in New York City. His preferred format is Standard with the occasional Modern. His current favorite Standard card is Descend Upon the Sinful while his favorite Modern card is Deflecting Palm.