This week I interview Drew Tucker. Let's jump right in!
---
Matt Jones: Thanks for the interview opportunity. You're one of my two favorite Magic artists. Your paintings for [casthaven]Dark Banishing[/casthaven], [casthaven]Dandân[/casthaven], and [casthaven]Earthlore[/casthaven] were hugely important to teenage me choosing the art life. I can't thank you enough. I mean, your work made the game great, too, of course, but shit, man, it had a huge impact on me personally. Thanks!
Anyway, here's question one of three, what was your life like at the time of the early days of Magic? I'm interested in where you were at in your career as an artist and illustrator, how you came to work for Wizards, how you felt about the game, all of it! I'm very interested in beginnings of things. What was it like to paint [casthaven]Power Leak[/casthaven]and [casthaven]Clockwork Beast[/casthaven] and see them to their conclusion as Magic cards? That's a big "question one of three"!
Drew Tucker: First off  thank you. Also [casthaven]Dandân[/casthaven], [casthaven]Earthlore[/casthaven], and [casthaven]Dark Banishing[/casthaven] were some of my favorite pieces.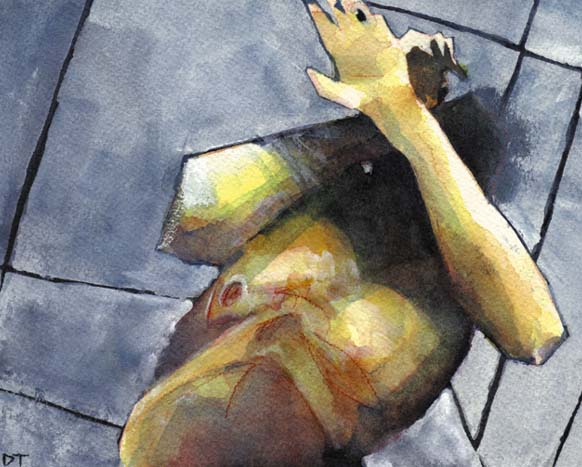 All right, to answer your question, "What was my life like at the time of the early days of Magic?" I really want to make something up and straight out lie to you tell you about my days as a crab fisher and spending my summers chasing goats on the cliffs of Moher. But I was living in Seattle on Republican Street on Capitol Hill Managing an 1800's apartment named "the Elmondo" with my wife Kati. I was going to school at Cornish College of the Arts finishing my bachelors degree in illustration and dabbling in furniture classes. Prior to Seattle I had been going to school for design, making logos and brochures as well as some spot illustrations for a few math textbooks. Black and white ink drawings of a quizzical Riddler-esque, long nosed mustachioed math villain wearing a black 70s fedora with a plum.  As well a couple of editorial pieces for the Rocket when we first moved to Seattle. But, Magic was my first real big job and it is absolutely where my illustration career started.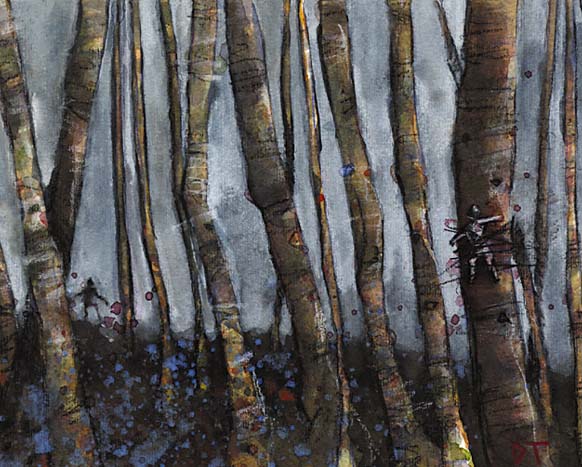 It was in a watercolor class in Cornish where I met Sandra Everingham. She had told me about Wizards and the game they were working on and asked if I would give her a portfolio.  That's exactly where it started.  In actuality I was in the right place at the right time with the right person.
As far as how I felt about the game what was it like to paint [casthaven]Power Leak[/casthaven] and [casthaven]Clockwork Beast[/casthaven] and to see them as cards in print, I was really excited to work on Magic. It was my first real job. But I knew very little about the game at the time. When I first started working with Wizards of the Coast they were still a very small business. I understood it was a card game but what I was really interested in was getting to make pictures, pictures surrounded in fantasy and magic and the unreal. Much of the same types of imagery and stories that I was interested in. Not only the subject matter that I liked, but the abstractness of the assignments. In the beginning of working with Magic when I got assignments, they would give me the name of the card (which would often change after the job was completed), the color, and sometimes a brief description.
When you get to see your work in print, that's excellent. Everything is so official. Not only are you getting paid for making images and painting, but in print millions more potentially get to see it. The painting isn't held up on someone's wall where only a few select people can see it, or shoved in a corner in the basement. Its out there for everyone to see it. This is one of the amazing things about illustration—the idea that art can be owned and seen by an unlimited number.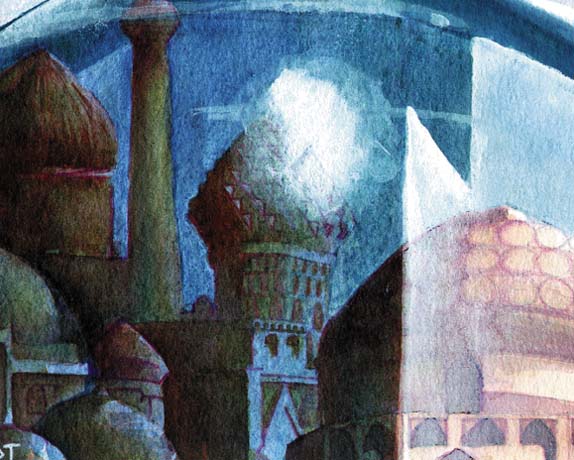 MJ: How has your work evolved from the early Magic days to now? I'd love to see any examples of your work over the years you're willing to share with me and our readers.
DT: I'd like to say I have gotten much better. I still like to make pictures that allow the viewer to navigate the image through visual clues, but somewhere in there I have learned to draw and paint. 🙂 Much of the quirkiness is still there and the gestural moments, but I have a much better understanding of what I'm doing technically. The biggest change for myself is in the medium. Where I still do watercolors and multi medium sort of things I have been concentrating much more in oils. Earlier I had been working watercolors in layers of gum Arabic to produce a sort of oil feel to the pictures. I eventually gave in and decided to use the right medium as opposed to trying to fake it. Now I find I am trying to replicate some of the moments found in watercolor in oil.
Here are some recent images of paintings: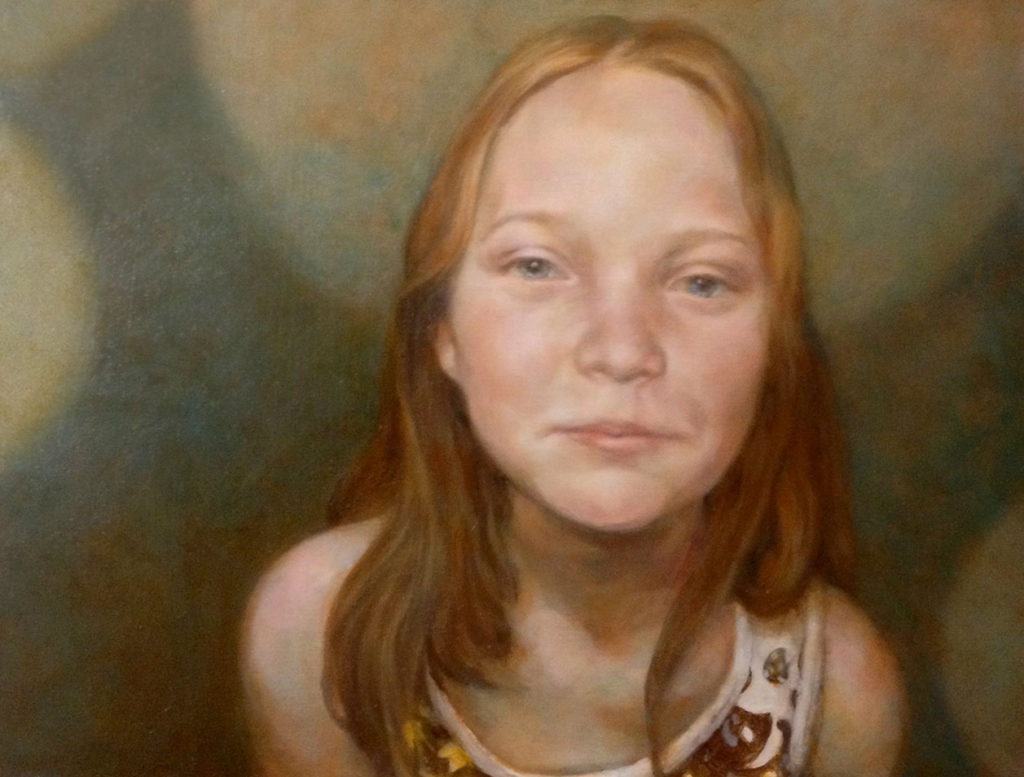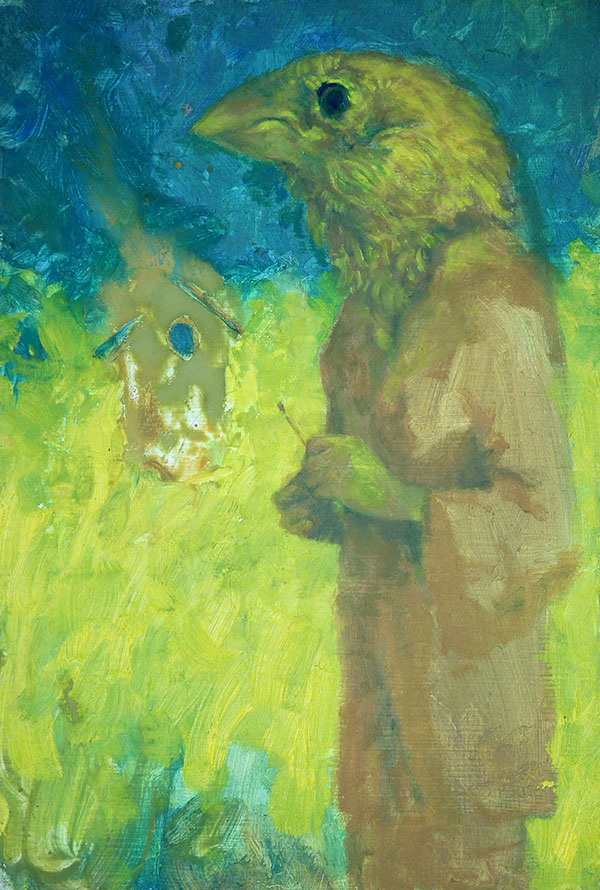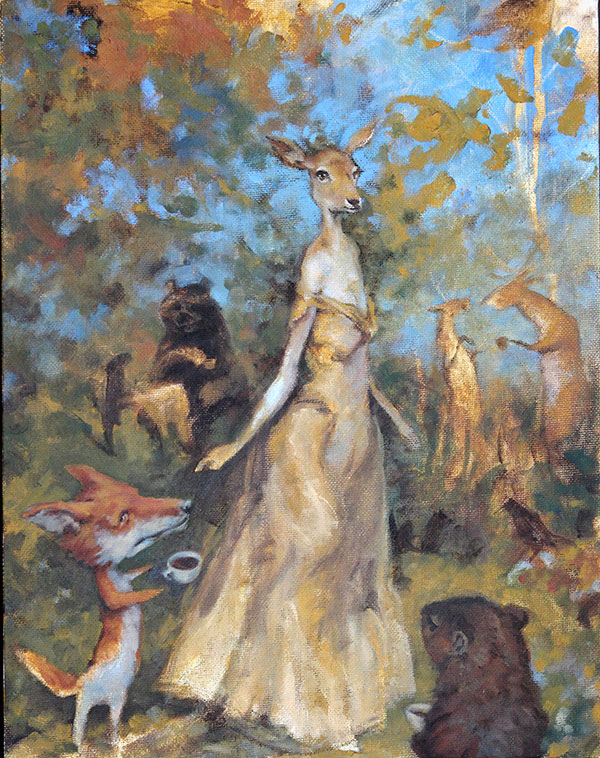 MJ: You've maintained the ethereal nature of your work. The other-worldliness. The only magic artist's work that compares to yours  is Nils Hamm. Do you know his work? His work feels sort of formulaic, though still very good, whereas yours feels more primal and organic.
Your continued refinement of your practice has not diminished the power of the earlier works we're all familiar with. That's quite an accomplishment! I'm pretty sure I'm addicted to sketches, physical pencil on paper sketches. Painted sketches, too, of course. There's real room for the viewer in all that unfinished potential. Most artists don't retain this mystery, or any of its qualities, in their finished works, but you have continued to be able to.
Final question: I haven't done a ton of research on this, because I mostly just keep staring at your illustration for Dan Dan as it's so familiar to me and attached to so many teenage nerd memories of mine, but I think that you may be the only (or one of very few) original Magic artists who've worked on recent Magic sets. Recent-ish. Eventide, Shadowmoor, Timespiral, etc. What was it like to come back and illustrate Magic art after so long a hiatus? Any plans for new Magic illustrations?
DT: I'm familiar with Nils Hamm's work.  I really like how he pushes his painting space with his edge work. And the thought of retaining or refining the sketch, there is a lot in that. Retaining the energy from the sketch or gesture is really important to me.
Anyhow.  It was quite nice getting to come back on a few of the recent-ish sets. Possibly the biggest difference working on Magic later is the perimeters in what the image should be is much more defined. The whole magic universe is now much more defined. I do not have any recent plans for more Magic work, but I am always open.
DT: I am currently working on a series of pieces that will be shown at Illuxicon in the end of October with Vintage Magic. And of course if folks are interested you can always view my
website
and or go to my
Facebook page
where I put up new works and also a lot of process shots.
---
Wow. Thanks Drew!  You've read this from me before, it's a thrill to be in touch with artists like Drew who've been such big inspirations to me. I know they're some of your favorite artists and I'll keep checking back with them for future articles and interviews. Next week: Winona Nelson!
Matt Jones (born on at the beginning of the 8th decade of the 2oth century) is an artist living and working in Brooklyn, NY. Matt's played Magic since Revised. Lately Matt's game has become more about hanging out with friends and shooting the shit and less about competitive tournament play. He writes the weekly Arting Around column on Hipsters of the Coast, interviewing Magic illustrators and occasionally adding his thoughts on the art of various cards and sets. You can see Matt's artwork on his website.