This past week was the World Magic Cup and World Championship in Nice, France. There was a lot of exciting Magic action and we'll be recapping all of the highlights. Who won? Who lost? And what will 10,000 Magic players be doing in Las Vegas next Spring?
Modern Masters 2

The hype is real. As was long expected there will be a second Modern Masters set. The success of the first set, which came out in the Summer of 2013, was a sure indicator that we would continue to see products like this. While the Modern Event Deck released last year did not sell very well, the strong feedback from the community was another sign that the Modern format is very popular and deserves a high  level of support from Wizards of the Coast. They did not disappoint.
The big change from the original Modern Masters is the inclusion of M10, M11, Zendikar block and Scars of Mirrodin block. From the imagery it looks like Emrakul, the Aeons Torn, and Etched Champion are going to be included. The set will (once again) be 100% reprints and there are a ton of cards from these sets which are multiple format staples and would be fantastic inclusions. At the top of my list are the Zendikar fetch lands and please, please, please let this set, at $9.95 a pack, contain full-art lands. I won't list all the potential cards here but consider for a moment that a foil Karn Liberated is $100 over at Star City Games.
The design lead was Erik Lauer and his team was Ben Hayes and Ken Nagle. Development also included Ben Hayes, and he was joined by Tom Lapille, Max McCall, and Adam Prosak. Ben, as you may recall, was the designer of the Modern Event Deck, so we can see that he is going to be making his mark in many ways on the Modern format. Ben is also a former member of the NYC MTG group having become a pro player before joining Wizards R&D. Erik Lauer was the lead developer of Khans of Tarkir and Innistrad, two of the more beloved draft formats of the past few years. We should be very confident that drafting Modern Masters 2015 will be a positive experience as well.
Another part of the announcement from Helene Bergeot was also somewhat expected. Modern Masters 2015 will be the format for Grand Prix TBD taking place from May 28th to May 31st next year (yes that's four days). What we now know is that the cities for those three events will be Las Vegas (Nevada), Utrecht (Netherlands), and Chiba (Japan). Vegas was and still remains the largest Magic tournament ever held and Wizards is looking to make it even bigger. They have guaranteed a a tournament venue with a player cap of 10,000 players. Yikes. Chiba and Utrecht will also be guaranteed to hold 5,000 players each for their main events. 20,000 Magic players around the world? Sign me up.
So will you be going to Vegas next May?
On a final note, Helene did leave the door open for 2015 Edition to mean there will be more editions in the future…
Missing in Action
The coverage for this week's festivities began on Tuesday morning at 3AM here in New York. I started watching coverage when I woke up and was getting ready for work. There were a lot of people working coverage this week from the news desk to the play-by-play to the deck techs and more. You had your standard crew of Brian David-Marshall, Randy Buehler, and Rich Hagon. They were joined by a large cast of characters including Marshall Sutcliffe, Ben Stark, Rashid Miller, and more. But, through five days of coverage there was something missing.
Where are the women? Other than two appearances by Helene Bergeot, where were the women? There were no women doing any kind of commentary. There were no women in the World Championship, and as far as I can tell there were no women in the World Cup tournament. I may have missed one. Maybe there was one? I doubt it. Wizards has made a lot of progress but this is an area I'd like to see them step up on in 2015.
Chapin Undefeated
The "Innovator" went undefeated on the first day of World Championship competition. That's kind of crazy if you think about it. Here are the seven opponents that Chapin had to play on the first day of competition:
2-1 over Lars Dam
2-0 over Paul Rietzl
2-0 over Yuuki Ichikawa
2-1 over Shahar Shenhar
2-1 over Shaun McLaren
2-0 over Kentaro Yamamoto
2-0 over Ivan Floch
That's an insane resume of opposing planeswalkers. All of them are among the best players in the world, but consider that Rietzl is a fellow Hall of Fame member, Shenhar is the reigning world champion, and that the combined Pro Tour top 8's of Chapin's seven opponents was 12.
Chapin knew from the moment he won Pro Tour Journey into Nyx that he wanted to win the World Championship and he was well on his way to doing so. Day two wasn't as kind to The Innovator, going 3-4 overall, but a 10-4 finish was enough to propel him into the final four bracket with Shahar Shenhar, Yuuya Watanabe, and Kentaro Yamamoto.
Carvalho Disqualified
The first day of team competition at the World Cup featured 72 teams from across the globe in fierce competition. The biggest story of the day ought to have been underdog Malaysia finishing the first day undefeated, an impressive record of 6-0-1 for 19 points in the standings. A number of impressive teams were right on their heels at 16 point apiece and the United States would just make the cut for day two with 12 points in 26th place.
But the big story was the disqualification of Marcio Carvalho from the Portugese team. It appears the Carvalho had attempted to hide a card under his score pad for the purpose of sneaking it into his deck at an opportune moment during play. Yikes. At the highest levels of the game with tons of judges and spectators, some people never learn. It would seem that like most cheaters, Carvalho has a reputation, as shared by Matt Sperling.
In the meantime, Jeremy Dezani was called out for having local dealers inform him of what cards the other competitors in the World Championship had been buying. Jason Alt has a more detailed recap here. All-in-all cheating has been a black spot on the game in recent months, but it continues to be positive that Wizards is taking swift and decisive actions.
Daneblast
The pools in day two began by drafting Khans of Tarkir and some teams managed to pull off upsets and advance to the final 16 teams. Slovenia, for example, made it in as the 25th overall seed, and the United States advanced as the 26th seed. Malaysia, the top-ranked team at the start of the day, faltered greatly and did not make it to the final 16. From those final teams a bracket was formed after four rounds of unified standard.
South Korea vs Greece
Slovak Republic vs United States
Serbia vs Denmark
England vs Brazil
The final four featured Greece upsetting the United States 2-1, and Denmark upsetting England 2-1, setting up a final showdown between the two European nations. The final match to determine victory featured the two Whip of Erebos decks and in the end it was Denmark's Simon Nielsen sealing the victory. With a deck featuring Duneblast taking the title, the headline wrote itself.

Twice as Nice
The final four matches of the World Championship were played as best-of-five matches beginning with Patrick Chapin and Kentaro Yamamoto. The other side of the bracket featured a showdown between 2013 World Champion Shahar Shenhar and 2012 World Champion Yuuya Watanabe. Both could taste the sweetness of becoming the first player to repeat as World Champion.
You can read the coverage of their matchup here so I won't go into detail about it. I also won't go into detail about the matchup between Chapin and Yamamoto which you can read here. I'll give you a minute to read those.
…
…
…
…
…
Alright welcome back. By now you know that neither Japanese player was able to advance to the finals of the World Championship, setting the stage for Chapin to take on defending boss Shahar Shenhar. Chapin had wanted this ever since he won the Pro Tour way back when. This was his dream and his goal and he was as prepared as he would ever be. Shenhar was focused on becoming the first ever two-time champion, and would not be deterred.
You can read all about it here.
…
…
…
…
…
And there you have it. Shenhar crushed the dreams of the Innovator in three straight games to take home the title once again. At the age of 21 and without even a single Pro Tour Top 8 finish to his name yet, Shenhar has delivered two straight World Championship titles. Can he make it a three-peat? Can the Innovator bounce back and get another shot at glory next year? The countdown to Worlds 2015 begins now.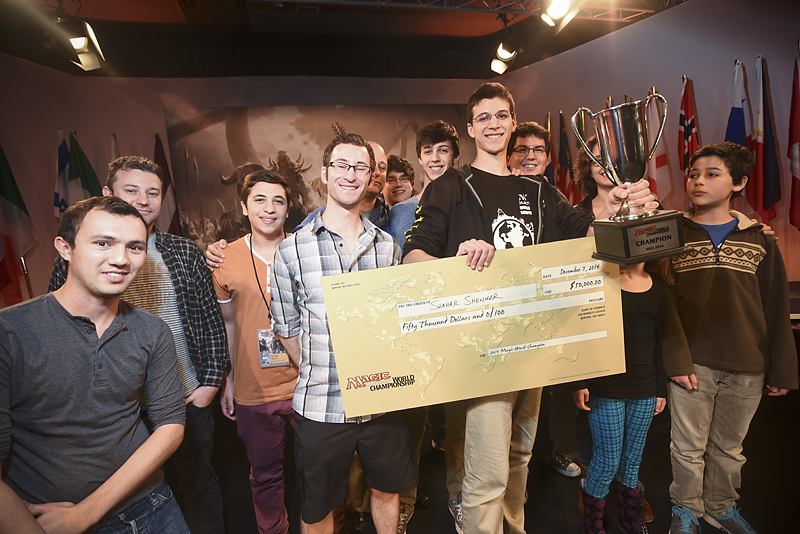 The Quick Hits
In a week where Treasure Cruise has been featured prominently, it's fitting that its delving partner in crime, Dig Through Time, is featured as the wallpaper of the week. The artwork is very out of focus, but I like how the spirit dragon being summoned is front-and-center on my desktop.
Grade: B+
What We Learned is a weekly feature here at Hipsters of the Coast written by former amateur Magic Player Rich Stein, who came really close to making day two of a Grand Prix on several occasions. Each week we will take a look at the past seven days of major events, big news items, and community happenings so that you can keep up-to-date on all the latest and greatest Magic: the Gathering community news.