This weekend we traveled up to Boston for PAX East, one of the largest gaming conventions in the world. Among the highlights of the three-day festival are the Magic booth in the expo hall and the Magic panel held on Saturday afternoon. Past MTG panels at PAX East have included the revelations of Return to Ravnica and Theros. Also countless cards from upcoming sets have been spoiled in Boston. What would this year's convention have in store?
Duels of the Planeswalkers 2015

The big theme of the weekend for Magic was the 2015 edition of Duels of the Planeswalkers. The entire MTG booth in the expo hall was dedicated to promoting the new game. They were offering demos of the game, so I took it for a spin. My first impression was that the theme and feel of the interface are a vast improvement over the previous incarnations of DOTP. Everything felt much smoother and more clean-cut. It's essentially everything that the MTGO beta client is not. However, the gameplay itself still felt like the same old clunky DOTP. Card placement and the movement of cards around the board are the same from DOTP 2014.
Also featured prominently this weekend was Garruk Wildspeaker. The theme for the summer core set release of M15 revolves around the cursed planeswalker. From the MTG panel on Saturday, brand manager Mark Purvis gave us some insight:
Because Garruk's mind has been corrupted, and that ethos of the hunt has been twisted, he's hunting bigger game. He's hunting planeswalkers.
Among those planeswalkers that the big green machine is coming for are each and every one of you, the players of Magic. From Duels to the core set, this summer will be all about surviving while Garruk hunts us all down. It should be an exciting summer, and provide a level of depth to the experience that no core set has had before.
Magic 2015 Celebrity Cards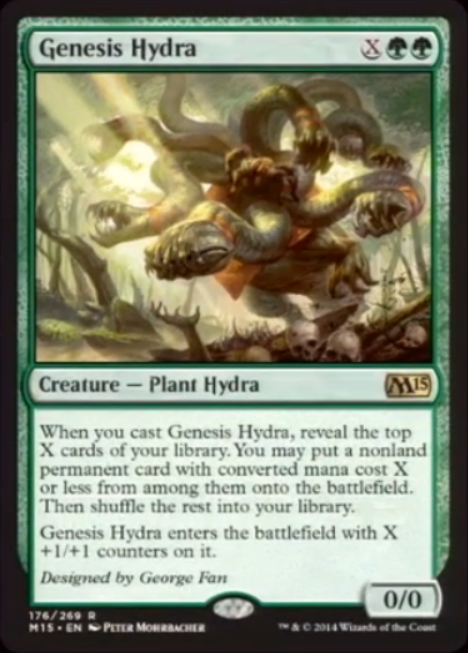 The next big announcement came at the panel on Saturday. It can be summed up in the final line of the text box of the M15 card spoiled above. This is the second recorded use of the newly created "designer credit" that we learned about some time ago. Wizards announced it in the context of "Waste Not." That was the community-designed result of the You Make the Card campaign.
George Fan is not the Magic Community. He is a single person and more importantly he is the designer of a game known as Plants vs Zombies. The panel presentation featured a short video of Fan which included the following:
What if I told you that a bunch of game designers who've designed some of your favorite games all used their skills to create brand new cards to play?  It's true. These game designers each created a card for this summer's Magic 2015 core set.
That's pretty big news. There was a lot of speculation about how Wizards planned to use the designer credit and now we have some more insight into that process. I think that celebrity cards are a great idea for the core set. Traditionally, there is much less hype about the core sets. There isn't a plane or story tied to them. A large portion of the set is reprints. The power level tends to be low. But now, for M15, we're going to have a Pro Tour, a story revolving around Garruk, and some hype around celebrity cards. Here is the full list of celebrity designers:
George Fan – Creator of Plants vs. Zombies
Mike Krahulik & Jerry Holkins – Creators of Penny-Arcade
Markus Persson – Creator of Minecraft
Richard Garriot – Creator of Ultima
David Serlin – Creator of Super Street Fighter II Turbo HD Remix
Rob Pardo – Chief Designer of World of Warcraft
Isaiah Cartwright – Lead Designer of Guild Wars 2
Justin Gary – Designer of Ascension and Solforge
Stone Librande – Lead Designer of Diablo III, Creative Directory of SimCity
Brian Fargo – Founder of Interplay Entertainment
Mike Neumann – Creative Director on Borderlands
James Ernest – Owner and Lead Designer at Cheapass Games
Edmund McMillen – Designer of Super Meat Boy
Brad Muir – Project Lead on Iron Brigade
Journey Into Nyx
There were plenty of spoilers for Journey into Nyx. They will all be on the Wizards image gallery by now. One spoiler in particular really took the crowd by surprise. Here is Athreos, God of Passage, as spoiled by Jenna Helland: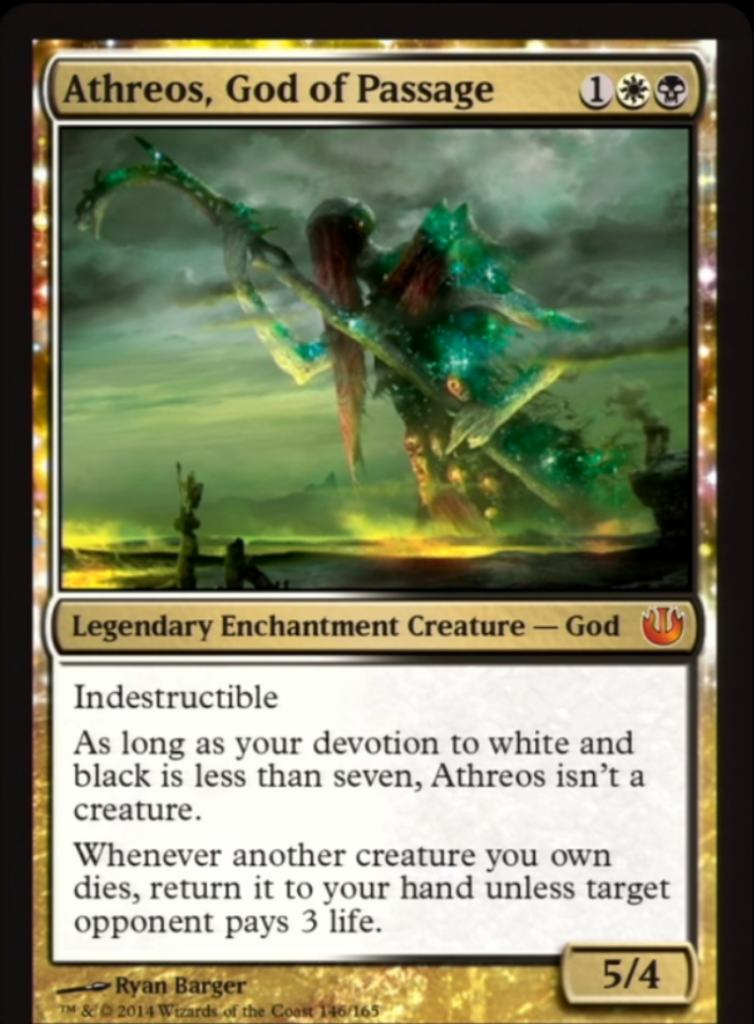 The crowd response got louder and louder as people finished reading the card and got to the real meat and potatoes. This is an indestructible 5/4 creature for three mana. The applause was immense and everyone was talking about this card's power-level in multiple formats. I don't know how good it will be, but it's hard to imagine this card failing to find a home. SCG is taking pre-orders at $25 each and, this may sound crazy, but that could be too low.
"Huey" and Conspiracy
This biggest disappointment of the weekend was that the announcement of Huey, the fall set for 2015, and the block for the next year, was pushed back. It will now be announced during the Sunday coverage of Pro Tour Journey into Nyx. Personally I think this is a huge mistake. Announcing the set live in front of an audience of several hundred people at PAX East creates an electric atmosphere at the panel. Last year's announcement of the whole Theros block was incredibly well received. The year before included incredible emotional response to the announcement of Return to Ravnica. Announcing it during event coverage won't be the same.
The first Q&A question at the panel was about Conspiracy. After some improvisational delays, Mark Purvis allowed the audience to pick which of the following things he would spoil from Conspiracy:
New Card Type
New Planeswalker
New Legendary Creature
New Mechanic
It was a close vote, but New Card Type narrowly beat out New Planeswalker. The spoiled card was completely colorless with the new card type: Conspiracy. That's right. Apparently two things were just dropped on us. Conspiracies will be actual cards themselves. Also, Tarmogoyf can now potentially get +1/+1 bigger (assuming Conspiracy cards can end up in the graveyard).
Stoneforge Mystic at PAX East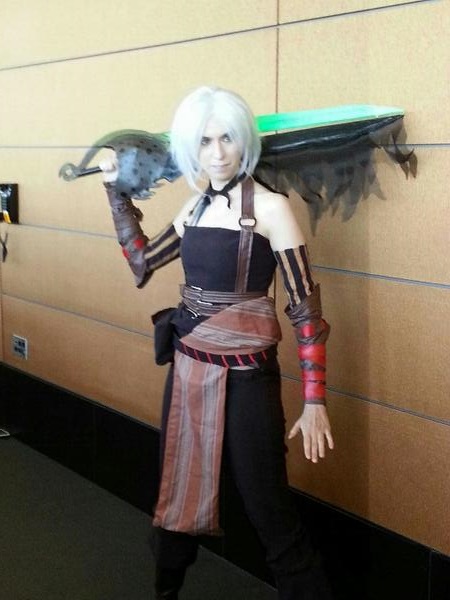 On a final note, I highly recommend finding the archived stream of the panel on Twitch and scroll forwards about 40 minutes to the start of Q&A. Several questions in, this young woman dressed as Stoneforge Mystic gave a passionate plea to the Wizards' panel members to un-ban her immediately. It was moving.
Pro Tour Update
Top 25 Update
Not a whole lot of movement came out of Grand Prix Phoenix. The top baker's dozen remained unchanged. Eric Froehlich made a big jump as did David Ochoa. Matej Zatlkaj unceremoniously dropped out. Expect Grand Prix Phoenix and Nagoya to have a much bigger impact.
Grand Prix Nagoya
Nagoya ended up becoming the second-largest Japanese GP event of all-time. The massive field of nearly 1800 players included several well-known Japanese players, but in the end it was 25-year old Kasuga who became the champion. Kasuga's deck in the finals was a black/red aggressive deck featuring Flame-Wreathed Phoenix, Nighthowler, Anger of the Gods, and Hammer of Purphoros.
Grand Prix Philadelphia
Frank Skarren had to make it through two of the top-ranked pros in the world to win GP Philly. First, in the quarterfinals he defeated (25) Huey Jensen. Then in the finals he defeated (2) Reid Duke. In-between he took on former GP Sacramento top-8 finisher Adam Mancuso. Just missing the cut for top-8 was (24) David Ochoa who finished in 11th place. Formerly ranked pro Christian Calcano finished first in the swiss but was knocked out of the quarterfinals by Mark Evaldi. It could be enough pro points to push Calcano back into the top-25, but likely not ahead of Jensen and Ochoa.
The Quick Hits
Wallpaper of the Week
Now this is the artwork for one bad*** planeswalker. Ajani, Mentor of Heroes, will be giving us a green and white incarnation of the sage of the leonin 'walker that first appeared in Lorwyn so long ago. He's no longer the vengeful one-eyed champion from Ajani, Caller of the Pride. This version of Ajani has embraced the natural order of things and become wiser for it. The artwork clearly presents this new demeanor. 
Grade: B+
The Week Ahead
There's no Magic next week. No Pro Tour. No Grand Prix. It's still two weeks from the Journey into Nyx prerelease events. So go out and enjoy the hopefully warm weather. Check out Jace vs Vraska or start getting your post-rotation Standard decks ready. Whatever you do, make sure you enjoy the rare Magic-free weekend!
What We Learned is a weekly feature here at Hipsters of the Coast written by former amateur Magic Player Rich Stein, who came really close to making day two of a Grand Prix on several occasions. Each week we will take a look at the past seven days of major events, big news items, and community happenings so that you can keep up-to-date on all the latest and greatest Magic: the Gathering community news.