After a being lost in a labyrinth of Standard for a week, I'm back to Modern testing. While casting a bunch of fogs in hopes to reach the Maze's End is my idea of fun, being utterly destroyed in a tournament while doing so…not so much. Not since the end of The Shining has anyone been punished so hard for trying to find their way through a maze.
If you recall though, before all of this Maze's End business, I was 0-2 in my best of five series against Merfolk and Skred Red. While perhaps both of these decks are format outliers, I couldn't help but feel that UWR Twin was just not performing up to my expectations. I have harped on the fact that the deck is versatile in its ability to play as combo and midrange deck but versatility only matters when you have a winning record. In a format as diverse as Modern, I want to play  a deck that can switch gears, but perhaps it just makes more sense to play a powerful deck with a focused plan. This week, I wanted to try out the deck against another established deck in the format, and buddy Kei offered to play a best of five series with me playing with UWR Control.
My Opponent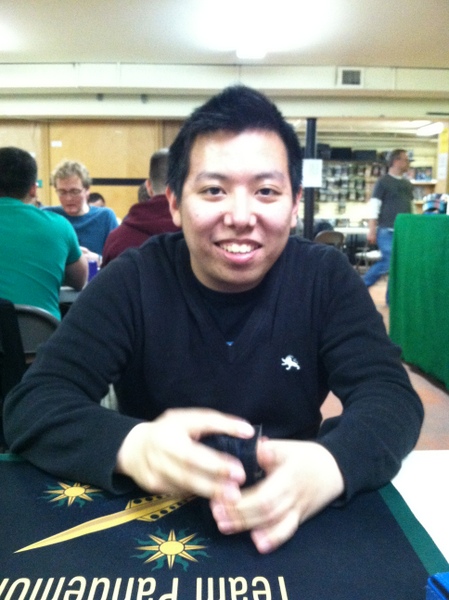 Here are some facts about Kei:
While playing these games with me, he was also judging the Standard event at Pandemonium.
He once told me that every time he hears Fall Out Boy, he thinks of me.
This man loves Thragtusk more than any other person I've ever met.
The Decks
Kei's UWR Control
Shawn's UWR Twin
The Games
G1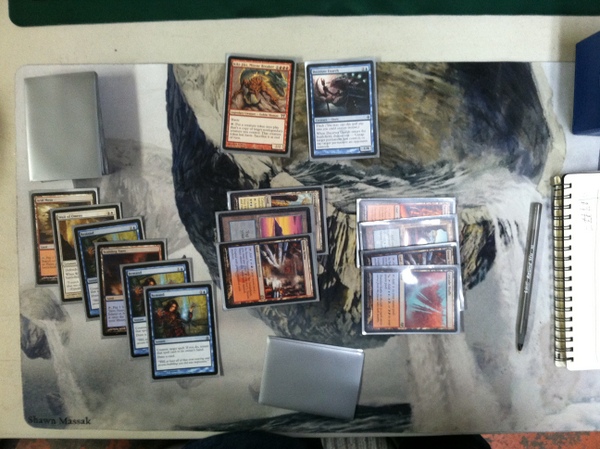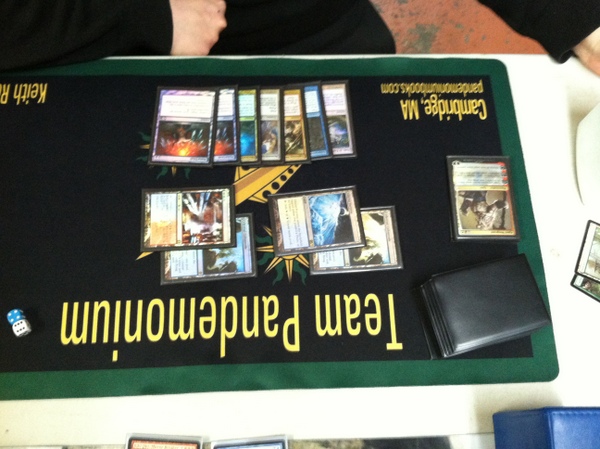 This game Kei was choked on mana and I was able to play Deceiver Exarch end of turn and double Remand his Mana Leaks. I played Kiki-Jiki the following turn and swung for one million. Afterward, Kei told me that he had Path to Exile and should have tried to Path the Exarch instead of going to the Mana Leaks, though obviously it is difficult to play around the double Remand there.
Sideboarding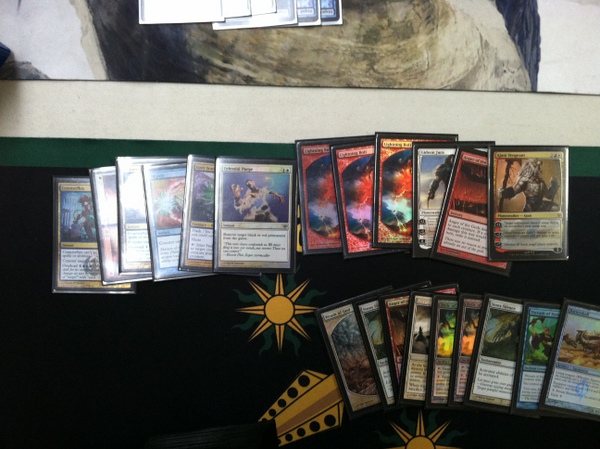 UWR Control
-3 Lightning Bolt
-1 Gideon Jura
-1 Anger of the Gods
-1 Ajani Vengeant
+2 Counterflux
+1 Wear/Tear
+1 Negate
+1 Izzet Staticaster
+1 Celestial Purge
Here Kei takes out the Planeswalkers, which are a bit slow, and the Lightning Bolts which don't match up with Celestial Colonnade, Deceiver Exarch, or Restoration Angel. He brings in Counterflux and Negate to win the counter war, Wear/Tear to destroy Splinter Twin and Spellskite, Celestial Purge to kill Kiki-Jiki and Splinter Twin, and Izzet Staticaster which can kill most things in the deck when paired with Lightning Helix or Bolt. The Staticaster might be on the questionable side, but in every game he played it, it ended up being okay.
I boarded like this:
-4 Path to Exile
-2 Lightning Bolt
+1 Counterflux
+3 Dispel
+2 Spellskite
Path is really miserable against the control deck and Bolt comes out for additional ways to protect the combo. All the cards I brought in are to protect the Twin combo.
G2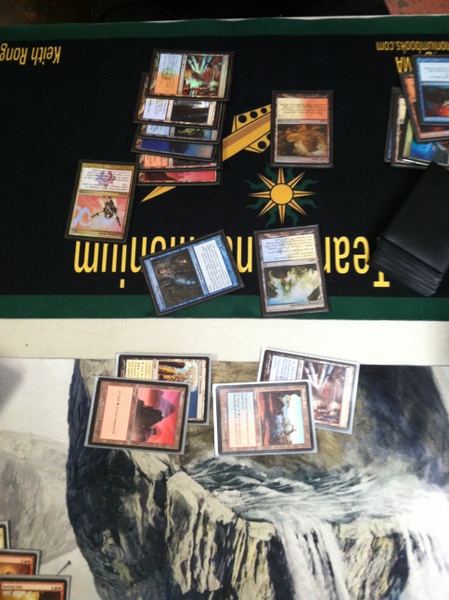 In this game, I got stuck on lands. I had plenty of Deceiver Exarchs and Splinter Twins but didn't have the mana to play them and protect them. I ended up just running them out, which is never a great plan against a deck with so many ways to interact.
G3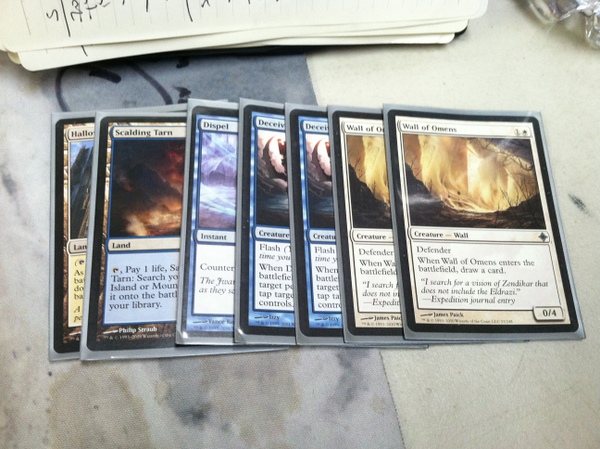 I kept this hand on the play. The Wall of Omens were a bit awkward in that they aren't part of the combo and they don't protect it, but here they allowed me to draw into a few much needed lands. I also like the ability to slap a Splinter Twin on Wall of Omens as a build your own Honden of Seeing Winds. Drawing cards rules.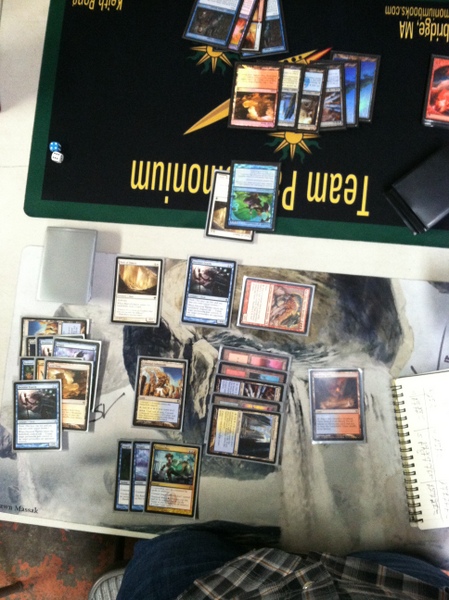 When I finally played Kiki-Jiki to win the game I was able to protect the combo with double Dispel. No amount of Snapcaster+Bolt would be able to get Kei out of this one.
G4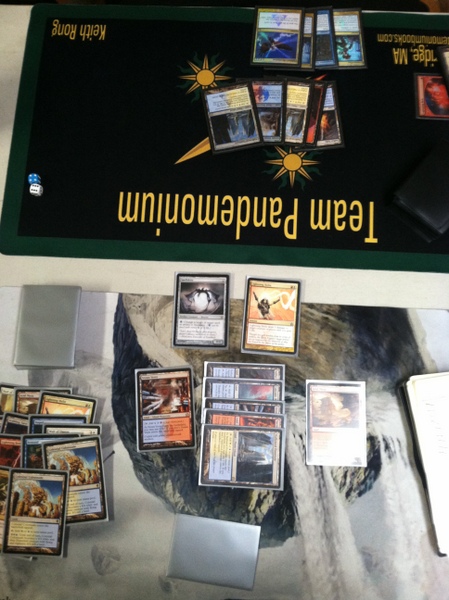 I won this game on the back of Celestial Colonnade beats. Even though Kei eventually Tectonic Edged both of my massive man-lands, the damage was done and when he went to tap out for Sphinx's Revelation, I helixed him out of the game.
While I was happy to win these games, and finally break the losing streak in Modern matches, I feel like there was a lot of variance at work here. In three of our four games, Kei was land light and unable to win the counter war at the end of his turn. While UWR Control has a lot of answers for Splinter Twin, without the mana to play them and back them up with counters the games tend to end quickly in Twin's favor. Also, Kei's board didn't seem to be developed with Twin in mind otherwise I would expect to see a few copies of Dispel and Combust somewhere in the 75.
Moving forward, I'm planning on taking UWR Twin apart. While I think the deck is fine, and reasonably well positioned for those willing to take the time to become familiar with the deck, there are just so many sweet things I could be playing in Modern. Right now, I'm looking to put together Amulet, Cruel Control, or Azorius Control as they are all in my wheelhouse. Either way I'm looking to continue running the modern gauntlet, feel free to suggest something to play in the upcoming weeks.
At age 15, while standing in a record store with his high school bandmates, Shawn Massak made the uncool decision to spend the last of his money on a 7th edition starter deck (the one with foil Thorn Elemental). Since that fateful day 11 years ago, Shawn has decorated rooms of his apartment with MTG posters, cosplayed as Jace, the Mindsculptor, and competes with LSV for the record of most islands played (lifetime). When he's not playing Magic, Shawn works as a job coach for people with disabilities, plays guitar in an indie-pop band, and keeps a blog about pro-wrestling.