Of all mornings, today just had to be the day when the alarm doesn't go off. The car to airport is arriving in an about an hour so I have only a short time to eat, get dressed, and quickly put on my face. It also doesn't help that I've had this persistent headache for a few days now since quitting coffee about a week ago. It was causing my teeth to grow increasingly stained and as a lady in her late twenties, I must preserve my "fresh-faced" beauty for as long as I can before Father Time takes it all away.
With a bit of time to spare, I head to my favorite local bagel shop and order my usual; everything bagel with veggie cream cheese. I decide to order a cup of green tea instead of taking an ibuprofen, a substitution that worked wonderfully. I head back up to the apartment to fill my food hole and watch a bit of Color Purple and end up joining in right at the scene where Oprah instinctively defends herself against a man who slaps her on the street, and experiencing the wrath of all of the locals because of it. Watching her damn near lose her eye and the little bit of freedom she had makes me feel grateful to be born in our current era.
Heading to Newark International is a soothing experience. I'm usually the driver so it's very rare for me to kick back and sight see as I watch the NYC skyline disappear into the fog. The ride is quick and getting through security is painless, which is more than I can say for our flight. The trip is short but full of close to a dozen children. Not only are my ears reacting negatively to the pressure changes in the cabin, but sleep is light and frequently interrupted by squeals of joy and laughter. After about an hour and a half, I stumble off the plane in a muffled daze in search of some solace.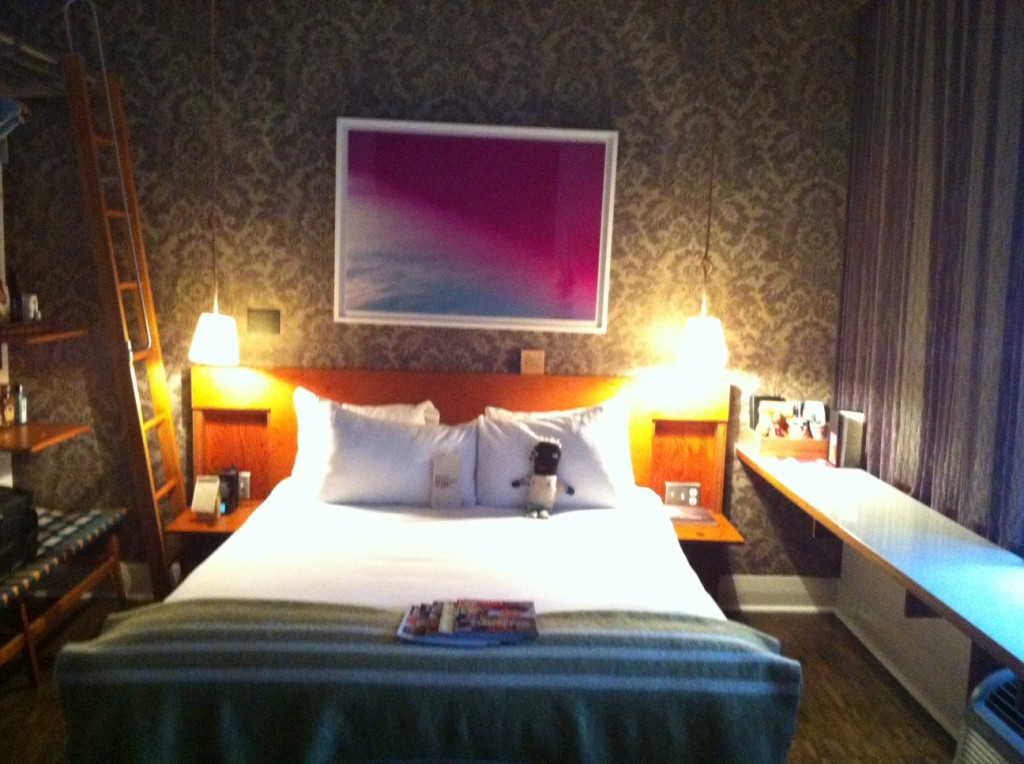 They say that on average, humans have around 70,000 thoughts a day. I, on the other hand, have over a million. On the drive to our hotel, I find stuck in my head following a strange train of thoughts that eventually brings me to lean over and ask Rob, "Do ants sleep?"  It always frustrates me when I don't know an answer to a seemingly simply question, even more so when my best bud Google isn't accessible due to exorbitant data roaming charges. We arrive at the Drake Hotel and are greeted with a bohemian-esk hodgepodge of eye-candy. Our room is warm and neutral—a space that epitomized the Monique in my head. I head down to the hotel bar and wait patiently for my soup and salad, while watching the episode of Mighty Mouse on one of their many screens.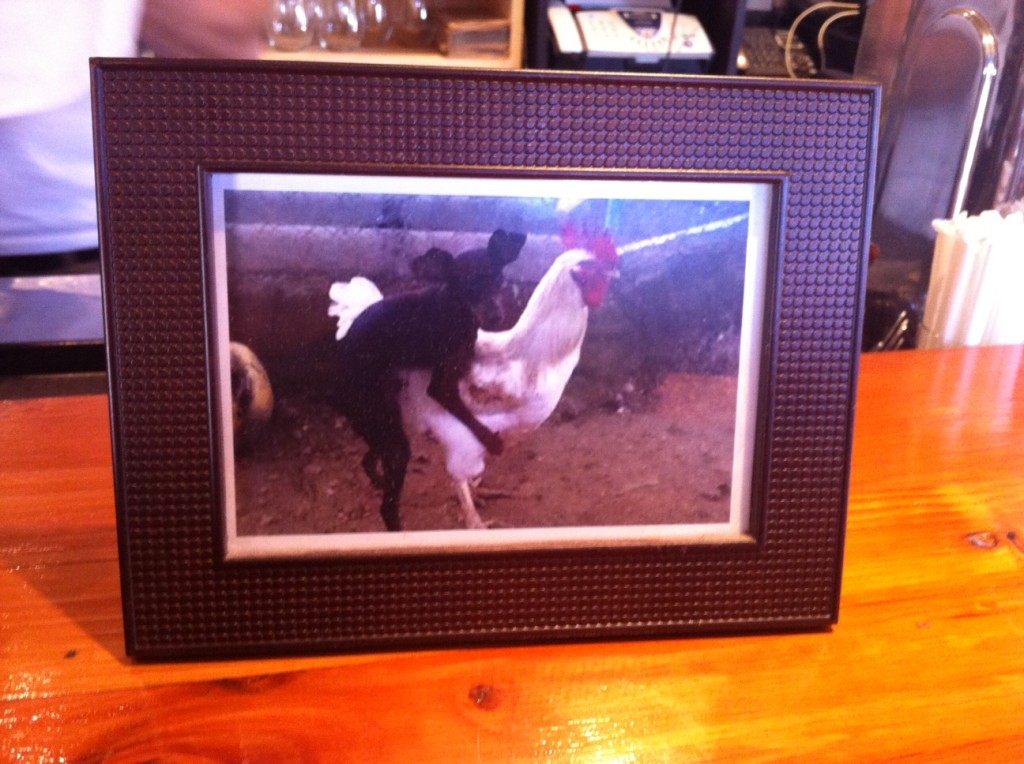 The next day we visit the County General for lunch where we meet an upbeat bartender named Eli. He proceeds to describe today's special which includes an in-house slaughtered pork schnitzel with a caraway infused spatzel (as I drool). I peer above the bar and enjoy the sight of a chihuahua humping a rooster, a picture apparently taken right on the streets of Columbia. We continue our touristy journey of vertigo inducing views at the CN tower, moving floors through an underground abyss at Ripley's Aquarium, and good food and beer at the Loose Moose. After a long day, I realize that soon it will be Magic time. I  fall asleep to thoughts of bestow a Hopeful Eidolon to my 10/11 Favored Hoplite.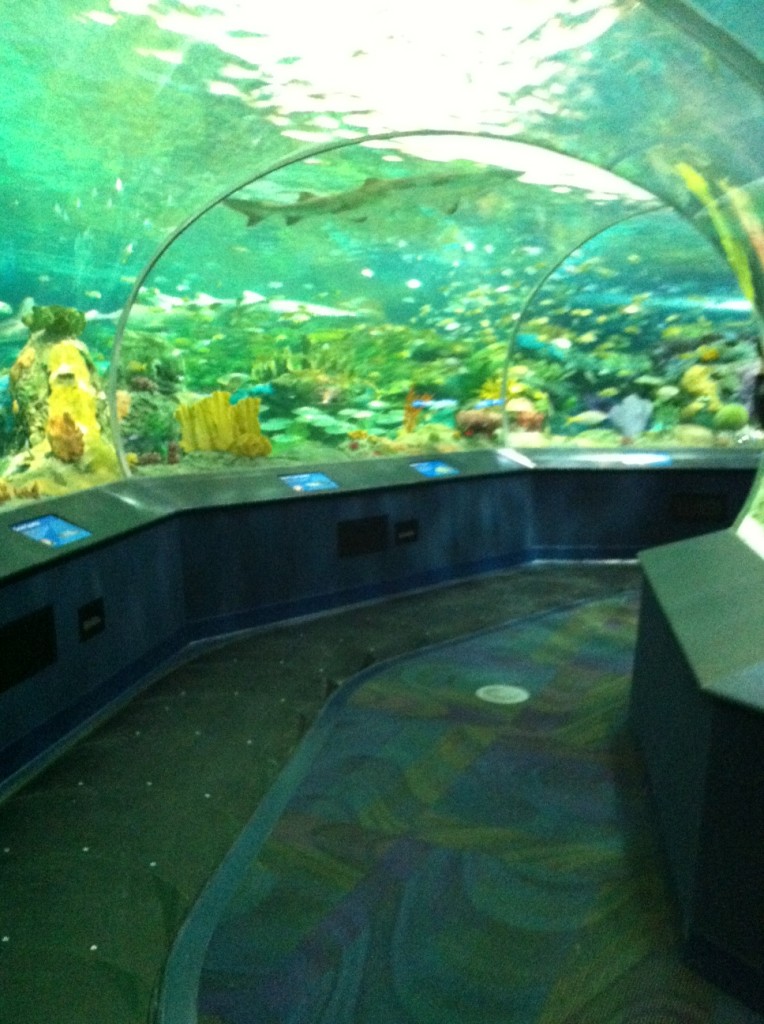 I wake up to a chilly 0 °C Saturday morning, pack up and say goodbye to our boho chic quarters. I'm always disappointed when the service you receive upon checkout is nowhere near as friendly as it is when you first arrive and The Drake Hotel is one of those places. I happily trot out of the lobby filled with unenthusiastic workers wearing bright red lipstick and hail a cab to our next destination. Alt Hotel is a newly build modern take on temporary stays, filled with colorful wall hangings and tall ceilings, but best of all, it's about a five minute drive to the Grand Prix venue. After arriving at the International Center, I meet with Matt, Zach, and Carrie and watch half attentively as they jam a bit of modern, while attempting to mentally prep for a long day of Magic. The event has a late start but it isn't before long that they announce round three pairings are up.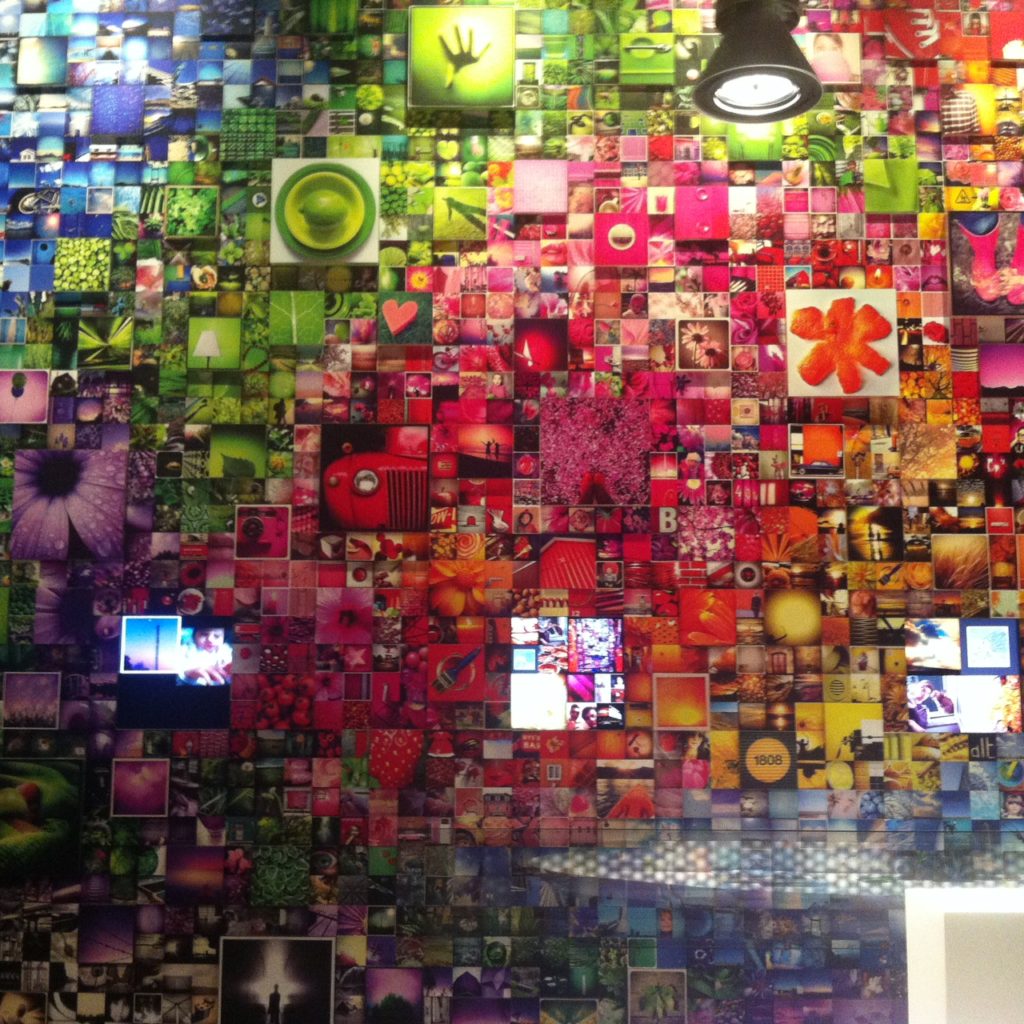 After playing Magic for what felt like an eternity, I end up finishing 5-4. Matt, Rob, and a few other familiar faces make day two so I silently live vicariously through them. I usually don't go to GP's expecting to day two, but this one was different. My confidence in the format is much stronger than it has been for other events, yet I still manage to produce less than ideal results. As I analyze the day, I realize that a lot of my losses were due to a lack of focus. A bad habit of mine is that I tend to allow my mind to wander while my opponent thinks about their next play but when my level of focus is high, my performance follows suit.
I head back to the hotel that evening expecting to feel disappointed, but am rather surprised to encounter quite the opposite emotion. I feel happy that I have taken the time out to identify my shortcomings, which is more than I can say for my past self. Before I wouldn't bother to think about my day and what went wrong— I'd just sulk in my misery and be extra hard on myself, but today I allowed the urge to become better take over.  Magic is not an easy game. It requires attention, strategy, skill, and a little bit of luck to get to the top. After every major event I play in, I find myself getting just a bit better in these categories little by little.
It's been a long day so I finish up my nightly routine and crawl into bed. I melt into the cozy pillow top mattress, curl onto my side, and quietly smile as I fall asleep thinking about what is yet to come.