It's been almost two weeks since Theros launched and boy is it getting a lot of praise. Most of the people that I've asked are thoroughly enjoying the balance, complexity, and overall enjoyability of the set. I haven't been able to play as much as I'd prefer due to life obligations, but now that it's live on Magic Online, I anticipate a lot of sleepless nights in my future.
The current buzz around town is that the Heroic archetype is dang near unbeatable. I recently read a great article detailing the strongest color combinations and its associated cards by Caleb Durwad on Channel Fireball . His article talks about the best picks for forcing the aggro-combo archetype and what their role is in a Heroic deck. Many of the best enablers (Ordeal of Heliod, Ordeal of Purphoros, Coordinated Assault, Dragon Mantle, and Dauntless Onslaught) and threats (Anax and Cymede, Fabled Hero, and Phalanx Leader) fall into either white or red, potentially leaving those colors very thin in any given draft.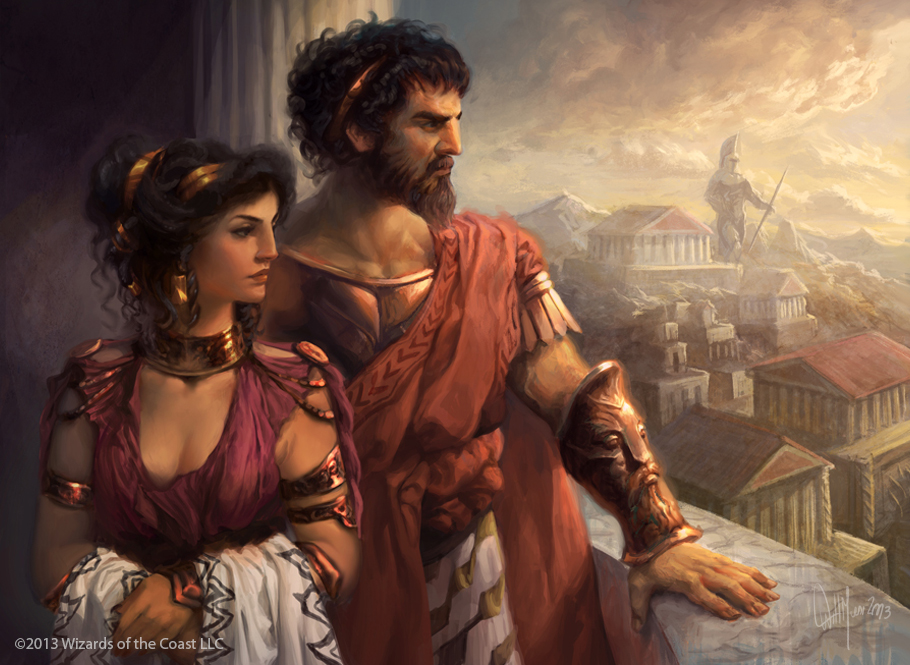 As players begin to feel their way around the format, I'd like to take a look at different decks that do not include what appears to be the most popular colors of the set. This week I'll be focusing on UB Tempo but since I haven't played in many drafts yet,  my opinion of these cards may change as the format matures.
I will approach my analysis by showing how I felt about the performance of each card using the following scale:
Here's the list I ended up with during a Magic Online prerelease draft. I've also included a few notable sideboard cards that I frequently brought in.
UB Tempo

This little guy was exactly what this deck wanted on turn two. It's evasive little body is fragile, yes, but it generally pushed through a lot of damage before my opponent was able to handle it. Plus the enchantments in this deck make it even harder to answer. Turn 2 Vaporkin, turn three Ordeal, psht, I'm glad I was on the giving end of that beat stick!

I enjoyed this card early but wasn't too excited (nor upset) to see it as a late game top deck. He blocks early aggression very well and can beat in for a few points of damage as the game progresses. The issue I had with him is that he wasn't the best at holding an enchantment due to the mana constraints. Bestow is expensive and tacking on an extra two mana activation cost made this guy much better at defense than offense. By the time I did have the extra mana to play with, I already had a bigger and badder son of a gun ready to join the battle.

Now this guy is a bad Mama Jama. I was happy no matter when I drew him and the fact that I had six enablers made the chances of me getting a card off of him pretty decent. I'd definitely give him a 5 in a dedicated Heroic deck with more enablers, but he'll always be welcome in any future tempo decks I build.

This merfolk was mediocre most of the time. He shined best against aggressive starts but the majority of the time, I was the one who wanted the aggressive start. I added him main just so I can slow down the extremely fast decks and I often brought in his twin brother from the board against the same archetype. Granted, he was usually the first to go against midrange, ramp, and/or control strategies.

This card helped me close out more than half of the 7 or so games I played with this deck. Keep in mind, black is currently the underdog color of the set so intimidate should pretty much say unblockable here. It triggered my Triton Fortune Hunter, made my Vaporkin's even scarier, added to the devotion counts for the Gray Merchants of Asphodels, and on its own, intimidated a lot of folks. This card was a key role player in the UB Tempo archetype and I was very happy to have two.

Flyers tend to shine in tempo decks. It was  a little disappointing that I was getting the same power as Vaporkin in a much more expensive/harder to cast body, but the lifelink it provided proved crucial against certain decks. There were times when this card was able to buy me that one extra turn I needed to finish my opponent off. It also added to my devotion count for the Merchant and held enchantments extremely well.
Hey guys…I HAD THREE OF THESE BAD BOYS! This card is good. Good enter the battlefield effects seem to be premium in Theros, especially since combat is proving difficult due to a large amount of playable combat tricks. I feel he's priced correctly and can really turn games around when he comes down. I really enjoyed the Merchant in this particular build because of its interaction with Whip of Erebos. It was a minimum of an unpreventable drain for four (sans artifact removal in response) when I whipped him back (which I did, and I loved)! Don't sleep on these Gray Merchants and don't shy away from black if you see them late. It's probably as clear of a signal as they come.
I pretty much used this card as a late game finisher. Since I was only running four instants and sorceries, its scry effect wasn't as important to this deck as it would be to a dedicated scry deck or a more controlling build. I know some of you think I'm crazy to give a 3/4 flier such a low score but it's not the body that gets a two, it's the cost. There are plenty of things that I wanted to do with my mana on turn five and I just didn't feel that casting this guy was my ideal line. Granted, it did give a much-needed push of damage during board stalls but I'd never play more than one in this type of deck.
This guy is a champ at holding enchantments. Turn six Giant, turn seven Bestow Cavern Lampad was a solid play against most decks except extremely fast ones. Like the Chimera, he's a good finisher but I definitely wouldn't want more than one of these big guys in a UB Tempo deck.

Here's another example of a card that may shine more in a dedicated Heroic deck, but is just OK in a tempo deck. Honestly, I didn't plan on doing very much blocking so I used to cycle off of Triton Fortune Hunter a few times. I also found that it did a pretty good job of protecting my intimidators and flyers from my opponents removal spells.
I'd give this guy a five if it wasn't for the sheer number of evasive dudes I already had. This card did everything this deck wanted: triggered heroic—check, helped me sculpt the top of my deck—check, won games—check.

Yes, yes, yes. Every aspect of these ordeals made it a key role player for the deck. It made my evasive dudes bigger, targeted my Heroic dudes, added to my devotion count for the Merchants, and provided incidental card advantage. Ordeals have proven to be very good in this set.

This card provided me with pretty good tempo swings mainly against fatter decks. It did a great job resetting Monstrous creatures and making combat more favorable for me. My issue was that I was much less impressed with it against aggressive decks or even some midrange decks with a lot of Bestow creatures. I was happy to have it in my deck, sometimes, and would have preferred one of them, if not both, to just be Voyage's Ends.

Meh, this is a great card but too slow for this build. By the time I got to six mana I just wanted to guarantee the win by Bestowing a Cavern Lampad or getting my Whip online.

The Whip was the superstar of the deck. This card is good- good. It got me outta the range of racing very quickly, it brought back my evasive guys, it gave my Gray Merchants a second time to shine with added Devotion, all for the low, low price of four mana. I mean, it was a steal— a game stealer that is 😛
In the end, I rode this deck to a 3-0 finish. I enjoyed how the deck had a strong early game, powering through the slower controlling/midrange builds while still holding its own against the very popular aggro-control builds. I found UB Tempo to be a bit more consistent than most of the Theros draft decks I've tried thus far, but I wouldn't be surprised to see it fold to a red or white based aggro-control or green based ramp deck's nut draw. It seems like black is the underdog color of the set but I encourage you to try it for yourself before disregarding it. Now I have to admit, this is coming from a biased place since I am quite fond of this sliver of the color pie, but I wouldn't make a recommendation that didn't show positive results. Fell free to comment below with any recommendations/opinions on this particular archetype and as always, thanks for reading!
Monique Garraud is a Brooklyn native who started playing Magic in 2011. "Grinding It Out" is her weekly take on the trials, tribulations, and joys of being a competitive tournament player