By Clayton Adams
God DAMN, would you look at these sexy, stripped men. Some ask me, "Clayton, you godless, mean-spirited, amazing man, can you really build a shirtless deck? Wouldn't all the cards be random junk that just happened to have a shirtless guy on it?"
Hahaha, NO. One look to the glistening torso of our glorious leader tells you all you need to know about how Magic cards are made. The art picks the card, young Mr. Potter, that much has always been clear. And this set, like an H&M tank top, can simply not withstand the glory of these hot bods—and now we have an entire new block with more synchronicity and sheer power than any set before (shut up nerds!). All hail the glory that is the God of Shirtlessness! Blessed be is he!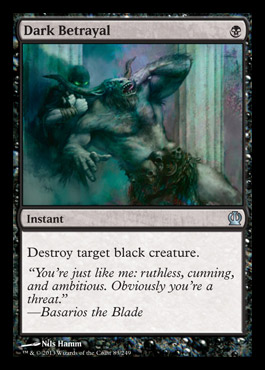 10. Dark Betrayal—Basarios is the pro of the Temple of Deceit. Auto-erotic asphyxiation, necrotoerotic asphyxiation, orb play, horse punching, he does it all!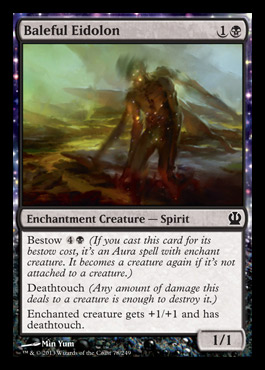 9. Baleful Eidolon—When you have been in the companion game for as long as Basarios has, you tend to get some skeletons in your closet. For Basarios it's the spirits of all his former lovers he has to worry about.
8. Arbor Colossus—Such a shame, when I was a lad the Arbor Giants used to strut proudly from here to Ravnica, as natural as Nylea made them. Then that asshole Crovax passed his decency laws and Theros lost a lot of its charm.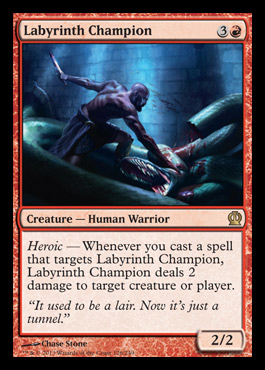 7. Labyrinth Champion—Master of holes! Do you have a problem with tube-shaped, fleshy aggressors who just won't leave your hole alone? Call the Labyrinth Champion! Snakes, hydras, octopi, metamorphs, and the occasional dong, all roused and packed up so you can have your hole at peace.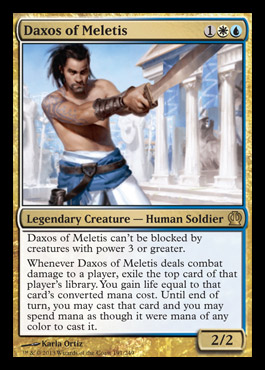 6. Daxos of Meletis—God, Daxos, I wish I was as brave as you are to take off your shirt and fight with the likes of the Reverent Hunter and Phalanx Leader. I would just be so embarrassed putting up my scrawny, takes-two-hands-to-hold-a-short-sword stature next to the chiseled perfection that are Theros warriors these days.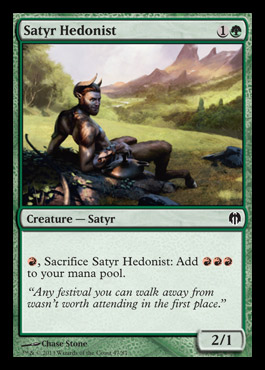 5. Satyr Hedonist—"Any festival you can walk away from wasn't worth attending in the first place." Too true, Satyr, too true.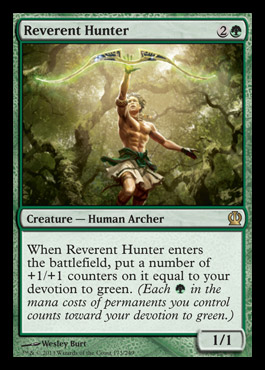 4. Reverent Hunter—Justin here spends at least six hours a day on his eight-pack. I personally find it a waste to use the Bow of Nylea as a pull-up bar, but you can't argue with results!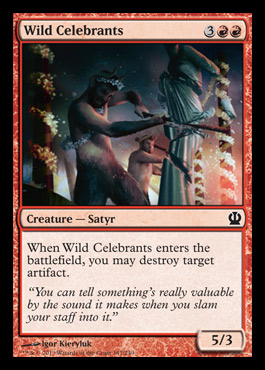 3. Wild Celebrants—Satyrs, man. Nude, drunk, perpetually horny; they rove in gangs and generally destroy everything in their path. Living in Theros is living with the constant potential of getting some satyr's big stick upside your head. I miss it.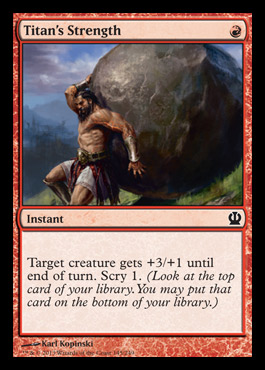 2. Titan's Strength—Living in Theros means living at the gym. If you don't have at least a six-pack and 20-inch biceps, the only hope for action you have will be the gods. Specifically Heliod, God of "You Do Not Need to Know What's in It, It's Natural."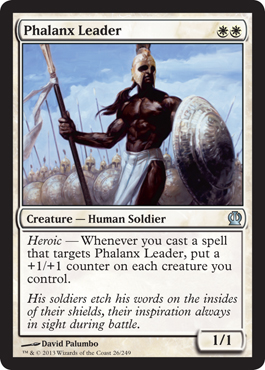 1. Phalanx Leader—OH MY GLOB YOU GUYS, LOOK AT THAT HUNK OF A MAN. IN THE IMMORTAL WORDS OF THE STRIPPER WHO GIVES FRY A NEAR-FATAL LAP DANCE IN EP06S02: "Ohh, yeah, chicka-chonk."
And for bonus points, check out my Theros-themed Shirtless Dudes deck:
Boros Party Crew
YOU KNOW WHAT'S UP.
Back in 2008, when Clayton Adams got into Magic, he couldn't find a creature type, color, or deck strategy that really clicked with him—until he saw Deathgreeter, and knew he had found it: He would build the all-powerful sexy shirtless dudes deck.