Jen and I head to Cape Cod for seven to ten days each year. Her folks have a cottage on a private road with access to a non-public beach. They feed us endless quantities of food including: steak, lobster, clam chowdah, all manner of breakfast foods (french toast, eggs, muffins, bagels, sausage, bacon, cereal, yogurt, etc.), oysters, burgers, hots, and on and on.
From noon until around five Jen and I hang on the beach. Eventually her parents join us and bring us lunch (almost always chicken Caeser salad wraps and fruit). We go in the ocean a couple of times (I go probably twice as many times as Jen as she requires being "hot enough" to warrant swimming). Most of beach time is spent sleeping or reading books. This year I'm in these two:
How to Live Safely in a Science Fictional Universe: A Novel by Charles Yu (recommended by Lucianne Walkowicz):
and Ilium by Dan Simmons (recommended by Mike Simpson):
Here are my notes from the trip thusfar:
I played four matches of Modern on MTGO while on the train from NYC to Route 128 (where Jen's mom picks us up to drive to the Cape)

I won three.
I had to drop in fourth match (probably would've lost) because my iPhone-tethered-internet was being a dick. Met a nice player who is interested in getting some Modern repetitions in with me at another time.
Jen's internet, aka Amtrak Wifi, was shitty and I caught her looking at my games a few times (she thinks Magic is stupid) and would ask me "What?" whenever I laughed because of some funny MTG card interaction (with Melira Pod lots of funny things happen). I explained what the "what" was and she would roll her eyes.

M14 Draft attempts

I made a sweet M14 R/W deck with Imposing Sovereign and Ogre Battledriver.
Split in finals
Opponents didn't seem to be aggressive enough and my deck hummed with removal and win.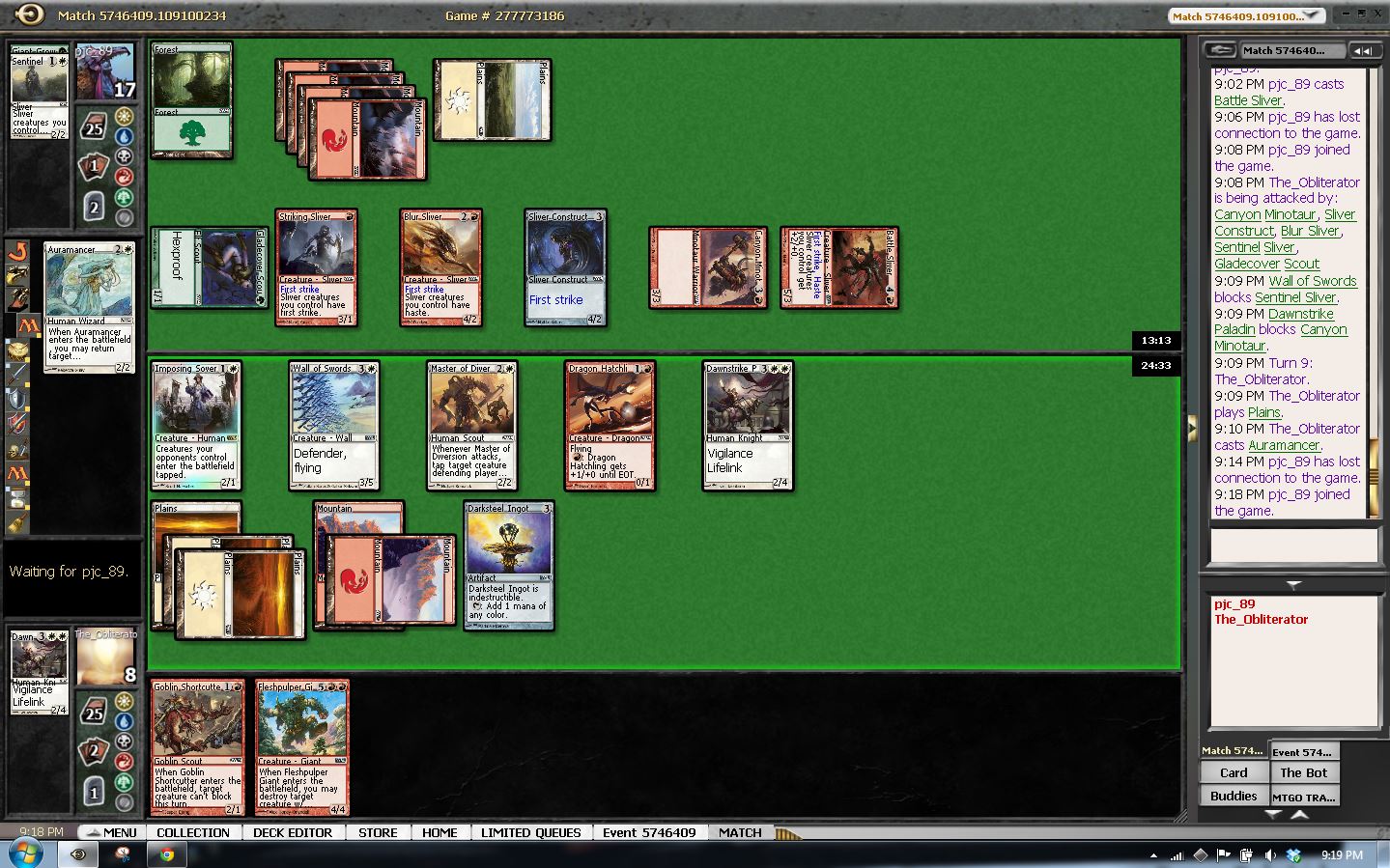 Second M14 Draft attempt

Pack one pick one was Primeval Bounty; gameplan = stall, cast Bounty, win. Surrounded Bounty with tons of Disperse, Time Ebb, and flyers.
Round one opponent congratulates me on sweet deck, askes if P1P1 was Bounty, and says I did a good job of surrounding it with stalling.
Round 2 I lose game one, win G2, drop G3 b/c of laughing too hard and paying too much attention to the Family Guy episode where Stewie takes steroids (he says at the end, after someone says a bunch of inane bullshit, "I flew today," and I lost it). This laughter lead to an uncomeback-from-able error.
Modern on the Cape

There's lots of down time in the morning and evening on Cape.
Win/loss matches = 3-1 train (Melira Pod), more Melira Pod = 2-2, Monowhite Bears of Hate = 1-1
Decks played against = Living End (2), Jund, Scapeshift, Affinity (2)—(don't mind my inaccurate numbers, it's hard to remember and really hard to remember on the Cape)
Here are the decks and some screen shots:
Melira Pod
Monowhite Bears of Hate
If this rain keeps up the forecast for playing Magic Online is incredibly good.
Even now, on an overcast and slightly unbeachable day, I sit, eating French toast, drafting shitty M14 on MTGO, talking to my girlfriend about how friends of mine met their girlfriends and how they make a living. The deck I built, G/R (to no one's surprise), seems exceedingly mediocre.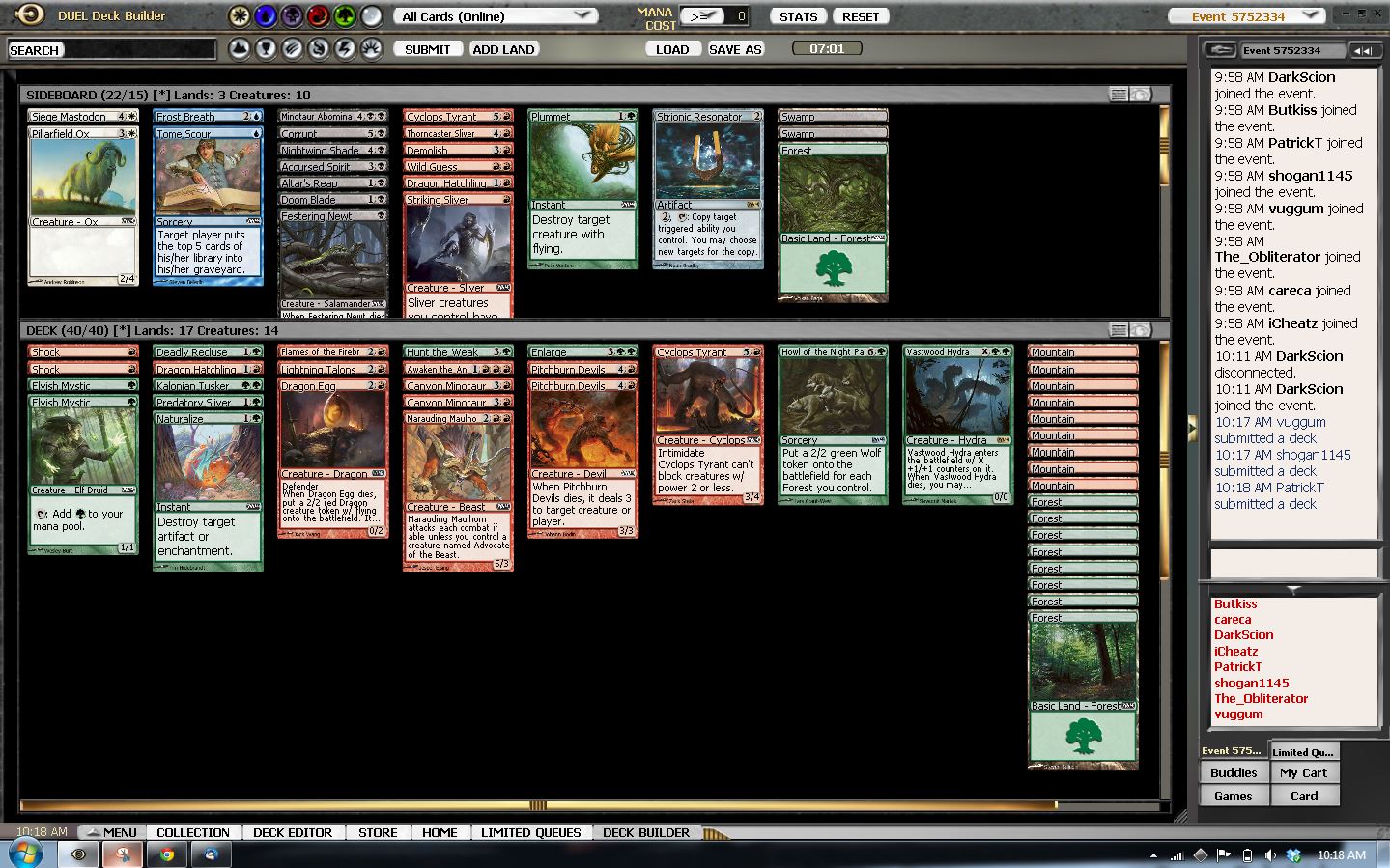 But sometimes I get lucky and am free to smash. Sometimes I run into infinite Claustrophobias and sit, paralyzed.
Thanks for reading,
Matt
MTGO: The_Obliterator
Update: Sometimes I play against BW and have enough Shocks to win matches. 1-0. Sometimes I have enough Forests to Howl five 2/2s into play after several turns of being killed by Hexproof Elf with two Divine Favors on it.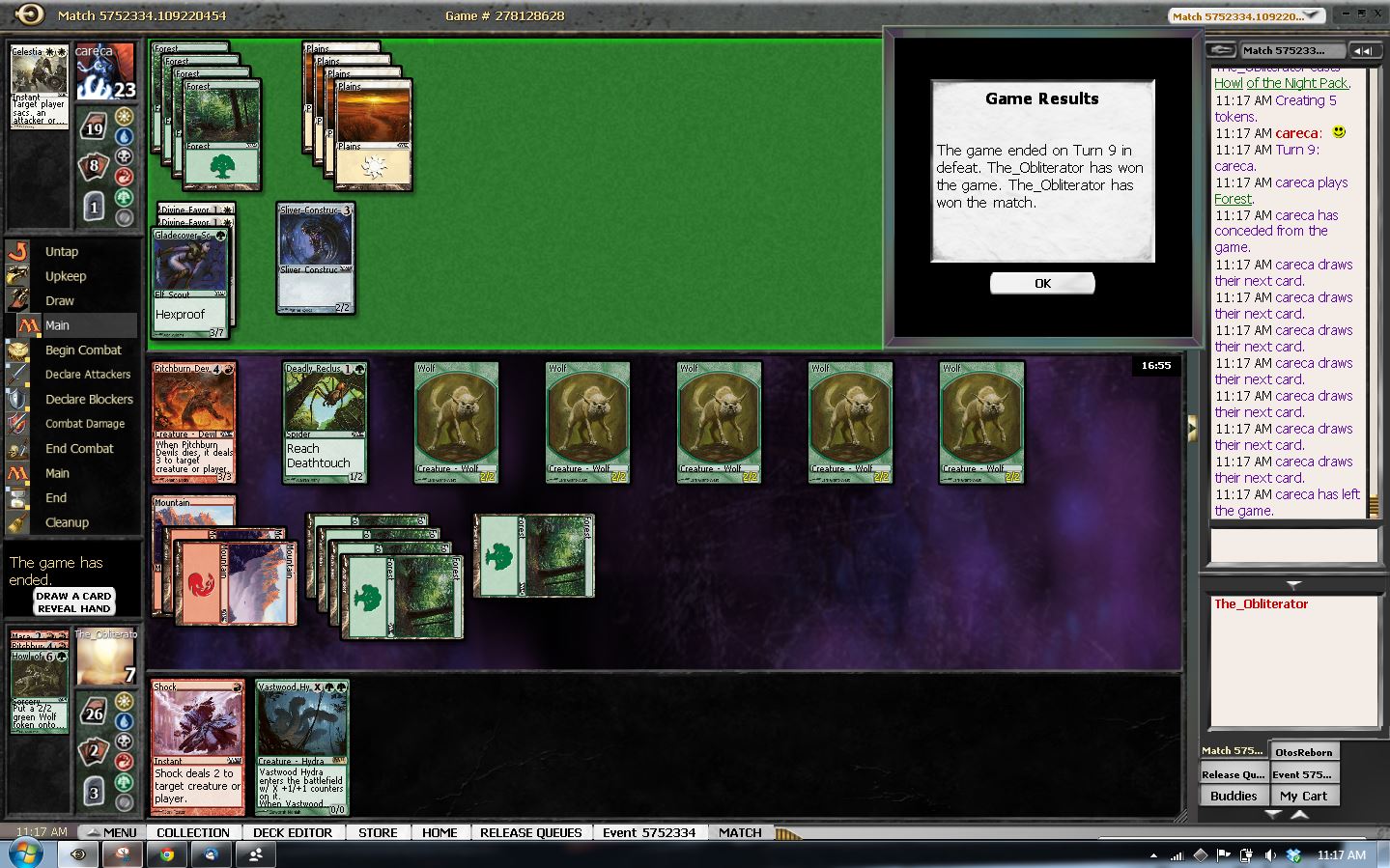 And then somtimes you make the finals and you're fucked because all of your hands have either no mana, all mana (my first seven), or combinations of mana that don't match your cards and then you're at three cards and you say fuck it and mulligan to a mountain and quit.