Good morning everyone and welcome back to the Mirror Gallery here on Hipsters of the Coast. In lieu of my regular Secret Layers series that usually follows a new Secret Lair release, I'm doing something a little different; this most recent SuperDrop introduced several new artists to Magic's roster, but one in particular captured my fascination: Gary Baseman.
I admit I went further down the rabbit hole than I usually do for these articles. Baseman's work is an interesting subject matter; it's simple, and yet there is so much underneath the surface. His paintings transport the viewer to somewhere entirely different, and yet it still feels relatable, and feels like home. His characters build the framework of a contemporary Dr. Suess-esque universe, but for not-quite children; they pull on different heartstrings, sometimes all at once, and dredge up a nostalgia for the human experience in a way I've not quite felt before.
He's brought these oddly familiar faces and seemingly familiar places to Magic: The Gathering as only he can do, and I was able to catch up with the artist for a bit more insight into what went into this project.
The Artist
Gary Baseman was born in 1960 in Los Angeles, CA where he's lived and worked aside from a decade stint in New York from 1986-1996. His artwork, coined "pervasive art' because of its transcension beyond single medium and style, can be found in everything from advertising to toys, with collaborations from COACH to Dr. Martens. You may recognize his artwork from the hit board game Cranium, as well as Disney's Teacher's Pet television show and movie, where Baseman was Creator, Executive Producer and Production Designer.
Baseman's influences are many. Ranging from the humorous, character-driven ideas of Walt Disney to another illustrator-turned fine artist who surprised the art world in Andy Warhol. He notes all the way back to 15th century Hieronymous Bosch, the 'surrealist before Surrealism' as he called it, and as contemporary as the 20th masters Mark Rothko, Philip Guston, and Miguel Covarrubias.
His work has been exhibited in galleries and museums around the world, and now comes to Magic: The Gathering for the very first time.
Featuring: Gary Baseman
There are less than twenty cycles of Basic Lands to have been printed for Secret Lair, and Baseman's is one of only a handful where the artist illustrated all five different lands. It's an elite company, and a serious undertaking.
The five landscape works, which are something Baseman mentioned he is not usually asked for, were commissioned by Sr. Principal Creative Art Director Tom Jenkot. A bit apprehensive, knowing not much of Magic, the game, or the rules, Baseman said Jenkot instructed him to "make it mine, and do what I do to make it my version of a Baseman Magic world." 
The result is a panorama across five colors, with each land also standing independently on its own as a singular work.

They began in part with inspiration from the artist's travels, which now numbers more than 50 countries across 6 continents. Painted during the COVID-19 pandemic, Baseman used their exploration as a way to remember the places he'd been when travel wasn't possible.
The artist also recalled his work on Teacher's Pet, which required building a story and distinct color palette for each episode, as the key to doing the same with these five pieces for Secret Lair. As I was writing, I turned on Teacher's Pet (available on Disney+) in the background. I wasn't familiar with the show from my childhood, but it took no time to find the inspiration and the parallels. The opening sequence of the first episode, "Muttamorphosis" epitomizes the genius of Baseman and distills the entire series into a single animation: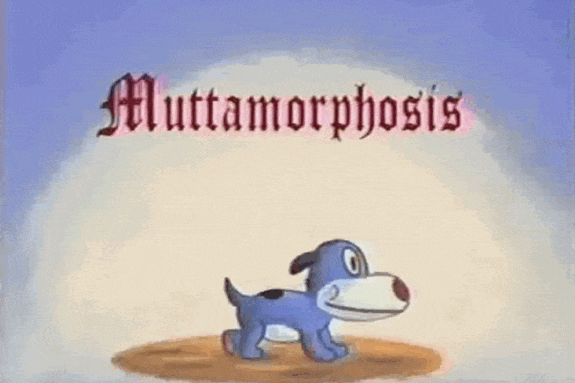 This simplicity in storytelling we see here is the same in his Secret Lair; character forward, but just one piece of a much larger story.
Once Baseman defined how the lands themselves would fit together, he set off to characters.
"The real fun was imagining each land and how new imaginary creatures would exist and how they would interact with each other. The characters complete the background but are not the main subject. And I concentrated on creating new characters for this world rather than using my existing iconic characters. I hope I have the opportunity to create new creatures for Magic: The Gathering in the future."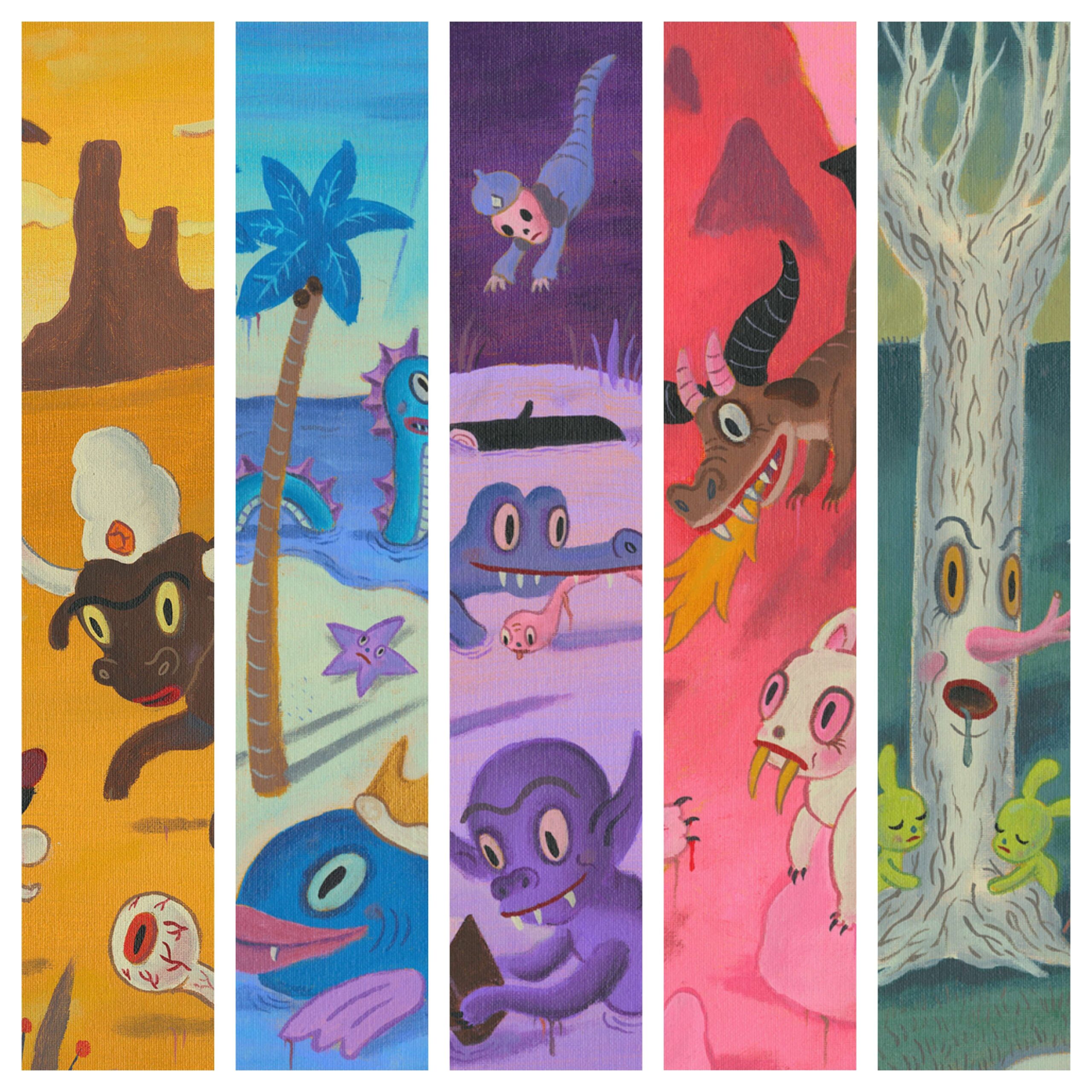 Characters are where Baseman shines. He mentioned his stylistic differences, saying "I draw and paint with a certain rawness and messiness, which is different from many artists whose work has been featured on Magic cards." And yet it's those very traits that make these works without equal. The characters that we see here don't have names or backstories as his often do, but they are no less resonant and special. From flying lions to fish wearing crowns, enchanted forests and magical antlered lion ladies, everyone has come out to play.  He encapsulated each scene on Instagram, presented below in words of the artist:
Plains
A wide open sun beaten place, yet predators hide in plain sight within the mirages in front of you!
Island
We all dream of finding our Buried Treasure! Water can give false protection, especially from our Sea Predators or Beasts with Wings! Loneliness can be a Demon that suffocates us, or will Neptune drown our hopes in the bottom of the sea.
Swamp
A dark dangerous place, where beasts and gators roam, where secrets of lost souls can easily disappear in the quicksand!
Mountain
Higher ground is not always safer, where dragons and horned beasts protect their nests, where the cold thinning air can't save you from the mythical polar saber tooth cats!
Forest
The Ancient Birch protect the beloved Sprite's collection of Psychedelic Golden Sap from the Controlling Spirits of Order. This sticky brew offers enlightenment to all the Wee Grass Bunnies and Nymphs living under the forest leaves.
Each card is its own tiny little universe, a fantasy microcosm living in harmony alongside its other scenic siblings. My only hope is that this is not the end; there are countless stories that can be told just from what Baseman has begun here. Who are these creatures? Where are they from? What do they do? What makes them happy? What makes them sad? Will they ever break the card frames and meet each other?
Baseman has indeed brought his world to Magic as Jenkot intended: exceptional in style, rich in flavor, totally unexpected and unequivocally unique. These are a masterclass in the limitless world that is Secret Lair, and sit as a shining example of everything the series can be.
Wrapping Up
Baseman's Basic Lands are truly what Secret Lair is all about; bringing someone outside Magic's scope into the game, but in a way that exalts what they do while still making sense at card size. This artwork does not scream its difference from inside the card frame; it is not loud or boisterous, nor does it move too fast. It simply is, and that's perfectly perfect. Jenkot's vision and direction strikes once again, and has helped bring something very special to Secret Lair, and to Magic as a whole.
You can find Baseman primarily on Instagram at @garybaseman (which posts to both Facebook and X/Twitter) and on his website www.garybaseman.com. His Secret Lair is available on the Secret Lair website for just a few more days through October 1st, 2023.
A big thank you to Gary for this interview, to Denise A. Gray, the Managing Director of Baseman Studio/Hotchachacha, Inc. for coordinating to make it happen, and to Bosko the Cat (because we know he's the one running the show).
Donny Caltrider (he/him) is a Senior Writer at Hipsters of Coast writing about all things related to the art of Magic: The Gathering and the larger imaginative realism genre. He has an M.A. in Museum Studies from Johns Hopkins University and enjoys telling stories about art, objects, and the intersection of fantasy with real-life. When he's not writing for Hipsters or working with artists, you can find him traveling with his wife, petting his two cats, and watching the Baltimore Orioles.