Good morning friends, and welcome back to another Secret Layers of Secret Lair, only on Hipsters of the Coast!
The Summer Superdrop 2023 is hot off the presses, dropping just a few days ago this past Monday, and set to last in total for more than 60 days (which might be a drop length record). Included are seven different drops of various artistic styles and quantities, each has a foil and non-foil option, and artists old and new funnel into the Secret Lair. As always with these Secret Layers article, we'll take a closer look at the art and artists that are a part of this recent offering, and peel back some of the fun and interesting bits that make up this collection.
This is the Secret Layers of Secret Lair Summer Superdrop 2023.
More Adventures in Middle-earth by Bakshi Productions
This slideshow requires JavaScript.
Slip On the Ring, Gandalf, Friend of the Shire, Mirror of Galadriel, Shire Terrace by Bakshi Productions
In 1978, Ralph Bakshi brought to life The Lord of the Rings in film for the first time, and changed the way an entire generation viewed the fantasy genre. Drawn directly from this animated classic, these four artworks celebrate this momentous cross-over with Middle-earth Enterprises. The film's influence on both the live-action trilogy and future collaborations (including this one) cannot be understated. Even though I'm not the biggest fan of the card choices (which is something I rarely comment on, but I'm not sure how I'm going to use these), I'm glad this first movie was able to become a part of Magic: The Gathering's legacy with The Lord of the Rings.
Death is Temporary, Metal is Forever by Mark Riddick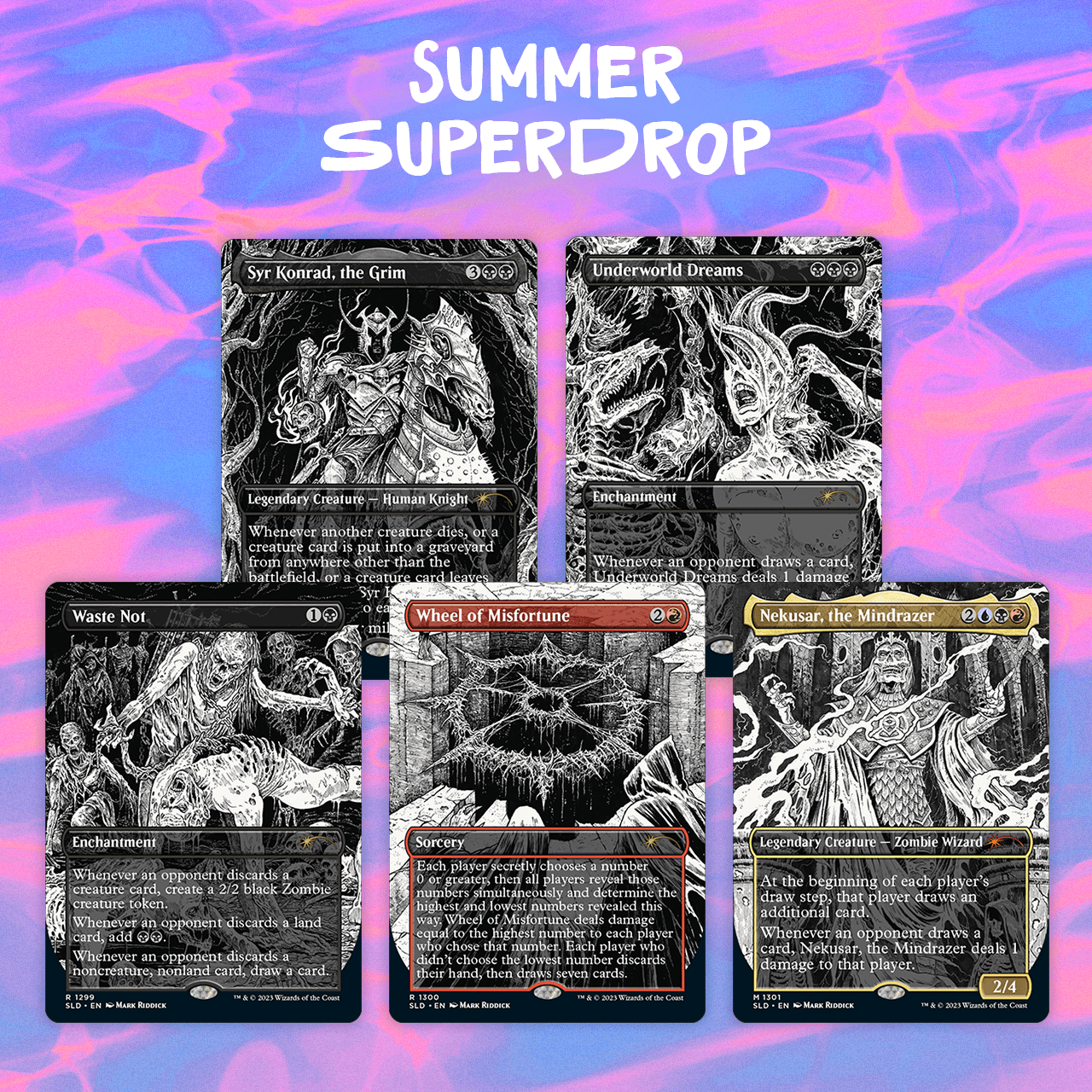 Syr Konrad, the Grim, Underworld Dreams, Waste Not, Wheel of Misfortune, Nekusar, the Mindrazer by Mark Riddick
This is Mark Riddick's third trip to the Secret Lair well, after first joining with a set of Basic Lands back in 2021 and the Secret Lair Countdown Deathrite Shaman at the end of last year. This time he's given us some Commander staples in his signature style, twisting the mind and exalting the grotesque through incredibly detailed linework and a black and white that spring from the grave and out of the frame. This is the first new artwork for several of these cards, and I myself am quite excited to run that Wheel of Misfortune in my Jor Kadeen, First Goldwarden deck.
Goblin & Squabblin' by Wizard of Barge
This slideshow requires JavaScript.
Goblin Lackey, Goblin Matron, Goblin Recruiter, Muxus, Goblin Grandee, Shattergang Brothers by Wizard of Barge
Dakota Cates, a.k.a Wizard of Barge, returns to Secret Lair with his second full drop, this time featuring one of the creatures for which he's most famous. His little goblin friends have graced his artwork and merchandise for years, and now they've finally come to his Magic: The Gathering artwork too! This drop includes both first-time new artwork and long-awaited reprints for several of the most played cards amongst Goblin decks. Although they're red cards, they lean into the Wizard's preferred palette of pinks, purples, and goo-green. And even check out the power and toughness in the bottom right corner- it's a little goblin head!
Bad to the Bones by Ryan Quickfall
This slideshow requires JavaScript.
Bottomless Pit, Necrogen Mists, Reassembling Skeleton, Tinybones, Trinket Thief, Geier Reach Sanitarium by Ryan Quickfall
Returning to Magic after his Fatal Push Secret Lair Showdown debut, illustrator Ryan Quickfall, also known as Roadkill or Ryan Roadkill, sums up his work on his website better than anything I can write. In his own words. he "explores the fragility of subcultures in a fast paced modern world and the gradual erosion of rebellion in a climate of constant surveillance. Often portrayed through anti hero characters and the theme of speed, his work weaves turbulently through the pitfalls of anxious pop culture… at 100mph." That's a whole lot of words, but in essence, exactly what we have here.
This set feels like a 1950s pulp gone wild, with Tinybones on a scooter, a skeleton driving a 1932 Ford Little Deuce Coupe, and an alien-infested rest stop somewhere in the Western US. I honestly think I'm going to build a Tinybones, Trinket Thief deck, just so every time I play it I can say the flavor text from Reassembling Skeleton
VROOM FROM THE TOMB, BABY!
Artist Series: Ryan Alexander Lee
This slideshow requires JavaScript.
Nemesis of Reason, Gaea's Blessing, Twilight Prophet, Worldspine Wurm, Wurm Token by Ryan Alexander Lee
Ryan Alexander Lee is not new to Magic. His first cards came out almost a decade ago in Born of the Gods in 2014. Since then he's illustrated nearly 60 cards for Magic, and now has his own artist series to celebrate his career with the game. The Secret Lair page reveals exactly what we're looking at: the story of a hero. Trials and tribulations culminate in a massive challenge, and we even get a space Wurm to go along as a little bonus. I am always a sucker for a story on cards, and to have one within and designed as an artist series is very special.
The Stars Gaze Back by Yu Maeda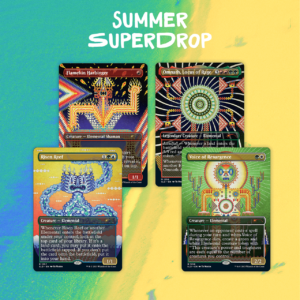 Flamekin Harbinger, Omnath, Locus of Rage, Risen Reef, Voice of Resurgence by Yu Maeda
These are Japanese-based painter and sculptor Yu Maeda's very first Magic cards, and are an absolute boon for the Elemental players among you. While he often works traditionally, these four pieces are digital works, fully in the abstract and with colors we only get to see in Secret Lair products. None are necessarily recognizable as Magic outside of their card frame, and this speaks volumes to the vehicle that Secret Lair can be for artwork; everything can be Magic, and Magic can be everything.
Featuring: The Mountain Goats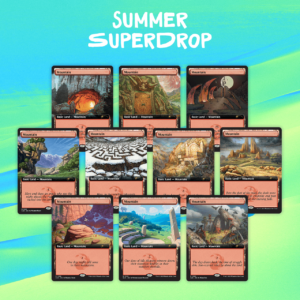 Mountain by Darrell Riche, Mountain by Victor Adame Minguez, Mountain by Mark Zug, Mountain by Warren Mahy, Mountain by Larry MacDougall, Mountain by Omar Rayyan, Mountain by Martina Pilcerova, Mountain by Fred Fields, Mountain by Ron Spears, and Mountain by Erica Williams
If you read my column on Star City Games yesterday you know just how much I love a good Mountain, and this drop has ten of them?! On Lorwyn?!? Painted a bunch of the original artists and some new folks too?!?!? This is everything I want for my future-maybe-hopefully Lorwyn or Shadowmoor Commander deck (Maybe Wort ,Boggart Auntie?), and something that I think folks will really get behind. It's the first time basic lands have received the extended-art frame treatment, and with flavor text written by The Mountain Goats' own John Darnielle, this drop just doesn't miss.
Wrapping Up
This wraps up the Summer Superdrop 2023 for Secret Lair, and once again we've got a wildly varied group of art and artists coming together to make something completely different.  Whether it's an artist brand new to the game, one returning for the first time, or others making their regular appearance, to be a part of Secret Lair is to be a part of something much larger, even than just illustrating for the game itself. As the roots of Secret Lair spread through the larger art world like Realmbreaker, new and exciting worlds will be discovered, and I can't wait to see what's next.
Looking forward, we're about a month away from MagicCon Barcelona! I'll be there working alongside Titus Lunter, and I'm unbelievably excited to be back in Europe for the first time in fifteen years. I'll absolutely be writing about the experience, alongside some other fun bits before we run headfirst in Commander Masters at the end of the summer. As always, thanks for reading, and I'll see you next time.
Donny Caltrider (he/him) is a Senior Writer at Hipsters of Coast writing about all things related to the art of Magic: The Gathering and the larger imaginative realism genre. He has an M.A. in Museum Studies from Johns Hopkins University and enjoys telling stories about art, objects, and the intersection of fantasy with real-life. When he's not writing for Hipsters or working with artists, you can find him traveling with his wife, petting his two cats, and watching the Baltimore Orioles.